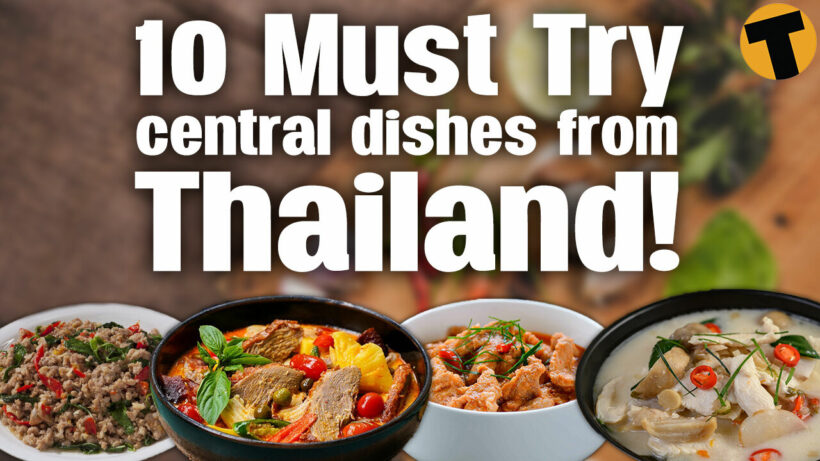 So I've received requests to recommend Thai food from the central region. There are a variety of dishes in the central area of Thailand since the center is the main connecting area to other regions and it also hosts the capital city where the king and his royal family live. So, there is plenty of culture and history in this region. I won't be able to recommend all the popular central Thai dishes, but today but I will give you the Top 10 dishes you must try when you are in Central Thailand. This list is actually a collection of recommended dishes that came from a vote I did with our Thai friends here at The Thaiger.
---
The first dish that I guess everyone already knows!! Pad Krapao
Pad Krapao or Spicy Basil is a minced meat dish that is mixed in with basil. You can select whatever meat you like in it, however, depending on how fancy the restaurant is, some restaurants might only have chicken, pork, or beef as an option. But technically, any meat can go into a Pad Krapao, for example, squid, fish, and shrimp are common Pad Krapao meat options. This dish comes with basil, red bell peppers, green beans, garlic, and finger peppers. It is even more perfect when you top the dish with "Kai Dao" or fried egg in Thai.
Spicy Basil over rice is considered comfort food for Thai people. It is very easy to find this menu at any Thai Street Food Stand or at a restaurant. "Pad Krapao" most likely originated during the reign of King Rama VII. Chinese people who lived in Bangkok back then created it by adapting from it's original Chinese taste to a Thai one, using Thai ingredients such as basil, chili, and fish sauce.
---
The next one is "Keng Keaw Wan"
Keng Keaw Wan or Thai green curry is another of our most popular Thai dishes which I have previously recommended it in the previous 2-minutes Thailand session before. It is a central Thai dish but there are no records of it's origin. It can be assumed that green curry was likely to occur from 1909 to 1926 during the reign of King Rama 6 to 7.
The main protein used in this dish is often "Luk Chin Pla Glai" (fish balls), chicken, pork, and beef. Other ingredients in the dish consist of coconut milk, green curry paste, palm sugar, and fish sauce. Thai eggplant, pea aubergine, Kaffir lime leaves, and basil leaves. Thai people love to serve this with steamed rice or traditional Thai rice noodles known as khanom chin.
---
The third is "Tom Yum"
"Tom Yum" is also a popular dish that got featured in the previous 2-minutes Thailand session as well. Everyone mostly knows it as "Tom Yum Kung" which has shrimp in the dish. but other popular meats Thai people also used to cook for this dish are Pla (fish), Talay (seafood), PlaMuk (squid), and Gai (chicken). We have 2 types of Tom Yum. The original one is Clear Soup or "Nam Sai". but If you want to cook "Tom yum nam khon", just add coconut milk or evaporated milk into the soup. The first record of 'Tom Yum' in Thailand was found in an 1888 document, from the reign of King Rama V.
---
The next one is "Tom Ka Gai"
It looks like a curry with coconut milk. It is usually cooked with chicken and mushrooms. The curry has a cloudy white color. There are various herbs similar to Tom Yum, such as galangal, kaffir lime leaves, lemongrass, lime, chili, and is topped with coriander. It has a sour, salty, and oily taste. Some historians assumed that it was adjusted from "TomYum" but it has a more milky and smooth taste.
---
The fifth is Keng Te Po
"Keng Te Po" is a type of red curry. And it has coconut milk, morning glory, and pork belly as ingredients. It is a traditional central region dish where "Tepo" fish was added as a source of meat. But nowadays, it's more popular to put pork belly instead. It occurred in the record of King Rama2. The taste has a perfect balance of sourness from the tamarind juice and is also a bit salty with a hint of sweetness. It also has a unique scent from the kaffir lime leaves used in the dish as well. It's a delicious dish you should not miss but it might be a bit hard to find these days.
---
The sixth is "Keng Som"
This is a sour soup mixed with vegetables. It is called "Keng Som". "Som" in Thai means "sour" in the old Thai language. The most popular meats that are used in this particular soup are fish and shrimp. We add various vegetables to the soup, such as morning glory, cauliflower, raw papaya, Chinese cabbage, and more. So, sometimes we call it "Keng Som Pak Rum" and "Pak Rum" in Thai means mixed vegetables. We also eat it with "Cha-om Kai" which is an omelet with senegalia pennata. Sometimes we combine it into the dish, "Cha-on Kai" will absorb the soup and the taste will be more delicious!! We have "Keng Som" in southern style too but some Thai people prefer calling it "Keng Leuang". Because the color is yellow (Leuang in Thai means yellow) because they add turmeric into the mix. That southern dish is much spicier than the central style.
---
The next one is "Khao Kluk Kapi"
"Khao Kluk Kapi" was mentioned for the first time during the reign of King Rama V in 1907. The real royal recipe must always have "grilled fish". but it was removed for easier preparation. Khao Kluk Kapi is a dish that incorporates rice from the bottom of the pot or overnight rice with shrimp paste. The dish is Served with Hom Dang (​shallots), Kung Hang Tod (fried dried shrimps), Kun Chiang Tod (fried Chinese sausages), Prig Tod or Prig Hun (fried chilies or shredded chili), Kai Jiew Foy (shredded Omelette), Tua Fak Yao (long beans), Ma Moung Dib (raw mango), Ma Now Hun (sliced lime) and Mhoo Wan (sweet pork). Before eating, don't forget to mix all the ingredients together first.
---
The next one is Keng Paneang
"Keng Paneang" is a heavy curry that is salty and has subtle sweet flavors. It was influenced by the Indian style of curry. But the Thai version has Thai herbs and ingredients in it. Meats in the dish mostly are of the beef, pork, chicken, or duck variation. The recipe appeared for the first time in the book, published in 1890 where it was described as "Gai Panang" which used an entire chicken loaded with spices and coconut milk before grilling. But now, an easier way to cook has been invented, by cutting up pieces of the meat and cooking it with spices before putting it in coconut milk, which makes it easier to prepare in this modern day. If you love rich creamy curry, I highly recommend this dish to you!
---
The ninth is Keng Phed
"Keng Phed" is similar to "Keng Keaw Wan" but Keng Ped mainly uses red chilies for the paste and coriander seeds for more herby taste. It has a mixture of coconut milk as the main ingredient in the curry. It is popular to cook with chicken, beef, pork, catfish, or shrimp. But The most popular is grilled duck red curry which we called "Keng Phed Ped Yang". The special ingredient in "Keng Phed Ped Yang" is the tomato and pineapple. I used to eat it every week when I was a child. This dish is my favorite one!!
---
The last one is "Hor Mok"
"Hor Mok" is an ancient food that is popular in all regions of Thailand but it is different from region to region. In Central Thailand, it is made from red curry paste and creamy coconut milk will always be added on top. The most common version of Hor Mok is probably Hor Mok Pla (Hor Mok with fish) but nowadays there are many other variations like seafood, shrimp, salmon, etc. The meat is usually mixed with spice paste and seasoning, then vegetables will be added into a banana leaf bowl before putting all the mixed ingredients into the leaf, and adding the toppings before steaming. The base of the vegetables is mostly noni leaf, basil, and cabbage. The taste is so yummy with hot steamed rice!!
---
There are more dishes of central Thai food that I haven't mentioned in this episode but they are also popular such as Pad Thai which is probably the most well-known dish in Thailand.

Join the conversation and have your say on Thailand news published on The Thaiger.
Thaiger Talk is our new Thaiger Community where you can join the discussion on everything happening in Thailand right now.
Please note that articles are not posted to the forum instantly and can take up to 20 min before being visible. Click for more information and the Thaiger Talk Guidelines.