Thailand News Today – Thursday, May 14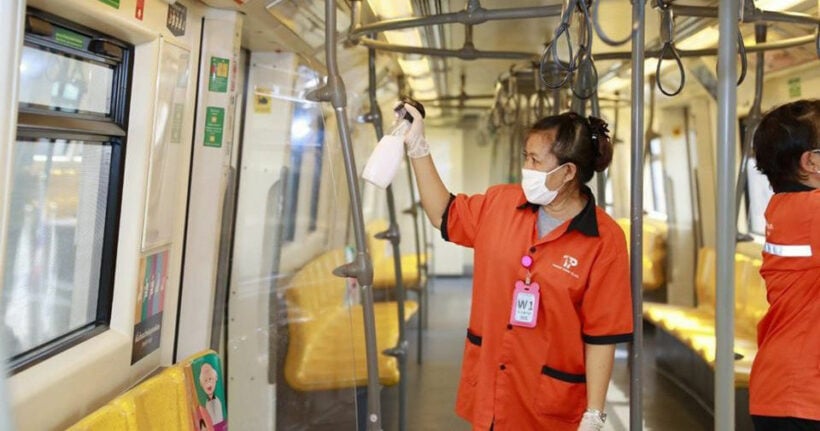 Tenants bailing out of pricey Bangkok offices amid pandemic
Bangkok's high-end office district is looking more like a ghost town as the coronavirus pandemic seems to have many companies bailing out of their pricey office spaces.
Business owners have had a wake-up call from employees discovering the advantages of working from home.
A spokesperson from Phoenix Property Development and Consultancy says that…. "More companies may consider downsizing their workspace by letting people continue working from home, which has been proved to be an effective and economical alternative during the government's lockdown.
Available rental space in Bangkok could rise from 60,000 square metres at the start of 2020 to over 200,000 square metres by the end of the year.
Defence Ministry to take legal action over anti-government slogan campaign
The Defence Ministry is vowing to take action after an anti-government slogan was projected onto various Bangkok monuments and buildings.
The buildings Included the Defence Ministry building itself, the Democracy Monument, at the Victory Monument BTS station and on Wat Pathum Wanaram.
Former members of the now defunct Future Forward party are taking credit for the campaign, which seeks to commemorate the anniversary of a bloody government crackdown that ended 3 months of protests in the capital in 2010. Over 100,000 people, supporters of former PM, Thaksin Shinawatra, and known as the "Redshirts", had flooded into Bangkok, demanding elections be called.
Koh Tao residents caught without face masks made to do push-ups and jumping jacks
Officials on the island of Koh Tao in the Gulf of Thailand have come up with a novel way to punish people for not wearing face masks.
It's still a legal requirement under the Covid-19 emergency decree when people are out in public.
Both tourists and Thais caught without protective face coverings are being made to do a series of push-ups and jumping jacks, much to the amusement of onlookers armed with smartphones. It comes after police on Koh Tao set up a checkpoint near the pier, with anyone violating the face mask stipulation being made to perform no fewer than 20 push-ups and 20 jumping jacks.
Thai carmakers slash production by 50% in 2020
The Covid-19 pandemic could cut Thailand's automobile production by up to 50%, according to the Federation of Thai Industries.
Thailand is the eleventh biggest carmaker in the world, producing more than 2 million cars last year. The FTI now expects only half that in 2020.
A spokesman says that exports to the US, Europe and Japan are the most worrisome, while demand is starting to return from China. Local demand is also down at least 60% according to the FTI's numbers.
South Korea asks Thailand to remove it from list of "high risk" countries
South Korea is asking to be removed from Thailand's list of "high-risk" countries. The list was drawn up in early March, when South Korea was second only to China for Covid-19 case numbers.
It now ranks 40th, and is considered one of the countries most successful at managing the outbreak. To date, none of the 7,000 Thai citizens, who have returned from South Korea, have tested positive for Covid-19.
Sp, the South Korean embassy in Bangkok is appealing to the Thai government to be removed from the list of countries considered high risk. It adds that being left on the list amounts to unfair stigmatisation and does not recognise South Korea's success at containing the virus.
Keep in contact with The Thaiger by following our
Facebook page
.
Thailand Covid-19 figures (May 29)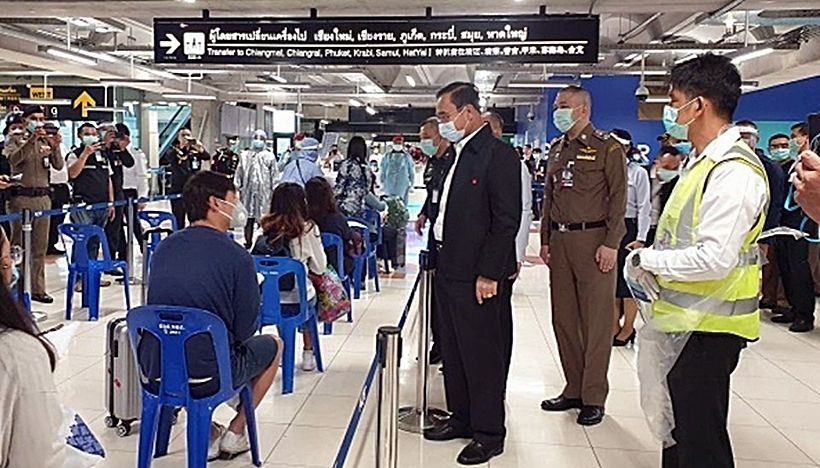 The spokesman for the Centre for Covid-19 Situation Administration, Dr Taweesilp has reported 11 new cases of Covid-19 virus in Thailand, same as yesterday. Of the number, all were reported as imported cases coming from Kuwait.
All Thai nationals returning from overseas are placed into a mandatory 14 day state quarantine with no exposure to the general public. For the 4th day in a row, Thailand has announced zero locally transmitted cases.
Dr Taweesilp, says…
"The returnees were of working age and were either asymptomatic or only had mild symptoms."
"Many people may feel comfortable because there are no new locally infected cases. This goes along with the general feeling as we are further easing the lockdown."
The total number of local Covid-19 cases is now 3,076. Of these, 2,945 (96%) had made a full recovery while 74 remains in hospitals.
The accumulated death toll in Thailand from Covid-19 is 57.
"Thailand ranked 77th in the number of Covid-19 cases worldwide; the US, Brazil and Russia were in the top rank."
Chonburi province has gone 35 days without a single new confirmed case of the virus. Pattaya City is at 45 days without a single new confirmed case.
SOURCE: Bangkok Post | Pattaya News
Keep in contact with The Thaiger by following our
Facebook page
.
No new Covid-19 cases in 65 provinces for a month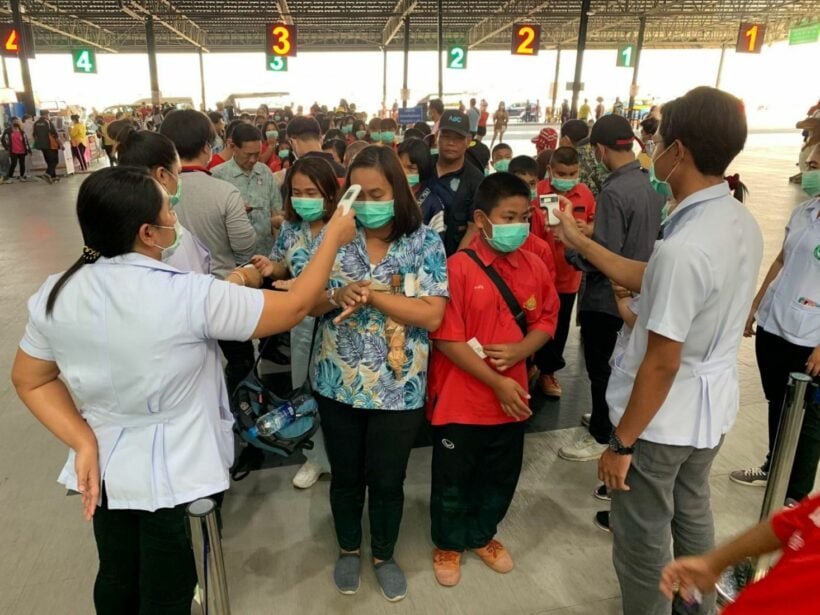 The Covid-19 situation in Thailand is improving: the Ministry of Public Health announced yesterday that 65 of Thailand's 76 provinces have reported no new cases for a full month. But it says the situation is "still not stable enough", and the government continues to screen people returning from abroad and is proactively testing suspected cases.
The deputy director-general of the Department of Disease Control says that the number of cases in Thailand is relatively low and is divided into 2 main groups: Thai nationals returning from abroad and people who had close contact with previous cases. Returnees are placed in mandatory 14 day quarantine to see if they develop symptoms.
But academics have pointed out that there may still be some people infected with the virus without showing symptoms in areas around the country. They have not been tested and could potentially infect others. Therefore, they say, the Ministry of Public Health needs to stay proactive in maintaining a wide ranging testing program. (Thailand has not had a "wide ranging testing program". Thailand has tested 5,380 people per 1 million population. In comparison, Singapore has tested 57,250 people per 1 million population.)
The Thai ministry's caution shows an extreme risk-aversion when compared to many other countries that are now opening up despite much higher rates of transmission, but with certain precautions and restrictions in place.
An analysis of the numbers of infections in different parts of Thailand shows 10 provinces have had no cases at all. However, 42 provinces have a fatality rate of 0.1 to 1%, 18 provinces have a rate of 1.1 to 5%, 2 provinces have 5.1 to 10% and 5 provinces have a death rate higher than 10%.
In the past month, 65 provinces reported no new cases. Although the figures are low, it's is possible that some people are asymptomatic, particularly in greater Bangkok, Chiang Mai, Phuket, Chonburi and the 4 southern border provinces.
SOURCE: The Pattaya News
Keep in contact with The Thaiger by following our
Facebook page
.
Immigration police catch 54 illegal immigrants at Thai-Cambodia border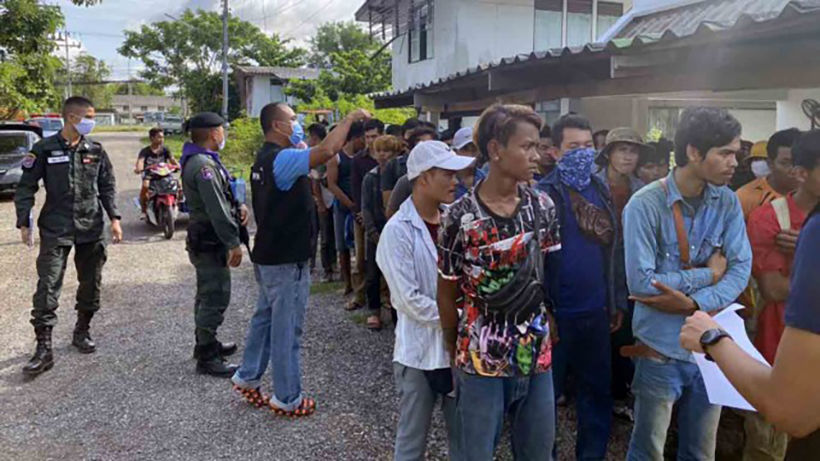 Thai immigration police have arrested a Cambodian man along with 53 other Cambodian nationals he had smuggled across the border into Thailand. The arrests took place in the province of Sa Kaeo, about 200 kilometres east of Bangkok.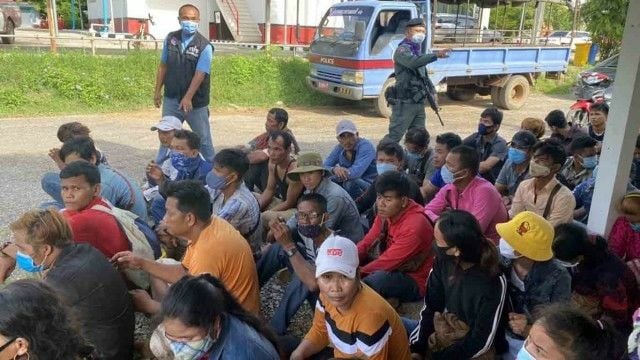 The man, named as 46 year old La Peun, confessed to police that the migrants had paid him 3,000 baht each to be taken to Thailand. According to a report in Nation Thailand, the group, consisting of 32 men and 21 women, all without passports, were hoping to secure work in Thailand.
They have been charged with entering the country illegally and detained for legal processing and are likely to be deported in coming days.
SOURCE: Nation Thailand
Keep in contact with The Thaiger by following our
Facebook page
.