Thailand
Thailand News: Suthep shuns talks; PDRC to regroup; Santika boss jailed over B85mn tax evasion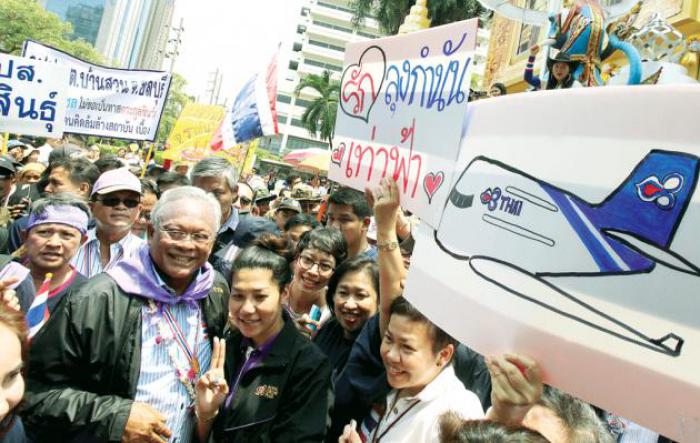 PHUKET MEDIA WATCH
– Thailand news compiled by Gazette editors for Phuket's international community
Suthep shuns Abhisit move
The Nation / Phuket Gazette
PHUKET: A campaign by Democrat Party leader Abhisit Vejjajiva to find a solution to the country's political deadlock was generally welcomed yesterday although anti-government leader Suthep Thaugsuban appeared to shun his move.
Prime Minister Yingluck Shinawatra described Abhisit's effort as a "good beginning" to allow the country to get out of the ongoing impasse and move forward. She said that she would have to study his proposal in detail.
"We should start by finding a common point and then go towards that direction," the prime minister said. "It may take some time, but I believe that it's better than turning our backs to each other."
Yingluck called on Abhisit to discuss his plan with Suthep, secretary-general of the anti-government People's Democratic Reform Committee (PDRC).
Election commissioner Som-chai Srisuthiyakorn said Abhisit's effort to find a solution to the political crisis was a "good approach".
Abhisit on Thursday unveiled his plan to hold talks with some prominent figures and parties to find a solution.
Yesterday, he met Justice Ministry permanent secretary Kittipong Kittayarak and other members of the Reform Now Network.
He is scheduled to meet with Armed Forces Supreme Commander General Tanasak Patima-pragorn on Monday, and Election Commissioners on Tuesday.
Abhisit said that if did not accomplish his mission in 10 days, he would consider it a failure. Yingluck and Suthep would be the last people he planned to meet.
Suthep rebuffed any effort to involve him in the talks. He said he would listen to no one except the "great masses of people" who were calling for national reforms before the next election.
"Whoever he is, no one should dare appoint himself as the mediator," Suthep said. "Whether he is my acquaintance, my former colleague or my friend, don't poke your nose in other people's business.
"I listen to no one but the people. The people want to see reform so we must chase away the government so that reform can be carried out."
Suthep is a former Democrat secretary-general who served as deputy prime minister in a government led by Abhisit.
Suthep, who had a meeting with PM Yingluck, brokered by the armed forces, said he would no longer negotiate with her.
The PDRC plans to move its protest site this month from Lumpini Park to Democracy Monument as part of an "escalated rally", according to a source familiar with the group.
The PDRC held its rally at the monument for two months before starting the "Bangkok shutdown" campaign in early January.
Abhisit said reform and an election were key components to help end the ongoing political stalemate and it was not important whether reform occurred before the
election or the election was held before reform.
He kicked off his campaign to find a way out of the crisis yesterday with a meeting with Justice Ministry permanent secretary Kittipong and the Reform Now Network, of which he is a member.
Abhisit said there were three areas where common ground was found: reform is a key element for the resolution; an election is a requirement no matter when it happens; and the election is a crucial part of reform.
"We have to start with commonality and expand the common features, steering away from difference," he told reporters.
Labour Minister Chalerm Yoobamrung, who heads the government's Centre for the Administration of Peace and Order, said Abhisit's plan was unnecessary and that an effective way to end the crisis was an election.
"Abhisit, no need to meet anybody, but just simply join the election and the elected government after such a poll would carry out the reform over a certain period," he said.
Chalerm said nobody in the country had the credibility to play the role Abhisit had taken on himself.
"The politician's chain has already become rusty. Nobody trusts politicians anymore," he said.
"But if he wants to see me, I'm still available, I have no problem with him."
The ruling Pheu Thai Party gave a cold shoulder to Abhisit, saying the opposition leader was being pretentious in his attempt to improve his image.
Democrat deputy spokesman Jurit Laksanawisit urged all concerned parties – including Pheu Thai – to give Abhisit a chance.
"If Prime Minister Yingluck is not ready, let's allow Khun Abhisit to begin the task," he said.
PDRC to return to Rajdamnoen
The Nation / Phuket Gazette
PHUKET: Anti-government protesters will move from Lumpini Park back to the Democracy Monument to make a final push for an appointed prime minister and reform, a source said yesterday.
"We maintain the same stance to oppose the election until there is reform. We will disrupt the poll again whenever it is held," the source said.
Anti-government protesters, led by Suthep Thaugsuban of the People's Democratic Reform Committee, yesterday marched from Lumpini Park to Thai Airways' headquarters at Vibhavadi Road, where they received a warm welcome from most of the national flag carrier's staff.
The airline's acting director Chockchai Panyayong, other THAI executives and the carrier's labour union chief Damrong Waikani greeted Suthep and the other protesters upon their arrival and gave them black T-shirts and purple scarves as gifts.
A lot of staff donated money and gave them roses to support the movement.
Suthep asked staff to join the movement to oust Yingluck Shinawatra's government.
"I'm sad to know that Thai Airways has had a low performance over past years due to political intervention in management," he said.
Jamsri Sukchotrat, an adviser to the labour union, said the airline would support the anti-government movement so as to have "good politicians" ruling the country.
"We will continue our opposition to the privatisation [of the airline]," she said. "I believe if we have good politicians to run the country, the state-run airline would be healthy."
Over the past week, Suthep visited many state enterprises calling for support.
He said earlier he would announce a new plan for a big rally next Wednesday.
Labour Minister Chalerm Yoobamrung, who heads the government's Centre for the Administration of Peace and Order (CAPO), said yesterday that he would soon order a "round-up" to arrest leaders of the anti-government who created trouble.
The move follows a spat of violence including a bomb blast on Thursday at the head office of the Daily News newspaper.
"I will make the final decision soon to arrest trouble-makers," he said. "If anything happens after the round-up, let it happen," he said.
The public prosecutor recently finished compiling cases against anti-government protesters and is prepared to prosecute 80 people for causing trouble, according Sirima Sunawin of the CAPO.
Daily slams M79 grenade attacks
The Nation / Phuket Gazette
PHUKET: Two M79 grenade attacks on Thursday aimed at the Thai-language Daily News newspaper in northern Bangkok and the Central Adm
— Phuket Gazette Editors