Thailand News: EC prepares for July 20 poll; Village chiefs free Defence HQ; Huge turtle haul at Bangkok airport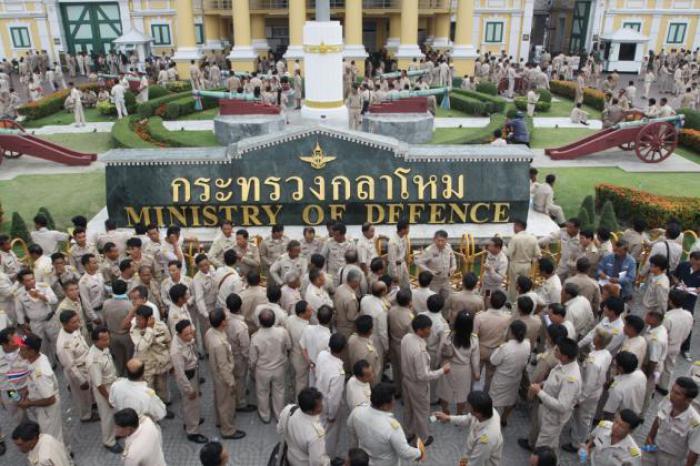 PHUKET MEDIA WATCH
– Thailand news compiled by Gazette editors for Phuket's international community
EC to push ahead with plan for poll
The Nation / Phuket Gazette
PHUKET: The Election Commission is pushing ahead with plans for a national election on July 20 and is set to draft a Royal Decree to begin the process, after a proposal by opposition leader Abhisit Vejjajiva to end the political deadlock received a cool response.
EC chairman Supachai Somcharoen said yesterday that the commission would meet tomorrow to draft the decree for a second poll.
If the draft was completed at the meeting, it would be submitted to the Cabinet for consideration on the same day, he said.
Asked if the EC wanted to comment on Abhisit's proposal to delay the election to allow for national reforms to occur first, Supachai said the commission had not received the proposal and it was up to the government to decide on the matter.
"If the government has no other ideas, we will continue the process for the election as agreed upon earlier," Supachai told reporters.
"I don't know whether the election will go smoothly. Let's see in the future. I don't want to anticipate anything now."
The anti-government People's Democratic Reform Committee (PDRC), which managed to derail the previous election in February, has vowed to block the July 20 poll as well.
The Democrats said they would not take part in the poll if Abhisit's reform plan was rejected by the government.
The government has dismissed Abhisit's proposal as unconstitutional.
Abhisit, a former premier, proposed a 10-step road map, beginning with delaying the election and setting up a non-elected government to take care of reforms before the poll.
Noppadon Pattama, a lawyer for former PM Thaksin Shinawatra, posted a message on his Facebook page criticising Abhisit's proposal, saying it would not bring the country out of the political impasse as it was unconstitutional.
He said the proposal to have the caretaker PM and the caretaker Cabinet step down was contrary to the charter because they had to continue in their duties till the new PM and Cabinet replaced them.
The proposal for the Senate to select a neutral PM was also unconstitutional because the PM must come from a direct election and the Lower House was legally tasked with the duty – not the Upper House.
He said part of the Senate was not directly elected but appointed.
Noppadon said the proposal to adopt the PDRC's reform plan was not fair since the public would be blocked from taking part in the process.
Abhisit's proposal was one-sided because it did not include the government's reform demands. The idea for an interim government to work for five to six months had no legal basis to support it.
"There is not any guarantee that the interim government will not stay longer than that. We cannot let the country be managed under such uncertainty."
He suggested a constitutional solution to the impasse would be for every party to take part in the poll, every party propose a reform plan before the poll and a public referendum on reform to be held parallel with the poll.
After the election, a law would be passed to establish a reform council. The new government would serve six to 12 months before the House was dissolved and a snap election called.
Abhisit yesterday defended his plan, saying it did not contravene the Constitution or democratic framework.
If the plan was successfully implemented, there would be no violence, no coup and the monarchy and the courts would not be drawn into the political conflict, he said in a statement in which he asked for help for all stakeholders in the dispute.
"[The plan will only work] if Prime Minister Yingluck steps aside from power for only five or six months and the PDRC accepts other ways to reform," he said.
Village heads take ministry back for govt
The Nation / Phuket Gazette
PHUKET: Some 40,000 community leaders from around the country have ousted anti-government protesters who had laid siege to the Interior Ministry for more than five months in an attempt to pressure the caretaker government to step down.
The anti-government protesters, led by the State Enterprises Workers' Relations Confederation (SERC), an ally of the People's Democratic Reform Committee (PDRC), withdrew from the ministry on Saturday night after the arrival of thousands of kamnan and village heads to Bangkok.
They decided to leave the ministry to avoid clashes ahead of Coronation Day today.
Caretaker Interior Minister Charupong Ruangsuwan and other senior Interior Ministry officials led the community leaders to accomplish the mission swiftly and without violence, with only a few anti-government protesters present at the time.
The leaders took to a stage to talk to the crowd for three hours before reading a statement against the PDRC demand that kamnan and village heads be scrapped and for all provinces to have elected governors. The demands are part of the PDRC's reform plan.
The leaders said the PDRC's demand was unacceptable and that laying siege to the ministry blocked ministry officials from carrying out their work and caused a public inconvenience for far too long.
Charupong said the government had reached an agreement with anti-government protesters to leave the ministry.
"Thanks to the kamnan and village heads for their unity to make this mission today successful," he said.
The leaders sang the royal anthem before leaving the ministry compound.
PDRC chief Suthep Thaugsuban took to the Lumpini Park stage to say Interior Ministry protesters had withdrawn to the park, the organisation's long-time base.
PDRC spokesman Akanat Promphan said the decision to leave the ministry came after national police chief General Adul Saengsingakew and Maj-General Apirat Kongsompong, commander of the First Division, King's Guard, had asked PDRC and SERC leaders to do so to avoid clashes before Coronation Day.
Adul said PDRC leader Somsak Kosaisuk agreed to withdraw protesters unconditionally and a committee would be appointed tomorrow to check for any damage to the ministry.
Pheu Thai Party spokesman Prompong Nopparit said it was a good sign that the ousting of protesters was carried out peacefully and he urged protesters at other ministries, including the government complex at Chaeng Wattana Road, to follow suit.
More than 300 community leaders, including defence volunteers from Ang Thong's seven districts, headed for Bangkok early yesterday morning to join the other leaders.
They said that although anti-government protesters had left the Interior Ministry, they had received an order to stay put. Meanwhile, Suthep has led other PDRC leaders to preside over a ceremony to enshrine a Buddha statue at Lumpini Park so PDRC supporters can worship. The move is designed to boost moral ahead of a mega rally on May 14 – the day Suthep has vowed will be the beginning of the end for the caretaker government.
Customs find 225 live turtles in bags at airport
The Nation / Phuket Gazette
PHUKET: Customs rescued 225 live spotted pond turtles worth abo
— Phuket Gazette Editors
Keep in contact with The Thaiger by following our
Facebook page
.
Thailand road toll: 554 dead this month, 11,462 this year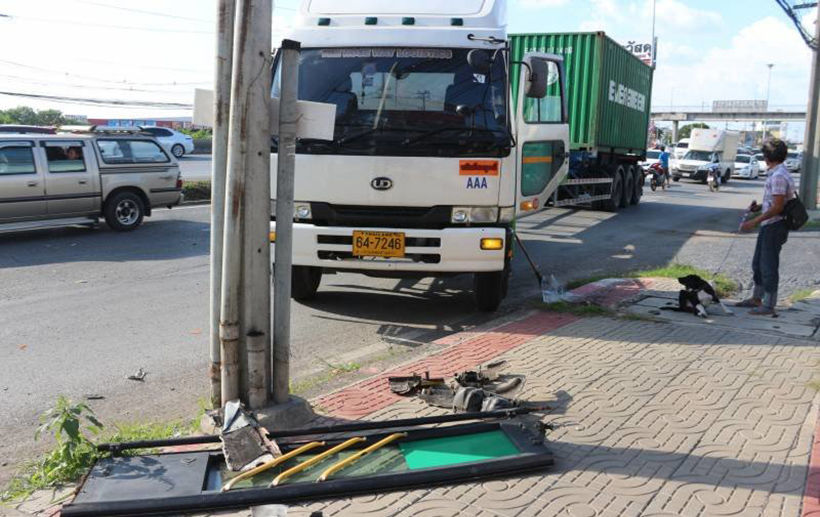 PHOTO: U-Turn crash in Bangkok – Daily News
Daily news reports fatalities at the scene of accidents yesterday claimed the lives of 21 people. Yesterday was a busy day on Thailand's roads at the end of a long weekend.
They say the numbers reported are only those that die at the scene. In reality, when hospital deaths and all regions report their stats, the figures end up much higher.
So far this October 554 have died at the scene of accidents resulting in a yearly total nationwide of 11,462. Thailand is recognised by the World Health Organisation as the fifth highest road toll in the world, per capita.
Figures are reported daily by Daily News who highlight the need to be vigilant at U-turns in their story about this air-conditioned bus (above)on Route 29 that collided with the back of a container truck.
Seven passengers on the bus were injured in the accident on Pahonyothin Road near the Kesri 5 housing estate in Klong 1, Klong Luang district north of Bangkok. The truck driver was trying to execute a U-turn at the time.
SOURCE: Daily News | ThaiVisa
Keep in contact with The Thaiger by following our
Facebook page
.
Thailand's swift response to the 'fall armyworm' pest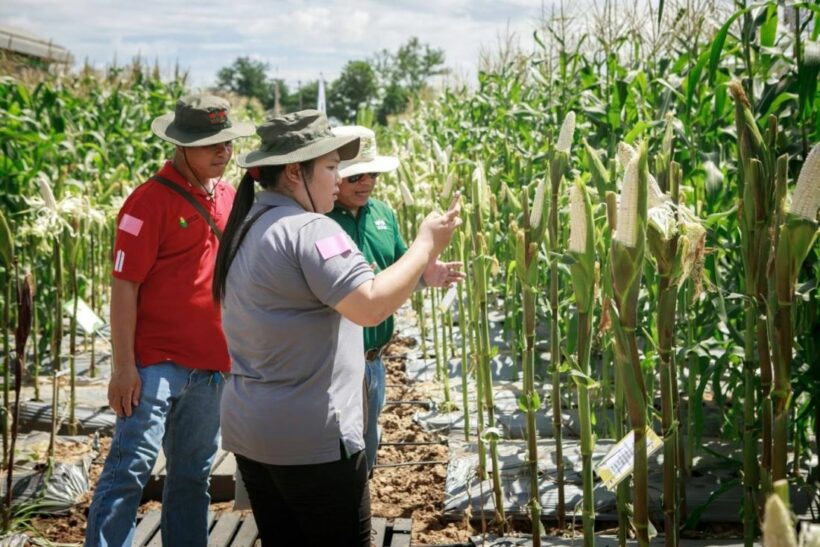 OPINION: Somsak Samanwong – Regional Technical Educator for APAC, Corteva Agriscience. PHOTO: East-East Seed
In Thailand, corn is an indispensable staple crop, used as an important source of feed for a thriving poultry and livestock industry. About 1.04 million hectares of our land is used to produce corn, with this year's yields estimated at a record high of 5.3 million tonnes.
As Thailand becomes increasingly recognised as a major world food exporter, our reliance on corn is growing to meet consumer demand for meat, both locally and globally – we are currently the third largest chicken exporter in the world. For many of us, it comes as a surprise that this ordinary but versatile crop is intrinsic in fuelling our status as the "kitchen of the world".
A small but powerful threat
However, this established position and the very growth of our food economy is currently under siege from the rise of fall armyworm, a pest so damaging that it can destroy corn crops overnight. The fall armyworm is an insect native to the Americas, where it has caused significant damage for decades. With a zealous appetite for corn, the pest quickly began to ravage crops in the Africa region following its arrival in 2016, causing losses of $13.3 billion.
Fall armyworm started moving closer to home, spreading across Yemen, India, Bangladesh, Sri Lanka and Myanmar, before reaching Thailand in December 2018. Since then, around 50 corn-growing provinces have been infested, particularly in the west of Thailand.
Fall armyworm infestations can result in yield losses for corn of up to 50%, which can have devastating implications – for those whose livelihoods rely on their crops, but also for the poultry and other meat production industries whose success and expansion heavily depend on their produce.
What makes fall armyworm so challenging to control is its high reproductive capacity and long migration distances. The pest has been known to migrate up to 1500 km3, slightly more than the distance from Kuala Lumpur to Bangkok, covering up to 100 km per night. Couple this ability to travel with rapid reproduction – four generations of fall armyworm can be observed in a single corn crop – and you have a devastating mix.
Recognising the tremendous impact of fall armyworm on the nation's farmers and our food security, the Thai authorities and key stakeholders across the agriculture industry have come together, uniting efforts to equip our farmers with the tools they need to help manage the spread of fall armyworm. By applying our learnings with fall armyworm in response to future threats, we can help to ensure our farmers are empowered and our nation's food supplies – for Thailand and for the rest of the world – are protected.
Taking swift and decisive action
Thailand's Department of Agriculture responded to the first FAO warning of fall armyworm in India by setting up a surveillance program to monitor corn growing states along the shared border with Myanmar. During this time, informative materials about fall armyworm and the ongoing surveillance program were shared with relevant agencies, universities, and most importantly, corn farmers.
Establishing communication between the authorities and those on the ground was and remains an important focus, and a telephone hotline and Line account were set up so that farmers are able to report potential infestations. As a previously unseen pest in Thailand, setting up infrastructure to monitor crops in the recognition of fall armyworm was pivotal to aiding a quick response.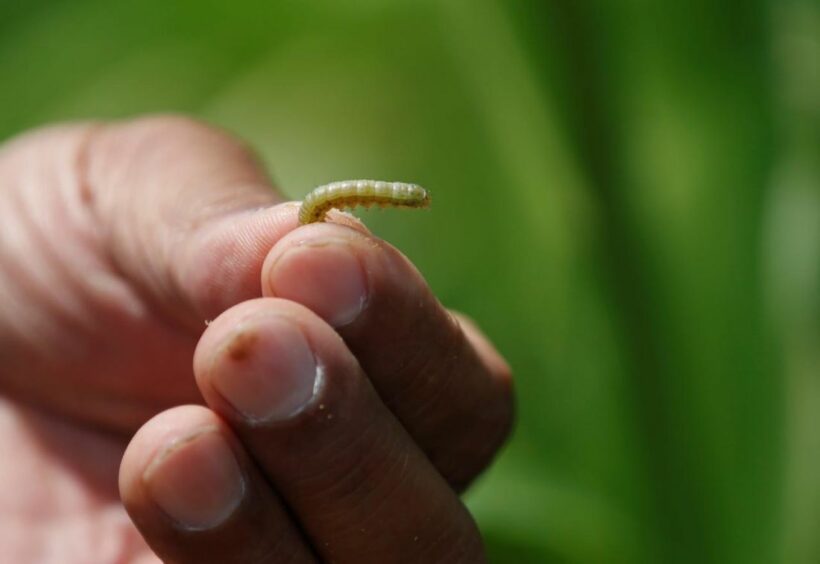 Imparting knowledge through educational efforts
Knowledge-sharing between the authorities, academic experts, farmers and industry is crucial in the fight against threats like fall armyworm. In November 2018, an educational programme for Thailand's authorities developed with the Insecticide Resistance Action Committee (IRAC) by CropLife Asia helped to provide senior agricultural and food industry leaders with in-depth information about fall armyworm and its habits.
By sharing knowledge of the pest between the government and affected industries, accurate and up-to-date information could spread across the country almost as quickly as fall armyworm itself.
Farmers remain at the heart of agriculture, and thus, in-field education is of paramount importance to safeguard crops.
Through a series of training programmes and the provision of educational materials, farmers were educated on and empowered to adopt an Integrated Pest Management (IPM) approach, as recommended by the World Trade Organisation on Sanitary and Phytosanitary Measures, to control and prevent the spread of fall armyworm. IPM combines pre-emptive treatments, scouting, monitoring and targeted treatments to protect the health of corn crops from seed to plant, and, in turn, to protect Thailand's food security.
Equipping farmers with the necessary tools
In adopting an IPM approach against fall armyworm, it is our role as agriscience experts to ensure farmers have access to safe, effective and greener solutions to control its physical spread. And, through the development of innovative technologies, solutions are available to provide farmers with long-lasting control of fall armyworm, whilst being environmentally safe to use.
Amparar®, Corteva Agriscience's foliar spray, contains the active ingredient Spinetoram and has been recommended for use in corn in Thailand to help protect corn crops against fall armyworm. It controls the insects in two ways – through ingestion and contact by the pest, providing a quick knock-down for lasting control. Amparar® has been awarded the prestigious Presidential Green Chemistry Challenge Award for its positive environmental profile and margin of safety towards beneficial insects. It is recommended by the Thai authorities as the top crop protection product for managing fall armyworm.
Our fight against fall armyworm has brought to light the invaluable role of corn in the development of Thailand as global provider of food. Perhaps even more importantly, it has helped to demonstrate how much can be achieved when public and private sectors work together in response to those that threaten our food security. We must continue to activate and engage all stakeholders – from farmers, governments, industry and academia – to ensure that, whatever the next threat to our "kitchen of the world", we remain poised for action to protect it.
Keep in contact with The Thaiger by following our
Facebook page
.
The world's fastest growing tourist destinations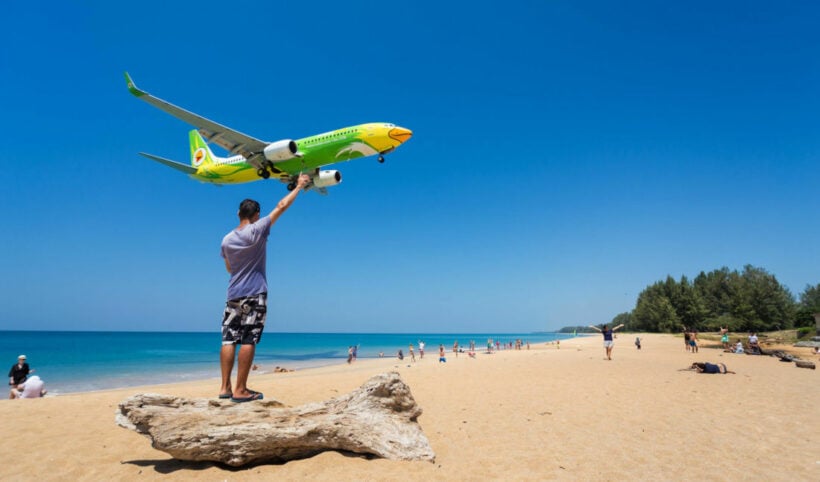 PHOTO: Hello Phuket – destined for huge tourist growth in the next six years – fodors.com
In 2018, international tourist arrival traffic grew by 6% to reach a total of 1.4 billion world tourists, according to research by UNWTO World Tourism Barometer. And there's a lot more to come with international travel predicted to increase by a massive 35% over the next six years to 2025.
But where is all that extra traffic going to go? Which destinations are quiet now that might be swarming with tourists in the years to come? Two destinations in Thailand are set for a prosperous future, according to the data. Whilst almost all the growth is excepted to be to Asian destinations, an under-visited resource for world tourism so far.
Euromonitor data has been used to simulate tourist growth models and reveal the fastest growing projected visitor arrivals in major cities and destinations around the world for 2025, compared to arrival figures in 2018.
In Thailand, Phuket's tourist traffic is poised to increase up to 85% in the next six years, from nearly 12 million arrivals in 2018 to over 22 million in 2025. Bangkok is predicted to see the 8th most prolific rise in tourist traffic, with arrivals in Bangkok set to swell an additional 68% during the same period. Doha, the capital of Qatar, is set to explode with 104% increase in traffic over the next six years.
The data also predicts that both Bangkok and Phuket will rebound big time in 2020, Phuket in particular with a growth of around 20% for the next year, accord to the data from TravelSupermarket.com.
By 2025 the data predicts that Bangkok will be the world's #1 tourist destination, a position it's held before in recent years. The Thai capital will be followed by Singapore, Dubai, Phuket and Kuala Lumpur, making South East Asia the world's emerging tourism hotspot.
Some of the world's favourites – New York, Paris, London – will continue to grow their tourist numbers but not at the rate of most Asian destinations.
You can read the full list HERE.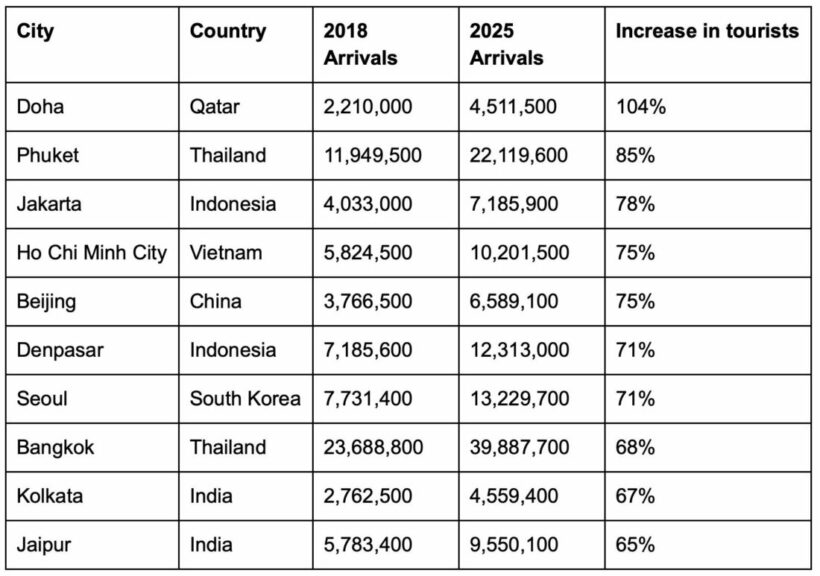 Stats compiled by travelsupermarket.com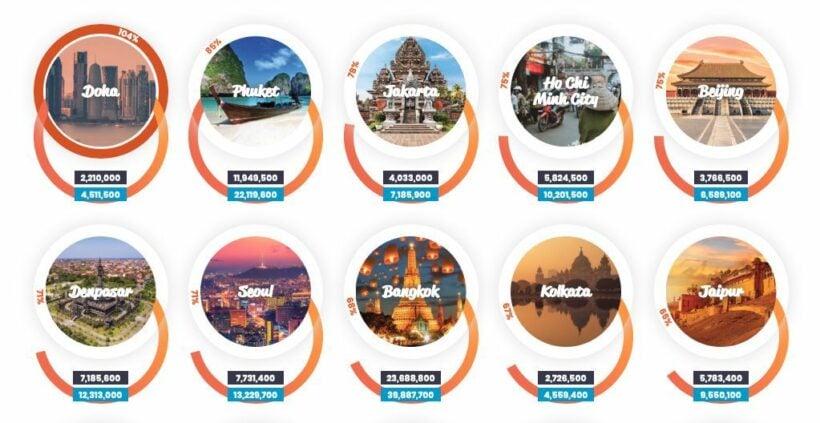 Stats compiled by travelsupermarket.com
Keep in contact with The Thaiger by following our
Facebook page
.