Thai driver qualifies for Australian F1 Grand Prix in Melbourne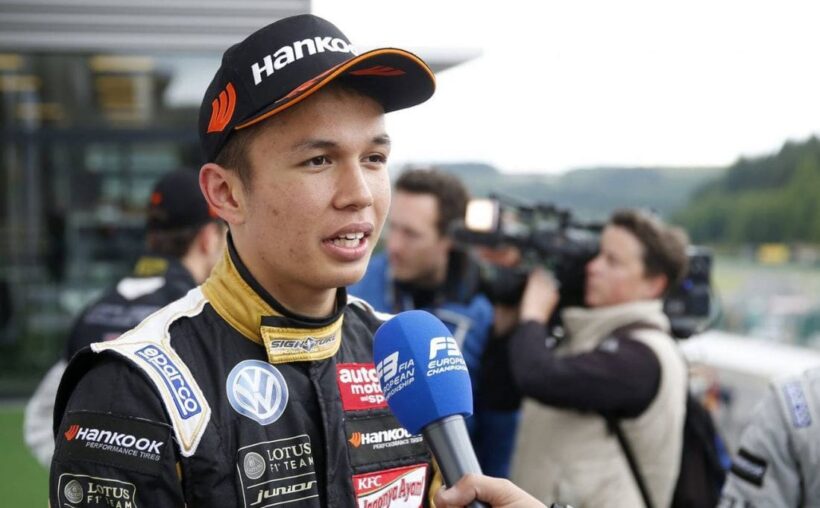 PHOTO: Fox Sports
Thai driver Alex Albon is brushing aside a crash during Friday's practice to outpace his teammate in qualifying for the Australian Grand Prix today, earning him a place on the starting grid tomorrow.
Sunday's race will see a Thai flag flying over the grid for the first time in the modern F1 era.
Albon, born to a Thai mother and an English father, posted an impressive time of 1 minute 22.636 seconds to qualify in 13th place on the grid. More impressive still was that the Thai rookie out-qualified his Toro Rosso teammate, Daniil Kvyat, who already has a season in F1 under his belt. Kvyat will start two places behind Albon on the grid in 15th.
Reigning champion Lewis Hamilton took pole position with a time of 1m20.486s, just ahead of his Mercedes teammate Valtteri Bottas. Third on the grid is Ferrari's Sebastian Vettel while Red Bull driver Max Verstappen rounds off the top four.
The race begins on Sunday at 12.10pm Thai time.
Provisional starting grid for Sunday's Melbourne Grand Prix
POS DRIVER CAR TIME GAP
1 Lewis Hamilton Mercedes 1m20.486s
2 Valtteri Bottas Mercedes 1m20.598s 0.112s
3 Sebastian Vettel Ferrari 1m21.190s 0.704s
4 Max Verstappen Red Bull/Honda 1m21.320s 0.834s
5 Charles Leclerc Ferrari 1m21.442s 0.956s
6 Romain Grosjean Haas/Ferrari 1m21.826s 1.340s
7 Kevin Magnussen Haas/Ferrari 1m22.099s 1.613s
8 Lando Norris McLaren/Renault 1m22.304s 1.818s
9 Kimi Raikkonen Alfa Romeo/Ferrari 1m22.314s 1.828s
10 Sergio Perez Racing Point/Mercedes 1m22.781s 2.295s
11 Nico Hulkenberg Renault 1m22.562s
12 Daniel Ricciardo Renault 1m22.570s
13 Alexander Albon Toro Rosso/Honda 1m22.636s
14 Antonio Giovinazzi Alfa Romeo/Ferrari 1m22.714s
15 Daniil Kvyat Toro Rosso/Honda 1m22.774s
16 Lance Stroll Racing Point/Mercedes 1m23.017s
17 Pierre Gasly Red Bull/Honda 1m23.020s
18 Carlos Sainz McLaren/Renault 1m23.084s
19 George Russell Williams/Mercedes 1m24.360s
20 Robert Kubica Williams/Mercedes 1m26.067s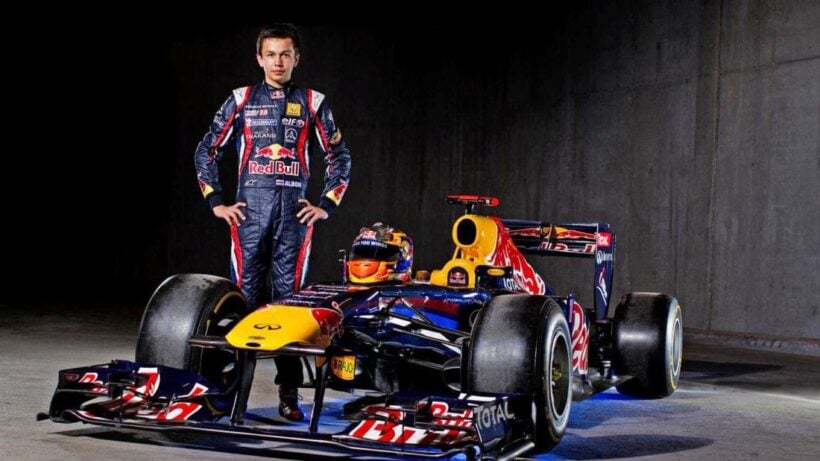 Keep in contact with The Thaiger by following our Facebook page.
Never miss out on future posts by following The Thaiger.
Efficacy of Covid-19 vaccines will drop during mass inoculations: Thai virologist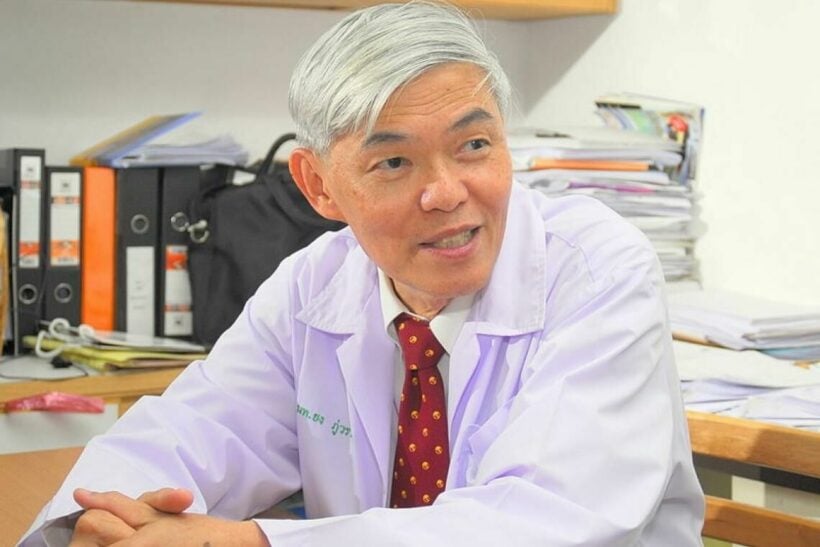 Thai virologist Dr. Yong Poovorawan from Chulalongkorn University, has spoken about claims that the efficacy of every vaccine available today, including Covid-19 vaccines, tend to lower after being used in mass inoculations, compared to the findings from the laboratory during human testing trials.
He recommends that people should not rely solely on the vaccines alone because uncertainty will remain during the roll out phase of the new inoculations.
"The best way to protect themselves is to practice basic safety standards as we usually do today… wearing face masks all the time when going outside and in crowded venues, regularly washing hands, and maintain social distancing."
On his Facebook page, Dr. Young cited the case of Hepatitis B vaccines that claimed between 94-95% efficacy. But after use on mass populations, its efficacy dropped to about 80%. He believes this trend will be the same as Covid-19 vaccines.
"Although the manufacturers claim the vaccines' high efficacy, that is just the laboratory results. In practice, several variables may cause lower effectiveness of the vaccines."
He also says that the real effectiveness of Covid-19 vaccines, both the American from Pfizer and the Chinese from Sinopharm will be known soon after the populations of Israel and UAE have been inoculated in large numbers already.
SOURCE: Thai PBS World
Keep in contact with The Thaiger by following our Facebook page.
Never miss out on future posts by following The Thaiger.
1.5 million Thais approaching poverty line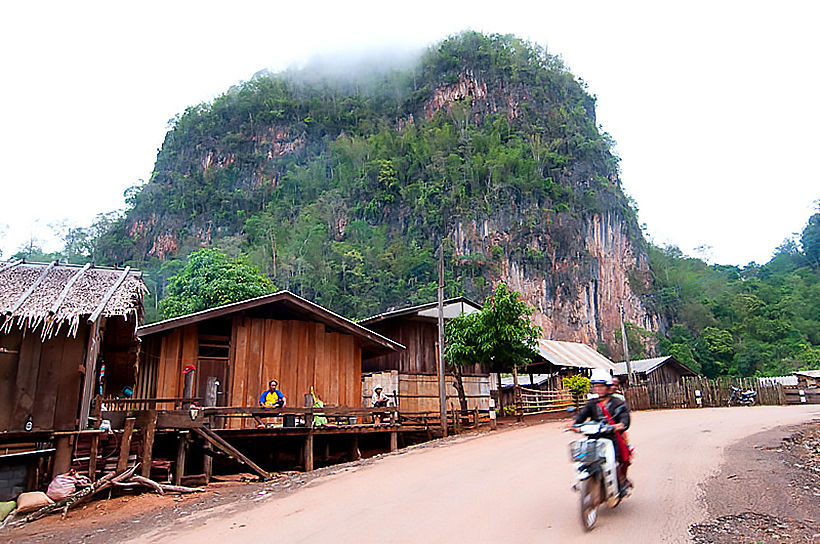 A new report by the World Bank has indicated that 1.5 million Thais are approaching the poverty line after Covid-19 ravaged the tourism-dependent economy. In 2020, the report says the poverty ratio in Thailand increased to 8.8%, compared with 2019's figure of 6.2%.
The report is troubling as the Thai economy already passed rock bottom in the 2nd quarter of 2020, with the the 2nd wave of Covid hitting just before the year end. Now, as many provinces have essentially went into lockdown from domestic and foreign tourism, workers are out of jobs, whereas before, domestic tourism was serving as a way to help businesses survive.
The government stimulated the economy by spending the equivalent of 13% of the gross domestic product, but the World Bank is predicting it may take 2 more years for Thailand to return its economic situation to its pre-Covid state. But the news is not all bad as the World Bank expects the Thai GDP to grow by 4% this year, instead of declining by 6.5% last year.
Such reasoning is due to the expectations of the Covid-19 vaccine being rolled out, and global economic growth. But if the Covid-19 situation becomes more severe, the expected economic growth would decline to 2.4%. Political instability in Thailand is another risk factor as months of protests have shaken views on Thailand's government, which has invoked the lese majeste defamation law on protesters who were criticising the Royal family. Human rights organisations have issued statements that condemned the government as it began charging minors with the law.
Today, Thailand reports 309 new cases of Covid-19, with 80 being locally transmitted. Most of the cases were due to active testing and 12 were from those already in quarantine. Thailand is expected to receive 50,000 doses of the Oxford AstraZeneca vaccinesby the first week of February. The shipment is part of the first lot of 26 million doses on the agreed purchase in October of last year.
SOURCE: TNA
Keep in contact with The Thaiger by following our Facebook page.
Never miss out on future posts by following The Thaiger.
CCSA Update: 309 new Covid-19 infections in Thailand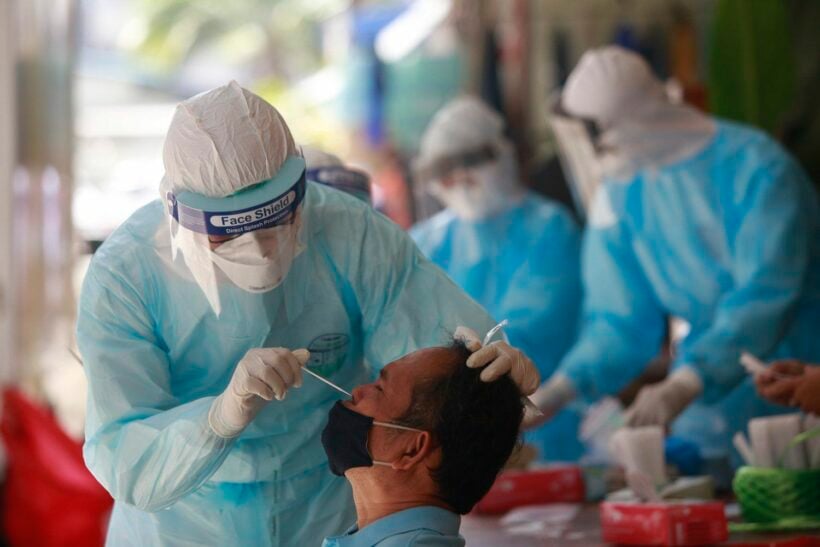 The CCSA's daily briefing today started with an update about a NBT news presenter who has attended the daily briefings at the CCSA studio and testing positive for Covid-19. The CCSA spokesman then announced that all people working in the CCSA studio, including himself, are defined as a "low risk" group for infections.
The CCSA spokesman says he, together with all those involved with any risk, will take a swab test this afternoon and will report the test results to the public later on. The infected NBT newscaster has been sent to the hospital already.
Today, 309 new Covid-19 cases were announced from the last 24 hours. The majority of the infections were detected from active case testing, accounting for 217 cases. Most of them were migrant workers. 80 were local transmission, while 12 cases were detected in state quarantine.
According to the CCSA spokesman, key measures to be rolled out next week will be the acceleration on proactive testing in Samut Sakhon and the outer western areas of Bangkok where the infection rate is still high. Numbers and reports from the active findings are expected to be complete by the end of next week will serve as key factors for a review of the current restrictions in place.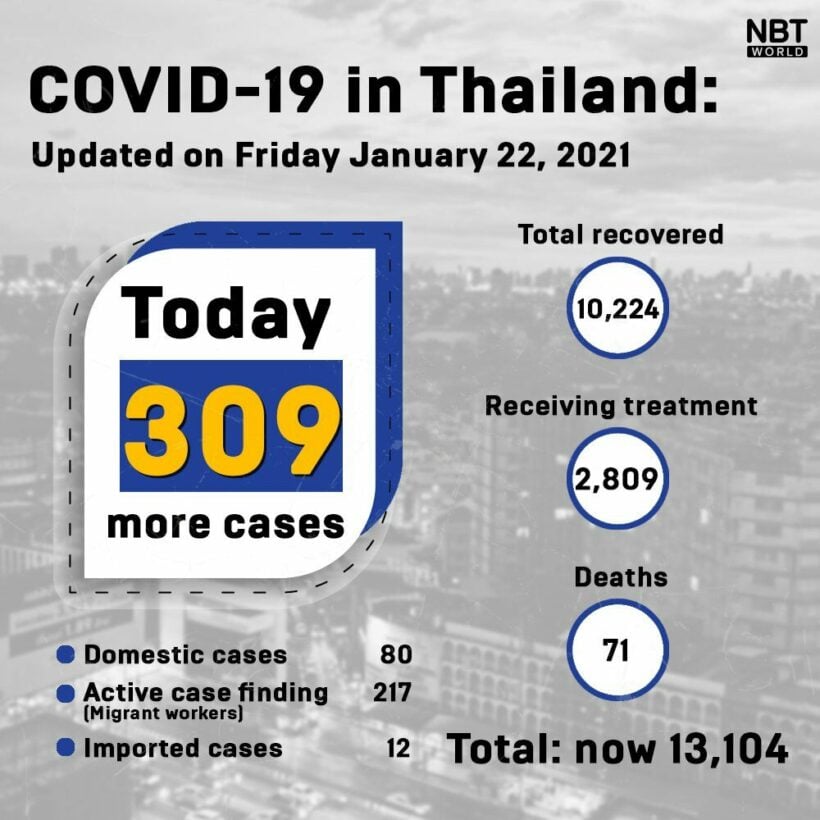 SOURCE: CCSA Daily Briefing
Keep in contact with The Thaiger by following our Facebook page.
Never miss out on future posts by following The Thaiger.