Six arrested over rival student street slayings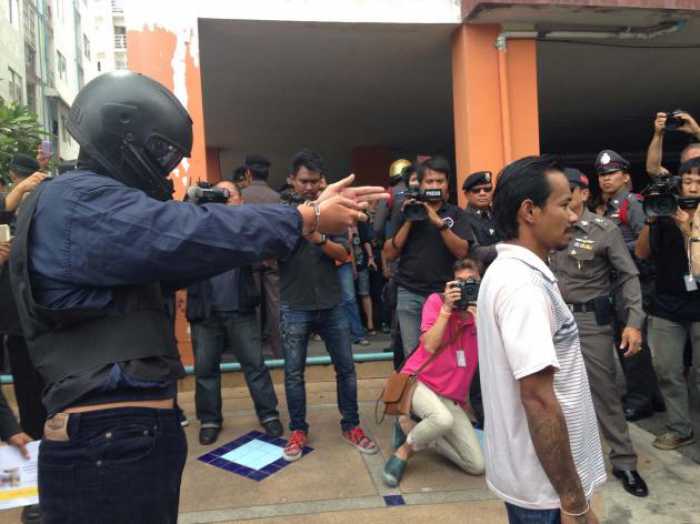 PHUKET MEDIA WATCH
– Thailand news selected by Gazette editors for Phuket's international community
Six arrested over rival student street slayings
The Nation / Phuket Gazette
PHUKET: Six students are facing the charge of premeditated murder for fatally shooting three students from a rival college to take "revenge for a female friend" who was killed last month.
This case provides another glimpse into the bitter rivalry between students of the Rajamangala University of Technology Uthenthawai Campus and Pathumwan Institute of Technology, which has already claimed many lives.
"I did not want to see my friend's attackers go unpunished," Jitdilok Oumchu, a 21-year-old suspect from Rajamangala University, said yesterday. He was referring to the killing of Kankanit Promkaew, who was shot dead at a Bangkok bus stop on August 26.
Jitdilok and his five friends shot three students from the rival Pathumwan Institute because they believe students from this college were responsible for Kankanit's death.
However, Pol Maj-General Suwat Jangyodsuk, a deputy chief of the Office of Police Strategy, yesterday called on students from the two institutes to stop taking such matters into their own hands.
"Let the law run its course. It's the duty of the police to find out who committed the crime and bring the culprit to justice," he said, as he vowed to nail down Kankanit's killer.
Jitdilok, meanwhile, said that if the police had tracked down Kankanit's killer quickly enough, then his friends would not have had reason to kill three students from Pathumwan Institute of Technology.
On September 1, Jitdilok and his friends allegedly shot dead 21-year-old Patchara Kamplasiri, and on September 12, they allegedly shot dead Ponlawat Janwises, 21, and Chitsanupong Srikacha, 18.
On Tuesday, Jitdilok and five friends – Kabin Jirojmontri, Panya Khemwatcharalert, Attapon Yeemanying, Jirayut Suwannachote and Nattakorn Kamtaeng – were arrested. They are all aged between 19 and 24.
The six suspects have been charged with premeditated murder and the illegal possession of guns and ammunition.
Separately, Kamjorn Tatiyakavee, secretary-general of the Office of the Higher Education Commission, yesterday summoned Panya Minyong, president of Pathumwan Institute of Technology, and Suebpong Moungchoo, vice president of the Rajamangala University of Technology Uthenthawai Campus, to look for ways to end this ongoing rivalry between the students.
Suebpong said his institute had not ignored the issue and had implemented several measures to prevent brawls. "We have installed security cameras and regularly conduct weapons searches," he said.
Meanwhile, the chief of Pathumwan Institute said his school had strictly banned its former students from entering the compound.
Both schools believe its alumni have been sowing the seeds of hatred among the students.
However, Kamjorn insisted that the executives of both institutes must try harder to prevent such fatal incidents. "Or else, each institutes' executives will face a disciplinary probe over perceived negligence," he warned.
He also called on the police to work fast in nailing down those who are behind clashes between students.
Suebpong said he would provide the police with a list of the alumni suspected of sowing hatred among the students. "If you really love your alma mater, then please stop inciting the new students," he said.
Panya, meanwhile, said he was saddened by the recent deaths of his institute's students.
Kampon Kamplasiri, who lost his son in the school rivalry, said his family was still struggling with the loss.
"We can't cope with what has happened, but we strongly hope our son's death will encourage all sides to talk and find a sustainable solution," he said.
Meanwhile, Prime Minister General Prayuth Chan-ocha told top government officials that the Education Ministry should review situations like this on a case-by-case basis and determine what punishment should be meted out to an educational institute whose students engage in brawls.
"Punishments should range from warnings to the closure of the faculty," Prayuth said, adding that lax measures would only allow the problem to continue.
— Phuket Gazette Editors
Keep in contact with The Thaiger by following our
Facebook page
.
Never miss out on future posts by
following The Thaiger
.
Jailed activists request individual cells, access to books, ahead of exams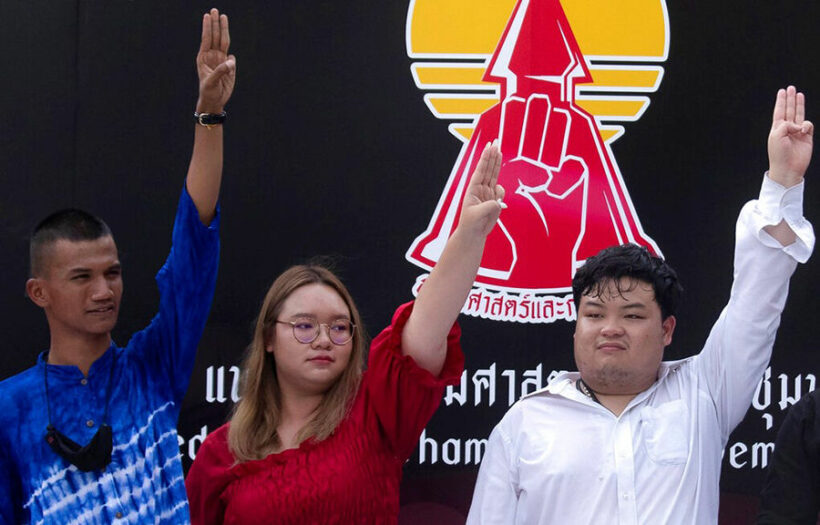 3 protest leaders currently behind bars have spoken with the Justice Minister to ask for a number of personal requests to be granted. Panupong Jadnok, Parit Chiwarak, and Panusaya Sithijirawattanakul, each met with Somsak Thepsutin, with Panupong calling for a separation between prisoners awaiting trial and those who've already been convicted. Both Panupong and Parit are being held at Bangkok Remand Prison. Panusaya, who is being detained at the Central Women's Correctional Institution also requested an individual cell, but her request was turned down.
All 3 have requested access to books, ahead of impending exams. According to a Bangkok Post report, Panusaya told Somsak she's prepared to suspend her higher education if it prevents her from carrying out her political activism. Parit echoed the request for books, asking for access to the works of left-wing author and historian, Jit Phumisak, and saying he's concerned about missing his exams. Meanwhile, Noraset Nanongtoom from the Thai Lawyers for Human Rights Centre, says Parit has described living conditions at the jail at "tolerable".
All 3 activists are being charged with sedition and incitement after participating in protests at Bangkok's Thammasat University and Sanam Luang on September 19 and 20. Temporary release on bail has been denied for each of them.
SOURCE: Bangkok Post
Keep in contact with The Thaiger by following our
Facebook page
.
Never miss out on future posts by
following The Thaiger
.
2 foreigners in same hotel as infected French woman test positive for Covid-19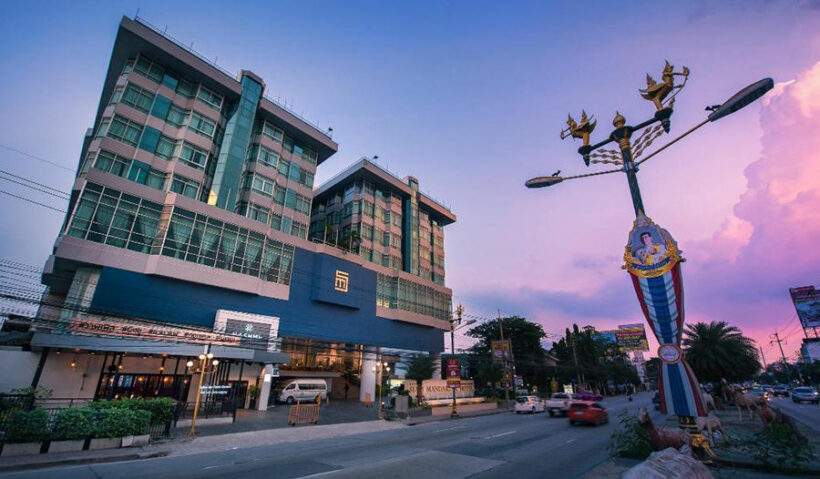 Officials are reviewing the use of a hotel just outside Bangkok as a quarantine facility, after 3 foreign nationals staying there tested positive for Covid-19. The first was a woman who developed symptoms of the virus after she had completed 14 days' quarantine and had returned to her home on the island of Koh Samui. It's understood the woman has both Thai and French citizenship; she was born in Thailand and is married to a French national.
Yesterday, Sophon Iamsirithavorn from the General Communicable Diseases Division, confirmed 2 more foreigners staying at the same hotel, in the central province of Samut Prakan, also tested positive. All 3 are now receiving hospital treatment, but Sophon says officials are still not sure how they became infected or if their cases are linked. He adds that the hotel, named in a Bangkok Post report as the Siam Mandarina, may not meet the required standard of an alternative state quarantine facility.
Thai PBS World reports that the hotel has been thoroughly disinfected by health authorities after traces of Covid-19 were found on equipment in the hotel gym. It's understood the Disease Control Department is in talks with Samut Prakan health officials regarding a possible suspension of the hotel as a quarantine facility.
Officials are also deciding whether to release those currently quarantining in the hotel once they've completed their 14 days, or whether they should be required to install a tracking app on their phones. Tests are also being carried out on each of the 3 patients to determine if there is a match between the virus strains in each of them.
SOURCE: Thai PBS World | Bangkok Post
Keep in contact with The Thaiger by following our
Facebook page
.
Never miss out on future posts by
following The Thaiger
.
Thailand News Today | German Embassy, More STV tourists, Thanathorn in trouble | October 27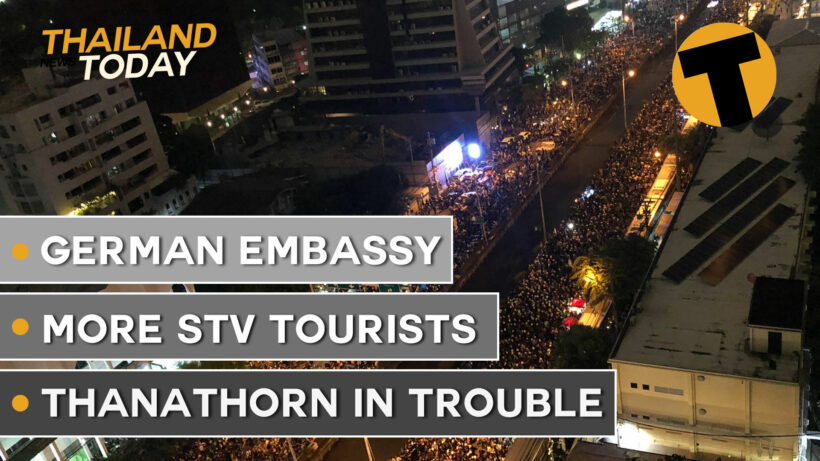 Today's latest Thai news from The Thaiger, hosted by Tim Newton with full, echoey sound! Sorry about the minor audio issues!
From Bangkok to Berlin – protesters deliver letter to German Embassy
Protesting students last night submitted a letter to the German Embassy, to be passed on to the German Government. The protest started around 4pm when the rally gathered at the Sam Yan intersection, near the Chulalongkorn University, and made its way along Rama IV Road to the German Embassy in Sathorn Road, some 1.5 kilometres.
After some 10,000+ students descended on the Embassy compound in Sathorn Road, the German embassy said it would be "ready to receive the petition and convey it to Berlin on condition it was conveyed in a peaceful manner".
The rally disbanded peacefully at around 9pm. Here are a few lines from the letter… the full contents are published on thethaiger.com
Addressed to His Excellency German Ambassador to Thailand.
During the last few days, we believe that Your Excellency have had the occasion to observe numerous alarming human rights violations in The Kingdom, including the excessive use of force against peaceful protestors and the suppression of free speech.
The protestors. at the receiving end of these egregious violations, were advocating for nothing more than democracy and accountability from the Government.
One of the most significant and courageous demands from the protestors is the accountability of the monarchy as an institution under the constitution.
In this regard, we are certain that Your Excellency is well aware of the open secret that H.M. does not habitually reside in Thailand, but rather in Bavaria, Germany. Khana Ratsadon International profoundly believes that this violates International custom, law, as well as Article I of the German Constitution.
We sincerely hope that Your Excellency would convey our grievances to the German Government.
Yesterday's Germany's Foreign Minister responded directly to the situation out side the German Embassy in the German parliament….
"Of course we are following developments taking place in Thailand, and know there are demonstrations and people taking to the streets for their rights. And, of course, I am also watching what the Thai King gets up to in Germany."
Earlier yesterday a group of some 500 supporters of the government and royalists dressed in yellow shirts also demonstrated outside the gates of the German Embassy voicing their support for His Majesty and a continuation of the current system.
Both rallies outside German Embassy broke the law – deputy police chief
Meanwhile both of the rallies outside the German Embassy in Bangkok – the royalists and government supporters earlier yesterday afternoon and the pro-democracy protesters in the evening – have been deemed illegal by Thai police.
Deputy Metropolitan Police Chief says both rallies held outside the embassy on Sathorn Road did not have the permit required to hold a gathering and demonstrators violated Covid-19 prevention measures under the emergency order (presumably the Covid 19 emergency decree as the State of Emergency was rescinded last Thursday by the Thai PM).
Around 500 royalists got to the embassy first in the afternoon to show support for the Thai Monarch. Most were dressed in yellow, the colour representing the Thai Monarchy, and many waved the Thai flag and held up photos of the Royal family.
6 face extortion charges after allegedly posing Thai immigration police officers
Police have arrested 3 people and issued arrest warrants for 3 others on extortion charges after they allegedly posed immigration police officers in Rayong and visited business owners with migrant staff, asking them for money.
Police say 6 men wearing immigration police uniforms visited business owners in Rayong on September 15. They allegedly asked for money from the businesses with migrant labourers.
Investigators where able to track down 3 of the suspects and found the immigration police uniforms they allegedly used.
145 more on Special Tourist Visa arrive in Bangkok
145 people on the new Special Tourist Visa arrived in Bangkok yesterday from Guangzhou, China, the second group after Thailand's 7 month ban on international tourists.
39 people on the new long stay visa arrived last week, a small, yet significant step forward for Thailand as it pries open the borders for tourists, albeit with a lot of paperwork, restrictions AND the 14 day quarantine.
In 2019, nearly 40 million tourists visited Thailand.
3 Chinese casino workers arrested with 8 million baht after illegal crossing from Myanmar
Officers from the Thai police and military have arrested 3 Chinese nationals after they crossed illegally into Thailand from the Burmese town of Myawaddy.
The 2 women and 1 man were workers at a casino in Myanmar and were arrested in possession of 8 million baht in Mae Sot, Northern Thailand. Officers detained them as they were getting into 2 cars allegedly arranged for them by 2 Thai men .
Thanathorn, other former Future Forward Party officials, are facing criminal charges
16 people from the dissolved Future Forward Party, including the former leader Thanathorn , could face criminal charges pressed by the Election Commission.
The charges are over a large donation that allegedly exceeds the maximum allowed under the Political Parties Act. The timing of the politically-charged legal action coincides with a peak of anti-government protest activity.
The 191 million baht loan, which exceeds the limit of 10 million baht per donor per year, led the Constitutional Court to dissolve the Future Forward Party back in February. The Court also ordered the party's executive MPs be stripped of their parliamentary status and banned from politics for 10 years.
Keep in contact with The Thaiger by following our
Facebook page
.
Never miss out on future posts by
following The Thaiger
.