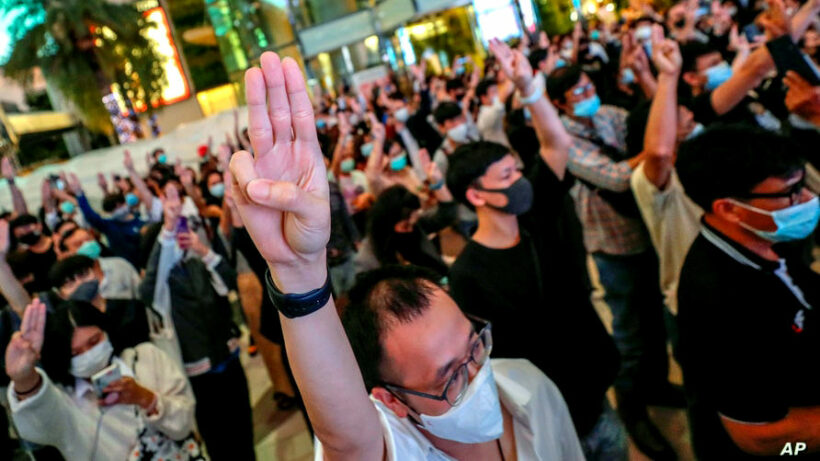 Protest leaders of The Ratsadon (People's Movement) group are threatening to escalate the rallies if authorities interfere with an upcoming rally at the Crown Property Bureau in Bangkok this Wednesday. The anti-government group named Dao Din, which is part of the wider Ratsadon group, has voiced its opposition to parliament's rejection of the charter amendment bill proposed by iLaw, a Thai human rights NGO. The bill, which was a proposal to amend the Thai constitution, had almost 100,000 signatures of support. It was rejected at the first reading last Wednesday.
Panupong Sritananuwat, a member of the Dao Din group, says the group will take part in the upcoming anti-government protests on Wednesday and further denounced the government's use of force to disperse the rallies that took place on November 17. As a whole, the group is vowing to continue its protests until PM Prayut resigns and the charter is amended. On current form, neither are likely to occur.
Yesterday, protest leader Parit "Penguin" Chiwarak posted on his Facebook page, urging demonstrators to gather at Aksa Road in Bangkok today at 4pm, after yesterday's "Bad Student" activists held a rally underneath the Siam BTS Skytrain station in Bangkok, after shifting from the proposed destination of the Ratchaprasong intersection. That rally featured T Rex dinosaur costumes as the students painted government officials as "dinosaurs" or "old-guard politicians".
The protests yesterday marked a refusal to cooperate with the government's wishes as 2 students, who were minors, were summoned by police for violating the emergency decree law. The "Bad Student" group did notify authorities of the protest, who then prohibited the group from moving to other locations. However, due to rain, the group moved under the BTS Siam Skytrain station.
Deputy police spokesman Kissana Phathanacharoen said the group was given permission to demonstrate but the police would not tolerate signs featuring words that caused "hatred and division" in society. So far, the groups have not backed down for the upcoming protests on Wednesday, despite PM Prayut issuing a lese majeste warning for the demonstrators. Reform of the Thai monarchy is one of the core demands in the current spate of protests.
The protest on Wednesday at the Crown Property Bureau come after the HM the King controversially took ownership of the palace fortune which is under the Bureau, shortly after his coronation.
SOURCE: Bangkok Post