Prison time mounting for Pongpat as court adds another 15 years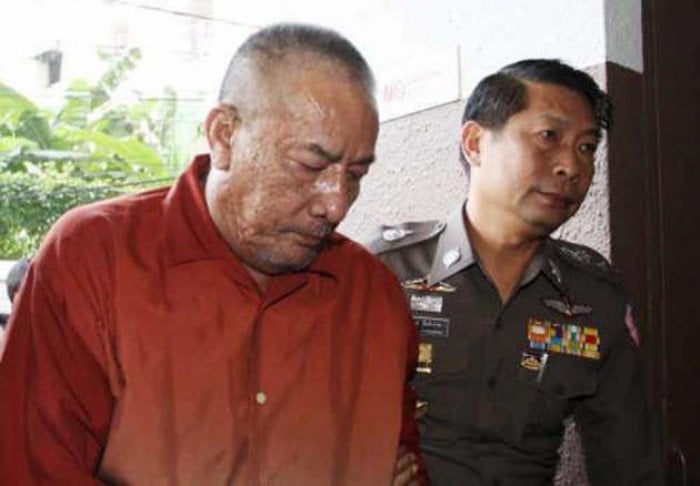 PHUKET MEDIA WATCH
– Thailand news selected by Gazette editors for Phuket's international community
Prison time mounting for Pongpat as court adds another 15 years
The Nation / Phuket Gazette
PHUKET: Former Central Investigation Bureau (CIB) chief Pol Lt Gen Pongpat Chayaphan will serve almost 32 years behind bars, after the Criminal Court yesterday found him guilty in two more bribe-taking cases that landed him 15 more years in prison.
The 59-year-old Gen Pongpat had already been given 16 years and nine months behind bars for three previous crimes relating to a gambling den, Burmese rosewood plank possession and money laundering.
He and five other disgraced police officers were brought to Bangkok's Ratchadapisek Criminal Court yesterday to hear the ruling on the two bribe-taking cases.
In the first case, Gen Pongpat, former CIB deputy commissioner Maj Gen Kowit Wongrungroj, 59, and former marine police commander Maj Gen Boonsueb Praituen, 55, were found guilty of taking 147.4 million baht in bribes from oil smugglers in the South from February 2012 to July 2014.
Gen Pongpat and Gen Kowit had their initial 10-year sentence reduced by half due to their useful confessions while Gen Boonsueb – who also faced a lese majeste charge in this case – was given a 15-year jail term that was also halved.
In the second case, Gen Pongpat, Gen Kowit, Col Wuthichart Luensukhon, 46, Sgt Surasak Chan-ngao, 50, and Sgt Chakrin Laothong, 48, were accused of conspiring to demand between 3mn baht and 5mn baht from several police officers in exchange for getting them promoted to key positions in the CIB.
They were also reportedly required to pay monthly installments of between 10,000 and 2mn baht to stay in the positions, with the bribes taking place from October 1, 2010 to November 11, 2014.
Gen Pongpat and Gen Kowit were given a 20-year sentence while the three subordinates got 12 years each.
The sentences were halved due to their useful confessions and their previous police merits.
— Phuket Gazette Editors
Keep in contact with The Thaiger by following our
Facebook page
.
Activists want Thailand to lead total ban on wildlife trade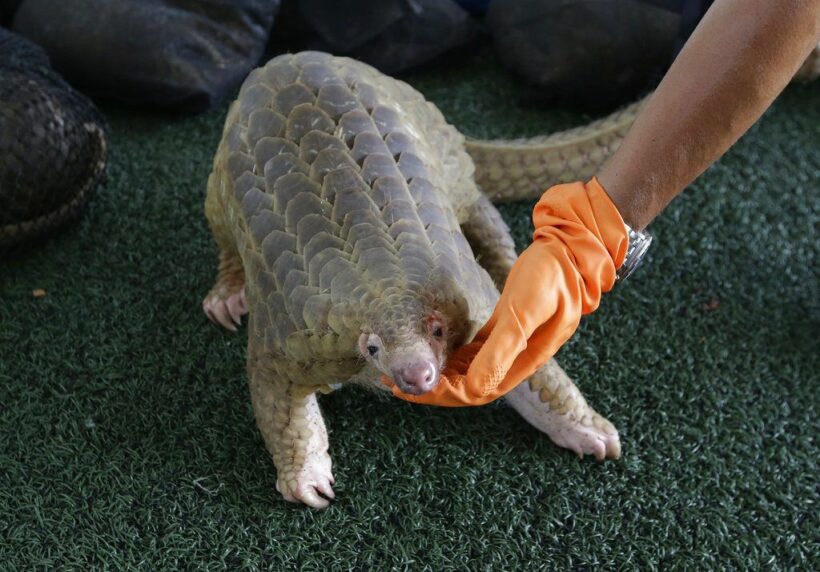 With the Covid-19 pandemic continuing to sweep the globe and the World Health Organization saying 75% of all emerging infectious diseases are zoonotic, campaigners against wildlife crime say Thailand could become a global leader in stopping pandemics by cracking down on poaching and ceasing to be a gateway for illegal wildlife trade. Activists believe this would help stop animal-to-human disease transmission, saying data show that the majority of emerging diseases usually originate from wet markets – where wild animals are caged and sold for food.
At a press conference yesterday to launch the global campaign "Endpandemics", Steven Galster, the founder of nonprofit group Freeland, which campaigns against animal and human trafficking, called on the government to take more aggressive actions to ban the wild animal commercial trade. Freeland started "Endpandemics" in April when the Covid-19 pandemic exploded globally.
Galster says the nation could return to its top place in the regional fight against the illegal wildlife trade under the framework of the ASEAN Wildlife Enforcement Network. He called Thailand's response to the Covid-19 outbreak "exemplary, resulting in some of the lowest numbers of cases and deaths in the world."
But, he says, Thailand has left a door open for a new viral bomb to explode on its own doorstep; the illegal wildlife trade. He says there needs to be strong efforts from all stakeholders, especially law enforcement, to ban it entirely.
He believes Thailand should close its gates to wildlife traders and lead other countries by example to follow the WHO "One Health" approach that involves protecting not only people but wild animals and ecosystems.
"A new vaccine will not work against a new outbreak strain. A true, sustainable vaccine will address the root causes of these outbreaks but there needs to be a new approach not only for the protection of people but of wildlife and natural ecosystems as well. Thailand can be that global leader by becoming the first country in the world to ban all commercial trade in wild animals. "
Despite its efforts to control wildlife crime, Thailand is widely known as a regional hub for wildlife crime due to its geographic location and transport system linking it to neighboring countries. Tonnes of African ivory, rhino horn, pangolins, and their scales, snakes, tiger cubs, and all manner of wildlife and wildlife products are confiscated at Thai airports annually. The final destination of these items is usually China.
Many anti-wildlife trafficking experts say the Covid-19 pandemic has helped stop the illegal wildlife trade; China has closed its wildlife markets and banned the trade, with some exceptions.
But the order to close the markets will likely be eased when the outbreak fades. Galster says reopening them will be detrimental to wildlife protection and increase the possibility of diseases jumping species from animals to humans, such as Sars, Mers, bird flu, and Covid-19.
SOURCE: Bangkok Post
Keep in contact with The Thaiger by following our
Facebook page
.
Outgoing army chief says no plans for US base on Thai soil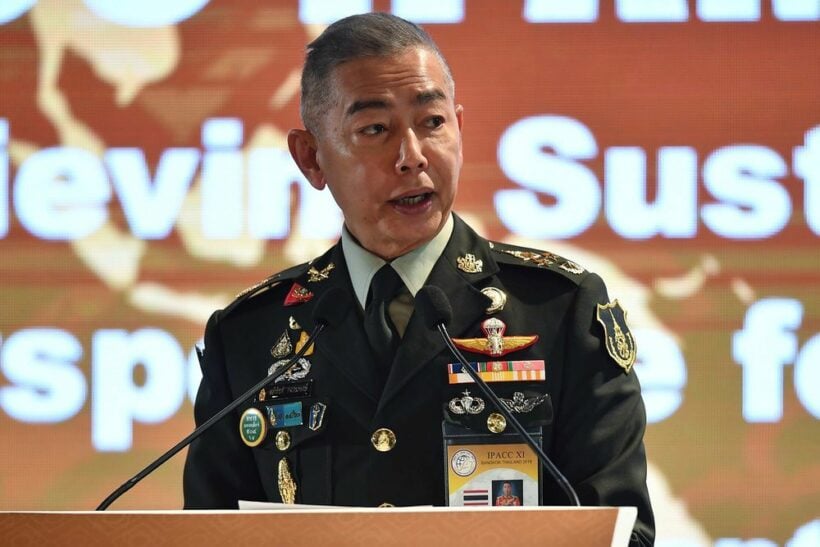 Outgoing army chief Apirat Kongsompong, is denying that the US is seeking to establish a military base on Thai soil. At a press briefing, Apirat said that Thai and US troops have only carried out joint military drills, code-named Cobra Gold, and nothing more. The drills are a multinational exercise held annually in Thailand.
Apirat insisted the US did not ask to use Thailand as a stage for a base but admitted that US troops left behind some of their military equipment deployed during the drills, but says reporters shouldn't read too much into this. However, Singapore has a longstanding agreement with Thailand, giving it access to a military area in Sai Yok district in the western Kanchanaburi province, in order to reportedly conduct military training. That agreement is renewed every 3 years.
Apirat also defended the 2 day visit by the US Army Chief of Staff James McConville and his delegation after an activist criticised the government for not sending the visitors into the mandatory quarantine that was imposed for all visitors. He says the delegation will be tested for Covid-19 before and upon arrival to Thailand. Tests will be performed by doctors from the Public Health Ministry, Phramongkutklao Hospital, and Thai Airways International staff. These procedures will become a model for future visits by foreign delegations.
"Don't stir up issues that might create conflict in the region."
The US delegation will be the first group of foreigners to officially visit Thailand since the country began lifting Covid-19 restrictions. McConville will meet Apirat and PM Prayut Chan-o-cha today and tomorrow.
In a related development, General Narongpan Jitkaewthae is widely expected to replace Apirat as army chief during the annual military reshuffle at the end of September. A military source told Bangkok Post that the reshuffle dominated a pre-session discussion shortly before a meeting between top military officials and the Royal Thai Police yesterday.
The source said this time around the reshuffle will involve high ranking personnel whose names were brought up during the pre-session discussion. The source said a list of high ranking officers up for promotion will likely be presented to the chief of the defence forces next week before it's forwarded to PM Prayut Chan-o-cha, who also serves as defence minister.
Apirat said yesterday he will retire at the end of September, adding he will no longer be active in handling government affairs after that month. He denies he will seek to extend his tenure as army chief.
"I will pass the baton to the next army chief on Sept 30 when my duties will come to an end. There is absolutely no need to prolong my tenure."
SOURCES; Bangkok Post | Bangkok Post
Keep in contact with The Thaiger by following our
Facebook page
.
Doctors say Covid-19 first wave may be over, but warn against complacency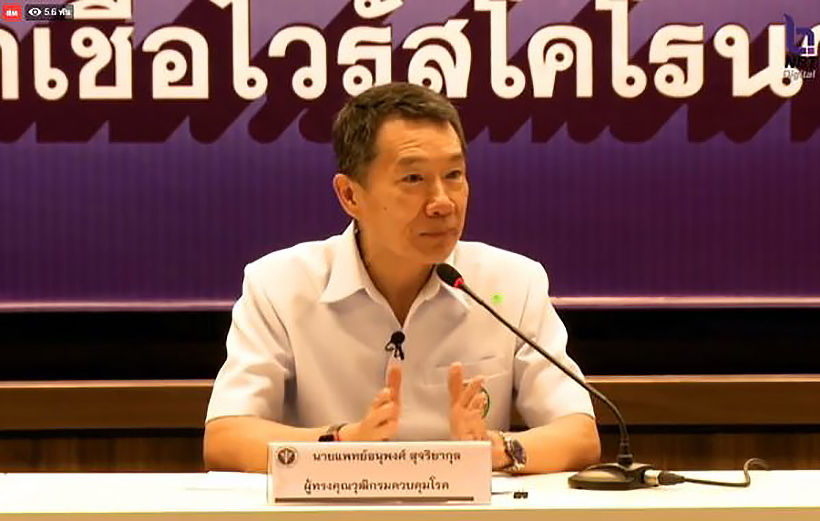 A spokesman for the Department of Disease Control says the "first wave" of the Covid-19 outbreak in Thailand is over after the country seeing no cases of community transmissions for 44 straight days. Dr Anupong Sujariyakul warned, however, that the kingdom must be prepared for the possibility of a second wave, as the contagion is still spreading in many parts of the world, with several countries thought to have eliminated the virus already experiencing second outbreaks.
Anupong says the Ministry of Public Health supports the government's plan to open the country slowly and cautiously, in order to restart its struggling economy, while still keeping its guard up by strictly observing the basic rules of hygiene: wearing face masks, regular handwashing, and social distancing.
As for the warning from scientists in 32 countries to the World Health Organization that Covid-19 can be spread through airborne droplets smaller than 5 microns, Anupong says the Public Health Ministry has previously explained that the contagion can be transmitted through airborne droplets. He notes, however, that the transmissions occur in enclosed environments such as intensive care units, but not in open spaces with good ventilation and sunlight. He advised the public to not be overly concerned about an airborne contagion at this point.
"If Covid-19 could be easily transmitted through the air, like tuberculosis, then worldwide operations would not be just 11-12 million cases, but many more."
The deputy director of the DDC warns that Thai people are becoming less concerned about the prospect of a second wave and may actually be encouraging the return of contagion. On his Facebook page, Dr Thanarak Plipat was asked if the country is ripe for a second wave. His answer was "yes" as he pointed to the behavior of many Thais "who are putting Thailand at an increased risk," saying many stores and shops no longer insist on the wearing of masks and customers appear to be more confident about not wearing them.
"Whether the disease will return again depends on the Thai people, and I personally feel that they are not afraid of Covid-19 and want it to return."
Thanarak added that this attitude is very dangerous, and he wants people to "come to their senses." He cited a report by Dr Taweesilp Visanuyothin, spokesman for the Center for Covid-19 Situation Administration, saying that about 3,000 migrant workers recently reentered Thailand after the easing of lockdown restrictions, noting that some of these people could be infected and may spread the disease.
"The best protection we currently have is to wear masks and observe the other safety measures."
The director of the General Contagious Diseases Division echoed the words of both doctors, saying the fact that Thailand has been without local infection for 44 consecutive days doesn't mean the disease has been eradicated. He warns that it could return with a vengeance "if we lower our guard and ignore basic safety measures."
SOURCES: Thai PBS World | Thai PBS World
Keep in contact with The Thaiger by following our
Facebook page
.