Police chief transferred after protesters rally at police station, hang banner calling for monarchy reform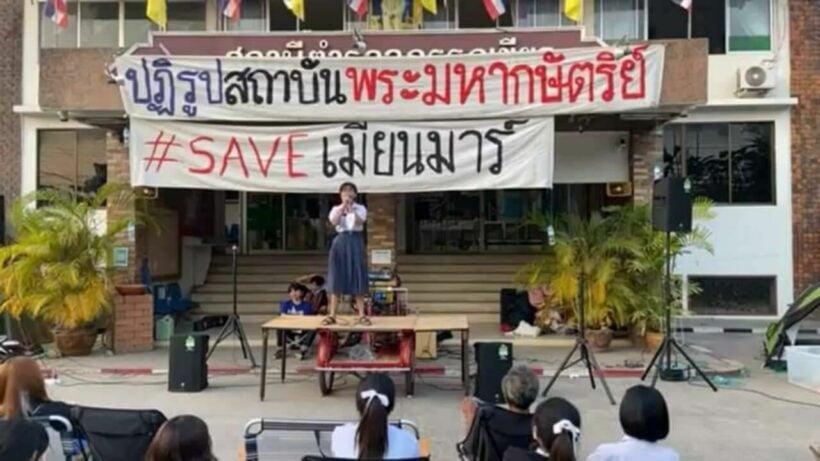 A district police chief was abruptly transferred from his post after pro-democracy protesters staged a rally and hung banners at a police station in the Isaan province Chaiyaphum. Protesters called for monarchy reform in Thailand and democracy in Myanmar following the military coup.
Protesters from the People's Group, also known as Ratsadon, marched from a local school to the police station where they hung a banner saying "Reform the Royal Institution" and another saying "#SAVEMYANMAR."
Sometime after the protest, superintendent of Phu Khieu district police, Permsook Siripala, was immediately transferred to an inactive post at an operations centre until further notice.
Commissioner of the Third Region Provincial Police Bureau, Panurat Lakboon, who issued the order, says the superintendent allowed the banner to be hung up, a move that lacked responsibility and discipline.
To show his commitment to police discipline, Panurat shaved his head. He says police must cherish the royal institution with the highest respect.
Panurat plans to press charges on protesters for allegedly violating the Emergency Decree and the Communicable Disease Act.
SOURCES: Bangkok Post | Thai PBS
Catch up with the latest daily "Thailand News Today" here on The Thaiger.
Keep in contact with The Thaiger by following our Facebook page.
Never miss out on future posts by following The Thaiger.
Police investigate "offensive" posts on Facebook pages of jailed activists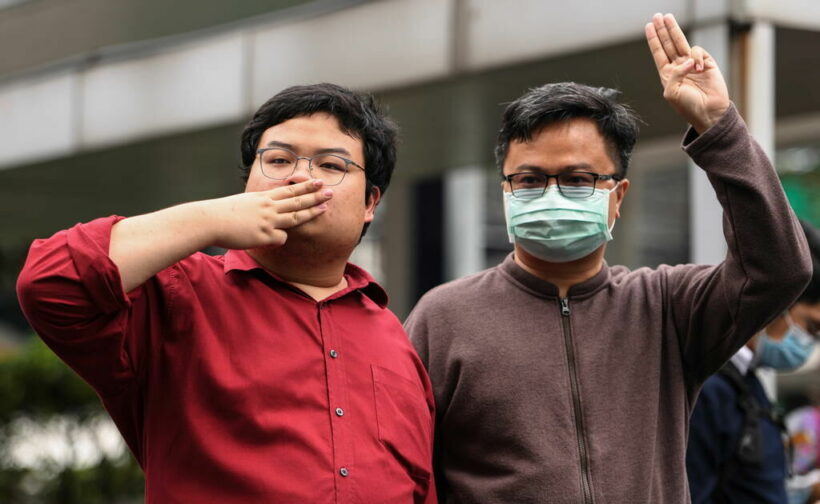 The authorities are investigating the origin of content deemed offensive, which has appeared on the Facebook pages of 2 jailed activists, despite them having no access to phones or the internet. The Department of Corrections has asked the Technology Crime Suppression Division to investigate content posted on the pages of jailed protest leaders Parit Chiwarak and Anon Nampa.
Both Parit and Anon are being held on a number of charges, including sedition and lèse majesté, following a protest in the capital on September 19. Thanakrit Chitarirat from the Ministry of Justice says despite Parit being held at Bangkok Remand Prison, with no phone or internet access, provocative posts are still appearing on his Facebook page. Thanakrit has called the content damaging and in violation of the Computer Crimes Act.
Anan Nanasombat from the TCSD says complaints have been received about posts on Parit's page both before and after he was imprisoned. He suggests it could be someone with Parit's log-in information, who is posting on the activist's behalf.
According to a Bangkok Post report, officials are investigating if Parit is involved in the posts, with a view to taking further legal action against the activist if this proves to be the case. It's understood the authorities are also monitoring those who share the content as this too could be considered a crime. Similar content is being posted on Anon Nampa's Facebook page, although Thanakrit says those posts are softer in tone.
SOURCE: Bangkok Post
Keep in contact with The Thaiger by following our Facebook page.
Never miss out on future posts by following The Thaiger.
Pro-democracy activists rally against corrupt police promotion system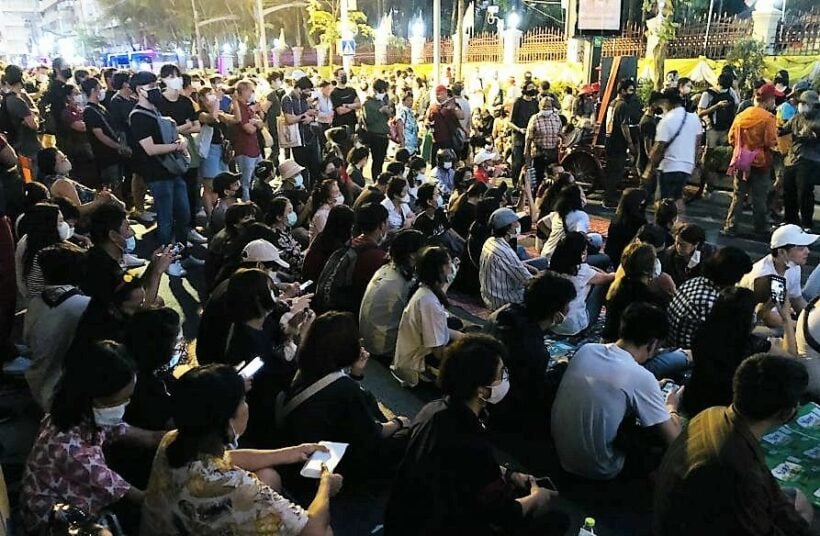 The pro-democracy group, Ratsadon, held a rally in Bangkok yesterday, this time with their sights set on Thailand's police force and the corrupt practices involved in promotion. The system in which officers have to pay bribes to senior figures, allegedly including senior politicians, was highlighted in a debate in parliament last week.
Activists met at the Ratchaprasong intersection in the capital at around 5pm and stayed there for an hour, according to a Thai PBS World report. However, most of the speakers were unknown faces, with more prominent leaders, such as Panasaya Sitthijirawattanakul, aka, "Rung", and Mike Rayong notably absent. Those who addressed the crowd called on "honest" officers to join them in the fight for justice, as they slammed the widespread nepotism and corruption that is allegedly rife in the police force.
Protesters then marched to the nearby headquarters of the Royal Thai Police and sat on the street outside while speeches continued. At one point, an activist read out a letter which the group says was written by a police officer and addressed to his colleagues. In it, the officer calls on his colleagues to decide if they are serving the people or those in power, and asks them if they think they've been fairly treated by their bosses or used for political purposes. After the reading, rally participants were given copies of the letter.
The protest dispersed peacefully around 8.30pm, with organisers saying another rally is planned for today. Activists are being asked to wear black and will gather in front of the Criminal Court in a symbolic show of mourning for the country's justice system. The "mourning" will last for 112 minutes, to protest Section 112 of Thailand's Criminal Code, also known as the lèse majesté law. Participants will also call for the release of 4 detained protest leaders, Parit Chiwarak, Anon Nampa, Somyos Prueksakasemsook, and Patiwat Saraiyaem.
SOURCE: Thai PBS World
Keep in contact with The Thaiger by following our Facebook page.
Never miss out on future posts by following The Thaiger.
Pro-democracy group calls for "honest" cops to join them, as corruption exposed in parliament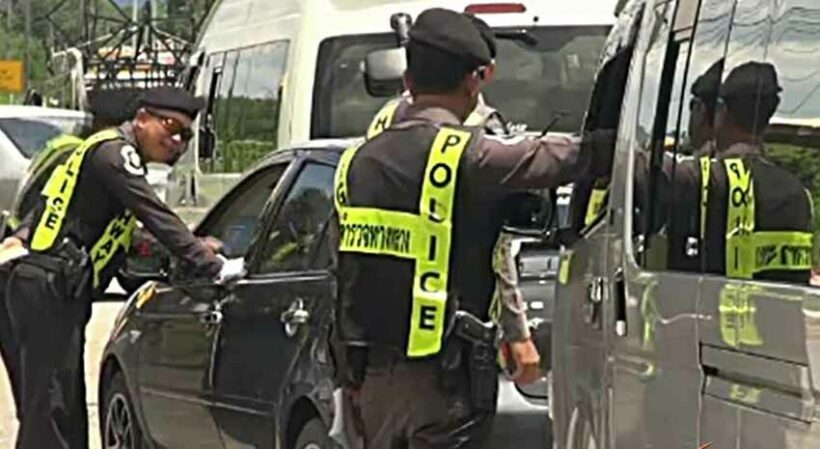 The pro-democracy Ratsadon group is calling for "honest" police officers to join a rally taking place today to protest police and government corruption. Protesters are expected to gather at the Ratchaprasong intersection in Bangkok from 5pm. During last week's no confidence debate against the PM, members of the opposition accused Prayut Chan-o-cha and his deputy, Prawit Wongsuwa, of involvement in a corrupt system of "payment for promotion" to allow police officers to move up the ranks.
The Ratsadon group is appealing to officers who have not benefited from such corruption to join them in calling it out.
"Good work, well-recognised work, but without lobbying, you will be stuck at the same place. Police, it's time to choose whether to side with the civilians or the tyrants!"
Coconuts reports that the rally is called, "police mob to defeat an elephant" in reference to the system known as "elephant tickets", in which prominent figures at the top of the political system sign tickets that promote officers swiftly through the ranks . It's understood such tickets can be bought for millions of baht and even give the holder a discount on the bribe needed for promotion.
The crooked system was highlighted during last week's parliamentary debate, with leaked documents indicating the involvement of the PM and Prawit, as well as Thailand's highest institution. An MP from the Move Forward Party, Rangsiman Rome, was swiftly threatened with the country's lèse majesté law after he presented a 2019 palace document which backed the promotion of 20 police officers.
Rangsiman says he's aware of the risk he's taking in presenting such evidence, but that the system creates a circle of immorality and corruption. He says officers have to maximise the payments taken from human trafficking and illegal gambling operations in order to afford promotion tickets.
"This is probably the most dangerous action I've ever taken in my life. But since people have chosen me for this duty, I will fight for them."
SOURCE: Coconuts
Keep in contact with The Thaiger by following our Facebook page.
Never miss out on future posts by following The Thaiger.