Phuket Gazette Thailand News: World Peace under fire; Cabinet wows with vows; Five supercars seized; White masks suspend protest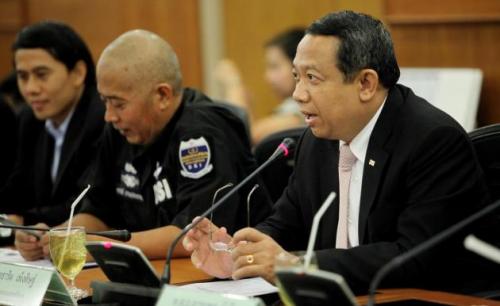 PHUKET MEDIA WATCH
– Thailand news compiled by Gazette editors for Phuket's international community
World Peace chief welcomes DSI probe
The Nation / Phuket Gazette
PHUKET: The World Peace University (WPU) yesterday denied any wrongdoing in the wake of emerging evidence that it has never been accorded the status of a "higher-education institute".
"We don't cause any trouble. We just confer honorary doctorates," WPU president Supanut Donchan said. Its objective was to grant honorary degrees to people who have made contributions to society in fields related to world peace. It had never conducted any classes, he said.
"We welcome any investigation," Supanut said. He spoke after a decision by the Department of Special Investigation (DSI) to launch a probe into the "university".
The WPU has come under scrutiny after a follower of Luang Pu Nenkham, a controversial monk, identified himself as a doctorate-degree holder.
Luang Pu Nekham has been the subject of many negative reports since he was filmed flying in a private jet and carrying a luxury bag.
A probe into his bank accounts found transactions totalling millions of baht per day, which the Anti-Money Laundering Office suspects is evidence of fraud.
The monk has identified himself as the abbot of Wat Pa Khantitham in Si Sa Ket but his monastery has never been officially registered.
Several agencies have launched probes into the monk, who has failed to return from abroad since the scandal erupted. Si Sa Ket monastic chief, Phra Khru Wisuttiyarn, said if Luang Pu Nenkham did not report by July 31, he would not be allowed to return to Wat Pa Khantitham.
New Cabinet unveils strategies
The Nation / Gazette
PHUKET: Newly appointed Natural Resources and Environment Minister Wichet Kasemthongsri has vowed to launch a renewed battle against those who encroach on forest reserves and has also ordered senior officials to review forest-protection laws.
The minister, who formerly chaired PTT's board of directors has also instructed his officials to monitor forested areas using satellite imagery every three months. He said this would help judge the performance of high-level officials and would also enable officials to better protect national reserves nationwide.
In the past few years, the Department of National Parks, Wildlife and Plant Conservation (DNP) has been cracking down on encroachers, especially in Nakhon Ratchasima's Wang Nam Kheow district, where luxury resort owners and private residents have taken over large tracts of forestland. However, the crackdown lost steam after DNP decided to let these encroachers rent the land instead of prosecuting them.
Wichet said he would consider getting civic groups involved in the management of natural resources in their respective areas and would also put preparedness for natural disasters on the top of his agenda.
The minister added that he would comply with the Central Administrative Court's verdict, in which the government was ordered to conduct environmental and health impact assessments of its water-management scheme. He said he had recently spoken to the Royal Forest Department and the DNP on whether to go ahead with the ministry's plan to plant more than 800 million trees to rehabilitate damaged forest areas.
Meanwhile, Education Minister Chaturon Chaisang vowed yesterday to urgently push for the reform of school curriculum as well as improving teaching and learning methods. He has also promised to push for the development of teachers and improve performance assessment schemes. Chaturon was speaking to reporters after meeting with executives in charge of the ministry's five key agencies.
Chaturon went on to say that the curriculum reform initiated by his predecessor Phongthep Thepkanjana would take at least five to six years to go into full effect.
"Over this period, we will have to change teaching and learning methods as well. They must evolve in line with new developments. For instance, we should encourage children to hunt for knowledge on the Internet, but at the same time, they should be taught to analyse the information. It's not just about accessing information," the minister said.
On assessing academic performance, Chaturon said it was necessary to have standard tests.
Meanwhile, the newly-appointed Social Development and Human Security Minister Pavena Hongsakul told her ministerial executives yesterday that all agencies under the ministry need to work proactively, accept public complaints quickly, forward cases, help the affected and implement preventive measures. She said they would initially focus on four issues: unprepared pregnancy, human trafficking, child labour and domestic abuse.
She said she would unofficially open the ministry's 24-hour complaint centre before it is officially launched on July 24, and would also set up four working teams, which would work hand-in-hand with the police. She is also scheduled to meet the national police chief next week and possibly the Foreign Ministry for cooperation to curb human trafficking.
Pracha will continue talks with BRN to know separatists' issues
The Nation / Phuket Gazette
PHUKET: While Thai agencies are keen to assess and review talks held with Barisan Revolusi Nasional (BRN) once the holy month of Ramadan is over, Deputy PM Pracha Promnok said yesterday he would like the dialogue to continue.
Ramadan starts on Monday.
Pracha, who was chosen by Prime Minister Yingluck Shinawatra to oversee the South, said he had also been put in charge of measures related to the development of border provinces in the South, including education.
He said he needed to discuss this issue in detail with related agencies.
Pracha also said he will continue using the moves in place to tackle the unrest, but would make some adjustments.
While peace talks should continue with BRN, he thought success hinges a lot on what happens in the future.
"But if we don't talk [with the separatists], we won't know about their issues," he said.
"He also called on the public to give the government time to resolve the southern crisis.
Meanwhile, violence in the South continued yesterday, with a bomb exploding at 6.35am outside an electronics repair shop in Yala's Bannang Sata district. A police officer was slightly wounded after the shop owner called the police to investigate a suspicious item.
Police managed to defuse another bomb found in front of a Krungthai Bank branch in the same district. It is believed that an insurgency group, led by Sakariya Hayisamoh, who is wanted for six national security cases, carried out these attacks.
In related news, Army chief General Prayuth Chan-ocha said Yingluck was within her rights when she decided to take over as defence minister.
He said the PM had promised she would not do anything to damage the Army.
Turmoil in the South was a complicated issue that needed speedy decisions, and having Yingluck at the helm of the ministry should help things move forward faster, he said. He spoke to reporters just before leaving for the deep South.
White-mask group suspends its protests in Bangkok
The Nation / Phuket Gazette
— Phuket Gazette Editors
Keep in contact with The Thaiger by following our
Facebook page
.
Never miss out on future posts by
following The Thaiger
.
Thailand News Today | Immigration deadline, quarantine update?, arrests averted | October 30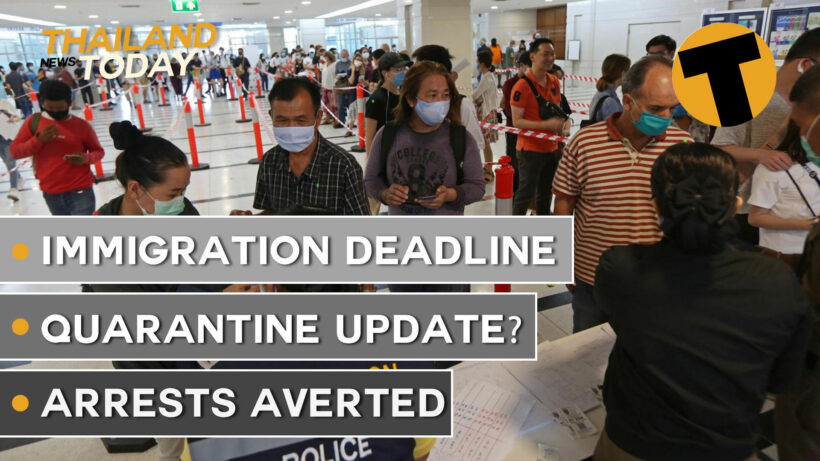 Last day of the week and all the main stories from around Thailand. Thailand News Today, a bit late today but here it is…
Some immigration offices open tomorrow for last minute visa extensions
The latest amnesty is up tomorrow (October 31) and some immigration offices will be open for those who still need sort out their visa extensions.
Those who miss the deadline could face fines for overstay, immigration officials warn. The extensions all go into effect from November 1 and allow a 60 day stay.
Some immigration offices that are typically closed on Saturdays will be open tomorrow for those filing for extensions. Immigration Bureau commissioner Sompong Chingduang says immigration offices on Chaeng Watthana Road in Bangkok and at Muang Thong Thani in Nonthaburi, just outside Bangkok city, will be open tomorrow from 8.30am to 4.30pm. Check with your local immigration office.
Court rejects bid to arrest activists who led march on German Embassy
A bid to apprehend 5 anti-government activists who led a march to the Germany Embassy on Monday has failed, after a court in Bangkok rejected a police application for arrest warrants.
The Bangkok South Criminal Court has turned down the application for arrest warrants.
The 5 would have faced charges of sedition and other offences. But the court told officials to instead issue a summons, given that the protesters are students who only gathered for a short time and are unlikely to flee.
On Monday, protesters marched to the German Embassy to submit a petition calling on the country's government to investigate whether Thailand's Head of State conducted official business while in Germany. Which nicely segues to the next story…
German government does not believe the Thai Monarch broke the law on conducting state affairs
The German government does not believe the Thai Monarch broke the law on conducting state affairs during his time in the German state of Bavaria.
Germany says His Majesty the King has not violated the European country's ban on conducting foreign politics on German soil where he resides. The government in Berlin briefed lawmakers this week, saying the Thai Monarch is allowed make occasional decisions regarding Thai state affairs, but he cannot continuously conduct business from overseas.
So far, the German government says they do not believe the King Maha Vajiralongkorn "continuously" conducted Thailand state business during his residence in Bavaria.
PM to visit Phuket on Monday as island's economy lies in tatters
PM Prayut Chan-o-cha is heading to Phuket on Monday, where he will meet with local business leaders and discuss proposals to help revive the southern island's devastated tourism sector.
Despite Phuket Models and any number of promises from the Thai tourism sector, Phuket remains in a perilous situation whilst the government keeps its borders closed. Almost 100% of Phuket's economy is derived directly or indirectly from tourist traffic.
Health officials propose reducing quarantine to 10 days
Health officials are suggesting cutting mandatory quarantine for international arrivals to 10 days. We've heard it all before but the idea has risen to the top of the Health Minister's file again.
Health Minister Anutin Charnvirakul says the proposal will be submitted to the CCSA for approval. It's hoped that a reduction in the quarantine period could help revive Thailand's battered tourism sector. Only a tiny handful of STV tourists have arrived on the the tourist visa over the past month. The health minister said…
"The priority now is to strike a balance between people's health and the economy. Thailand still has to rely on foreign tourists. Re-opening the country to foreign visitors will help put the economy back on track."
The Minister didn't say where all these tourists might come from or speculate when a reduction on the quarantine period might be introduced.
Police arrest woman for allegedly selling fashion dental retainers
Police have arrested a woman for allegedly selling and fitting fashion dental retainers and braces.
Police seized equipment used for making dental casts and retainers found at her home in Ratchaburi and charged the 27 year old with illegally fitting fashion dental retainers.
The woman has allegedly been selling the retainers on a Facebook page under the name since November 2017, targeting mostly teenage students.
In Thailand, braces and retainers are a fashion trend and also seen as a symbol of wealth. The Thaiger suggests that if you want a set of straight teeth, go to an orthodontist.
Floods in NE Thailand as Vietnam mops up after typhoon
Flooding persists in four north eastern provinces, including Nakhon Rachasima as of this morning. All in the wake of the weakening tropical depression that crossed the Vietnamese coast on Wednesday as Typhoon Molave.
'Molave' was the most powerful typhoon to hit Vietnam in 20 years. The remnants of the tropical depression are now centred over the west of Thailand where it continues to drop plenty of rain.
At least 35 people are dead, 100s injured, and 50+ missing in Vietnam as disaster mitigation authorities are now reaching some of the worst hit areas in central Vietnam.
Keep in contact with The Thaiger by following our
Facebook page
.
Never miss out on future posts by
following The Thaiger
.
Lockdown may contribute to Thailand's rise in dengue fever cases, study suggests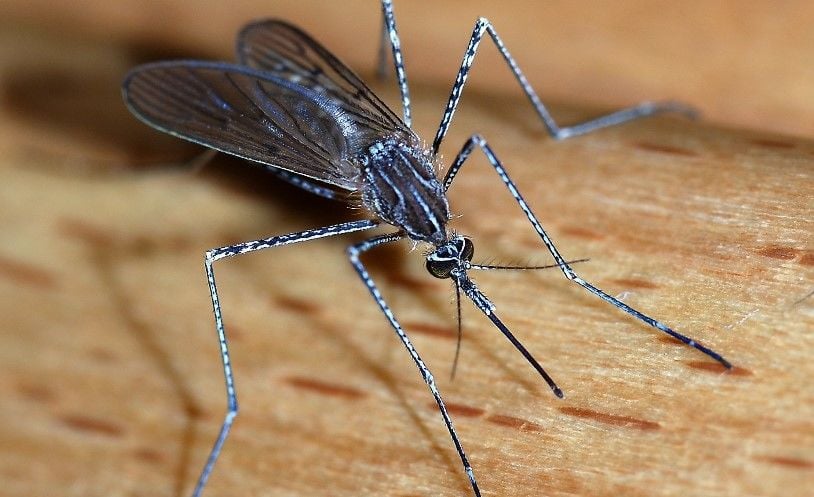 Social distancing and lockdown measures may have contributed to a rise in dengue fever in Thailand, according to a recent study funded by the Singapore Ministry of Health's National Medical Research Council.
Researchers, which included scientists from the University of Singapore, examined dengue fever cases in Malaysia, Singapore and Thailand. No impact on the dengue transmission was found in Malaysia or Singapore, but in Thailand, they found that social distancing may lead to an increase in the number of coronavirus cases. They say the largest impact is in Bangkok Researchers say social distancing is expected to lead to 4.32 additional dengue fever cases per 100,000 people in Thailand each month.
Many people in Thailand stayed at home during lockdown measures put in place to control the spread to the coronavirus, but the study found that people in Thailand are typically bitten by dengue-carrying mosquitos at home rather than at work. Some people even travelled back home to their home provinces to be with their families during the lockdown period.
"Although it is possible for dengue infections to occur in workplaces, it was found in one study that 60% of dengue cases live less than 200m apart came from the same transmission chain, revealing that residential areas are a focal point of transmission."
Reported dengue fever cases in 2019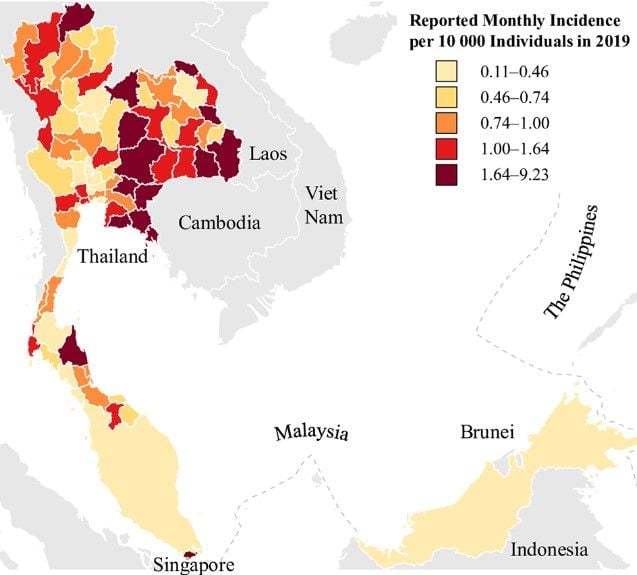 Reported dengue fever cases in 2020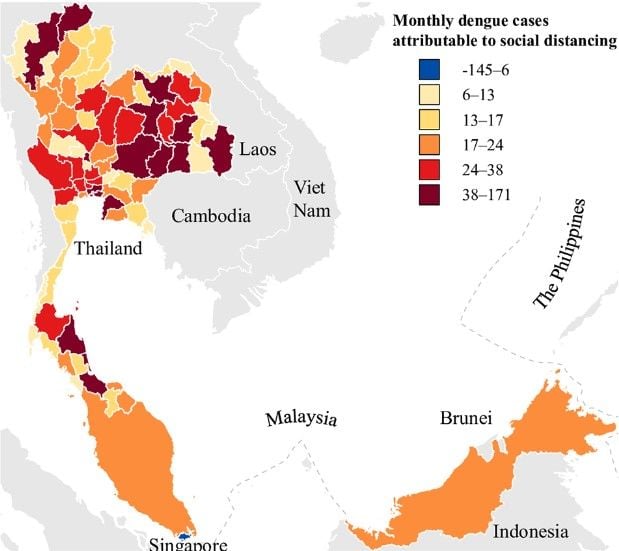 To read the full study click HERE.
Keep in contact with The Thaiger by following our
Facebook page
.
Never miss out on future posts by
following The Thaiger
.
Man arrested for allegedly driving with monitor lizards tied to his motorbike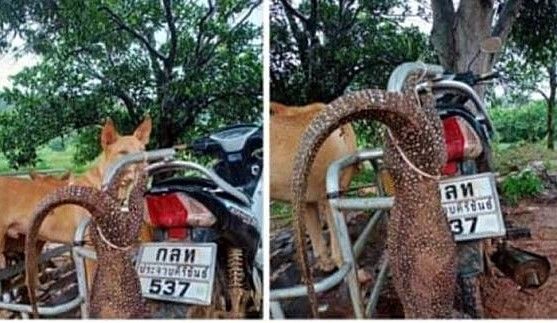 A man was arrested on animal abuse charges for allegedly catching water monitor lizards, tying them to his motorbike and driving around Prachuap Khri Khan, south of Phetchaburi province.
The man, who is identified as Chaowalit, posted photos on Facebook of lizards tied up to the back of his motorbike. One photo shows a large monitor lizard tied up to the back of the bike, hanging upside-down. Apparently, Chaowalit has been posting photos for about 4 months now on Facebook page on wildlife hunting.
Officials from the Kui Buri National Park were notified about the photos and a team of special unit officers were sent to Chaowalit's house to arrest him. He was charged with catching and harming protected wildlife as well as violating the Wild Animal Reservation Protection Act. If found guilty, he could face up to 10 years in prison and a fine up to 1 million baht.
SOURCE: Nation Thailand
Catch up with the latest daily "Thailand News Today" here on The Thaiger.
Keep in contact with The Thaiger by following our
Facebook page
.
Never miss out on future posts by
following The Thaiger
.