Phuket Gazette Thailand News: Two guards gunned down at rubber rally; Case of missing Saudi reopened; DSI 'allowing itself to be manipulated' – Phinyo Thongchai; Supermodel downfall; Magical boy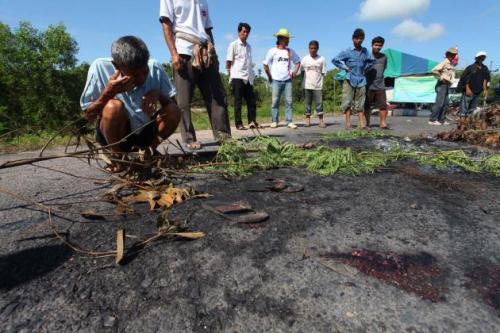 PHUKET MEDIA WATCH
– Thailand news compiled by Gazette editors for Phuket's international community
Tension rises after killing of protesters
The Nation / Phuket Gazette
PHUKET: Tension at the week-long rubber growers' rally in Cha-uat in Nakhon Si Thammarat intensified early yesterday when unidentified men opened fire on volunteer guards, killing one and seriously wounding another.
The shooting came just two days before tomorrow's mass protest planned for farmers from 14 southern provinces in Surat Thani, raising fears that the transportation blockades could turn bloody.
Tempers flared, as the protesters suspect the attack was planned by state officials.
Meanwhile, Governor Wirote Jiwarangsan and Maj-General Ronnapong Saikaew, the provincial police chief, denied any involvement by the authorities, saying they had no policy to crack down on protesters.
They offered a Bt150,000 bounty for the attackers. Ronnapong also urged the farmers to give forensic police access to the scene.
Wirote offered his condolences and said if what happened tarnished the image of the province, he was willing to be transferred out.
Five shots were reportedly fired at the rubber farmers blocking the Ban Toon railway crossing, hitting Sirichai Boonnuwong, 29, in the eye and chest and Sitthisak Chaingam, 25, in the neck and left cheek. Sirichai was pronounced dead at Maharaj Hospital at 8.45am, while Sitthisak was still in a critical condition at press time.
Ronnapong had earlier quoted a doctor who treated Sitthisak as saying prior to surgery that Sirichai had a fight with someone and was killed.
Ronnapong claimed drunks were among the demonstrators and they argued almost every day.
He affirmed that police would investigate thoroughly.
Lad "Khai Mhook" Seng-iad, one of the rally leaders, gathered protesters to control the scene and gave instructions for reporters to be thoroughly checked to "prevent officials from sneaking in".
The government must be held accountable for what happened, he said.
The protesters would pick up Sirichai's body to take to the protest site for religious rites. He affirmed the protest would be escalated.
Yongyos Kaewkhiew, president of the Association of Kamnan and Village Heads, said local government leaders vowed their support for the protest and urged the government to solve the problem of falling rubber prices.
Democrat Party MP Thepthai Senpong, who represents the province, urged decision-makers to talk to the demonstrators.
The protest could end if the government was sincere about tackling the problems, he said.
Thaworn Senniam, an MP for Songkhla, said police seemed to have jumped to the conclusion that the shooting was by protesters. But this had stirred up suspicion because police had not inspected the scene.
Apichat Karikanjana, an MP for Nakhon Si Thammarat, said he was inclined to blame state officials for trying to stir up trouble. He called on the government to correct reports that the protesters were outsiders when they were actually locals.
National Police chief Adul Saengsingkaew urged officers to investigate with transparency, base findings on evidence and keep the public posted.
Paradorn Pattanatabutr, secretary-general of the National Security Council, said officials suspected a personal conflict or trouble between protesters from outside the area, who were the majority, and the locals, although they didn't totally rule out a third party.
Since the incident took place at night, investigators would need time to gather evidence, he said.
The mass protest on Tuesday would take place only in Nakhon Si Thammarat and Surat Thani, so officials could keep the situation under control, he said.
Pheu Thai spokesman Prompong Nopparit dismissed reports that the government spent Bt200 million to lobby northern and northeastern rubber planters to stay away from the protest tomorrow.
He also denied that the gun attack was done by state officials.
Narongsak Wanwichaikul, a representative of Chaiyaphum rubber planters, said they backed out of the nationwide protest because most were satisfied with the government's offers, including a Bt1,260-per-rai fertilizer subsidy and the promise to add Bt40 to every kilogram of rubber that the farmers sold at Bt80.
They decided to give the government some time –15 days – to implement the measures first, he said.
Keep checking the Phuket Gazette's
Thailand news pages
, join our
Facebook fan page
or follow us on Twitter
@PhuketGazette
for the latest national news updates.
Focus on gold ring in case of missing Saudi
The Nation / Phuket Gazette
PHUKET: A relative of missing Saudi Arabia businessman Mohammad al-Ruwaili does not believe the gold ring, which led to the re-opening of the case, belonged to his brother.
In an exclusive interview with
The Nation
yesterday, Matrouk al-Ruwili, who is in town to testify in the case of his brother who went missing in 1989, said his brother was a very religious man, so there was no way that he would wear a golden ring.
"Muslim men wear only silver. Women could wear silver or gold. He [Mohammad] would never wear this ring," Matrouk said. Matrouk and Ateeg al-Ruwaili, the businessman's other brother, will testify in the trial today.
"We have to tell the truth about the ring. This is something that we did not want to be [misleading], even if it would prove someone was involved in this – but no, we have to tell the truth about the ring," Matrouk said.
Asked if it was possible that the businessman's disappearance was connected to internal issues in Saudi Arabia, Matrouk said Mohammed had never been involved in politics.
Public prosecutors earlier said UAE-based Kiattikorn Kaewphalue (known formerly as Pol Lt-Colonel Suwitchai Kaewphalue) possessed knowledge of a gold ring worn by al-Ruwaili, which had led to the reopening of the case and the current trial involving five policemen suspected of having been behind the disappearance of al-Ruwaili.
Pol Lt-General Somkhid Bunthanom, one of the five suspects in al-Ruwaili's disappearance trial, accused public prosecutors, police investigators and Department of Special Investigation agents of getting Kiattikorn out of the country illegally, after immigration officers detected his plan for banned overseas travel. Matrouk said he was under no pressure to testify in the trial and would feel nothing if placed face to face with the defendants (click
here
for
The Nation's
article dated Nov 26, 2009).
What the family wanted was the truth and for those who abducted his brother to be punished, he said. "Let us imagine that your family member went missing – you would certainly want to know the truth," he said.Thailand's relations with Saudi Arabia have been frosty ever since a Thai worker stole jewellery belonging to the Saudi royal family in 1989. A year later, a Saudi businessma
— Phuket Gazette Editors
Want more from the Thaiger family?
📱 Download our app on Android or iOS for instant updates on your mobile
📧 Subscribe to our daily email newsletter
👍 Like/Follow us on Facebook
🔔 Subscribe to or Join our YouTube channel for daily video updates
Illegal border crossings bringing in new Covid-19 infections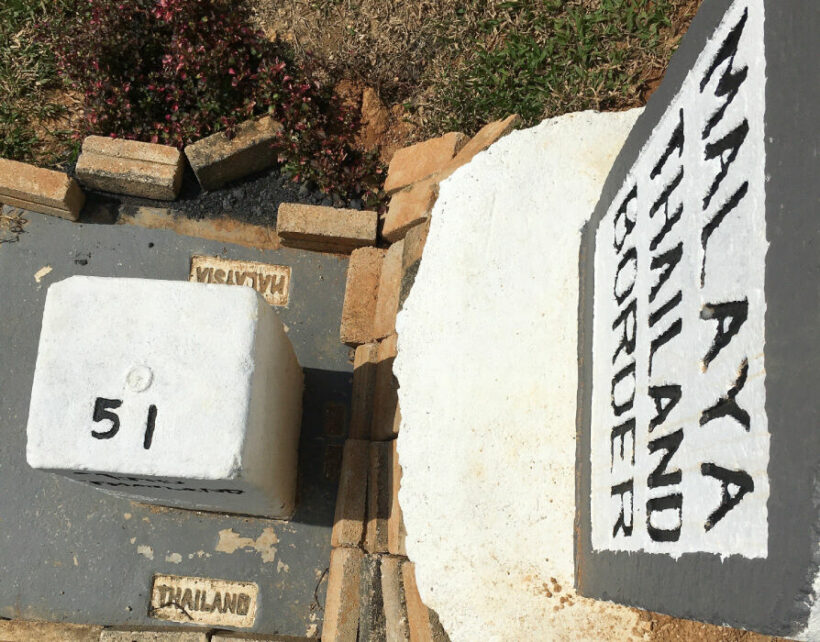 Authorities are worried about illegal border crossings into Thailand bringing in the Coronavirus after 5 recent Covid-19 infections from such crossings. Bypassing all health and security checkpoints along the border, 5 Thai nationals were identified today as being positive for Covid-19 after they snuck into the country, according to the Centre for Covid-19 Situation Administration.
Authorities nabbed 2 after border crossings from Malaysia illegally on April 28 and May 3rd, while another snuck across the Burmese border into Tak on May 2. The last 2 came from Cambodia on Thursday across the Sa Kaeo border. All 5 illegal border crossers are now in state hospitals for Covid-19 treatment.
According to CCSA data in the first four months of 2021 a total of 15,378 people were arrested by Thai authorities while sneaking across borders. Even after security forces increased patrolling along the borders, people managed to sneak in from Myanmar, Malaysia, Laos, and Cambodia. 6,700 of those who crossed the border were Burmese citizens, while another 1,700 of them were Thai nationals.
With nearly 400 lives lost to Covid-19 and over 83,000 people having been infected in the pandemic, the CCSA declared that Prime Minister Prayut Chan-o-cha and National Security Council Secretary-General Natthapol Nakpanich agree that these illegal border crossers without Covid-19 screening are a serious problem.
Many Thai people work in Malaysia and as the pandemic drags on they are sneaking across the border, desperate to make it home to their family. Another recent case found illegal Burmese border hoppers in a taxi en route to Hat Yai after they crossed into Thailand from the Malaysian border. They were trying to travel incognito across Thailand in order to cross the border again back into their home country of Myanmar.
The dilemma is even worse at the Burmese border as the often violent protests following the February 1 military coup has been pushing much of the country into poverty, and creating refugees who are flocking to the border in hopes of crossing over to safety. Many are seeking to escape the conflict and find work in Thailand.
SOURCE: Bangkok Post
Want more from the Thaiger family?
📱 Download our app on Android or iOS for instant updates on your mobile
📧 Subscribe to our daily email newsletter
👍 Like/Follow us on Facebook
🔔 Subscribe to or Join our YouTube channel for daily video updates
Thailand Consumer Confidence Index hits record low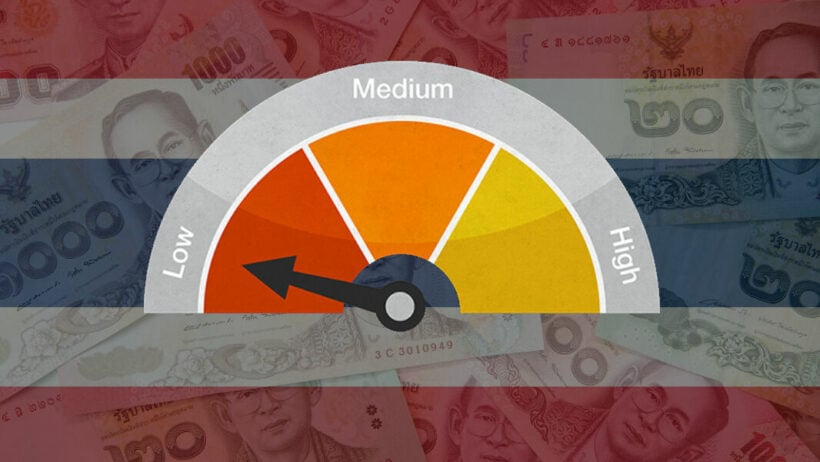 The University of the Thai Chamber of Commerce has reported that the Consumer Confidence Index has hit another new record low of 46.0 in April. The Covid-19 global pandemic has had a devastating effect on the economy and consumer confidence has fallen frequently to the lowest points that it has seen since 1998.
The president of the UTTC believes that consumers generally don't feel like there has been much of a recovery for the economy since the global pandemic began and without a stimulating event to motivate economic growth, the index is expected to continue to fall further. The university estimated that if the third wave of Covid-19 continues past the end of May the economy can expect to lose 400 to 600 billion baht.
The UTTC president stressed that the government should hasten to step up relief measures and make sure they continue relief and economic stimulus throughout the pandemic to avoid economic catastrophe. He predicted that the economy and the Consumer Confidence Index will continue on a downward slope without any hope of improvement until the vaccine rollout gets well underway towards herd immunity, and new Covid-19 infections are decreased dramatically.
Today saw another 2,101 new Covid-19 infections and 17 deaths in Thailand. Vaccination efforts are continually being stepped up, but still remain woefully slow.
The Consumer Confidence Index first started falling last year, with a drop below the previous record low in 1998 in April of 2020, when it fell to 47.2. A few months later, by July of last year, it had recovered significantly, climbing back over 50. But by March of this year, the index had fallen again to 48.5. With April's tumble of 2.5 points, the Consumer Confidence Index pushes once again to a new record low.
SOURCE: Thai Business News
Want more from the Thaiger family?
📱 Download our app on Android or iOS for instant updates on your mobile
📧 Subscribe to our daily email newsletter
👍 Like/Follow us on Facebook
🔔 Subscribe to or Join our YouTube channel for daily video updates
Thailand searches for cow vaccine for lumpy skin disease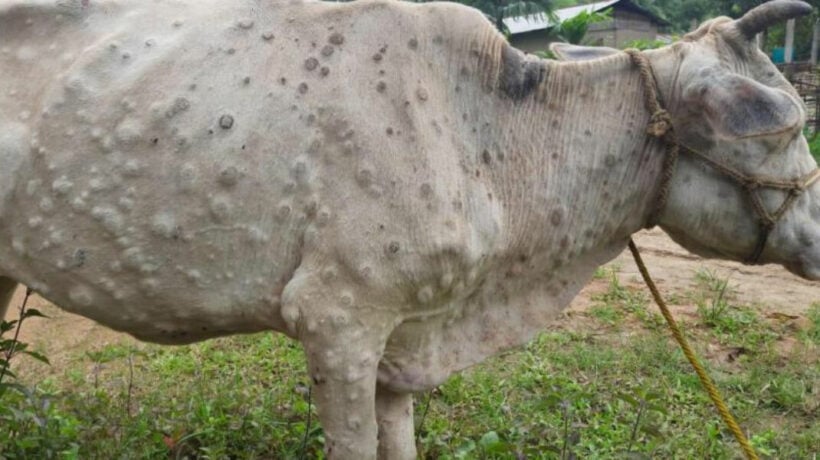 Move over Covid-19 there's a new disease sweeping the country as Thailand's cow population is afflicted with a lumpy skin disease. The Department of Livestock Development is now working on procuring vaccines from overseas manufacturers to import and treat the cattle population in Thailand. The lumpy skin is caused by pustules that are the most visible symptom, perhaps more detectable than other bovine signs such as drooling, loss of appetite and drowsiness.
The cow disease is spreading in the North, Northeast, and Central Plains area of Thailand and has been found in 18 provinces total. First identified in Roi Et, it has now spread in Chiang Rai, Kalasin, Kanchanaburi, Khon Kaen, Maha Sarakham, Nakhon Pathom, and Nakhon Phanom. The first case of the lumpy skin disease was reported in Don Daeng village last month and on April 9th officials reported it to the World Organisation for Animal Health.
The lumpy skin disease is found in cow pens and spread through flies, ticks, and mosquitoes, but the DLD says not to panic, it is not transmissible to humans. The department is distributing important information about symptoms and how the disease spreads to breeders and farmers in the area. They're requiring the breeders to monitor their cattle closely and have imposed measures to control the disease in heavy hit areas.
To prevent the spread of disease in livestock, traders are being requested to not buy and sell cattle within 50 km from disease-stricken regions. And for farmers caring for cattle, the DLD recommends spraying insecticide in all areas to prevent transmission via insects. Finally, in case the cattle were jealous of traveling humans, the DLD is advising farmers to prevent disease spread by isolating any new cow that comes into their farms with a 28-day bovine quarantine where they should be kept under nets to keep insects away.
SOURCE: Bangkok Post
Want more from the Thaiger family?
📱 Download our app on Android or iOS for instant updates on your mobile
📧 Subscribe to our daily email newsletter
👍 Like/Follow us on Facebook
🔔 Subscribe to or Join our YouTube channel for daily video updates