Phuket Gazette Thailand News: Top Imam slain in South; Years for oil spill recovery; Luxury car cheats fined; Online coup posts probed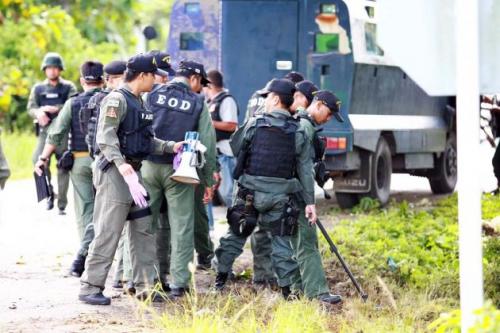 PHUKET MEDIA WATCH
– Thailand news compiled by Gazette editors for Phuket's international community
Brothers behind car scam to pay fine
The Nation / Phuket Gazette
PHUKET: Nareunart and Thanan Kuansawat, two brothers believed to be part of a luxury-car scam, agreed yesterday to pay a fine for evading car import taxes.
They also heard the two extra charges put before them by the Department of Special Investigation (DSI) yesterday.
Charges the brothers face are conspiring to forge official documents and using them, which is punishable by three years in jail, and conspiring to manufacture and import cars without permission.
The Customs Department will set up a panel to consider the fine, which could be up to four times the price of the car. Authorities will continue to search for others who might be involved.
True impact of oil spill may not be known for years
The Nation / Phuket Gazette
PHUKET: Even though the oil spill on Koh Samet has been almost removed from Ao Phrao beach, there is a long road before the marine ecosystem and local tourism industries, which make Bt16 billion from 5.5 million visitors a year, recover.
Monitoring the impact of the spill on marine life such as coral reef, seagrass or even plankton on a daily, weekly, monthly and annual basis needs to start as soon as possible, to estimate the damage on the marine ecosystem.
It's not only possible changes in the marine life, but the quality of seawater, as well as the level of oil-related hazardous substances in marine life in affected areas and nearby sites that must be watched closely to ensure that seafood caught in the area are safe.
Meanwhile, building confidence among domestic and international visitors is also a priority for related agencies. This is to help not only luxury resort owners but also small and medium-sized business owners, such as street somtam (papaya salad) vendors, seafood restaurant owners, and even masseurs hurt by news about the oil spill on the western side of the island.
At least 50 tonnes of crude oil leaked from a pipeline off Rayong into the Gulf of Thailand on July 27. This oil drifted to Koh Samet the following day.
Measures taken in response to the spill were stepped up after the oil reached Ao Phrao on the night of July 28, nine days ago.
An emergency response team from PTT Global Chemical Plc (PTTGC) arrived shortly after.
As this was an emergency, thousands of personnel from the Royal Thai Navy and PTTGC workers were deployed to help the cleanup mission. But they were not informed about the dangers of crude oil that spread in the sea and onshore at Samet.
However, workers were given white biohazard suits, face masks, gloves, and boots to protect them from toxic chemicals that had covered the white sands.
Meanwhile, the official story from PTT's top executives was revealed to the public on the fourth day after the incident, following an official decision to talk with those affected by the crisis.
Questions remain, however, about whether the state oil and gas giant used an excessive amount of chemical dispersant to split up the oil as it drifted away from the site.
PTTGC said it used over 32,000 litres to disperse the 50 tonnes of crude oil but Pollution Control Department officials said they had allowed PTTGC to use only 5,000 litres. And, there is no penalty for excessive use of oil dispersant.
To investigate the cause of accident, Energy Minister Pongsak Ruktapong-paisal set up a fact-finding committee last week led by Khunying Thongtip Ratanarat, a former executive director of the Petroleum Institute of Thailand. The results of the panel's inquiries are expected to be released this week.
The Natural Resources and Environment Ministry has also set up a committee led by permanent secretary Chote Trachu to monitor the short- and long-term impacts from imports of oil spilt in the marine ecosystem, and to help estimate the cost of such leaks.
This committee has Pollution Control and Marine and Coastal Resources officials who will oversee the monitoring of the quality of seawater in the Gulf. Plus officials from the National Parks, Wildlife and Plant Department and Coastal Resources Department will study marine life, coral and beach ecosystems, as well as seagrass in the Gulf with experts from Chulalongkorn University and King Mongkut's Institute of Technology Lat Krabang. The Fisheries Department will try to assess the effect on marine life.
Meanwhile, the Marine Department and National Parks, Wildlife and Plant Department have filed a complaint about the leak and notified the police.
Sakanan Plathong, from Prince of Songkla University's Marine Biology Division, warned that even if chemical substances in oil were dispersed and could not be seen, they still exist in the sea. This meant frequent monitoring would be needed to see the real impact on marine life. So, the process to assess the real damage could take three to five years till we find out what has really happened.
5 Lisu tribesmen, 1 Nepalese caught with big heroin haul
The Nation / Phuket Gazette
PHUKET: Five members of the Lisu tribe were arrested yesterday along with a 22-year-old Nepalese man for trying to smuggle 34 kilograms of heroin into Malaysia, Office of the Narcotics Control Board (ONCB) secretary-general Pongsapat Pongcharoen said yesterday.
The drugs were allegedly destined for sale in Taiwan, Australia and Europe.
Police arrested the Nepalese man last Thursday and seized drugs in his possession at Chiang Mai airport. Later, police extended the hunt and arrested the Lisu tribe members at a hotel in Chiang Mai's Muang district. They also raided a house in the Mae Taeng district where they found another 28kg of heroin, he said.
Separately, the mekong River naval patrol unit nabbed a 39-year-old Laotian woman along with 18,000 yaba tablets at the Ban Na Waeng Pier in Ubon Ratchathani's Khemmarat district yesterday. She was reportedly on her way to deliver the drugs to customers in the Central region.
Wirapol in Laos, may surrender
The Nation / Phuket Gazette
PHUKET: Fugitive ex-monk Wirapol Sukphol is in Laos and is prepared to return home via Nong Khai, Department of Special Investigation (DSI) chief Tarit Pengdith said yesterday.
The ex-monk's legal team, led by Sukit Poonsrikasem, affirmed that Wirapol, who remains in robes, would turn himself in on Thursday.
Sukit said Wirapol, also known as Luang Pu Nenkham, would explain his case to the public and fight allegations – especially those that could result in his being disrobed.
He said the condition to surrender was for the DSI to allow him to be temporarily released, as he wants to handle many matters including the monastic centre's benefit management.
Sukit said the legal team would sue the ex-monk's reported key follower Sukhum Wongprasit, claiming he provided information that tarnished Wirapol's name and might affect the ongoing investigation.
Sukit insisted that Sukhum was not authorised by Wirapol to give information to the media.
He said the team would also file a libel suit against Songkran Atchariyasap,
— Phuket Gazette Editors
Want more from the Thaiger family?
📱 Download our app on Android or iOS for instant updates on your mobile
📧 Subscribe to our daily email newsletter
👍 Like/Follow us on Facebook
🔔 Subscribe to or Join our YouTube channel for daily video updates
British tourists come forward about being attacked on Koh Tao in 2013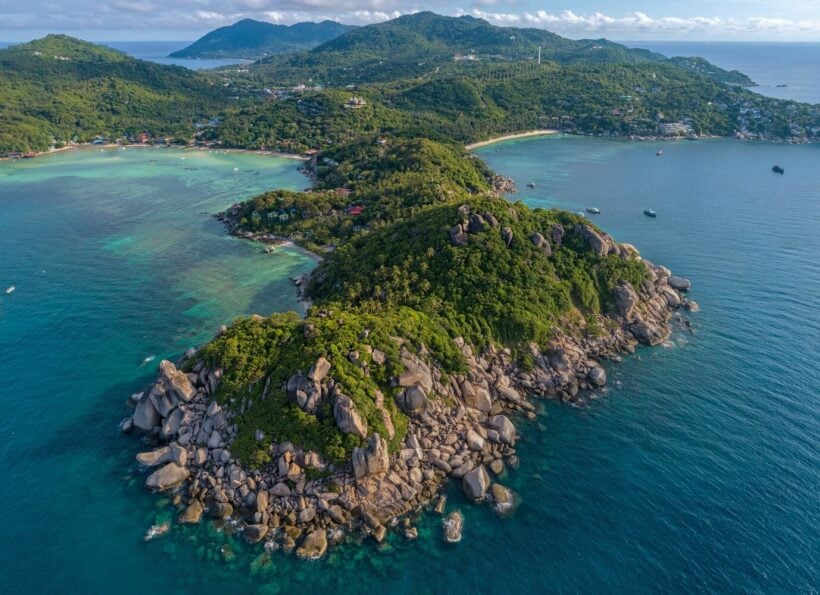 Many continue to contend that Zaw Lin and Wai Phyo, the 2 Burmese young men convicted for the 2014 murder of 2 tourists on Koh Tao's Sairee Beach, are innocent. Now 2 tourists who were attacked on the same beach, just a year before the murder, are now coming forward to help prove that the conviction could have been unreliable.
In September 2014, the bodies of British tourists 23 year old Hannah Witheridge and 24 year old David Miller were found on the beach. Police say Hannah had been raped and David had been hit several times on the head with a garden hoe.
Zaw and Wai were arrested soon after the killings. Some say the investigation was accelerated in an effort to gain back tourist confidence and keep visitors coming to the island. Numerous activists, criminologists, and others have spoken out against the conviction, saying the evidence was bungled.
Just a year before, British tourists Sam Venning and Carla Bartel survived an attack on the same beach. Sam, who was 22 at the time, was talking to Carla, who was 20, on the beach when 2 men wearing V for Vendetta masks attacked them, hitting Sam in the head with a rock.
Sam and Carla came forward to Thai officials after the killings to help with the investigation, but say no one got back to them. Sam says he had emailed the Thai Embassy in London, but no one contacted him. Carla says she contacted the UK Foreign Commonwealth Office who then passed her on to the UK National Crime Agency. She was told that the information was sent to Thai police, but officers did not follow up with her.
SOURCE: Mirror.UK
Want more from the Thaiger family?
📱 Download our app on Android or iOS for instant updates on your mobile
📧 Subscribe to our daily email newsletter
👍 Like/Follow us on Facebook
🔔 Subscribe to or Join our YouTube channel for daily video updates
Fishermen find space debris off the coast of Phuket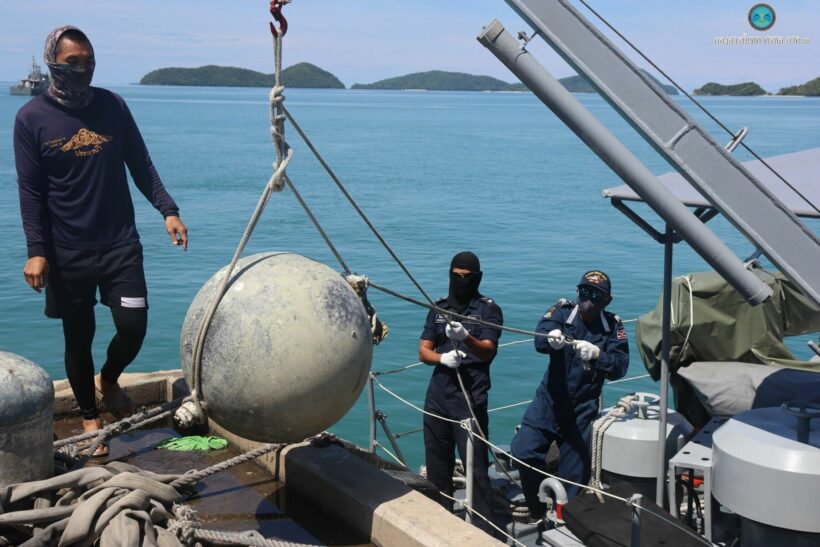 Local fishermen found space debris, possibly from a satellite or space shuttle, on the seabed just 6 metres below the surface by Koh Ael in Phuket. At first, no one knew exactly what it was.
Specialists from a Navy explosive ordnance disposal unit were first called to look at the round, hollow metal object which was about 45 centimetres in diameter. 3rd Naval Area commander Vice Admiral Choengchai Chomchoengpaet told reporters at a press conference that the team took photos of the object and found it appeared to be a rocket fuel tank, possibly used to launch a satellite or shuttle into space. He said it matched photos online.
Both the Geo-Informatics and Space Technology Development Agency, or GISTDA, and the National Astronomical Research Institute of Thailand, agree that the object was most likely a fuel tank for a rocket.
Since the fuel tanks usually contain harmful chemicals like ammonia or hydrogen, divers examined the space debris to make sure there were no chemical leaks before bringing the object to shore and taken to the navy headquarters. The space debris will be taken to the GISTDA to be studied.
"If other objects similar to this one are found elsewhere, people should not touch them. They could contain hazardous chemicals. They should immediately inform Region 3 Thai-MECC or local officials."
SOURCE: Bangkok Post
Want more from the Thaiger family?
📱 Download our app on Android or iOS for instant updates on your mobile
📧 Subscribe to our daily email newsletter
👍 Like/Follow us on Facebook
🔔 Subscribe to or Join our YouTube channel for daily video updates
UPDATE: 2 Americans and a Thai arrested over Bangkok kidnap attempt, Thai policeman involved | VIDEO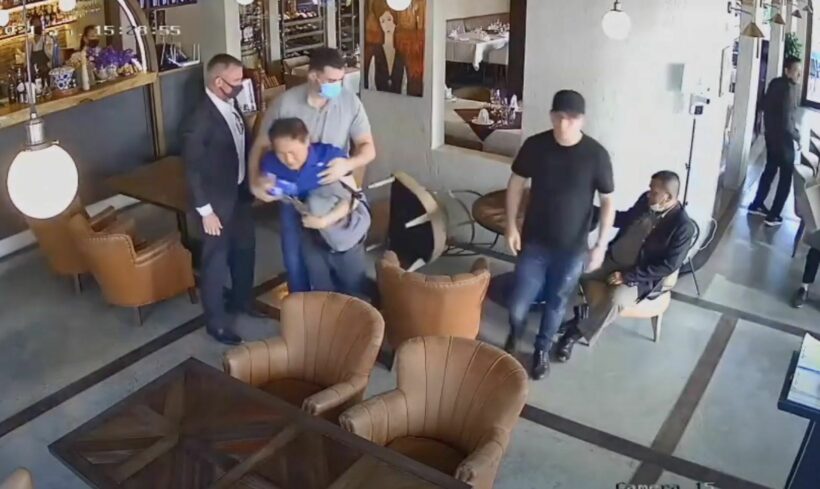 Screenshot: THAICRIME
UPDATE:
Following up from the earlier story involving 2 Americans, a Thai, a Taiwanese businessman, and an Israeli security goon, we have the following update (original story below)…
Police have examined CCTV from the restaurant in Thong Lor where the Taiwanese businessman was kidnapped. It's also been revealed that a "senior Thai policeman" was involved in the alleged abduction case. The abduction took place on March 28.
The meeting had been called to "resolve" some disagreements over a large purchase of rubber gloves that had gone wrong.
After arriving at a meeting at the L'Oliva restaurant in Sukhumvit Soi 26, Mr. Wen Yu Chung was manhandled, put in a headlock and dragged out of the premises. Daily News reports that a "lieutenant colonel" ranked Thai policeman was also captured on the CCTV supervising the events as they happened inside the restaurant. He is reported as being a former traffic policeman.
Mr. Chung was then held to ransom at the condo NT Court. Attempts were made to contact Mr Chung's family and business associates to extract a ransom – allegedly 1 and 2 million baht – but they refused to pay.
The 3 men have been identified as 41 year old Jeremy Hughes Manchester, 52 year old Louis William Ziskin, both Americans, and Ekbodin Prasitnarit, Thai.
Mr Louis Ziskin has a somewhat chequered history with his story catalogued on Wikipedia. Summarised…
Ziskin was taken into custody in December 7, 2000 and charged over transactions from November 1999 to December 22, 1999. Ziskin was convicted of smuggling 700 pounds of ecstasy into Southern California via FedEx and other various shipping companies, the largest-ever US government seizure of the drug. There was another indictment a year later.
Following his incarceration, Ziskin lost a double jeopardy appeal for the second indictment. The US government settled all claims against Ziskin for a 188 month sentence and a US$9 million fine.
Daily News also reported a man 'Mike' who allegedly invited the policeman to be involved in the incident. Earlier this man was described as "Mr. Michael Greenberg, an Israeli operating a detective company".
Here's video showing the arrest of Mr. Ziskin…
EARLIER STORY:
Thai police have arrested 2 American citizens and a Thai for the alleged kidnap of a Taiwanese businessman for ransom. 5 other arrest warrants are also waiting to be executed over the incident. Police allege a "business conflict" over the purchase of plastic 'nitrile' gloves as the motive.
The 3 men have been identified as 41 year old Jeremy Hughes Manchester, 52 year old Louis William Ziskin, both Americans, and Ekbodin Prasitnarit, Thai. All 3 have denied the charges including illegal assembly, attempted murder, abduction for ransom and extortion. They were formally charged at the Thong Lor police.
According to Bangkok Post, in late 2020 Mr Ziskin appointed the Collection Company to negotiate the purchase of a large quantity of plastic gloves with the Paddy The Room Trading Company.
Police allege that there was an ongoing conflict between the two sides which was responsible for Mr Ziskin accumulating 93 million baht in damages.. So, according to police, Mr Ziskin hired Mr. Michael Greenberg, an Israeli operating a detective company in Thailand to negotiate and retrieve the losses.
Police allege that Mr Greenberg hired Thai and foreign collaborators to plan an abduction as leverage in the retrieval of their losses. They contacted a 60 year old Taiwanese man from the Collection Company in Thailand to procure a supply of rubber gloves from Paddy The Room Trading Company.
They made an appointment to meet Wen Yu Chung at a restaurant in Bangkok's in Bangkok's Tong Lor are off Sukhumvit Road on March 28. Police allege that Mr Greenberg and hired associates arrived, handcuffed the Taiwanese businessman and then took him to the NT Place, 200 metres further south down the same Soi, Sukhumvit 36.
They then called Mr Chung's boss demanding US$2 million, and then called the man's family demanding another US$1 million. Both contacted police and did nothing to accede to the demands for ransom..
The abductors then headed to a restaurant in Soi 24, with Mr. Chung, eventually letting him go. The Taiwanese man went, first to hospital, then to Thong Lor police station to relate his story. Eventually 8 arrest warrants were issued over the alleged abduction. Soon after police arrested Mr Manchester, Mr Ziskin and Mr Ekbodin.
We'll continue to follow this story.
SOURCE: Bangkok Post
Want more from the Thaiger family?
📱 Download our app on Android or iOS for instant updates on your mobile
📧 Subscribe to our daily email newsletter
👍 Like/Follow us on Facebook
🔔 Subscribe to or Join our YouTube channel for daily video updates