Phuket Gazette Thailand News: Top Imam slain in South; Years for oil spill recovery; Luxury car cheats fined; Online coup posts probed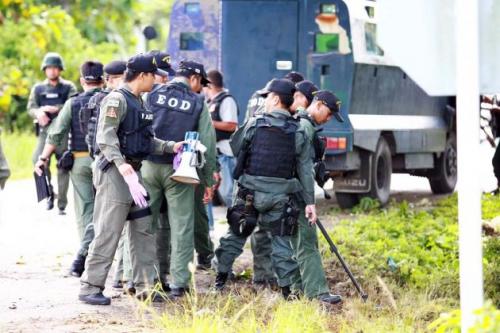 PHUKET MEDIA WATCH
– Thailand news compiled by Gazette editors for Phuket's international community
Brothers behind car scam to pay fine
The Nation / Phuket Gazette
PHUKET: Nareunart and Thanan Kuansawat, two brothers believed to be part of a luxury-car scam, agreed yesterday to pay a fine for evading car import taxes.
They also heard the two extra charges put before them by the Department of Special Investigation (DSI) yesterday.
Charges the brothers face are conspiring to forge official documents and using them, which is punishable by three years in jail, and conspiring to manufacture and import cars without permission.
The Customs Department will set up a panel to consider the fine, which could be up to four times the price of the car. Authorities will continue to search for others who might be involved.
True impact of oil spill may not be known for years
The Nation / Phuket Gazette
PHUKET: Even though the oil spill on Koh Samet has been almost removed from Ao Phrao beach, there is a long road before the marine ecosystem and local tourism industries, which make Bt16 billion from 5.5 million visitors a year, recover.
Monitoring the impact of the spill on marine life such as coral reef, seagrass or even plankton on a daily, weekly, monthly and annual basis needs to start as soon as possible, to estimate the damage on the marine ecosystem.
It's not only possible changes in the marine life, but the quality of seawater, as well as the level of oil-related hazardous substances in marine life in affected areas and nearby sites that must be watched closely to ensure that seafood caught in the area are safe.
Meanwhile, building confidence among domestic and international visitors is also a priority for related agencies. This is to help not only luxury resort owners but also small and medium-sized business owners, such as street somtam (papaya salad) vendors, seafood restaurant owners, and even masseurs hurt by news about the oil spill on the western side of the island.
At least 50 tonnes of crude oil leaked from a pipeline off Rayong into the Gulf of Thailand on July 27. This oil drifted to Koh Samet the following day.
Measures taken in response to the spill were stepped up after the oil reached Ao Phrao on the night of July 28, nine days ago.
An emergency response team from PTT Global Chemical Plc (PTTGC) arrived shortly after.
As this was an emergency, thousands of personnel from the Royal Thai Navy and PTTGC workers were deployed to help the cleanup mission. But they were not informed about the dangers of crude oil that spread in the sea and onshore at Samet.
However, workers were given white biohazard suits, face masks, gloves, and boots to protect them from toxic chemicals that had covered the white sands.
Meanwhile, the official story from PTT's top executives was revealed to the public on the fourth day after the incident, following an official decision to talk with those affected by the crisis.
Questions remain, however, about whether the state oil and gas giant used an excessive amount of chemical dispersant to split up the oil as it drifted away from the site.
PTTGC said it used over 32,000 litres to disperse the 50 tonnes of crude oil but Pollution Control Department officials said they had allowed PTTGC to use only 5,000 litres. And, there is no penalty for excessive use of oil dispersant.
To investigate the cause of accident, Energy Minister Pongsak Ruktapong-paisal set up a fact-finding committee last week led by Khunying Thongtip Ratanarat, a former executive director of the Petroleum Institute of Thailand. The results of the panel's inquiries are expected to be released this week.
The Natural Resources and Environment Ministry has also set up a committee led by permanent secretary Chote Trachu to monitor the short- and long-term impacts from imports of oil spilt in the marine ecosystem, and to help estimate the cost of such leaks.
This committee has Pollution Control and Marine and Coastal Resources officials who will oversee the monitoring of the quality of seawater in the Gulf. Plus officials from the National Parks, Wildlife and Plant Department and Coastal Resources Department will study marine life, coral and beach ecosystems, as well as seagrass in the Gulf with experts from Chulalongkorn University and King Mongkut's Institute of Technology Lat Krabang. The Fisheries Department will try to assess the effect on marine life.
Meanwhile, the Marine Department and National Parks, Wildlife and Plant Department have filed a complaint about the leak and notified the police.
Sakanan Plathong, from Prince of Songkla University's Marine Biology Division, warned that even if chemical substances in oil were dispersed and could not be seen, they still exist in the sea. This meant frequent monitoring would be needed to see the real impact on marine life. So, the process to assess the real damage could take three to five years till we find out what has really happened.
5 Lisu tribesmen, 1 Nepalese caught with big heroin haul
The Nation / Phuket Gazette
PHUKET: Five members of the Lisu tribe were arrested yesterday along with a 22-year-old Nepalese man for trying to smuggle 34 kilograms of heroin into Malaysia, Office of the Narcotics Control Board (ONCB) secretary-general Pongsapat Pongcharoen said yesterday.
The drugs were allegedly destined for sale in Taiwan, Australia and Europe.
Police arrested the Nepalese man last Thursday and seized drugs in his possession at Chiang Mai airport. Later, police extended the hunt and arrested the Lisu tribe members at a hotel in Chiang Mai's Muang district. They also raided a house in the Mae Taeng district where they found another 28kg of heroin, he said.
Separately, the mekong River naval patrol unit nabbed a 39-year-old Laotian woman along with 18,000 yaba tablets at the Ban Na Waeng Pier in Ubon Ratchathani's Khemmarat district yesterday. She was reportedly on her way to deliver the drugs to customers in the Central region.
Wirapol in Laos, may surrender
The Nation / Phuket Gazette
PHUKET: Fugitive ex-monk Wirapol Sukphol is in Laos and is prepared to return home via Nong Khai, Department of Special Investigation (DSI) chief Tarit Pengdith said yesterday.
The ex-monk's legal team, led by Sukit Poonsrikasem, affirmed that Wirapol, who remains in robes, would turn himself in on Thursday.
Sukit said Wirapol, also known as Luang Pu Nenkham, would explain his case to the public and fight allegations – especially those that could result in his being disrobed.
He said the condition to surrender was for the DSI to allow him to be temporarily released, as he wants to handle many matters including the monastic centre's benefit management.
Sukit said the legal team would sue the ex-monk's reported key follower Sukhum Wongprasit, claiming he provided information that tarnished Wirapol's name and might affect the ongoing investigation.
Sukit insisted that Sukhum was not authorised by Wirapol to give information to the media.
He said the team would also file a libel suit against Songkran Atchariyasap,
— Phuket Gazette Editors
Keep in contact with The Thaiger by following our
Facebook page
.
Never miss out on future posts by
following The Thaiger
.
Burmese child contracted Covid-19 while crossing the border, report says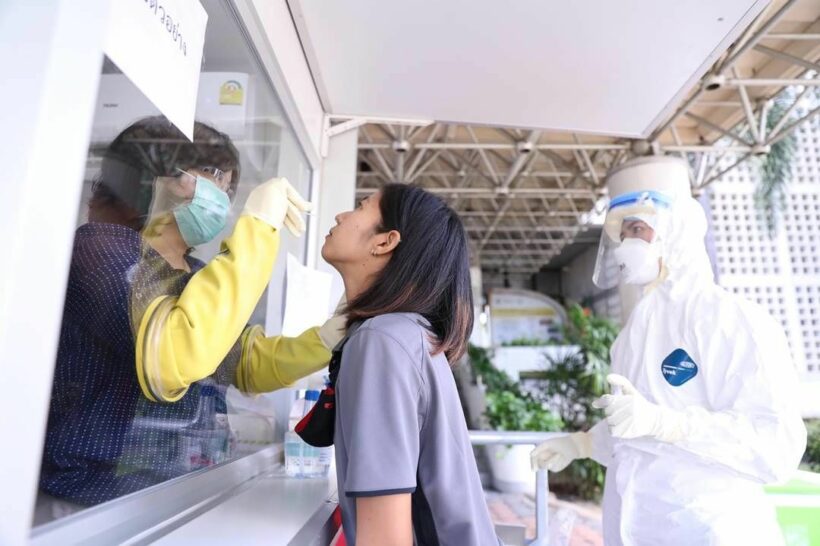 The 2 year old Burmese child, who tested positive for Covid-19 after leaving Thailand, may have contracted the virus while travelling from Thailand to Myanmar, according to a report from Thailand's Ministry of Public Health Disease Control Department.
The department says they suspect the child was exposed to the virus while crossing the border from the Mae Sot border district in Tak to Myanmar's Myawaddy town. The child's parents worked in Ayutthaya and quit their jobs last month. The department says the toddler probably contracted the virus around September 4 to September 10 while the family was travelling.
The family crossed natural, unofficial passageways into Myanmar. The news website Xinhua says it was an "apparent intent to evade anti-pandemic measures at the Mae Sot border checkpoint."
Those in Thailand who came in close contact with the family tested negative for the virus. 146 people who worked with the family at Ayutthaya migrant worker camps all tested negative for Covid-19. Those in close contact with the family in the Nakhon Ratchasima province, where the parents worked prior to Ayutthaya, tested negative as well. 2,635 people in Mae Sot tested negative for Covid-19.
Health officials are still investigating 2 apparent local transmissions of Covid-19. Earlier this month, a Bangkok DJ tested positive for Covid-19, breaking Thailand's 100 day streak without a local transmission. The DJ tested positive for G strain of the virus, a more infectious strain that is typically found in imported cases detected during state quarantine rather than local transmissions. Health officials do not know where the DJ contracted the virus.
A Uzbek football player for the Buriram United team recently tested positive for Covid-19. He was asymptomatic and tested negative for the virus multiple times during quarantine after he arrived to Thailand. Although it seems like a local transmission, some health officials speculate the virus has a longer incubation period than 14 days.
SOURCE:Xinhua
Keep in contact with The Thaiger by following our
Facebook page
.
Never miss out on future posts by
following The Thaiger
.
Thailand News Today | Amnesty finishes, protest round-up | September 21, 2020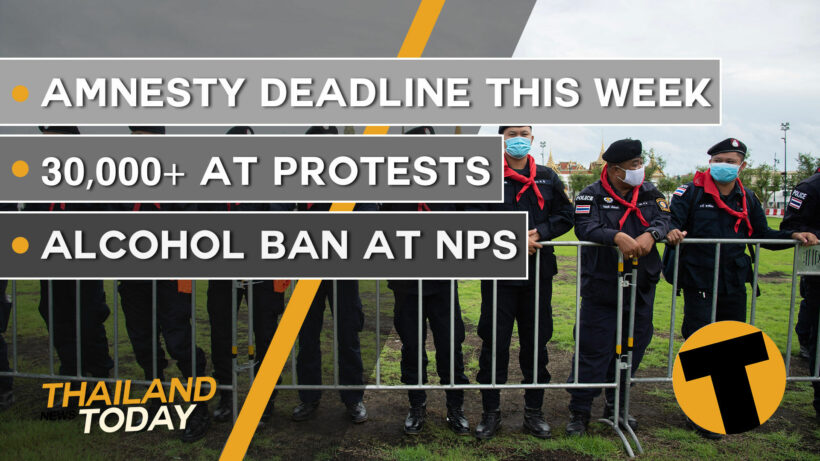 Daily video news about Thailand with Tim Newton
Get a visa or go to jail.
Thai Immigration Tourists, and anyone else with a lapsed visa, ha ve only 5 days to renew their visa or they could get arrested. The current visa amnesty ends on September 26 and there isn't going to be another sudden announcement for another grace period, according to immigration officials. Those who overstay will face arrest and be deported back to their home countries. Immigration officials estimate there are more than 150,000 foreign nationals who need to have their tourist visas renewed. Immigration officials said today that people without a valid visa after September 26 could face jail.
"Overstaying the tourist visa is punishable by both a jail term and fine under the Immigration Act."
Some foreigners who arrived on tourist visas earlier in the year have been in Thailand since late March when the Thai borders closed and many international flights were cancelled due to the world coronavirus pandemic. The visa amnesty was renewed twice since many people were unable to their home countries, but now the amnesty is coming to an end this Saturday.
There were hopes that the end of the visa amnesty could co-incide with the introduction of the new Special Tourist Visa so that those either unable to leave, due to lack of flights or problems returning to their home countries, could 'roll over' onto the new 90 day visas. But that has not been announced at this stage and remains just wishful thinking. The best thing you can do, if you don't currently have a valid visa to stay in Thailand, is urgently contact your embassy, make an appointment online at your nearest Immigration office, or speak to a professional visa agent. But, be warned, there are plenty of scammers posting official looking urgent posts in social media offering to issue you with a visa so you can stay in Thailand. Do your homework before spending money with any visa agent.
Weekend protest rallies draw 30,000 people but no formal response
Protesters gathered from early Saturday morning at the Thammasat Tha Prachan campus. Although officially denied permission to hold their protest on the Campus grounds, the demonstrators stormed the campus's gates, without resistance from onlooking police or security officials. By the afternoon the crowd had reached some 30,000 people, less than the 50,000 expected but a lot more than the 15,000 expected by government officials in the lead up to the Saturday rally. Largely peaceful the protesters sat in the wet season drizzle to listen to speeches and performances before marching together to the adjacent royal parade grounds of Sanam Luang. Here the protest continued under the watchful eye of police, all unarmed, who barricaded off sensitive areas of the historic parade grounds and access to the Grand Palace.
The protest continued into the night and punctuated the themes of political freedom, new Democratic elections, the dissolution of the Thai parliament and, controversially, reforms to the country's revered monarchy. On Sunday morning there was a symbolic placement of a brass plaque to commemorate the event, seen as a replacement to a similar plaque that commemorated the Siam Revolution in 1932 that mysteriously vanished in 2017. The protesters then marched to the Privy Council to officially hand over a copy of their 10 point manifesto.
Meanwhile, 45,000 books – a collection of speeches and poems by some of the protest leaders – were seized in a nearby Bangkok house. The books were to be handed out to protesters. 5 people were arrested at the time.
Alcohol banned at national parks after complaints of trash and drunk tourists Alcohol is now banned at national parks after tourists allegedly got drunk at a waterfall and others left a load of trash by their campsite. Just last week, trash left at a campsite at Khao Yai National Park was boxed up in a parcel and sent back to the campers. Other tourists were allegedly drunk and making a lot of noise at the Namtok Samlan National Park, Varawut says. He says both groups of tourists face charges for their actions.
• Alcohol is banned at national parks for the time being
• Loud noise is not allowed after 9pm and noise must be stopped at 10pm
• When renting a tent, tourists must provide identification, address and phone number
Keep in contact with The Thaiger by following our
Facebook page
.
Never miss out on future posts by
following The Thaiger
.
MP files complaint against 3 opposition MPs for allegedly joining the protest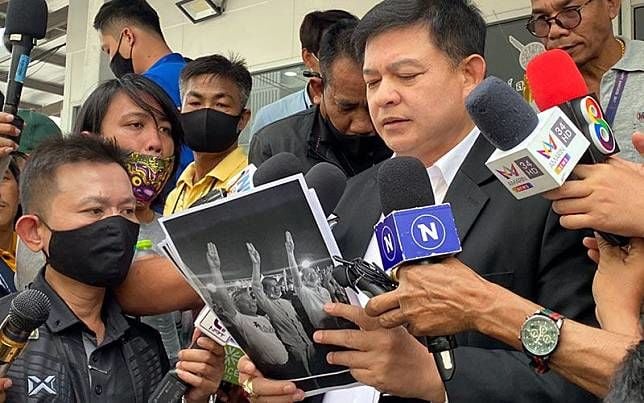 A member of parliament filed a complaint against 3 opposition MPs for allegedly joining the weekend's pro-democracy protest where activists demanded reform of the Thai Monarchy. He's also putting together a legal team aimed at dissolving the members' 3 opposition parties.
Palang Pracharat MP Sira Jenjakha says he has a photo of the 3 members raising their hands in a 3 finger salute, a symbol of resistance against the military run government. He says the protest was illegal, and the location, the Royal Field next to the Grand Palace, is off limits to unauthorised people.
He filed the complaint with the Chanasongkhram police against Mongkolkit Suksintharanont, of the Thai Civilized Party, Peerawit Ruangluedolapark, of the Thai Rak Thai Party and Nattha Boonchai-insawat of the Kao Klai Party.
A legal team assigned by Sira will collect evidence and file a petition with the Constitutional Court calling on the dissolution of the 3 opposition parties: Thai Civilized Party, Thai Rak Thai Party and Kao Klai Party.
He says he also plans to ask the House Speaker to investigate the 3 members to determine if they breached the parliament's ethical conduct.
SOURCE: Thai PBS
Keep in contact with The Thaiger by following our
Facebook page
.
Never miss out on future posts by
following The Thaiger
.