Phuket Gazette Thailand News: Suthep says no to talks; Bangkok roads empty; Reds rally north; Floods hit Deep South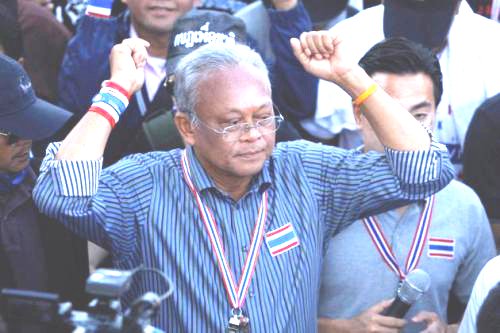 PHUKET MEDIA WATCH
– Thailand news compiled by Gazette editors for Phuket's international community
Suthep turns down PM's call for talks on poll delay
The Nation / Phuket Gazette
PHUKET: The caretaker government, having repeatedly ignored calls for postponement of the February 2 election, yesterday softened its stance as pressure for a delay in holding the poll increased.
Caretaker Prime Minister Yingluck Shinawatra has assigned caretaker Deputy Prime Minister Phongthep Thepkanjana to hold meetings with all sides regarding the Election Commission's proposal for the election to be postponed, PM's secretary general Suranand Vejjajiva said yesterday.
He said Yingluck had consulted Phongthep, a legal expert, and some other Cabinet members on the EC's proposal, which she felt was still unclear. She has assigned Phongthep to hold discussions with all the sides concerned.
Phongthep will invite representatives of five groups – the EC, political parties, people who want the election to go ahead, people who are against the February 2 election, and the Cabinet, according to Suranand. The discussion would be held tomorrow morning at a place to be confirmed later, he added.
Suranand said the government hoped the five EC commissioners, political party representatives – including Democrat leaders – as well as representatives of the anti-government People's Democratic Reform Committee (PDRC), would also attend the meeting.
However, PDRC leader Suthep Thaugsuban yesterday ruled out his attendance at any talks on a possible postponement of the election. He insisted his group would not engage in any such talks with the government until the protesters had "won the fight". He repeatedly said earlier that his group wanted nothing less than the mass resignation of the caretaker Cabinet, including Yingluck.
Protest leader Suriyasai Katasila said yesterday in a Twitter message that the PDRC was still firm in its demand that Yingluck step down to pave the way for national reform. "Election postponement is not our main goal," he tweeted.
Pichit Chuenban, a legal expert for the ruling Pheu Thai Party, said yesterday that legally speaking the election could not be postponed. However, the party wanted to hear views from those who were pushing for election postponement.
EC member Somchai Srisuthiyakorn expressed dissatisfaction yesterday at the government move to hold a multiparty meeting without first responding to the EC's written call for postponement. "This is not the right thing for the government to do," he said, adding that the prime minister should have a meeting urgently with the EC chairman to discuss any election postponement proposal.
He said if there was no such discussion between the PM and the EC chairman, it was likely the EC would not join the multiparty meeting to be held by the government.
Meanwhile, caretaker Foreign Minister Surapong Tovichakchaikul, who is also in charge of the government's Centre for the Administration of Peace and Order, yesterday suggested the government bring the case to the Constitutional Court to rule on whether the February 2 election could be delayed. He said he believed the Constitution does not empower the government to postpone an election.
In a related development, the EC is setting up a temporary office in Chon Buri in preparation for the next election, according to a source in the agency.
The move came after protesters gathered outside the Government Complex on Chaeng Wattana Road, which houses the EC head office.
Twenty-two Thai embassies and consulate offices in 21 countries around the world yesterday held advance voting for Thai expatriates, Foreign Ministry spokesman Sek Wannamethee said.
The Election Commission designated 92 Thai missions in 67 countries to hold the election outside the Kingdom as 143,800 eligible voters registered to cast their ballot, he said. More than one million Thai citizens live abroad, according to Sek.
Thaksin urges Yingluck to stay as Prayuth demurs
The Nation / Phuket Gazette
PHUKET: Caretaker PM Yingluck Shinawatra almost gave in to resignation demands by the anti-government protesters on Sunday – but changed her mind at the last minute as her brother, former premier Thaksin Shinawatra, called to ask her to stay on and push for the February 2 election, sources said.
In a phone conversation with Army chief Prayuth Chan-ocha a day before the protesters' Bangkok shutdown began, Yingluck told the commander she was tired of the political tension and asked for his recommendation.
Prayuth declined to offer suggestions and said it was her call to make any decision. If anything untoward happened, it would be the prime minister's responsibility, he said.
Yingluck told Prayuth she would give an answer by 4pm Sunday. Many expected she would announce her resignation, the source said.
Yingluck later called a meeting with Pheu Thai Party executives and talked via Skype with Thaksin, who said the Constitution did not allow her to resign, according to the sources.
If she did resign, the protesters would ask the court to rule that she had violated the Penal Code's Article 157, which punishes officials who abandon their duty. She would face a jail term, he warned.
Separately, Army chief Prayuth told his subordinates to prevent violence during the anti-government protest.
To protect themselves from being attacked by unknown parties, soldiers should dress in plain clothes while guarding the many buildings of government agencies and their command posts, according to a source.
The military has deployed troops to act as security guards to many government agency buildings such as the Prime Minister's Office and the Government Complex, as well as protest sites.
Bangkok roads clear as protests hold
The Nation / Phuket Gazette
PHUKET: Traffic was light in Bangkok yesterday, as residents avoided travelling or stayed home following the kick-off of the anti-government Bangkok Shutdown campaign, while most commuters turned to rail and other public transport.
Half the normal number of sedan car trips, normally totalling around 1.2 million runs a day, were made on city streets yesterday, said deputy National Police chief Pol Lt-General Ruengsak Jarit-ek.
A large number of commuters turned to marine transport in canals and on the Chao Phraya River.
Twenty conventional and air-conditioned city bus routes have been altered to avoid seven rally stages set up by the People's Democratic Reform Committee (PDRC).
More than 4,000 non-traffic and military policemen have been assigned to traffic-direction duty in addition to those on regular duties at Bangkok police stations. Police said contingency traffic plans could be adapted on an hourly basis depending on the situations, adding that the busiest of all seven protest stages was the one at the five-way Lat Phrao Intersection.
Police also advised motorists to avoid Rama VIII Bridge, which had been blocked by protesters, by using elevated roads and heading to the Pin Klao or Krung Thon bridges.
Caretaker Transport Minister Chadchart Sittipunt, writing on his Facebook page, denied allegations he halted Bangkok-bound trains transporting anti-government supporters from the South. He said there were other means of transport for them and
— Phuket Gazette Editors
Keep in contact with The Thaiger by following our
Facebook page
.
Never miss out on future posts by
following The Thaiger
.
New visa amnesty allows foreigners to stay in Thailand until October 31, with 60 day extensions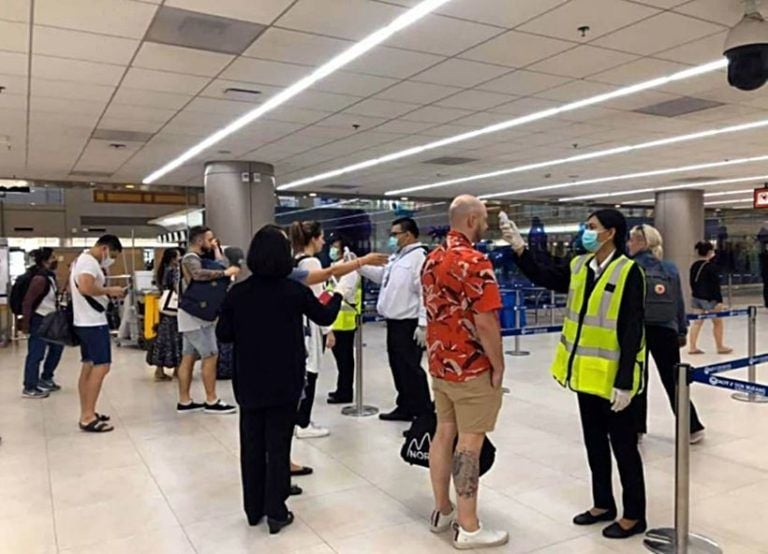 The visa amnesty, twice extended, expired on September 26. Then another amnesty was launched yesterday which allows foreigners, without visas or with lapsed visas, until October 31 to sort out their visa situation. The grace period acknowledges the problems many foreigners are having organising flights back to their home countries at a time much of the world has an acceleration of cases. Extensions will now be 60 days each.
Dr. Taweesin Wisanuyothin, spokesperson for the CCSA, read a message from the Thai PM.
"As Covid-19 is still causing harm and there are many infections around the world, more than 30 million cases, some foreigners have to stay in Thailand, and cannot travel out of the Kingdom of Thailand to go back to their home countries, and they cannot follow Section 35 and Section 37 (5) of the Immigration Act 2522 and other related laws."
Up to the end of last week, Thai Immigration officials predicted there were some 150,000 foreigners still in Thailand without a valid visa.
In July, following weeks in April and May when much of Thailand was in a lockdown, immigration officials granted automatic visa extensions to September 26. In the lead up to last Saturday's sunset of the visa amnesty, many foreigners jumped through the Immigration department's hoops to either get a new visa, or a 30 day extension to their old visa. The last minute rush caused confusion, queues and pleas for another extension.
Now, a new immigration regulation will allow foreigners to apply for 60 day extensions to stay in Thailand if they are "unable to leave due to limited flights or other issues". The extensions, prior to this announcement, required a letter from applicants' embassy and a payment of 1,900 baht. The extension was only applicable for 30 days. The new extensions will last for 60 days.
Front line immigration officials, expats and visitors alike will feel aggrieved this morning after the announcement. Officers had to face long lines of angry and confused foreigners last week at their offices around the country. Now the countdown starts again as it ticks down to the October 31 date for foreigners to get their visa affairs in order.
Keep in contact with The Thaiger by following our
Facebook page
.
Never miss out on future posts by
following The Thaiger
.
Former party-list MP candidate convicted of drug smuggling, sentenced to 50 years in prison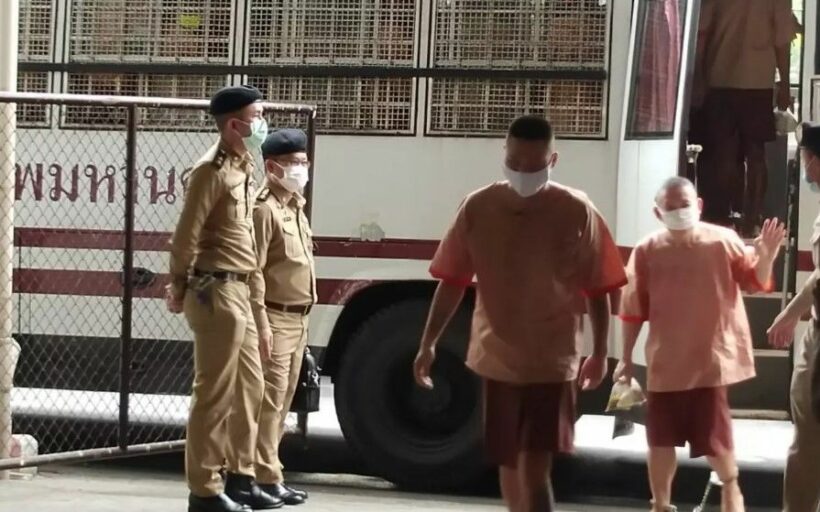 A former party-list MP candidate is sentenced to 50 years in prison for smuggling crystal methamphetamine. Suban Mahachanon was on the MP candidate list for Seri Ruam Thai Party in the March 2019 election, but his bid was unsuccessful. Just a few months later, he arrested for drug trafficking a large amount of methamphetamine into the Philippines.
Suban was busted when a fire broke out at Chon Buri's Laem Chabang sea port, damagin shipping containers at the port. Police inspected the scene after the fire and found a container rented under Suban's name was carrying 985 kilograms of methamphetamine hidden in Emperor brand tea packages. The shipping container also had boxes of shoes and bags of chopsticks, all ready to be shipped out to the Philippines.
Police also arrested 3 other men involved in trafficking the methamphetamine. Along with sentencing Suban to 50 years in prison, the Criminal Court also sentenced 2 Chinese nationals, 25 year old Huang Guoxiong and 45 year old Zhou Qingchu, to life in prison and a Thai man, 62 year old Joi Sae Fong, to 50 years in prison.
At first, the Court sentenced the 2 Chinese men to death, but it was lowered to life in prison. The Bangkok Post says the 2 men were responsible for concealing the drugs and loading the container. The Thai man Joi, also rented the container under his name with Suban. Joi and Suban were initially sentenced to life in prison. Their sentences were reduced to 50 years in prison.
SOURCE: Bangkok Post
Keep in contact with The Thaiger by following our
Facebook page
.
Never miss out on future posts by
following The Thaiger
.
Thailand News Today | Rumours of amnesty extension, 22 new Covid cases | September 28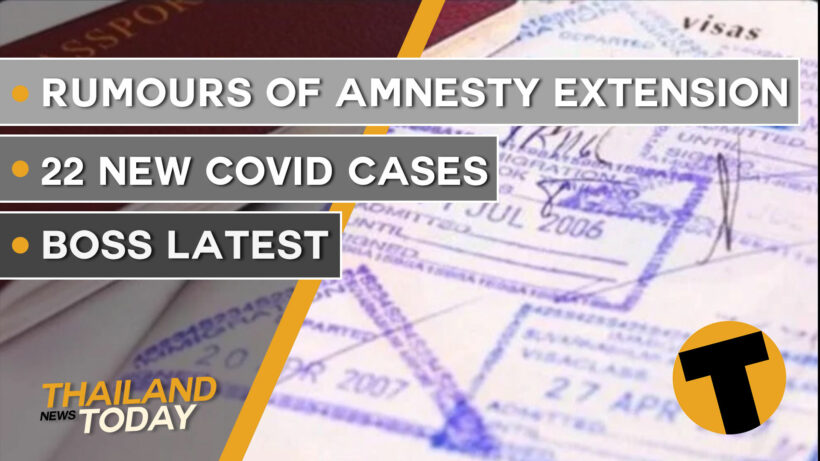 Daily TV news and updates from around Thailand on The Thaiger and on Youtube at Thaiger TV.
22 new cases of Covid-19 detected in Thailand
Out of nowhere, the Thai government's CCSA has reported 22 new cases of Covid-19 in the past 24 hours this morning, raising the country's total of infections to 3,545.
22 cases is the largest number of daily cases announced in a 24 hour period since April 5 this year when Thailand was emerging from its first wave.
16 of the new cases have come from imported cases, and became apparent whilst they were in quarantine during routine tests. The people have arrived from South Sudan, 4 people from India, 1 from Pakistan and 1 from the Philippines.
Thai doctor warns about short-cuts in quarantine
Meanwhile, a doctor from the Faculty of Medicine at Bangkok's Chulalongkorn University says reducing the quarantine period for foreign tourists would be inviting disaster.
Dr. Thira Woratanarat made his statement after a suggestion from the Tourism and Sports Minister that quarantine could be halved if all goes well when Thailand re-opens its borders to a limited number of foreign tourists.
"In Thailand, if we decide to follow the proposal to reduce the quarantine time to 7 days, it would be an invitation to disaster."
Rumours of a new visa amnesty, up to October 31
Thai Immigration offices have been flooded with foreigners trying to find a last minute solution to stay in the country and figure their situation out before the end of the visa amnesty… September 26, last Saturday.
The end of the amnesty, allowing visitors with lapsed visas to remain in the country, put many in a difficult situation, especially after a warning from the government the people could face fines and jail time for overstaying. But foreigners could have 1 more month to figure it out.
The news will come as a massive annoyance to those who went through the hoops last week to meet the deadline, although many thousands simply failed to get an appointment or satisfy the extension requirements, or simply had no flights to leave the country.
The government estimated around 150,000 foreigners were living in the country on amnesty.
Now there's an "unofficial" letter, on official Thai government letterhead, floating around, claiming that the visa amnesty will be extended until October 31. It's said the letter is waiting to be signed by PM Prayut Chan-o-cha which would then be published in the Royal Gazette. The letter title translates loosely as "extension for foreigners staying in Thailand".
Meanwhile, The Phuket News is reporting that their local immigration office plans to start charging people with overstays from tomorrow.
There's still a lot of confusion over the finish, or not, of the visa amnesty. We will bring you all the latest details, as soon as they come to hand, at thethaiger.com
"Boss" commission chief says Thai justice system in need of reform
Former National Anti-Corruption Commissioner, Vicha Mahakun, who led the recent inquiry into the handling of the case against Vorayuth "Boss" Yoovidhya, says Thailand's justice system is in need of reform.
The Red Bull heir and grandson of co-founder Chaleo Yoovidhya, "Boss", stood accused in a 2012 hit-and-run case that caused the death of a 47 year old Bangkok police officer who was hit by Boss's Ferrari and dragged over 100 metres, before the car fled the scene.
Boss was never brought to justice and is believed to be living outside Thailand, having managed to flee the Kingdom in 2017. Now, the chairman of the investigating panel says the whole Boss fiasco proves that Thailand's legal system needs to be reformed. He says the decision to drop all charges in the case clearly came about as a result of systemic corruption in the ranks of Thailand's police and judicial departments.
"Why was the case, that should have been closed within a year, delayed for 8 years? There's a legal proverb 'justice delayed is justice denied'. An attempt to delay it gives a clue."
1,202 gambling websites to be blocked in Thailand
Thailand is cracking down on online gambling websites. Internet providers will have 15 days to block 1,202 gambling websites before charges are pressed for violating Thailand's Computer Crime Act.
Although gambling is technically illegal in Thailand, underground and online gambling thrives in pockets of the country. The Digital Economy and Society Ministry was ordered by PM Prayut Chan-o-cha to crack down on illegal online gambling. The PM ordered the ministry to block the hundreds of gambling websites within the next 15 days. The ministry has requested 1,202 court warrants citing Computer Crime Act violations.
The National Broadcasting and Telecommunication Commission is collaborating with the ministry to block access to the gambling websites. The strict order is aimed at keeping teenagers away from online gambling.
More rain fronts on the way around Thailand today and tomorrow
The Thailand Meteorological Department is forecasting more isolated heavy rain over many parts of the country over the next few days.
Last night there were heavy rains and flooding in parts of inner city Bangkok. Cars were stuck in knee-deep water and footpaths were inundated in several inner city suburbs, including Phra Khanong. Phuket also had a rough night of high winds and rain. For most of Thailand, the most rainfall is accumulated in September and October making them the wettest months. We have a special story about Thailand's monsoon… the link is under here in the description.
Keep in contact with The Thaiger by following our
Facebook page
.
Never miss out on future posts by
following The Thaiger
.