Phuket Gazette Thailand News: Rice farmers to block all major roads; Yingluck richer by the millions; Democrats move for court coup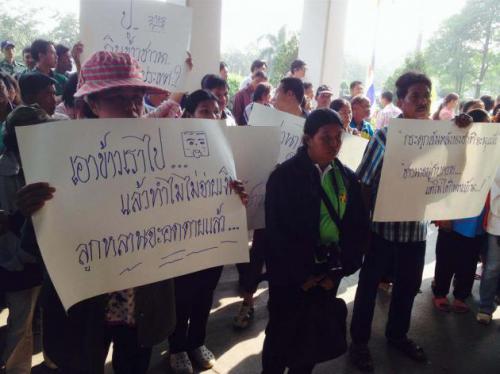 PHUKET MEDIA WATCH
– Thailand news compiled by Gazette editors for Phuket's international community
Farmers to block all main roads across country tomorrow
The Nation / Phuket Gazette
PHUKET: Rice farmers plan to scale up their protests against the government by closing all main roads in the country tomorrow.
With their days-long blockade of roads in Ratchaburi having little impact, rice farmers in the western province were initially looking to the Bank for Agriculture and Agricultural Co-operatives (BAAC) for help. But the group later announced they would close all main roads across the country to force the caretaker government to resolve their crisis.
The farmers are in financial trouble after the government repeatedly delayed payments in recent weeks for rice submitted to the pledging scheme. The
farmers are supposed to receive payments soon, in fact, after presenting certificates from the scheme to the BAAC. But without funds coming from the government, the BAAC has said it is unable to pay them.
Rawee Rungruang, who led many farmers blocking the Rama II Road yesterday, said: "Now, please count our certificates from the scheme as equivalent to land title deeds so that we can get loans to cover our daily expenses and invest in farming materials for the next crop season."
He suggested that the BAAC should then collect repayment, including interest, from the government later on.
Ministries to be targeted
Rawee said late yesterday that farmers from all four regions had agreed to block all main roads tomorrow so no car could pass. They would also send members to join the farmers' protest in Bangkok and possibly close the Ministry of Commerce and the Ministry of Finance to demand the rice money they are owed.
Rawee's group has closed Rama II Road around the Wang Manao intersection in Ratchaburi's Pak Tho district since February 1.
The rice-pledging scheme was introduced as one of Pheu Thai Party's populist policies several years ago.
But instead of benefiting farmers, it has left 1.4 million rice-growing families in dire trouble because it has lapsed in a financial mess – with the government unable to sell rice bought at well over market prices, or secure billions more needed to pay for the latest crop.
Upset with the government, a number of farmers in Central provinces are preparing to travel to Bangkok and demand payment in front of the Commerce Ministry tomorrow (Feb6).
"If the government doesn't give us a satisfactory answer, we will block roads," Songphon Poonsawas, a leader of farmers in Angthong, said.
Northern Farmers Network chairman Kittisak Rattanawaraha said many farmers in the North wanted to head to the capital to pressure the government but did not have money to pay for the trip.
In Buri Ram, farmers are also struggling to find odd jobs, as they need to cover living expenses till the government can pay for rice it has bought under the scheme.
Democrats ask to have Pheu Thai dissolved
The Nation / Phuket Gazette
PHUKET: The Democrat Party yesterday lodged a complaint with the Constitutional Court against Pheu Thai Party, calling for dissolution of the ruling party for pushing the February 2 election to be held despite an Election Commission recommendation to delay the poll.
Party spokesman Chavanond Intarakomalyasut said caretaker premier and Pheu Thai party-list MP Yingluck Shinawatra had ignored the election agency's key recommendation, an act regarded as a violation of an important charter article.
It has requested dissolution of the Pheu Thai Party because executive authority was utilised, via government acts such as the declaring of a state of emergency, which afforded it control of political expression over others in the run-up to the poll.
Article 68 of the Constitution stipulates one's right to protect the Constitution. It also prohibits any act that would seek change or to obtain authority through unconstitutional means. The article also permits dissolution of political parties found to have done this, and can ban party executives from participation in political activities for five years.
However, Pheu Thai party-list MP Ruangkrai Leekitwattana said duty and decisions in regard to arranging or postponing elections did not belong to a government, and that neither Yingluck nor the caretaker government utilised executive authority to gain advantage over other parties.
The Democrat Party would also seek to impeach Yingluck and all members of her Cabinet for their "misconduct" and roles in arranging the February 2 poll, Chavanond said. This would be done through the National Anti-Corruption Commission, via a signature campaign seeking support from a minimum of 20,000 people.
He dismissed a Pheu Thai statement that the Democrats had no right to void the February 2 election results because it failed to field candidates.
Meanwhile, EC chairman Supachai Somcharoen said a new election would be arranged if rulings by the Constitutional Court or the Ombudsman's Office found that results of the February 2 poll were invalid. And a new royal decree may need to be issued by the caretaker government to fix problems in 28 constituencies in the South, as no candidates had registered for these seats.
Pheu Thai spokesman Prompong Nopparit said a complaint will be loged today with the EC to seek the dissolution of the Democrat Party, for former MPs' roles assisting in protest rallies, in violation of Article 68.
Yingluck's assets rose by Bt50m : NACC
The Nation / Phuket Gazette
PHUKET: The National Anti-Corruption Commission (NACC) yesterday released information on politicians' assets.
The NACC revealed details of asset disclosures by 491 ex-members of Parliament whose terms finished with the dissolution of the House of Representatives in December.
The declared assets were in combination with those owned by the spouses.
– Caretaker Prime Minister Yingluck Shinawatra had Bt603 million in assets and Bt28 million in liabilities. Her assets increased since taking office by more than Bt50 million.
– Caretaker Labour Minister Chalerm Yoobamrung had Bt178 million in assets.
– The poorest is former Pheu Thai Party MP Teeyai Poonsrithanagul with Bt6.6 billion in liabilities.
– The richest is former Democrat Party-list MP Prakob Chirakiti with Bt2.1 billion in assets.
– Democrat Party spokesman Chavanond Intarakomalyasut declared only Bt45,061 in assets, and Democrat Party leader Abhisit Vejjajiva declared Bt54 million. The following are assets and liabilities of nine People's Democratic Reform Committee (PDRC) protest leaders as revealed by the National Anti-Corruption Commission: – Suthep Thaugsuban, secretary general of the PDRC:
Assets: Bt210 million, including Bt3.57 million bank deposits, Bt177 million worth of land and Bt26 million worth of motor vehicles.
Liabilities: Bt323 million in debt, mostly in bank loans.
– Nataphol Teepsuwan, former Democrat Party MP for Bangkok:
Combined assets with wife: Bt1.59 billion including Bt261 million in investment money.
Combined liabilities with wife: Less than Bt1 million.
– Satit Wongnongtaey, former Trang province Democrat MP:
Combined assets with wife: Bt66 million, mostly in land.
— Phuket Gazette Editors
Want more from the Thaiger family?
📱 Download our app on Android or iOS for instant updates on your mobile
📧 Subscribe to our daily email newsletter
👍 Like/Follow us on Facebook
🔔 Subscribe to or Join our YouTube channel for daily video updates
Illegal border crossings bringing in new Covid-19 infections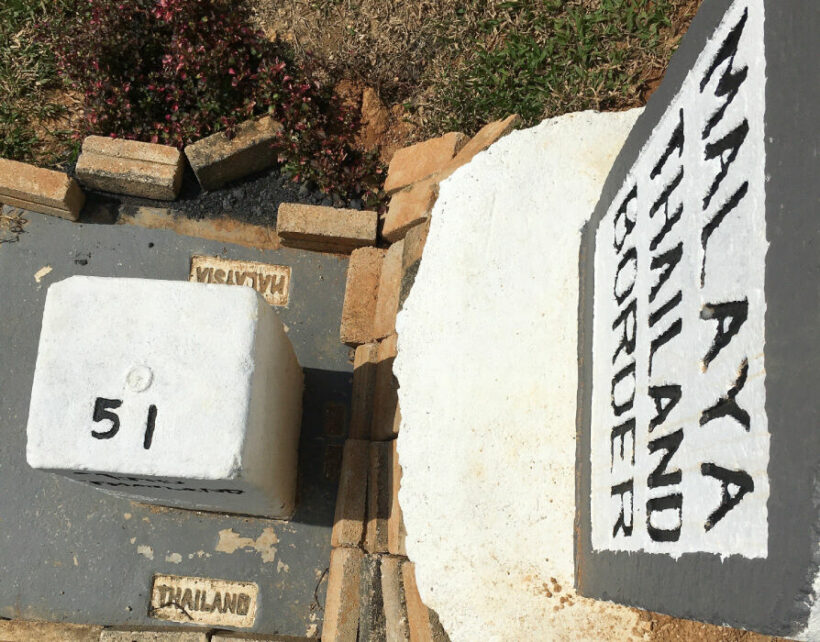 Authorities are worried about illegal border crossings into Thailand bringing in the Coronavirus after 5 recent Covid-19 infections from such crossings. Bypassing all health and security checkpoints along the border, 5 Thai nationals were identified today as being positive for Covid-19 after they snuck into the country, according to the Centre for Covid-19 Situation Administration.
Authorities nabbed 2 after border crossings from Malaysia illegally on April 28 and May 3rd, while another snuck across the Burmese border into Tak on May 2. The last 2 came from Cambodia on Thursday across the Sa Kaeo border. All 5 illegal border crossers are now in state hospitals for Covid-19 treatment.
According to CCSA data in the first four months of 2021 a total of 15,378 people were arrested by Thai authorities while sneaking across borders. Even after security forces increased patrolling along the borders, people managed to sneak in from Myanmar, Malaysia, Laos, and Cambodia. 6,700 of those who crossed the border were Burmese citizens, while another 1,700 of them were Thai nationals.
With nearly 400 lives lost to Covid-19 and over 83,000 people having been infected in the pandemic, the CCSA declared that Prime Minister Prayut Chan-o-cha and National Security Council Secretary-General Natthapol Nakpanich agree that these illegal border crossers without Covid-19 screening are a serious problem.
Many Thai people work in Malaysia and as the pandemic drags on they are sneaking across the border, desperate to make it home to their family. Another recent case found illegal Burmese border hoppers in a taxi en route to Hat Yai after they crossed into Thailand from the Malaysian border. They were trying to travel incognito across Thailand in order to cross the border again back into their home country of Myanmar.
The dilemma is even worse at the Burmese border as the often violent protests following the February 1 military coup has been pushing much of the country into poverty, and creating refugees who are flocking to the border in hopes of crossing over to safety. Many are seeking to escape the conflict and find work in Thailand.
SOURCE: Bangkok Post
Want more from the Thaiger family?
📱 Download our app on Android or iOS for instant updates on your mobile
📧 Subscribe to our daily email newsletter
👍 Like/Follow us on Facebook
🔔 Subscribe to or Join our YouTube channel for daily video updates
Thailand Consumer Confidence Index hits record low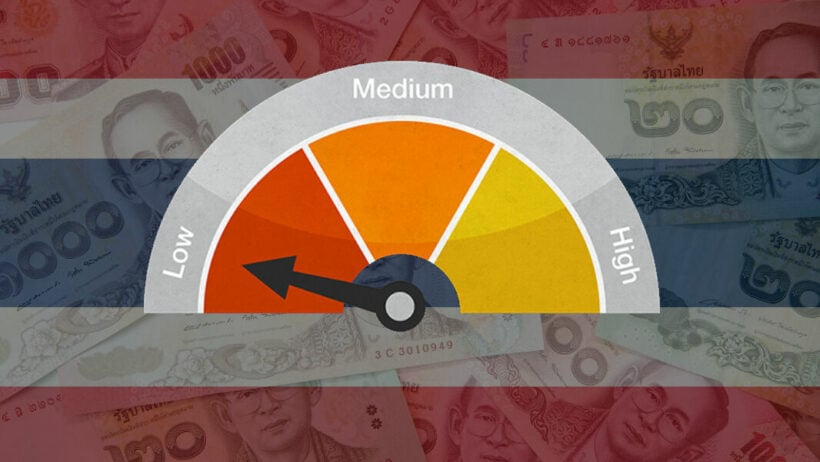 The University of the Thai Chamber of Commerce has reported that the Consumer Confidence Index has hit another new record low of 46.0 in April. The Covid-19 global pandemic has had a devastating effect on the economy and consumer confidence has fallen frequently to the lowest points that it has seen since 1998.
The president of the UTTC believes that consumers generally don't feel like there has been much of a recovery for the economy since the global pandemic began and without a stimulating event to motivate economic growth, the index is expected to continue to fall further. The university estimated that if the third wave of Covid-19 continues past the end of May the economy can expect to lose 400 to 600 billion baht.
The UTTC president stressed that the government should hasten to step up relief measures and make sure they continue relief and economic stimulus throughout the pandemic to avoid economic catastrophe. He predicted that the economy and the Consumer Confidence Index will continue on a downward slope without any hope of improvement until the vaccine rollout gets well underway towards herd immunity, and new Covid-19 infections are decreased dramatically.
Today saw another 2,101 new Covid-19 infections and 17 deaths in Thailand. Vaccination efforts are continually being stepped up, but still remain woefully slow.
The Consumer Confidence Index first started falling last year, with a drop below the previous record low in 1998 in April of 2020, when it fell to 47.2. A few months later, by July of last year, it had recovered significantly, climbing back over 50. But by March of this year, the index had fallen again to 48.5. With April's tumble of 2.5 points, the Consumer Confidence Index pushes once again to a new record low.
SOURCE: Thai Business News
Want more from the Thaiger family?
📱 Download our app on Android or iOS for instant updates on your mobile
📧 Subscribe to our daily email newsletter
👍 Like/Follow us on Facebook
🔔 Subscribe to or Join our YouTube channel for daily video updates
Thailand searches for cow vaccine for lumpy skin disease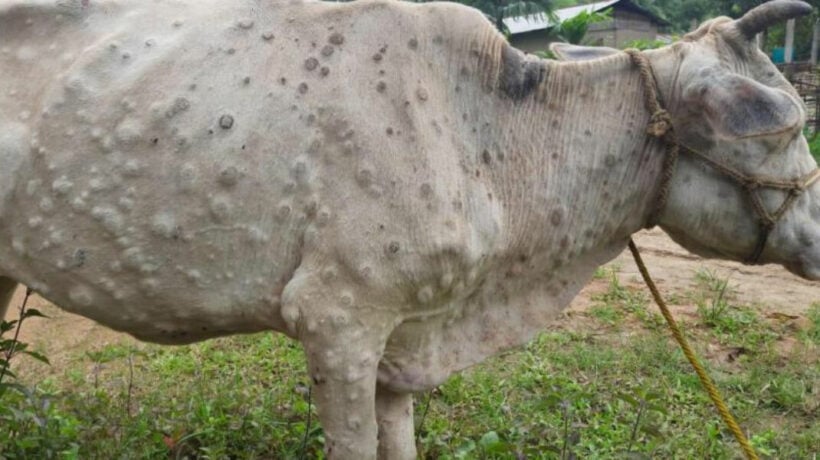 Move over Covid-19 there's a new disease sweeping the country as Thailand's cow population is afflicted with a lumpy skin disease. The Department of Livestock Development is now working on procuring vaccines from overseas manufacturers to import and treat the cattle population in Thailand. The lumpy skin is caused by pustules that are the most visible symptom, perhaps more detectable than other bovine signs such as drooling, loss of appetite and drowsiness.
The cow disease is spreading in the North, Northeast, and Central Plains area of Thailand and has been found in 18 provinces total. First identified in Roi Et, it has now spread in Chiang Rai, Kalasin, Kanchanaburi, Khon Kaen, Maha Sarakham, Nakhon Pathom, and Nakhon Phanom. The first case of the lumpy skin disease was reported in Don Daeng village last month and on April 9th officials reported it to the World Organisation for Animal Health.
The lumpy skin disease is found in cow pens and spread through flies, ticks, and mosquitoes, but the DLD says not to panic, it is not transmissible to humans. The department is distributing important information about symptoms and how the disease spreads to breeders and farmers in the area. They're requiring the breeders to monitor their cattle closely and have imposed measures to control the disease in heavy hit areas.
To prevent the spread of disease in livestock, traders are being requested to not buy and sell cattle within 50 km from disease-stricken regions. And for farmers caring for cattle, the DLD recommends spraying insecticide in all areas to prevent transmission via insects. Finally, in case the cattle were jealous of traveling humans, the DLD is advising farmers to prevent disease spread by isolating any new cow that comes into their farms with a 28-day bovine quarantine where they should be kept under nets to keep insects away.
SOURCE: Bangkok Post
Want more from the Thaiger family?
📱 Download our app on Android or iOS for instant updates on your mobile
📧 Subscribe to our daily email newsletter
👍 Like/Follow us on Facebook
🔔 Subscribe to or Join our YouTube channel for daily video updates