Phuket Gazette Thailand News: Red shirts call off protest, but the poor stay; Exam cheat teachers to be charged; Plan to close 14,000 schools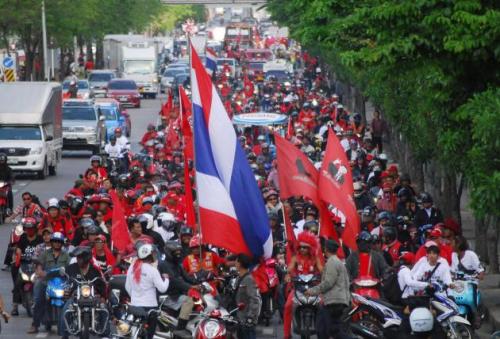 PHUKET MEDIA WATCH
– Thailand news compiled by Gazette editors for Phuket's international community
Yellows stay as reds head to Parliament
The Nation / Phuket Gazette
PHUKET: After staging a sit-in demonstration for 17 days, the red shirts yesterday announced the end of their protest after a rally motorcade from the Constitutional Court to Parliament to call for the impeachment of five judges who have agreed to hear a petition against the amendment of Article 68 of the Constitution.
Although the red shirts announced they would mobilise up to 100,000 protesters, not as many turned up early though more joined in after the rally got underway at 9.30am.
Meanwhile, hundreds of yellow-shirt Thai Compatriots and Territory Protection Front members, gathering since Tuesday at Sanam Luang, are refusing to clear the site.
They say they will stay until Prime Minister Yingluck Shinawatra is ousted and that their presence won't interfere with Royal Ploughing Ceremony on the grounds next Monday.
The red-shirt community radio group leaders yesterday jointly read a statement saying they would take recourse in accordance with Article 274 of the Constitution to seek the impeachment of five Constitutional Court judges – Jaran Pukditanakul, Charoon Intachan, Chalermpon Ake-uru, Nurak Marpraneet and Suphot Khaimuk.
They are opposed to the court's agreeing to consider a petition filed by Senator Somjet Bunthanom over the amendment of Article 68.
In a motorcade which included motorcycles, pickup tracks, buses and personal cars, the red-shirt protesters rallied from the Constitutional Court to Parliament, where they filed a petition with the House Speaker.
The red-shirt leaders submitted two letters to Deputy Senate Speaker Surachai Liengbunler-schai, one supporting the 312 MPs and senators moving to amend the Constitution and the other signed by 20,000 people seeking impeachment of the Constitutional Court judges.
The letter accuses the five judges of violating Article 157 of the Constitution and lacking ethics.
Red-shirt leader Pongpisit Kongsena Pongpisit said he would bring to Parliament a list of 50,000 people who joined the campaign to oust the five judges within 15 days.
He added that red shirts would disperse now that they have completed their mission.
Around noon, a woman in her 30s dressed in black lambasted the media near the rally stage opposite Parliament.
One of the red shirts shouted out that she was not a red shirt, causing others to flock to her.
Red-shirt guards rushed to remove her from the scene as others tried to assault her physically. The woman fled in one of the buses that carried the red shirts to Parliament, before she was pulled out and hit on the head.
She screamed in pain and with the help of the red-shirt guards managed to take shelter in a government building.
Yellow-shirt leader Chaiwat Sinsuwong said his group had considered a police request to vacate Sanam Luang but resolved to stay until Yingluck is ousted. He said he expected 100,000 protesters by this weekend.
They are also demonstrating to offer moral support to the Constitutional Court judges and oppose the Preah Vihear court case.
Monday's Royal Ploughing Ceremony is for farmers, many of whom support protesters in Chaiwat's group. Chaiwat said his group would adjust its protest to accommodate the ceremony and join in the annual rite, which marks the start of the rice-planting season.
"We will stay until the government goes. Once it does, we will go home. Our protest will not move to the Constitutional Court as we respect other people's rights.
"If we go there, a clash [with the red shirts and others] would happen and that would be as some people want. [They are looking for] riots and a military coup. So we will stay here to confirm our stance," Chaiwat said.
Deputy Bangkok Governor Pol General Assawin Kwanmuang yesterday met former Yasothorn senator Sombun Thongburan who led yellow shirts from Nakhon Ratchasima to the Sanam Luang rally. Assawin asked Chaiwat to leave the site because the Bangkok Metropolitan Administration must get the grounds ready for the ploughing ceremony.
Thousands more join P-Move rally
The Nation / Phuket Gazette
PHUKET: Some 300 Pak Mool Dam villagers under the Assembly of the Poor were among the thousands to join the People's Movement for a Just Society (P-Move) protesters camping outside Government House and calling for Prime Minister Yingluck Shinawatra's to keep her promises.
The Pak Mool villagers want the dam's sluice gates to be kept open all year round so they can continue with their traditional profession of fishing. The dam, open only four months of the year, blocks the path for fish.
"We were told to make brooms instead, but that's more difficult because brooms go for Bt9 per piece compared to fish, which yield Bt30-Bt40 per kilo. The Pak Mool Dam affects our way of life and income," Malee Tamsriwan, a 45-year-old fisherwoman Ubon Ratchathani's Sirindhorn district
Sompal Keundee, 40, from Ubon Ratchathani's Khong Chiam district, recalled that the group had rallied in Bangkok in January and that Deputy Prime Minister Chalerm Yoobamrung had promised on February 22 to table this issue with the Cabinet, but nothing happened. The group is still in the dark as to whether anything will be done this time after Chalerm promised on Tuesday to table the issue on May 14. This time the villagers hope that the government will set up a committee to help compensate them and keep the dam permanently open, Sompal said.
These protesters were among the 2,000 people who joined the P-Move rally to demand concrete government action.
Trang rubber farmer Kalaya Mankitti from the Network for Banthat Mountain Range Land Reform said she had been driven out of her 50-rai plantation as it allegedly encroached on forestland even though she had been living in the area long before it was named a national park. She said the group had rallied four times during this government's term and each and every time they had been promised a solution but nothing was done. Hence, she said, this time they would stay put until the Cabinet actually orders action to be taken to tackle their woes.
Rasita Suiyang, a member of the network of displaced Thais in Ranong-Prachuap Khiri Khan seeking Thai nationality, said her ancestors were Thai and lived on Thai soil, but the 1868 border map put them on Myanmar territory. In Myanmar she was considered a minority and forced to join labour camps, which prompted her to move in with her relatives in Thailand. However, in Thailand she is viewed as a migrant and state officials have been refusing to grant her Thai nationality.
Meanwhile, the Northern Farmers Federation is calling for a fund to be established so villagers can purchase land from private firms. Lamphun's community land-title deed cooperative president Rangsan Saensongkwai, 56, said he and other poor villagers were being sued by a private firm for farming on abandoned land.
Surapol Songrak, a rubber farmer from Surat Thani's Phrasaeng district, who is part of the Southern Farmer Federation, said they had been having a land dispute with a private firm because the villagers want land to farm on, while the company has won a concession to grow oil palm there. This dispute has resulted in death threats, and so far, two villagers have allegedly been killed over it.
The Four-Region Slum Network member Prathin Ve
— Phuket Gazette Editors
Keep in contact with The Thaiger by following our
Facebook page
.
Never miss out on future posts by
following The Thaiger
.
Burmese child contracted Covid-19 while crossing the border, report says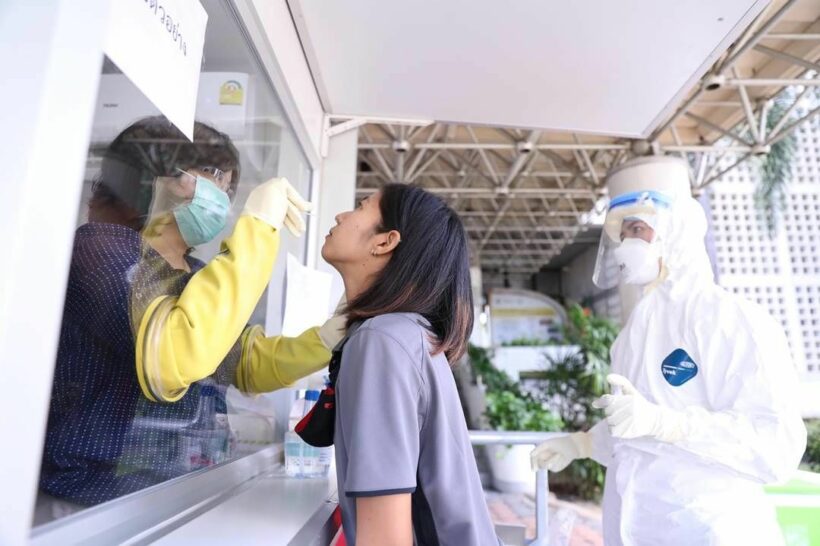 The 2 year old Burmese child, who tested positive for Covid-19 after leaving Thailand, may have contracted the virus while travelling from Thailand to Myanmar, according to a report from Thailand's Ministry of Public Health Disease Control Department.
The department says they suspect the child was exposed to the virus while crossing the border from the Mae Sot border district in Tak to Myanmar's Myawaddy town. The child's parents worked in Ayutthaya and quit their jobs last month. The department says the toddler probably contracted the virus around September 4 to September 10 while the family was travelling.
The family crossed natural, unofficial passageways into Myanmar. The news website Xinhua says it was an "apparent intent to evade anti-pandemic measures at the Mae Sot border checkpoint."
Those in Thailand who came in close contact with the family tested negative for the virus. 146 people who worked with the family at Ayutthaya migrant worker camps all tested negative for Covid-19. Those in close contact with the family in the Nakhon Ratchasima province, where the parents worked prior to Ayutthaya, tested negative as well. 2,635 people in Mae Sot tested negative for Covid-19.
Health officials are still investigating 2 apparent local transmissions of Covid-19. Earlier this month, a Bangkok DJ tested positive for Covid-19, breaking Thailand's 100 day streak without a local transmission. The DJ tested positive for G strain of the virus, a more infectious strain that is typically found in imported cases detected during state quarantine rather than local transmissions. Health officials do not know where the DJ contracted the virus.
A Uzbek football player for the Buriram United team recently tested positive for Covid-19. He was asymptomatic and tested negative for the virus multiple times during quarantine after he arrived to Thailand. Although it seems like a local transmission, some health officials speculate the virus has a longer incubation period than 14 days.
SOURCE:Xinhua
Keep in contact with The Thaiger by following our
Facebook page
.
Never miss out on future posts by
following The Thaiger
.
Thailand News Today | Amnesty finishes, protest round-up | September 21, 2020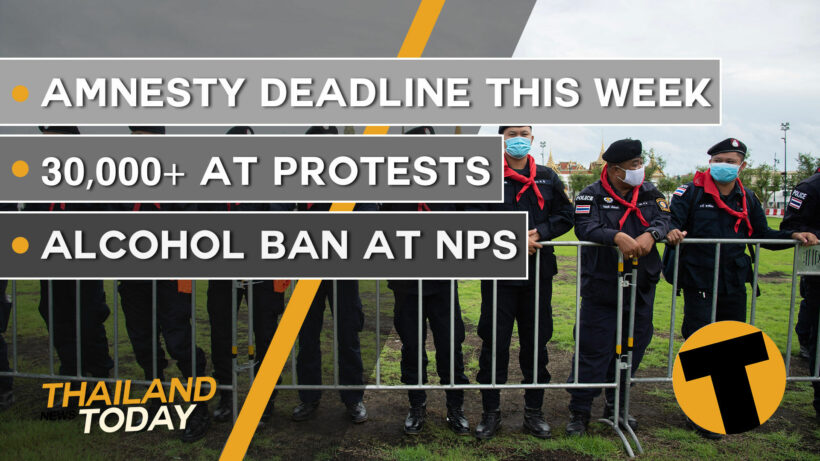 Daily video news about Thailand with Tim Newton
Get a visa or go to jail.
Thai Immigration Tourists, and anyone else with a lapsed visa, ha ve only 5 days to renew their visa or they could get arrested. The current visa amnesty ends on September 26 and there isn't going to be another sudden announcement for another grace period, according to immigration officials. Those who overstay will face arrest and be deported back to their home countries. Immigration officials estimate there are more than 150,000 foreign nationals who need to have their tourist visas renewed. Immigration officials said today that people without a valid visa after September 26 could face jail.
"Overstaying the tourist visa is punishable by both a jail term and fine under the Immigration Act."
Some foreigners who arrived on tourist visas earlier in the year have been in Thailand since late March when the Thai borders closed and many international flights were cancelled due to the world coronavirus pandemic. The visa amnesty was renewed twice since many people were unable to their home countries, but now the amnesty is coming to an end this Saturday.
There were hopes that the end of the visa amnesty could co-incide with the introduction of the new Special Tourist Visa so that those either unable to leave, due to lack of flights or problems returning to their home countries, could 'roll over' onto the new 90 day visas. But that has not been announced at this stage and remains just wishful thinking. The best thing you can do, if you don't currently have a valid visa to stay in Thailand, is urgently contact your embassy, make an appointment online at your nearest Immigration office, or speak to a professional visa agent. But, be warned, there are plenty of scammers posting official looking urgent posts in social media offering to issue you with a visa so you can stay in Thailand. Do your homework before spending money with any visa agent.
Weekend protest rallies draw 30,000 people but no formal response
Protesters gathered from early Saturday morning at the Thammasat Tha Prachan campus. Although officially denied permission to hold their protest on the Campus grounds, the demonstrators stormed the campus's gates, without resistance from onlooking police or security officials. By the afternoon the crowd had reached some 30,000 people, less than the 50,000 expected but a lot more than the 15,000 expected by government officials in the lead up to the Saturday rally. Largely peaceful the protesters sat in the wet season drizzle to listen to speeches and performances before marching together to the adjacent royal parade grounds of Sanam Luang. Here the protest continued under the watchful eye of police, all unarmed, who barricaded off sensitive areas of the historic parade grounds and access to the Grand Palace.
The protest continued into the night and punctuated the themes of political freedom, new Democratic elections, the dissolution of the Thai parliament and, controversially, reforms to the country's revered monarchy. On Sunday morning there was a symbolic placement of a brass plaque to commemorate the event, seen as a replacement to a similar plaque that commemorated the Siam Revolution in 1932 that mysteriously vanished in 2017. The protesters then marched to the Privy Council to officially hand over a copy of their 10 point manifesto.
Meanwhile, 45,000 books – a collection of speeches and poems by some of the protest leaders – were seized in a nearby Bangkok house. The books were to be handed out to protesters. 5 people were arrested at the time.
Alcohol banned at national parks after complaints of trash and drunk tourists Alcohol is now banned at national parks after tourists allegedly got drunk at a waterfall and others left a load of trash by their campsite. Just last week, trash left at a campsite at Khao Yai National Park was boxed up in a parcel and sent back to the campers. Other tourists were allegedly drunk and making a lot of noise at the Namtok Samlan National Park, Varawut says. He says both groups of tourists face charges for their actions.
• Alcohol is banned at national parks for the time being
• Loud noise is not allowed after 9pm and noise must be stopped at 10pm
• When renting a tent, tourists must provide identification, address and phone number
Keep in contact with The Thaiger by following our
Facebook page
.
Never miss out on future posts by
following The Thaiger
.
MP files complaint against 3 opposition MPs for allegedly joining the protest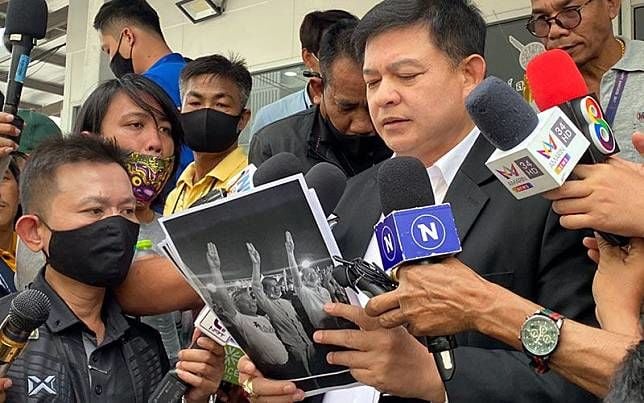 A member of parliament filed a complaint against 3 opposition MPs for allegedly joining the weekend's pro-democracy protest where activists demanded reform of the Thai Monarchy. He's also putting together a legal team aimed at dissolving the members' 3 opposition parties.
Palang Pracharat MP Sira Jenjakha says he has a photo of the 3 members raising their hands in a 3 finger salute, a symbol of resistance against the military run government. He says the protest was illegal, and the location, the Royal Field next to the Grand Palace, is off limits to unauthorised people.
He filed the complaint with the Chanasongkhram police against Mongkolkit Suksintharanont, of the Thai Civilized Party, Peerawit Ruangluedolapark, of the Thai Rak Thai Party and Nattha Boonchai-insawat of the Kao Klai Party.
A legal team assigned by Sira will collect evidence and file a petition with the Constitutional Court calling on the dissolution of the 3 opposition parties: Thai Civilized Party, Thai Rak Thai Party and Kao Klai Party.
He says he also plans to ask the House Speaker to investigate the 3 members to determine if they breached the parliament's ethical conduct.
SOURCE: Thai PBS
Keep in contact with The Thaiger by following our
Facebook page
.
Never miss out on future posts by
following The Thaiger
.