Phuket Gazette Thailand News: Red shirts call off protest, but the poor stay; Exam cheat teachers to be charged; Plan to close 14,000 schools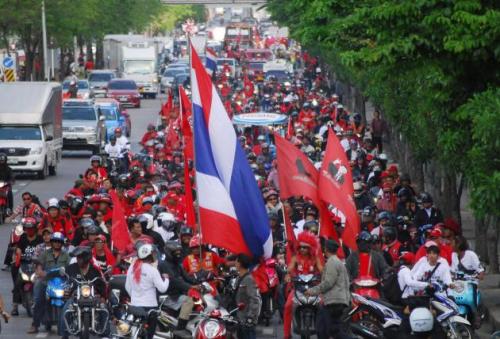 PHUKET MEDIA WATCH
– Thailand news compiled by Gazette editors for Phuket's international community
Yellows stay as reds head to Parliament
The Nation / Phuket Gazette
PHUKET: After staging a sit-in demonstration for 17 days, the red shirts yesterday announced the end of their protest after a rally motorcade from the Constitutional Court to Parliament to call for the impeachment of five judges who have agreed to hear a petition against the amendment of Article 68 of the Constitution.
Although the red shirts announced they would mobilise up to 100,000 protesters, not as many turned up early though more joined in after the rally got underway at 9.30am.
Meanwhile, hundreds of yellow-shirt Thai Compatriots and Territory Protection Front members, gathering since Tuesday at Sanam Luang, are refusing to clear the site.
They say they will stay until Prime Minister Yingluck Shinawatra is ousted and that their presence won't interfere with Royal Ploughing Ceremony on the grounds next Monday.
The red-shirt community radio group leaders yesterday jointly read a statement saying they would take recourse in accordance with Article 274 of the Constitution to seek the impeachment of five Constitutional Court judges – Jaran Pukditanakul, Charoon Intachan, Chalermpon Ake-uru, Nurak Marpraneet and Suphot Khaimuk.
They are opposed to the court's agreeing to consider a petition filed by Senator Somjet Bunthanom over the amendment of Article 68.
In a motorcade which included motorcycles, pickup tracks, buses and personal cars, the red-shirt protesters rallied from the Constitutional Court to Parliament, where they filed a petition with the House Speaker.
The red-shirt leaders submitted two letters to Deputy Senate Speaker Surachai Liengbunler-schai, one supporting the 312 MPs and senators moving to amend the Constitution and the other signed by 20,000 people seeking impeachment of the Constitutional Court judges.
The letter accuses the five judges of violating Article 157 of the Constitution and lacking ethics.
Red-shirt leader Pongpisit Kongsena Pongpisit said he would bring to Parliament a list of 50,000 people who joined the campaign to oust the five judges within 15 days.
He added that red shirts would disperse now that they have completed their mission.
Around noon, a woman in her 30s dressed in black lambasted the media near the rally stage opposite Parliament.
One of the red shirts shouted out that she was not a red shirt, causing others to flock to her.
Red-shirt guards rushed to remove her from the scene as others tried to assault her physically. The woman fled in one of the buses that carried the red shirts to Parliament, before she was pulled out and hit on the head.
She screamed in pain and with the help of the red-shirt guards managed to take shelter in a government building.
Yellow-shirt leader Chaiwat Sinsuwong said his group had considered a police request to vacate Sanam Luang but resolved to stay until Yingluck is ousted. He said he expected 100,000 protesters by this weekend.
They are also demonstrating to offer moral support to the Constitutional Court judges and oppose the Preah Vihear court case.
Monday's Royal Ploughing Ceremony is for farmers, many of whom support protesters in Chaiwat's group. Chaiwat said his group would adjust its protest to accommodate the ceremony and join in the annual rite, which marks the start of the rice-planting season.
"We will stay until the government goes. Once it does, we will go home. Our protest will not move to the Constitutional Court as we respect other people's rights.
"If we go there, a clash [with the red shirts and others] would happen and that would be as some people want. [They are looking for] riots and a military coup. So we will stay here to confirm our stance," Chaiwat said.
Deputy Bangkok Governor Pol General Assawin Kwanmuang yesterday met former Yasothorn senator Sombun Thongburan who led yellow shirts from Nakhon Ratchasima to the Sanam Luang rally. Assawin asked Chaiwat to leave the site because the Bangkok Metropolitan Administration must get the grounds ready for the ploughing ceremony.
Thousands more join P-Move rally
The Nation / Phuket Gazette
PHUKET: Some 300 Pak Mool Dam villagers under the Assembly of the Poor were among the thousands to join the People's Movement for a Just Society (P-Move) protesters camping outside Government House and calling for Prime Minister Yingluck Shinawatra's to keep her promises.
The Pak Mool villagers want the dam's sluice gates to be kept open all year round so they can continue with their traditional profession of fishing. The dam, open only four months of the year, blocks the path for fish.
"We were told to make brooms instead, but that's more difficult because brooms go for Bt9 per piece compared to fish, which yield Bt30-Bt40 per kilo. The Pak Mool Dam affects our way of life and income," Malee Tamsriwan, a 45-year-old fisherwoman Ubon Ratchathani's Sirindhorn district
Sompal Keundee, 40, from Ubon Ratchathani's Khong Chiam district, recalled that the group had rallied in Bangkok in January and that Deputy Prime Minister Chalerm Yoobamrung had promised on February 22 to table this issue with the Cabinet, but nothing happened. The group is still in the dark as to whether anything will be done this time after Chalerm promised on Tuesday to table the issue on May 14. This time the villagers hope that the government will set up a committee to help compensate them and keep the dam permanently open, Sompal said.
These protesters were among the 2,000 people who joined the P-Move rally to demand concrete government action.
Trang rubber farmer Kalaya Mankitti from the Network for Banthat Mountain Range Land Reform said she had been driven out of her 50-rai plantation as it allegedly encroached on forestland even though she had been living in the area long before it was named a national park. She said the group had rallied four times during this government's term and each and every time they had been promised a solution but nothing was done. Hence, she said, this time they would stay put until the Cabinet actually orders action to be taken to tackle their woes.
Rasita Suiyang, a member of the network of displaced Thais in Ranong-Prachuap Khiri Khan seeking Thai nationality, said her ancestors were Thai and lived on Thai soil, but the 1868 border map put them on Myanmar territory. In Myanmar she was considered a minority and forced to join labour camps, which prompted her to move in with her relatives in Thailand. However, in Thailand she is viewed as a migrant and state officials have been refusing to grant her Thai nationality.
Meanwhile, the Northern Farmers Federation is calling for a fund to be established so villagers can purchase land from private firms. Lamphun's community land-title deed cooperative president Rangsan Saensongkwai, 56, said he and other poor villagers were being sued by a private firm for farming on abandoned land.
Surapol Songrak, a rubber farmer from Surat Thani's Phrasaeng district, who is part of the Southern Farmer Federation, said they had been having a land dispute with a private firm because the villagers want land to farm on, while the company has won a concession to grow oil palm there. This dispute has resulted in death threats, and so far, two villagers have allegedly been killed over it.
The Four-Region Slum Network member Prathin Ve
— Phuket Gazette Editors
Want more from the Thaiger family?
📱 Download our app on Android or iOS for instant updates on your mobile
📧 Subscribe to our daily email newsletter
👍 Like/Follow us on Facebook
🔔 Subscribe to or Join our YouTube channel for daily video updates
British tourists come forward about being attacked on Koh Tao in 2013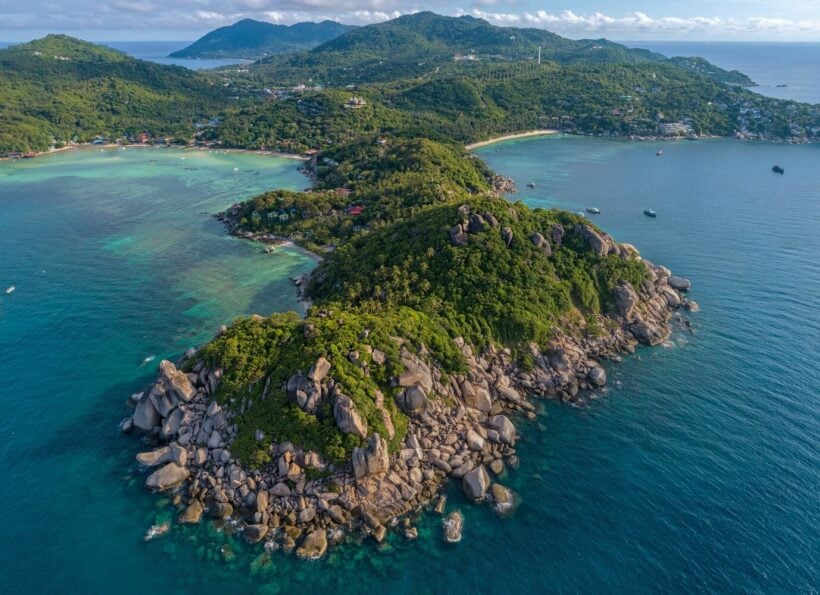 Many continue to contend that Zaw Lin and Wai Phyo, the 2 Burmese young men convicted for the 2014 murder of 2 tourists on Koh Tao's Sairee Beach, are innocent. Now 2 tourists who were attacked on the same beach, just a year before the murder, are now coming forward to help prove that the conviction could have been unreliable.
In September 2014, the bodies of British tourists 23 year old Hannah Witheridge and 24 year old David Miller were found on the beach. Police say Hannah had been raped and David had been hit several times on the head with a garden hoe.
Zaw and Wai were arrested soon after the killings. Some say the investigation was accelerated in an effort to gain back tourist confidence and keep visitors coming to the island. Numerous activists, criminologists, and others have spoken out against the conviction, saying the evidence was bungled.
Just a year before, British tourists Sam Venning and Carla Bartel survived an attack on the same beach. Sam, who was 22 at the time, was talking to Carla, who was 20, on the beach when 2 men wearing V for Vendetta masks attacked them, hitting Sam in the head with a rock.
Sam and Carla came forward to Thai officials after the killings to help with the investigation, but say no one got back to them. Sam says he had emailed the Thai Embassy in London, but no one contacted him. Carla says she contacted the UK Foreign Commonwealth Office who then passed her on to the UK National Crime Agency. She was told that the information was sent to Thai police, but officers did not follow up with her.
SOURCE: Mirror.UK
Want more from the Thaiger family?
📱 Download our app on Android or iOS for instant updates on your mobile
📧 Subscribe to our daily email newsletter
👍 Like/Follow us on Facebook
🔔 Subscribe to or Join our YouTube channel for daily video updates
Fishermen find space debris off the coast of Phuket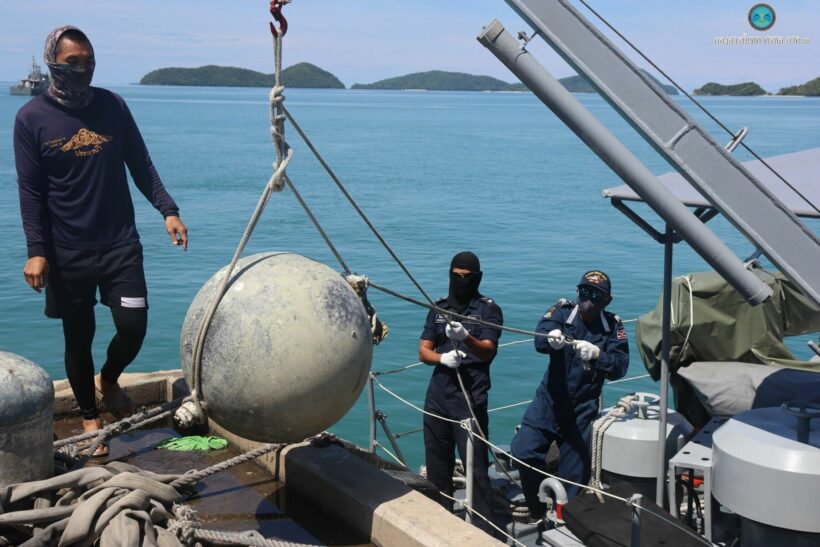 Local fishermen found space debris, possibly from a satellite or space shuttle, on the seabed just 6 metres below the surface by Koh Ael in Phuket. At first, no one knew exactly what it was.
Specialists from a Navy explosive ordnance disposal unit were first called to look at the round, hollow metal object which was about 45 centimetres in diameter. 3rd Naval Area commander Vice Admiral Choengchai Chomchoengpaet told reporters at a press conference that the team took photos of the object and found it appeared to be a rocket fuel tank, possibly used to launch a satellite or shuttle into space. He said it matched photos online.
Both the Geo-Informatics and Space Technology Development Agency, or GISTDA, and the National Astronomical Research Institute of Thailand, agree that the object was most likely a fuel tank for a rocket.
Since the fuel tanks usually contain harmful chemicals like ammonia or hydrogen, divers examined the space debris to make sure there were no chemical leaks before bringing the object to shore and taken to the navy headquarters. The space debris will be taken to the GISTDA to be studied.
"If other objects similar to this one are found elsewhere, people should not touch them. They could contain hazardous chemicals. They should immediately inform Region 3 Thai-MECC or local officials."
SOURCE: Bangkok Post
Want more from the Thaiger family?
📱 Download our app on Android or iOS for instant updates on your mobile
📧 Subscribe to our daily email newsletter
👍 Like/Follow us on Facebook
🔔 Subscribe to or Join our YouTube channel for daily video updates
UPDATE: 2 Americans and a Thai arrested over Bangkok kidnap attempt, Thai policeman involved | VIDEO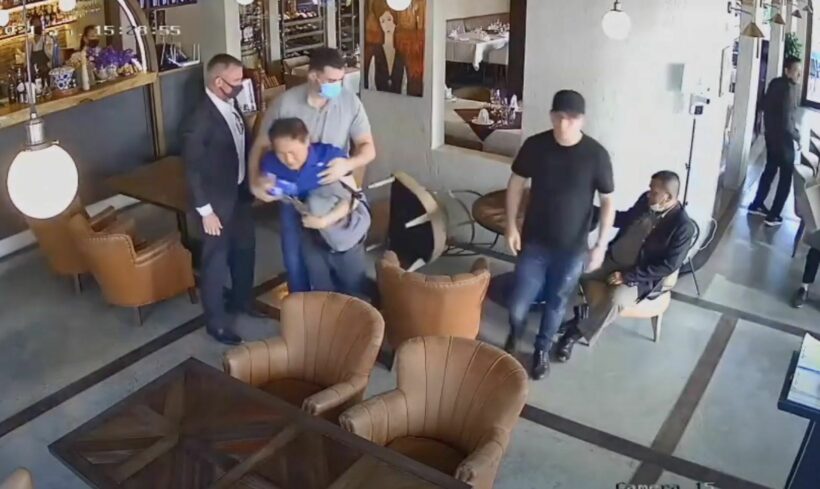 Screenshot: THAICRIME
UPDATE:
Following up from the earlier story involving 2 Americans, a Thai, a Taiwanese businessman, and an Israeli security goon, we have the following update (original story below)…
Police have examined CCTV from the restaurant in Thong Lor where the Taiwanese businessman was kidnapped. It's also been revealed that a "senior Thai policeman" was involved in the alleged abduction case. The abduction took place on March 28.
The meeting had been called to "resolve" some disagreements over a large purchase of rubber gloves that had gone wrong.
After arriving at a meeting at the L'Oliva restaurant in Sukhumvit Soi 26, Mr. Wen Yu Chung was manhandled, put in a headlock and dragged out of the premises. Daily News reports that a "lieutenant colonel" ranked Thai policeman was also captured on the CCTV supervising the events as they happened inside the restaurant. He is reported as being a former traffic policeman.
Mr. Chung was then held to ransom at the condo NT Court. Attempts were made to contact Mr Chung's family and business associates to extract a ransom – allegedly 1 and 2 million baht – but they refused to pay.
The 3 men have been identified as 41 year old Jeremy Hughes Manchester, 52 year old Louis William Ziskin, both Americans, and Ekbodin Prasitnarit, Thai.
Mr Louis Ziskin has a somewhat chequered history with his story catalogued on Wikipedia. Summarised…
Ziskin was taken into custody in December 7, 2000 and charged over transactions from November 1999 to December 22, 1999. Ziskin was convicted of smuggling 700 pounds of ecstasy into Southern California via FedEx and other various shipping companies, the largest-ever US government seizure of the drug. There was another indictment a year later.
Following his incarceration, Ziskin lost a double jeopardy appeal for the second indictment. The US government settled all claims against Ziskin for a 188 month sentence and a US$9 million fine.
Daily News also reported a man 'Mike' who allegedly invited the policeman to be involved in the incident. Earlier this man was described as "Mr. Michael Greenberg, an Israeli operating a detective company".
Here's video showing the arrest of Mr. Ziskin…
EARLIER STORY:
Thai police have arrested 2 American citizens and a Thai for the alleged kidnap of a Taiwanese businessman for ransom. 5 other arrest warrants are also waiting to be executed over the incident. Police allege a "business conflict" over the purchase of plastic 'nitrile' gloves as the motive.
The 3 men have been identified as 41 year old Jeremy Hughes Manchester, 52 year old Louis William Ziskin, both Americans, and Ekbodin Prasitnarit, Thai. All 3 have denied the charges including illegal assembly, attempted murder, abduction for ransom and extortion. They were formally charged at the Thong Lor police.
According to Bangkok Post, in late 2020 Mr Ziskin appointed the Collection Company to negotiate the purchase of a large quantity of plastic gloves with the Paddy The Room Trading Company.
Police allege that there was an ongoing conflict between the two sides which was responsible for Mr Ziskin accumulating 93 million baht in damages.. So, according to police, Mr Ziskin hired Mr. Michael Greenberg, an Israeli operating a detective company in Thailand to negotiate and retrieve the losses.
Police allege that Mr Greenberg hired Thai and foreign collaborators to plan an abduction as leverage in the retrieval of their losses. They contacted a 60 year old Taiwanese man from the Collection Company in Thailand to procure a supply of rubber gloves from Paddy The Room Trading Company.
They made an appointment to meet Wen Yu Chung at a restaurant in Bangkok's in Bangkok's Tong Lor are off Sukhumvit Road on March 28. Police allege that Mr Greenberg and hired associates arrived, handcuffed the Taiwanese businessman and then took him to the NT Place, 200 metres further south down the same Soi, Sukhumvit 36.
They then called Mr Chung's boss demanding US$2 million, and then called the man's family demanding another US$1 million. Both contacted police and did nothing to accede to the demands for ransom..
The abductors then headed to a restaurant in Soi 24, with Mr. Chung, eventually letting him go. The Taiwanese man went, first to hospital, then to Thong Lor police station to relate his story. Eventually 8 arrest warrants were issued over the alleged abduction. Soon after police arrested Mr Manchester, Mr Ziskin and Mr Ekbodin.
We'll continue to follow this story.
SOURCE: Bangkok Post
Want more from the Thaiger family?
📱 Download our app on Android or iOS for instant updates on your mobile
📧 Subscribe to our daily email newsletter
👍 Like/Follow us on Facebook
🔔 Subscribe to or Join our YouTube channel for daily video updates