Phuket Gazette Thailand News: Red shirts call off protest, but the poor stay; Exam cheat teachers to be charged; Plan to close 14,000 schools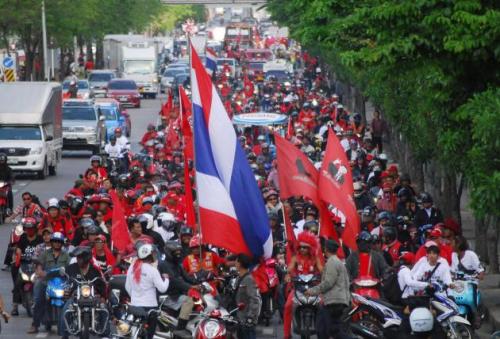 PHUKET MEDIA WATCH
– Thailand news compiled by Gazette editors for Phuket's international community
Yellows stay as reds head to Parliament
The Nation / Phuket Gazette
PHUKET: After staging a sit-in demonstration for 17 days, the red shirts yesterday announced the end of their protest after a rally motorcade from the Constitutional Court to Parliament to call for the impeachment of five judges who have agreed to hear a petition against the amendment of Article 68 of the Constitution.
Although the red shirts announced they would mobilise up to 100,000 protesters, not as many turned up early though more joined in after the rally got underway at 9.30am.
Meanwhile, hundreds of yellow-shirt Thai Compatriots and Territory Protection Front members, gathering since Tuesday at Sanam Luang, are refusing to clear the site.
They say they will stay until Prime Minister Yingluck Shinawatra is ousted and that their presence won't interfere with Royal Ploughing Ceremony on the grounds next Monday.
The red-shirt community radio group leaders yesterday jointly read a statement saying they would take recourse in accordance with Article 274 of the Constitution to seek the impeachment of five Constitutional Court judges – Jaran Pukditanakul, Charoon Intachan, Chalermpon Ake-uru, Nurak Marpraneet and Suphot Khaimuk.
They are opposed to the court's agreeing to consider a petition filed by Senator Somjet Bunthanom over the amendment of Article 68.
In a motorcade which included motorcycles, pickup tracks, buses and personal cars, the red-shirt protesters rallied from the Constitutional Court to Parliament, where they filed a petition with the House Speaker.
The red-shirt leaders submitted two letters to Deputy Senate Speaker Surachai Liengbunler-schai, one supporting the 312 MPs and senators moving to amend the Constitution and the other signed by 20,000 people seeking impeachment of the Constitutional Court judges.
The letter accuses the five judges of violating Article 157 of the Constitution and lacking ethics.
Red-shirt leader Pongpisit Kongsena Pongpisit said he would bring to Parliament a list of 50,000 people who joined the campaign to oust the five judges within 15 days.
He added that red shirts would disperse now that they have completed their mission.
Around noon, a woman in her 30s dressed in black lambasted the media near the rally stage opposite Parliament.
One of the red shirts shouted out that she was not a red shirt, causing others to flock to her.
Red-shirt guards rushed to remove her from the scene as others tried to assault her physically. The woman fled in one of the buses that carried the red shirts to Parliament, before she was pulled out and hit on the head.
She screamed in pain and with the help of the red-shirt guards managed to take shelter in a government building.
Yellow-shirt leader Chaiwat Sinsuwong said his group had considered a police request to vacate Sanam Luang but resolved to stay until Yingluck is ousted. He said he expected 100,000 protesters by this weekend.
They are also demonstrating to offer moral support to the Constitutional Court judges and oppose the Preah Vihear court case.
Monday's Royal Ploughing Ceremony is for farmers, many of whom support protesters in Chaiwat's group. Chaiwat said his group would adjust its protest to accommodate the ceremony and join in the annual rite, which marks the start of the rice-planting season.
"We will stay until the government goes. Once it does, we will go home. Our protest will not move to the Constitutional Court as we respect other people's rights.
"If we go there, a clash [with the red shirts and others] would happen and that would be as some people want. [They are looking for] riots and a military coup. So we will stay here to confirm our stance," Chaiwat said.
Deputy Bangkok Governor Pol General Assawin Kwanmuang yesterday met former Yasothorn senator Sombun Thongburan who led yellow shirts from Nakhon Ratchasima to the Sanam Luang rally. Assawin asked Chaiwat to leave the site because the Bangkok Metropolitan Administration must get the grounds ready for the ploughing ceremony.
Thousands more join P-Move rally
The Nation / Phuket Gazette
PHUKET: Some 300 Pak Mool Dam villagers under the Assembly of the Poor were among the thousands to join the People's Movement for a Just Society (P-Move) protesters camping outside Government House and calling for Prime Minister Yingluck Shinawatra's to keep her promises.
The Pak Mool villagers want the dam's sluice gates to be kept open all year round so they can continue with their traditional profession of fishing. The dam, open only four months of the year, blocks the path for fish.
"We were told to make brooms instead, but that's more difficult because brooms go for Bt9 per piece compared to fish, which yield Bt30-Bt40 per kilo. The Pak Mool Dam affects our way of life and income," Malee Tamsriwan, a 45-year-old fisherwoman Ubon Ratchathani's Sirindhorn district
Sompal Keundee, 40, from Ubon Ratchathani's Khong Chiam district, recalled that the group had rallied in Bangkok in January and that Deputy Prime Minister Chalerm Yoobamrung had promised on February 22 to table this issue with the Cabinet, but nothing happened. The group is still in the dark as to whether anything will be done this time after Chalerm promised on Tuesday to table the issue on May 14. This time the villagers hope that the government will set up a committee to help compensate them and keep the dam permanently open, Sompal said.
These protesters were among the 2,000 people who joined the P-Move rally to demand concrete government action.
Trang rubber farmer Kalaya Mankitti from the Network for Banthat Mountain Range Land Reform said she had been driven out of her 50-rai plantation as it allegedly encroached on forestland even though she had been living in the area long before it was named a national park. She said the group had rallied four times during this government's term and each and every time they had been promised a solution but nothing was done. Hence, she said, this time they would stay put until the Cabinet actually orders action to be taken to tackle their woes.
Rasita Suiyang, a member of the network of displaced Thais in Ranong-Prachuap Khiri Khan seeking Thai nationality, said her ancestors were Thai and lived on Thai soil, but the 1868 border map put them on Myanmar territory. In Myanmar she was considered a minority and forced to join labour camps, which prompted her to move in with her relatives in Thailand. However, in Thailand she is viewed as a migrant and state officials have been refusing to grant her Thai nationality.
Meanwhile, the Northern Farmers Federation is calling for a fund to be established so villagers can purchase land from private firms. Lamphun's community land-title deed cooperative president Rangsan Saensongkwai, 56, said he and other poor villagers were being sued by a private firm for farming on abandoned land.
Surapol Songrak, a rubber farmer from Surat Thani's Phrasaeng district, who is part of the Southern Farmer Federation, said they had been having a land dispute with a private firm because the villagers want land to farm on, while the company has won a concession to grow oil palm there. This dispute has resulted in death threats, and so far, two villagers have allegedly been killed over it.
The Four-Region Slum Network member Prathin Ve
— Phuket Gazette Editors
Keep in contact with The Thaiger by following our
Facebook page
.
Thai Airways must modify rehabilitation plan to survive: Airline President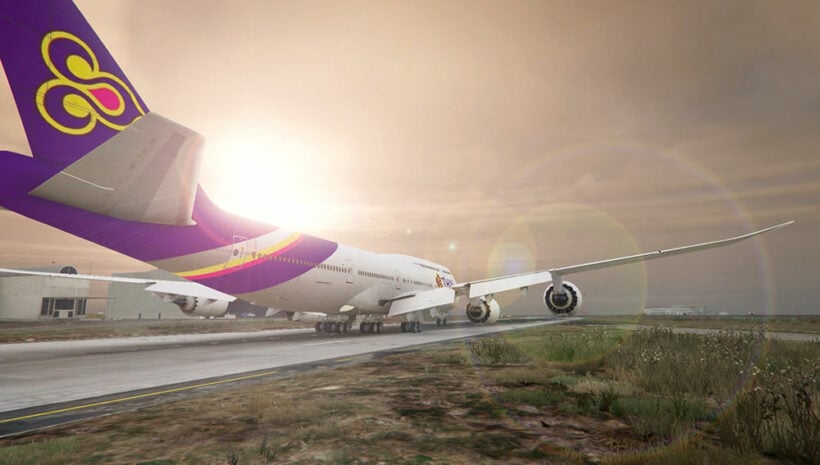 PHOTO: gta5-mods.com
"Thai Airways will have to modify its rehabilitation plans to survive in the face of tight competition." This frank admission by the airline's president Sumet Damrongchaith.
The national carrier is now carrying a total debt of over 2.45 billion baht and losses of more than 20 billion, despite being able to reduce its debts by 48 billion baht over the past five years.
Sumet says the first step will be to restructure the airline's management and finances as well as reconsider its plan to spend 1.5 billion baht on 38 new aircraft. He admits the biggest problem is that Thai Airways has low capital but a high debt-to-equity ratio of eight times.
In order to maintain its competitiveness, the carrier will have to reduce its debts versus assets and boost its working capital with support from the ministries of Transport and Finance. Hence, it plans to borrow approximately 3.2 billion baht in fiscal 2020 in line with the budget limit set by the Office of Public Debt Management.
This loan will be taken to support the airline's investments as well as for its working capital, to update equipment and maintain existing aircraft, but will not be used to repay old debts.
The Nation also reports that the airline is also concerned about maintaining its liquidity because at the end of June this year, its revolving credit line stood at 13.4% of the total revenue forecast for 2019.
Sumet admits that, though the original rehabilitation plan has a set framework, the situation has now changed due to the appreciation of the baht, so in order to achieve goals, the work method has to be redesigned, such as finding a way to procure more passengers.
"We are now in the process of analysing new markets."
Meanwhile, Thai Aiways' board chairman Aek-Niti Nitithan-Praphas says the board is reconsidering plans to procure a new fleet taking into consideration the state of the global and domestic economies as well as the US-China trade war.
"The growth of the tourism industry and the airlines' financial status needs to be reviewed in line with strong competition and routes that are no longer popular. It's better to carefully revise the plan instead of exposing the airline to greater risk. The target should be reduce expenses by 20%."
Meanwhile, Thai Airways aims to boost the sale of tickets, find ways of increasing online shopping of duty-free goods and reducing unnecessary expenses by 10%without affecting the quality of service in the last three months of 2019.
The airline is also negotiating the option of cutting down overtime expenses and is looking into curbing losses incurred by it's semi-budget offshoot Thai Smile by increasing its flying hours to 10.5 hours daily. These steps are expected to help the airline reach breakeven point in the short term.
The airline is also considering long-term goals such roping in more passengers by offering greater benefits to Royal Orchid Plus members, focusing on digital marketing, retiring non-performing assets as well as increasing revenue from related businesses such as kitchens and aircraft repair centres.
SOURCE: The Nation
Keep in contact with The Thaiger by following our
Facebook page
.
Thai app will ease expat immigration woes and make 90 day reporting simple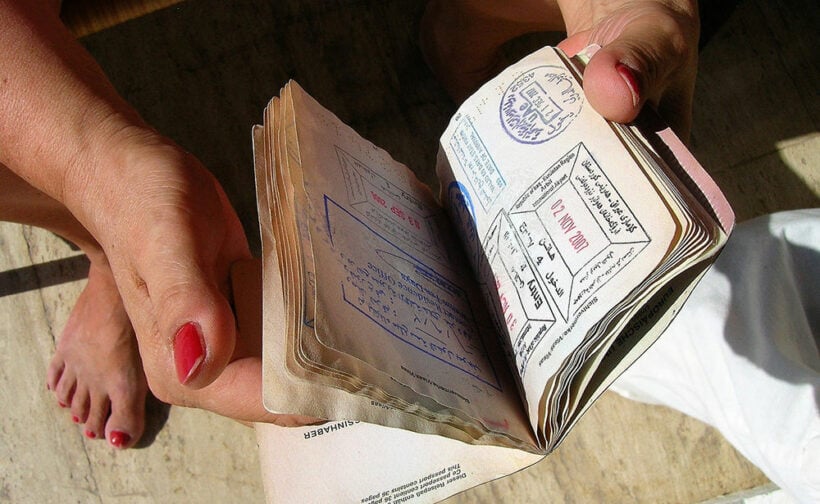 The "OSS Foreigner" app is coming, and you will be able to use it for 90 day reporting, according to the Secretary-General at the office of the PM.
Dr Kobsak Pootrakool says the planned app can be used for all immigration reporting, including 90 day reports, adding that typing in the required data and uploading a selfie will accomplish the same result as filling out paperwork at the local immigration office but without having to make the trip there.
Dr Kobsak has been given responsibility for sorting out the TM30 debate and says the immigration app, called OSS Foreigner, is nearly complete and should make all those who live and work in Thailand feel more welcome and make compliance easier and more convenient.
The TM30 form, and its companion, the TM28, have been a source of expat displeasure over the past five months since the immigration department decided to enforce a little-used 1979 law that required foreigners to report their whereabouts if they had stayed overnight at an address different from their registered address.
This latest move comes as part of a wider program to make Thai public services more efficient, with Dr Kobsak making the announcement while outlining plans for all Thai government departments to embrace digital technology by as early as 2022. Meanwhile, the Deputy PM Somkid Jatusripitak is championing a programme to improve Thai public services for both Thai citizens and foreigners.
"The government's new approach to IT and digital technology is designed to deliver a smarter, easier service as part of the Thailand 4.0 economic model."
SOURCE: The Pattaya News
Keep in contact with The Thaiger by following our
Facebook page
.
Karaoke premises raided in central Thailand, 3 underage sex workers rescued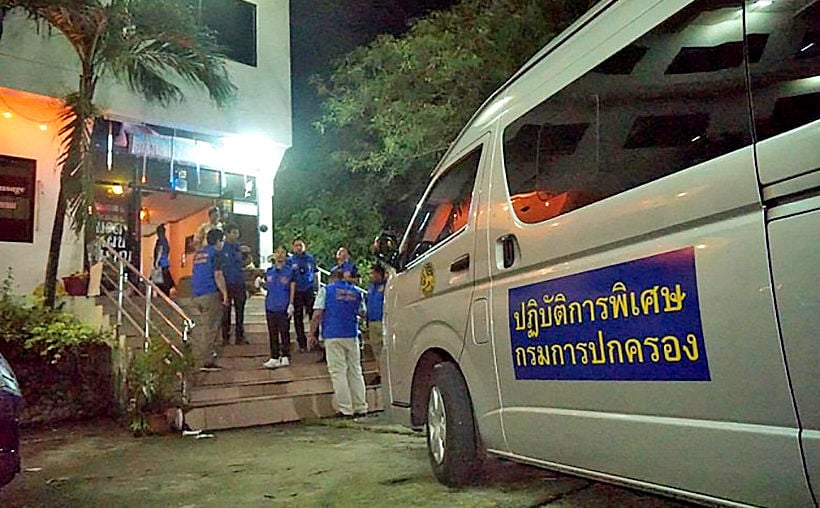 The Nation reports that 3 underage sex workers have been rescued after raids on a karaoke restaurant and a karaoke massage parlour in Ang Thong, central Thailand.
The raids were confirmed at a press conference held by Ronnarong Thipsiri, Head of the Department of Provincial Administration's investigation and suppression division, along with Sakda Bandasak, sheriff of Ang Thong's Muang district. Ronnarong alleges both premises were using the underage girls as prostitutes.
"We collaborated with Damrong Dhama Centre and anti-human trafficking organisations and learnt that two karaoke joints in Ang Thong were employing underage sex workers. These were the Chil Chil Karaoke on Highway No. 3064, Pa Ngiew sub district of Muang district, and Jittra Karaoke on the ground floor of a hotel in Muang district."
During the raids, police identified 6 sex workers offering services to a group of customers. Four of the girls were Thai and two were from Laos. Three were under the age of 18, with the youngest being 15 years old. A large number of used condoms were also found.
Somjit Phetwijit and Aphirom Pheungpracha, the owners of Chil Chil Karaoke and Jittra Karaoke respectively were arrested and charged with human trafficking, solicitation of prostitution, prostitution of an underage person, and opening an entertainment facility without a licence.
A 17 year old girl from Jittra Karaoke told the press she was hired to sit and drink with clients and was paid 50 baht each time a client ordered a drink.
"Clients can buy sex for 1,500 baht a time or pay 3,500 baht for a whole night. They can either use massage rooms in the back or bring the girls to other hotels of their choice."
SOURCE: The Nation
Keep in contact with The Thaiger by following our
Facebook page
.