Phuket Gazette Thailand News: NSC fears Bangkok street battles; Bombs rock Yala; Son hires hit on parents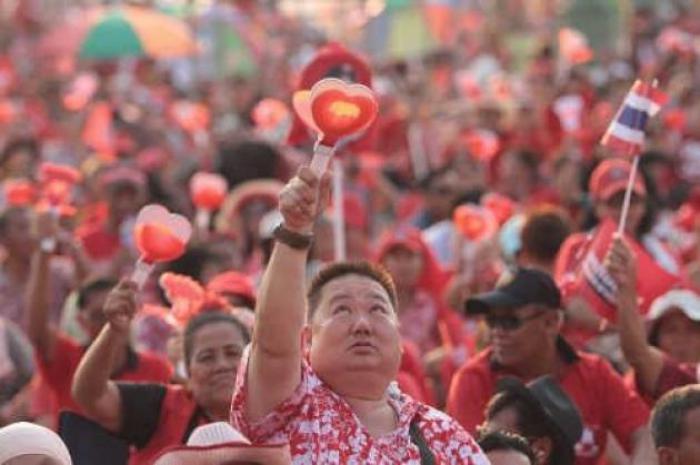 PHUKET MEDIA WATCH
– Thailand news compiled by Gazette editors for Phuket's international community
NSC fears civil strife if protesters take to the streets
The Nation / Phuket Gazette
PHUKET: The National Security Council (NSC) is not confident that it will be able to fully control civil unrest when anti-government and pro-government demonstrators take to the streets.
"With so many people out on the streets, we don't have the confidence," NSC secretary general Paradorn Pattanatabut said yesterday.
However Paradorn insisted that security agencies would do their best. "We will closely monitor the situation and prevent any confrontation between the two sides," he said.
Tension is apparently rising as independent agencies are expected to deliver their rulings on some cases against caretaker Prime Minister Yingluck Shinawatra very soon.
"Key factors are the rulings from independent agencies," Paradorn said.
United Front for Democracy against Dictatorship (UDD) chairman Jatuporn Promphan yesterday said there was clearly a conspiracy to oust the current government.
"After the Songkran celebrations, we will organise a massive rally to completely shut down the bureaucratic polity," he said.
He added that he would lead his supporters into Bangkok in the upcoming rally.
At press time last night, red shirts were gathering at Aksa Road, on the western fringe of Bangkok.
"Let's return home and celebrate Songkran first. But around April 18, we will have a really big rally," Jatuporn said.
Paradorn expected the tension to reach boiling point this month because the UDD felt any negative rulings could be unfair to Yingluck and supporters of the government.
Meanwhile, the anti-government People's Democratic Reform Committee (PDRC) had signalled that it would stand by the independent agencies.
"If the government doesn't accept the scrutiny by independent agencies and the Constitutional Court, the PDRC will have to organise a really big move to protect the constitution," PDRC spokesman Akanat Promphan said.
"Such institutions, after all, are key pillars of the administrative system under the Constitution."
The PDRC, which leads the anti-government movement, has lately told its supporters that the country is in the final round of the battle.
One of the serious cases targeting Yingluck surrounds her decision to transfer Thawil Pliensri from the top job at the National Security Council in 2011.
The Supreme Administrative Court ruled that the transfer was unlawful and ordered that Thawil be reinstated.
According to a survey by Suan Dusit Poll, 69 per cent of respondents believe the country's political conflict is so serious it could trigger a civil war.
Asked how to prevent the civil strife, 48 per cent said the government and anti-government demonstrators should engage in peaceful talks and refrain from inciting violence.
Almost 39 per cent of respondents said the political conflict had been prolonged because politicians were trying to protect their interests.
Two soldiers shot, injured near STR rally site in capital
The Nation / Phuket Gazette
PHUKET: Forensic police yesterday inspected the scene where two plainclothes soldiers were shot while patrolling the Students and People's Network for Thailand's Reform (STR) rally site in Dusit district in Bangkok.
Lance Corporal Prasert Chansri and Master Sergeant First Class Chaiyan Lekpong both sustained gunshot wounds to the right shoulder on Saturday night and were sent to Ramathibodi Hospital.
They were among five soldiers conducting a standard motorcycle patrol on Soi Likhit, at the back of Wat Benchamabopit and not far from the STR rally, when the lead motorcycle carrying the two wounded soldiers was sprayed with bullets.
Two soldiers on the second motorcycle saw the incident and diverted to escape the hail of bullets while the soldier on the third motorcycle hid behind a tree 20 metres away from the scene.
Police found cartridges in 18 areas and one 11mm bullet at the scene.
The two injured officers are not yet able to give statements.
Pol Lt-Colonel Jarupat Thongkomol, deputy superintendent of Dusit Police Station, said forensic police had to check for what type of gun(s) were used in the attack.
National Police Chief General Adul Saengsingkaew has instructed police to remain vigilant to prevent similar attacks happening on plainclothes soldiers, deputy police spokesperson Colonel Witchayakorn Nichabaworn said. He also ordered investigators to conduct a thorough investigation and follow strict directives in handling the case, Witchayakorn said.
One killed as rash of bombings hits Yala
The Nation / Phuket Gazette
PHUKET: A series of explosions rocked Yala yesterday, killing at least one and injuring more than a dozen in the heart of the town, provincial Governor Dejrat Simsiri said.
The first of four blasts went off at the Coliseum intersection at about 4pm. The second was in front of Raja Furniture shop, the third at an ATM machine in front of the provincial electricity office and the fourth at the Fa Sai shop. The most serious was at Raja Furniture on Sirorote Road, where an unknown person was found dead and a fire broke out after.
The body of the victim was burnt beyond recognition, police said. Fire officials fought the blaze at the shop, while many injured were admitted to a hospital in the province.
Ten wooden buildings in the area where damaged, police said. A Toyota pickup was found damaged near the furniture shop, according to police, who suspected the bombs were carried in the vehicle.
Police hoped surveillance-camera footage in the areas might be of use in identifying suspects behind the bombings.
Yala is one of several hot spots in the predominantly Muslim deep-South, where violence erupted in early 2004 and has killed more than 5,000 people so far. The government believes separatist movements are behind the violence.
Schools' near-home quota system may be scrapped
The Nation / Phuket Gazette
PHUKET: Student recruitment under the near-home quota might be scrapped as applicants have dwindled.
Apichart Jeerawuth, secretary-general of the Basic Education Commission, said last week that the near-home quota was also putting pressure on students who wanted to apply for Mathayom 1.
"I really, really do understand the feelings of children and their parents when they are excited and waiting to hear whether they are eligible to join the programme," he said after observing near-home recruitment at Surasakmontree School.
Young students and their parents living near this school have flocked to try their luck in the draw. Some students wore amulets around their neck for good luck.
Yesterday students graduating from Prathom 6 drew lots to decide whether they can continue their education at a higher level. Competition is especially stiff to enter 63 famous schools nationwide.
In
— Phuket Gazette Editors
Want more from the Thaiger family?
📱 Download our app on Android or iOS for instant updates on your mobile
📧 Subscribe to our daily email newsletter
👍 Like/Follow us on Facebook
🔔 Subscribe to or Join our YouTube channel for daily video updates
British tourists come forward about being attacked on Koh Tao in 2013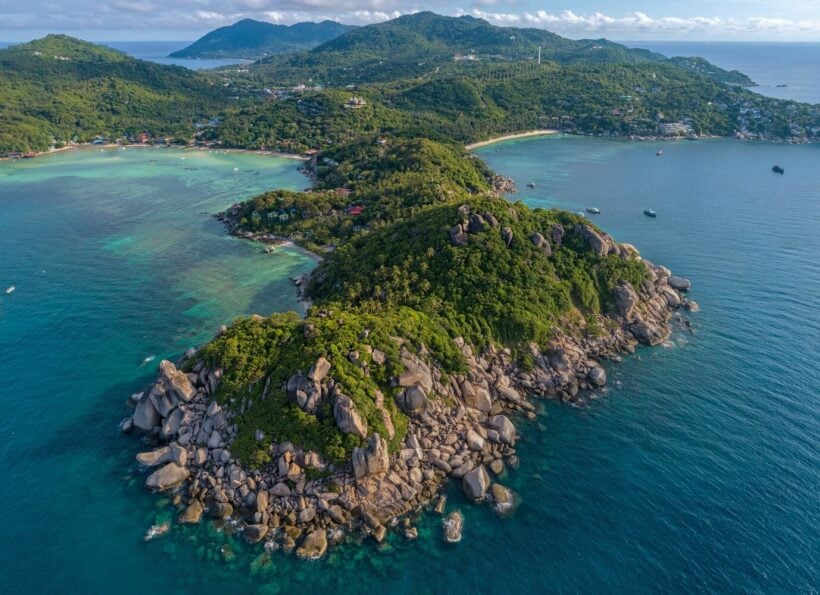 Many continue to contend that Zaw Lin and Wai Phyo, the 2 Burmese young men convicted for the 2014 murder of 2 tourists on Koh Tao's Sairee Beach, are innocent. Now 2 tourists who were attacked on the same beach, just a year before the murder, are now coming forward to help prove that the conviction could have been unreliable.
In September 2014, the bodies of British tourists 23 year old Hannah Witheridge and 24 year old David Miller were found on the beach. Police say Hannah had been raped and David had been hit several times on the head with a garden hoe.
Zaw and Wai were arrested soon after the killings. Some say the investigation was accelerated in an effort to gain back tourist confidence and keep visitors coming to the island. Numerous activists, criminologists, and others have spoken out against the conviction, saying the evidence was bungled.
Just a year before, British tourists Sam Venning and Carla Bartel survived an attack on the same beach. Sam, who was 22 at the time, was talking to Carla, who was 20, on the beach when 2 men wearing V for Vendetta masks attacked them, hitting Sam in the head with a rock.
Sam and Carla came forward to Thai officials after the killings to help with the investigation, but say no one got back to them. Sam says he had emailed the Thai Embassy in London, but no one contacted him. Carla says she contacted the UK Foreign Commonwealth Office who then passed her on to the UK National Crime Agency. She was told that the information was sent to Thai police, but officers did not follow up with her.
SOURCE: Mirror.UK
Want more from the Thaiger family?
📱 Download our app on Android or iOS for instant updates on your mobile
📧 Subscribe to our daily email newsletter
👍 Like/Follow us on Facebook
🔔 Subscribe to or Join our YouTube channel for daily video updates
Fishermen find space debris off the coast of Phuket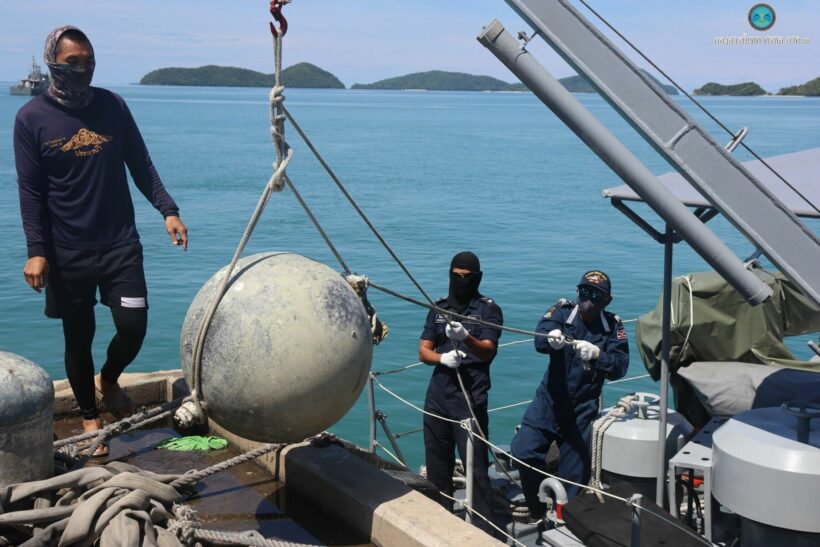 Local fishermen found space debris, possibly from a satellite or space shuttle, on the seabed just 6 metres below the surface by Koh Ael in Phuket. At first, no one knew exactly what it was.
Specialists from a Navy explosive ordnance disposal unit were first called to look at the round, hollow metal object which was about 45 centimetres in diameter. 3rd Naval Area commander Vice Admiral Choengchai Chomchoengpaet told reporters at a press conference that the team took photos of the object and found it appeared to be a rocket fuel tank, possibly used to launch a satellite or shuttle into space. He said it matched photos online.
Both the Geo-Informatics and Space Technology Development Agency, or GISTDA, and the National Astronomical Research Institute of Thailand, agree that the object was most likely a fuel tank for a rocket.
Since the fuel tanks usually contain harmful chemicals like ammonia or hydrogen, divers examined the space debris to make sure there were no chemical leaks before bringing the object to shore and taken to the navy headquarters. The space debris will be taken to the GISTDA to be studied.
"If other objects similar to this one are found elsewhere, people should not touch them. They could contain hazardous chemicals. They should immediately inform Region 3 Thai-MECC or local officials."
SOURCE: Bangkok Post
Want more from the Thaiger family?
📱 Download our app on Android or iOS for instant updates on your mobile
📧 Subscribe to our daily email newsletter
👍 Like/Follow us on Facebook
🔔 Subscribe to or Join our YouTube channel for daily video updates
UPDATE: 2 Americans and a Thai arrested over Bangkok kidnap attempt, Thai policeman involved | VIDEO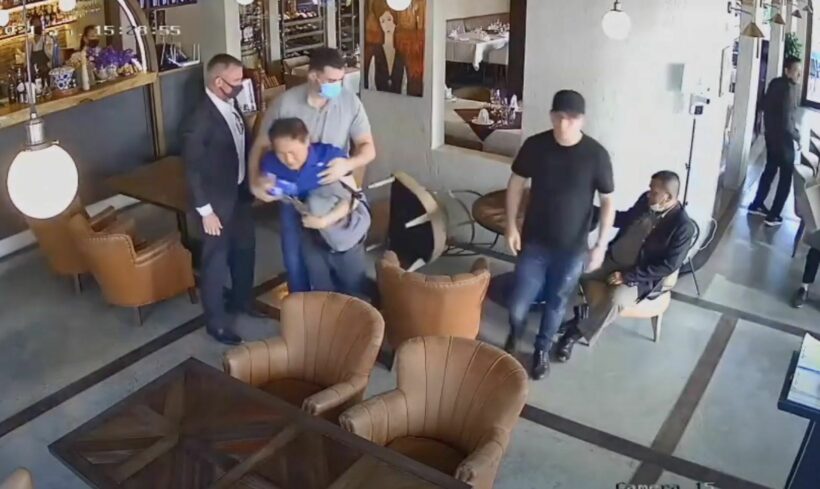 Screenshot: THAICRIME
UPDATE:
Following up from the earlier story involving 2 Americans, a Thai, a Taiwanese businessman, and an Israeli security goon, we have the following update (original story below)…
Police have examined CCTV from the restaurant in Thong Lor where the Taiwanese businessman was kidnapped. It's also been revealed that a "senior Thai policeman" was involved in the alleged abduction case. The abduction took place on March 28.
The meeting had been called to "resolve" some disagreements over a large purchase of rubber gloves that had gone wrong.
After arriving at a meeting at the L'Oliva restaurant in Sukhumvit Soi 26, Mr. Wen Yu Chung was manhandled, put in a headlock and dragged out of the premises. Daily News reports that a "lieutenant colonel" ranked Thai policeman was also captured on the CCTV supervising the events as they happened inside the restaurant. He is reported as being a former traffic policeman.
Mr. Chung was then held to ransom at the condo NT Court. Attempts were made to contact Mr Chung's family and business associates to extract a ransom – allegedly 1 and 2 million baht – but they refused to pay.
The 3 men have been identified as 41 year old Jeremy Hughes Manchester, 52 year old Louis William Ziskin, both Americans, and Ekbodin Prasitnarit, Thai.
Mr Louis Ziskin has a somewhat chequered history with his story catalogued on Wikipedia. Summarised…
Ziskin was taken into custody in December 7, 2000 and charged over transactions from November 1999 to December 22, 1999. Ziskin was convicted of smuggling 700 pounds of ecstasy into Southern California via FedEx and other various shipping companies, the largest-ever US government seizure of the drug. There was another indictment a year later.
Following his incarceration, Ziskin lost a double jeopardy appeal for the second indictment. The US government settled all claims against Ziskin for a 188 month sentence and a US$9 million fine.
Daily News also reported a man 'Mike' who allegedly invited the policeman to be involved in the incident. Earlier this man was described as "Mr. Michael Greenberg, an Israeli operating a detective company".
Here's video showing the arrest of Mr. Ziskin…
EARLIER STORY:
Thai police have arrested 2 American citizens and a Thai for the alleged kidnap of a Taiwanese businessman for ransom. 5 other arrest warrants are also waiting to be executed over the incident. Police allege a "business conflict" over the purchase of plastic 'nitrile' gloves as the motive.
The 3 men have been identified as 41 year old Jeremy Hughes Manchester, 52 year old Louis William Ziskin, both Americans, and Ekbodin Prasitnarit, Thai. All 3 have denied the charges including illegal assembly, attempted murder, abduction for ransom and extortion. They were formally charged at the Thong Lor police.
According to Bangkok Post, in late 2020 Mr Ziskin appointed the Collection Company to negotiate the purchase of a large quantity of plastic gloves with the Paddy The Room Trading Company.
Police allege that there was an ongoing conflict between the two sides which was responsible for Mr Ziskin accumulating 93 million baht in damages.. So, according to police, Mr Ziskin hired Mr. Michael Greenberg, an Israeli operating a detective company in Thailand to negotiate and retrieve the losses.
Police allege that Mr Greenberg hired Thai and foreign collaborators to plan an abduction as leverage in the retrieval of their losses. They contacted a 60 year old Taiwanese man from the Collection Company in Thailand to procure a supply of rubber gloves from Paddy The Room Trading Company.
They made an appointment to meet Wen Yu Chung at a restaurant in Bangkok's in Bangkok's Tong Lor are off Sukhumvit Road on March 28. Police allege that Mr Greenberg and hired associates arrived, handcuffed the Taiwanese businessman and then took him to the NT Place, 200 metres further south down the same Soi, Sukhumvit 36.
They then called Mr Chung's boss demanding US$2 million, and then called the man's family demanding another US$1 million. Both contacted police and did nothing to accede to the demands for ransom..
The abductors then headed to a restaurant in Soi 24, with Mr. Chung, eventually letting him go. The Taiwanese man went, first to hospital, then to Thong Lor police station to relate his story. Eventually 8 arrest warrants were issued over the alleged abduction. Soon after police arrested Mr Manchester, Mr Ziskin and Mr Ekbodin.
We'll continue to follow this story.
SOURCE: Bangkok Post
Want more from the Thaiger family?
📱 Download our app on Android or iOS for instant updates on your mobile
📧 Subscribe to our daily email newsletter
👍 Like/Follow us on Facebook
🔔 Subscribe to or Join our YouTube channel for daily video updates