Phuket Gazette Thailand News: CAPO calls meet; Hezbollah suspects arrested; Songkran road death toll hits 248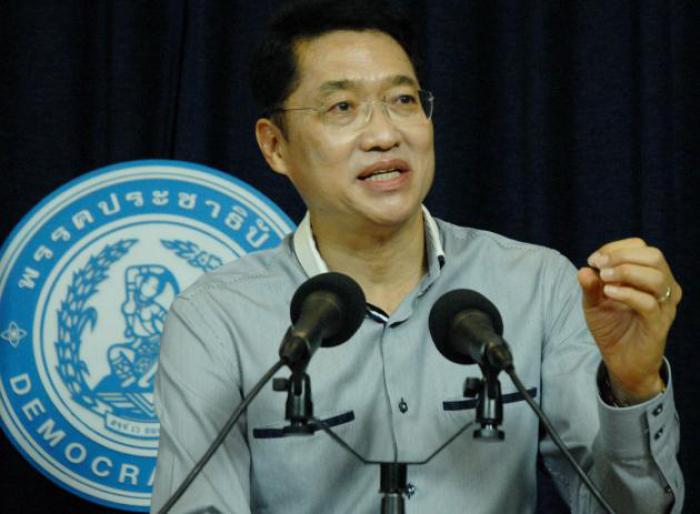 PHUKET MEDIA WATCH
– Thailand news compiled by Gazette editors for Phuket's international community
All eyes on CAPO meeting with top ministry officials
The Nation / Phuket Gazette
PHUKET: The spotlight will be on this afternoon's meeting between the Centre for the Administration of Peace and Order (CAPO) and permanent secretaries, as the stance of the top officials might reflect Thai political future in the event that the caretaker cabinet is removed from office.
However, Democrat Party deputy leader Ongart Klampaiboon yesterday called on the senior officials to ignore CAPO's invitation.
"This meeting was called so that the permanent secretaries show up and voice their support for the government. This would ease their worries related to the impact of the rallies led by the People's Democratic Reform Committee [PDRC]," he said.
Ongart asked the senior officials either to refrain from attending the meeting or, if they absolutely must attend, not to express any opinions. Moreover, if there were any orders issued by CAPO at the meeting, then they should defy them.
Permanent secretary of Justice Kittipong Kittayarak yesterday posted a message on Facebook saying he will attend the meeting and use this as a chance to clarify himself and his actions. He believes this meeting was called partly due to him greeting PDRC protest leader Suthep Thaugsuban.
Kittipong said government officials' job is to be responsible for the country, and as a former member of the Truth for Reconciliation Commission of Thailand, he believes everybody should have a chance to talk and listen.
Kittipong has openly voiced support for national reform but it is not clear to what extent he agrees with Suthep's ideas.
General Nipat Thonglek, permanent secretary of the Defence Ministry, said he was definitely going to attend, as it was "his duty" to do so – and CAPO's invitation was really an order to attend as opposed to a request.
"I think attending the meeting will be useful in terms of getting information about the political situation. CAPO's invitation is similar to an order. I don't think there is any reason not to attend the meeting. Moreover, the agencies not in charge of national security can take this opportunity to learn about and understand the situation," he said.
Public Health Ministry permanent secretary Narong Sahametapat had earlier said he would not attend today's meeting.
National Security Council secretary-general Paradorn Pattanatabut, meanwhile, said CAPO had the right to consider whether and how to punish any defiant government officials under the Internal Security Act. The top ministry officials should consider carefully what to do, as they would have to be held responsible for any action taken in defiance of the meeting's resolution.
Last week, Narong and other officials at the Public Health Ministry welcomed Suthep Thaugsuban, who had led a PDRC rally to invite government officials to "boycott" the incumbent caretaker government.
Furthermore, the officials submitted a plan for reforming the ministry and the public health system, which clearly meant they were giving support to the proposal by the PDRC.
Senior officials at the Education and Justice ministries also greeted Suthep's rallies aimed at inviting them to boycott the government.
Nipat, who has made it clear that his stance is with the government, also met with Suthep when he visited the Defence Ministry, although he said he was merely listening to what the PDRC leader wanted to say.
Amid controversy over what should happen in a political vacuum created if the caretaker Cabinet is removed by the courts, some academics have said permanent secretaries would have to be in charge of their ministries' administration.
Two Lebanese in Thai custody over possible Hezbollah ties
The Nation / Phuket Gazette
PHUKET: Two suspected foreign terrorists have been held for questioning regarding possible involvement with the Islamist Hezbollah militant group, the National Security Council confirmed yesterday.
However, "we have found no links with the group at this stage. Israel has mentioned this group but there is no conclusion yet that the men are members of the group," said Paradorn Pattanatabut, secretary-general of the NSC. The suspects are still being questioned.
The militant group based in Lebanon has fought with Israel for years. Both sides have engaged in fighting and attacks that have resulted in the loss of lives.
A high-ranking source identified the two men as Lebanese-French Daud Farhat and Lebanese-Philippine Yousef Ayyad.
They were separately visited during the Songkran break by Immigration Police and taken from their homes in Sukhumvit.
Both have been on the Thai immigration watch list for being possible members of Hezbollah, the source said.
"Their presence in Thai territory near the Jewish Passover, which this year fell on April 13, aroused the Thai side's suspicions, so the Thai side decided to take them into custody for questioning after a fatal shooting in the US during Passover," the source said.
Jews celebrate Passover as a commemoration of their liberation from slavery in ancient Egypt. This year, Passover coincided with Thailand's Songkran.
The pair are being detained under immigration laws as their visas were already revoked, the source said, while declining to add whether they would be deported.
Referring to news reports that there was a third Lebanese, the source said Bailal Bahsoun, who is also on the watch list, did not enter the country.
An Israeli website, Stop910, which collects information on terrorist cells in East Asia, reported on Tuesday the presence and detention of the Lebanese in Thailand, but said there were three Lebanese exposed.
It said the suspects were reportedly scouting out Israeli and Western sites for attacks.
Previous cases
Thailand is a popular destination for Israeli tourists, particularly young people who tend to take time off to travel the world after completing their service in the Israel Defence Forces.
However, the Southeast Asian region has become problematic in terms of terrorism, given the ease with which local passports are forged and their common usage. There are also many migrants from Lebanon and Iran in the region who can be enlisted to aid in terror activities, the website said.
The recent case follows another one when Atris Hussein, allegedly a member of Hezbollah, was arrested on January 16, 2012, with a large amount of fertiliser stored in a shophouse in Samut Sakhon that he had rented.
He was sent to prison last September for two years and eight months for possessing explosive precursors without a permit.
There was an incident allegedly linked to terrorism on Valentine's Day in 2012 when hand-grenade explosions rocked Bangkok.
Two Iranian men, one of whom lost both legs to a grenade he threw at a police car chasing him, were arrested.
Iranian Ambassador Majid Bizmark in press interviews has dismissed as baseless any claims of a link involving Iran with that incident.
Songkran road death toll hits 248 in 5 days
The Nation / Phuket Gazette
PHUKET: The first fiv
— Phuket Gazette Editors
Keep in contact with The Thaiger by following our
Facebook page
.
Never miss out on future posts by
following The Thaiger
.
Cruise ships and yachts to dock in Thailand, visitors to enter on Special Tourist Visa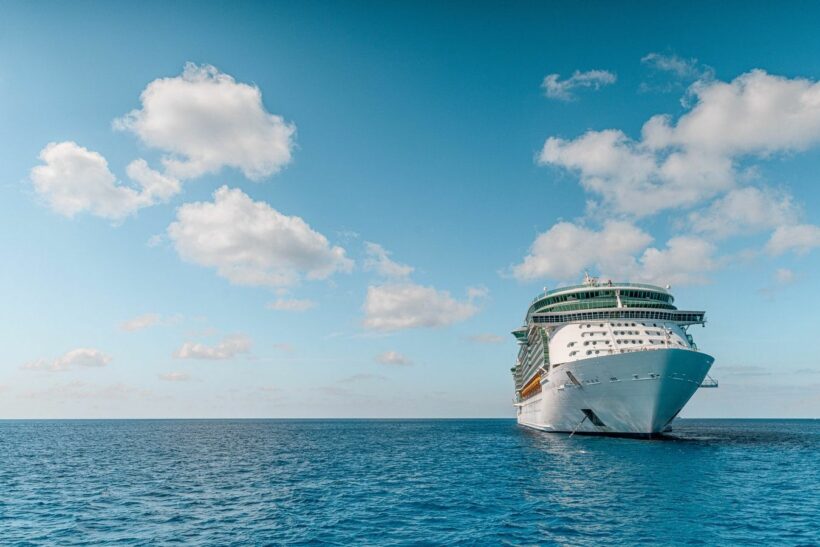 Cruise ships and yachts will be allowed to dock in Thailand and visitors will be allowed disembark under the Special Tourist Visa. The new measure hasn't been made official yet, but it will go into effect 30 days after it's published in the Royal Gazette.
The Cabinet approved the new guidelines yesterday which allows captains, crew and passengers travelling from countries considered at low risk for spreading Covid-19 to dock in Thailand and enter the country, according to deputy government spokesperson Traisuree Taisaranakul.
Visitors must go through a 14 day quarantine. Those on yachts will quarantine onboard before stepping onto Thai soil, according to the Bangkok Post. They must also have Covid-19 health insurance of $100,000 USD as well as local health and accident insurance. Proof of advance payment for anchoring the liner will also have to be provided.
The Special Tourist Visa allows a 90 day stay that can be renewed twice, adding up to around 9 months. So far, only 2 flights of foreigners on the Special Tourist Visa have arrived after a 7 month ban on international tourists.
SOURCES: Bangkok Post | Nation Thailand
Catch up with the latest daily "Thailand News Today" here on The Thaiger.
Keep in contact with The Thaiger by following our
Facebook page
.
Never miss out on future posts by
following The Thaiger
.
Fuel tanker explodes after collision in Buri Ram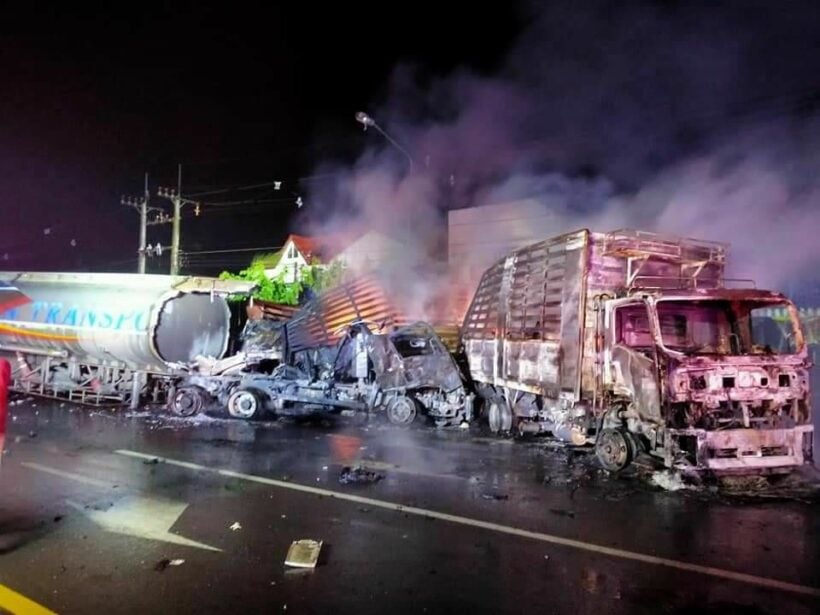 A fuel tanker has exploded after a collision with a trailer truck, causing both vehicles to be engulfed in flames in a series of explosions. Fuel from the 40,000-litre tank spilled out onto the road, spreading about 1 kilometre to nearby homes and into the sewers. People trying to douse the spreading flames found they were just pushing the flaming fuel further down the road, 20 cars, motorcycles and tuk tuks parked along the road were damaged or destroyed in the fire. Many people were injured, but there is no exact count.
The fuel tanker truck and the trailer truck collided on Highway 24 in the Isaan province Buri Ram. The drivers were able to flee before the first explosion. There were a series of explosions as the fuel spread and nearby residents fled their homes. People tried to put the flames out with tap water, but fire continued to spread.
50 fire engines responded to the fire and the road was closed off for a radius of 5 kilometres. It took firefighters more than 4 hours to extinguish the fire. The oil company was called to safely unload 30,000 litres of fuel that was left in the tanker.
SOURCE: Bangkok Post
Catch up with the latest daily "Thailand News Today" here on The Thaiger.
Keep in contact with The Thaiger by following our
Facebook page
.
Never miss out on future posts by
following The Thaiger
.
Is Koh Pha Ngan Thailand's best island?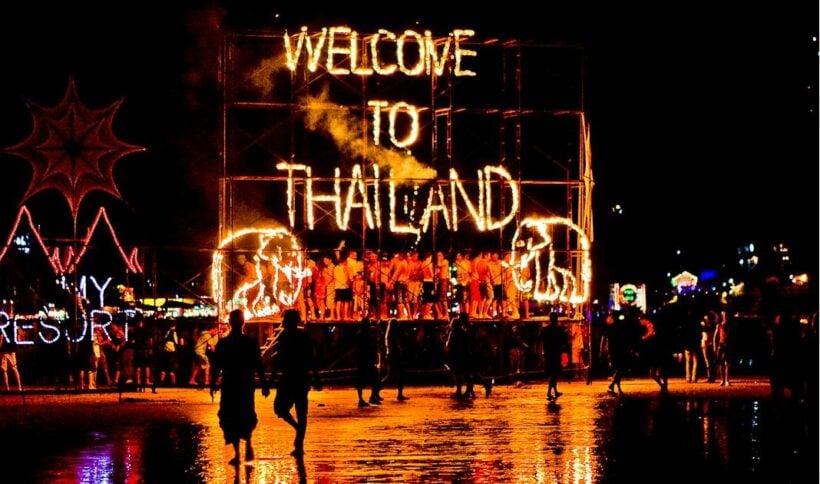 OPINION
Koh Pha Ngan was voted third best island in Asia in the 2020 Condé Nast's Readers Choice Awards. The island is widely known for its monthly Full Moon parties on Haad Rin beach, but Surat Thani governor Wichawut Jinto, who boasted about the island's recent rating, said there's more to Koh Pha Ngan than Haad Rin.
Condé Nast publishes a monthly travel magazine, Condé Nast Traveller, as well as GQ, Vanity Fair and Vogue. It's safe to say the publication's target audience is more interested in luxury resorts than dirt cheap party hostels and monthly beach raves. For example, for the best islands in the United States, Hilton Head Island in South Carolina was voted number 1. It's a golf lovers paradise and a popular vacation spot for suburban families.
A trip Koh Pha Ngan can be a completely different experience depending on where you go and what you do. Some stay on Haad Rin on the southeastern side of the island and have a trip like Hunter S. Thompson's drug-fueled "Fear and Loathing in Las Vegas," while some go to the western side for a yoga or healing retreat.
The Full Moon parties, which would draw more than 30,000 mostly foreign tourists, was put on pause due to the coronavirus pandemic restrictions in Thailand. But before the outbreak, the parties were known to be crazy with neon glow paint, fire jump rope and cheap buckets of alcohol and use of illicit drugs. The sand was so sticky that people were better off wearing shoes, and just about everyone pees (and pukes) in the ocean.
Even on the west side of the island, where it's more known for yoga and meditation retreats, things can sometimes get a little weird. A tourist said she did a "spiritual healing" ritual on the island known as a kambo cleanse where secretion from a South American frog is applied to burnt skin. She said "I feels like you're dying" but "it's great."
While the west side of the island has trendy resorts and bungalows, as well as a variety of yoga retreats and pricy vegan food, some people also live on a budget – a very tight budget. Some tourists even camped out on a hidden beach during the pandemic, a tourist claims. A local artist said he lives in a cave on the same beach.
Koh Pha Ngan topped Bali, Indonesia, which was number 9 on the list. Phuket was number 8 on the list and Koh Samui was number 10.
Here's what made the top 10 Asia islands in the Condé Nast Reader's Choice Awards 2020.
Cebu & Visayas, Philippines 95.83
Sri Lanka 95.45
Ko Pha Ngan, Thailand 95.30
Palawan, Philippines 95.22
Siargao Island, Philippines 95.19
Boracay, Philippines 95.06
Lombok, Indonesia 94.59
Phuket, Thailand 94.12
Bali, Indonesia 93.27
Koh Samui, Thailand 92.73
SOURCES: Condé Nast | Bangkok Post
Keep in contact with The Thaiger by following our
Facebook page
.
Never miss out on future posts by
following The Thaiger
.