Thailand
Phuket Gazette Thailand News: Bangkok warned over flood tide; Chalerm has water on the brain; Nok Air has rough landing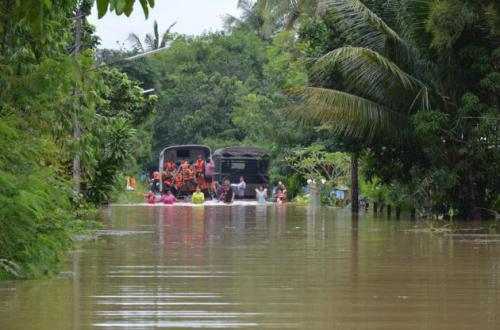 PHUKET MEDIA WATCH
– Thailand news compiled by Gazette editors for Phuket's international community
Bangkok residents warned over flood tide
The Nation / Phuket Gazette
PHUKET: The first high-tide period of this month is imminent – and Bangkok residents in riverside communities who do not have flood barriers must be ready for possible flooding, say authorities.
"Please move your belongings to higher ground during the coming high tide," Sunsern Rueangrit of the Bangkok Metropolitan Administration's (BMA) Flood Control Centre said yesterday.
The first high-tide period this month starts today and will run until tomorrow.
The second period will run from October 16 to October 22.
Sunsern said the water level in the Chao Phraya River might rise to 2.8 metres above mean sea level in communities without flood barriers. As of press time, the water level was 1.72 metres above mean sea level.
Most communities along the Chao Phraya River's stretch in Bangkok have the protection of flood barriers. Construction of such barriers, however, has not taken place in some areas in the face of opposition from residents. According to Sunsern, the water situation for Bangkok overall is not worrying.
"Weather forecasting suggests it may be raining in some parts of Bangkok this month, but the rainfall won't be huge," he said.
The Disaster Prevention and Mitigation Department, meanwhile, announced that floods were now inundating 28 provinces such as Chiang Mai and Rayong.
During the past few weeks, inundation has already caused 34 deaths, ravaged farmland and reeked property damage.
Public Health Minister Pradit Sintavanarong says that since September 17, his ministry has dispatched about 100 mobile medical teams to flood-hit areas to assist victims.
"They have treated 68,919 patients in those areas," he said.
Most common symptoms were athlete's foot, aches and pains, and headache.
Pradit said about 703 flood victims covered by mental-health assessments showed signs of stress.
"Of them, 230 needed close attention because they were very stressed and some had become depressed," he said.
Sa Kaew's Khao Chakan District Chief Sawanit Suriyakul Na Ayutthaya yesterday lamented that flooding in his area had reached a critical point.
"In hard-hit spots, floodwaters have already risen to the second floor of people's houses," he said.
Rough landing for Nok Air flight
The Nation / Phuket Gazette
PHUKET: A Nok Air flight from Chiang Mai yesterday skidded off the runway on landing in Udon Thani – the second such incident for the airline in three months.
All 26 passengers and crew on the plane escaped unhurt.
Udon Thani vice governor Narong Ponlaiard was at the scene. He was briefed by a Nok Air officer who attributed the accident to a landing gear fault.
He said on touching down, the pilot was unable to turn right on the taxiway.
The front wheel collapsed and the pilot decided to hit the earthen wall on the side. The plane stopped about 600 metres from the passenger terminal.
Flight DD8610 left Chiang Mai at 7.25am and landed in Udon Thani at 8.45am.
On August 7, the airline also reported an accident in Trang. Its Bangkok-bound flight slid off the runway at Trang airport while preparing for takeoff in heavy rain. All 142 passengers on Flight DD 7411, many of them foreign tourists, and crew escaped injury.
Chalerm improving after surgery
The Nation / Phuket Gazette
PHUKET: Labour Minister Chalerm Yoobumrung's health has slightly improved following brain surgery and he will be ready for discharge from hospital this week, his doctors have said.
"He can now eat and respond to other people," Ramathibodi Hospital Director Dr Surasak Leelaudomlipi said.
Chalerm was taken to the hospital on Friday after he complained of problems with his balance. He underwent surgery to drain excess fluid from his brain and has since been transferred to the inpatient ward recovery room.
Surasak said medical teams could not find the real cause of Chalerm's illness but his condition was not critical.
Pol Captain Duang Yoobamrung, Chalerm's youngest son, said his father could talk and walk and even eat food normally. However, doctors wanted him to take more rest and not to work hard.
"Doctors asked me to be careful with the risk of infection that might [hit] my father," Duang said.
Chalerm's younger brother, Nawarat Yoobamrung, said his brother had recovered and had a fresh face and could smile and laugh. He said Chalerm wanted to thank people who had called him and worried about him.
Office of the Narcotics Control Board's Secretary-General Pongsapat Pongcharoen said he believed Chalerm would soon be able to work and continue his job overseeing the National Command Centre for Drugs.
Chalerm has designated the Labour Ministry's former permanent secretary Somkiat Chayasriwong as an adviser to help him run the ministry.
Informant shot dead
The Nation / Phuket Gazette
PHUKET: Police believe insurgents were behind the fatal shooting of a reported informant whose tip-off led to Saturday's deadly gunfight between security officials and suspects.
The informant was gunned down in Narathiwat's Rusoh district yesterday morning.
Police have identified him as Mohammad Rita-uden Tarazi, 35.
"He used to be a suspect but came forward and provided cooperation to authorities," Rusoh Police Station's superintendent Anothai Jindamanee said.
He said Mohammad had provided many tips-off to security officials, including one that led police and soldiers to a hiding place of suspected insurgents in the district on Saturday.
When security officials were spotted, the suspected insurgents opened fire. A fierce gunfight followed for about 15 minutes. Two policemen and four suspected in-surgents died during the clash. After the exchange of gunfire ended, security officials arrested seven other suspects.
Official records show arrest warrants had been issued for two of the dead suspects and four other suspects detained in the operation.
Anothai said some field-level leaders of the RKK insurgent group died in the clash.
"Their henchmen might have then targeted our informant," he said.
According to an ongoing police investigation, Mohammad was shot after he left home to tap rubber latex. The victim sustained two gunshot wounds, one to his head and one to his abdomen. Two spent bullets of an assault rifle were found at the scene.
Meanwhile, in Yala yesterday morning three soldiers travelling on military trucks were injured when a bomb went off close to their vehicles. The blast caused a one-metre-wide and 50-cm-deep hole at the head of a bridge the vehicles were approaching.
Police believe the bombing was staged to fan unrest in the deep South.
The ongoing wave of violence has raged in Thailand's southernmost region for about a decade. In a bid to end the unrest, Thai authorities are engaged in a peace dialogue with the BRN. Their next meeting is likely to take place next week.
Defence Ministry permanent-secretary General Nipat Thong
— Phuket Gazette Editors