Thailand
Phuket Gazette Thailand News: Army-police rift widens; Yingluck ponders martial law; Rice farmers join PDRC; Rhino horn for Hanoi bagged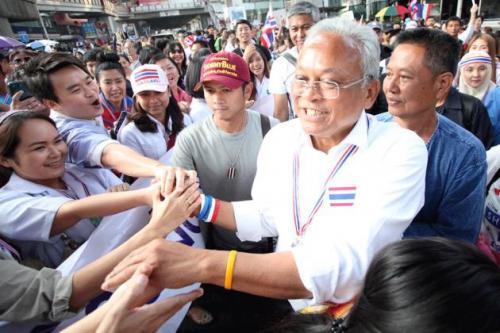 PHUKET MEDIA WATCH
– Thailand news compiled by Gazette editors for Phuket's international community
Army-police rift widens
The Nation / Phuket Gazette
PHUKET: Rifts between the police and the military appeared to be widening yesterday, as the Army commander in chief asked the national police chief to speed up investigation into recent attacks and a senior naval commander threatened to sue the police over allegations that a naval officer was behind the Sunday grenade attack.
Police also failed in their earlier push for an emergency decree to be issued to deal with the growing protest movement, with military commanders saying they saw no need for the decree.
Caretaker Prime Minister Yingluck Shinawatra, meanwhile, said yesterday that her government was considering whether to impose the decree, while caretaker Foreign Minister Surapong Towichukchai-kul, who is in charge of the Centre for the Administration of Peace and Order (CAPO), said the law would be invoked if violence continued.
Army commander in chief General Prayuth Chan-ocha, however, said yesterday that he had telephoned national police chief Pol General Adul Sangsingkaew and asked him to ensure that the "society gets clear facts" about the incidents. He has also said the assailants must face legal action and punishment.
Prayuth, in response to criticism that the military has been passive about dealing with the political conflict, said it had already done a lot. He also said the armed forces were not involved in any conflicts with any groups of people.
Meanwhile, Naval Special Warfare commander Rear Admiral Winai Klom-in yesterday threatened to file a lawsuit against the Royal Thai Police if it can be established that the police caused misunderstanding via social media that one of his subordinates had flung a grenade at Victory Monument.
Winai said he believed the police were aware that the distribution of false information – by comparing a Naval Special Warfare Command officer's picture with that of the suspect online – had affected his command.
"The way the police did it could be seen as an attempt to discredit our agency," Winai said, adding that the officer whose face was linked with that of the bomb suspect was on a mission to fight against drug trafficking.
The police yesterday issued a statement confirming that the Navy officer in question was not the one who lobbed a grenade at the Victory Monument protest site. Pol General Ek Angsananont, deputy national police chief, also denied that police had distributed the naval officer's photograph along with the arrest warrant for the bomb suspect.
Checkpoints, jointly manned by police and soldiers, have been set up as part of increased security after a series of attacks targeting protesters and their leaders.
National police chief Adul Sangsingkaew has ordered the setting up of checkpoints and day patrols, CAPO deputy spokesman Pol Maj-General Anucha Romayanant said.
Anucha said the checkpoints would focus on foiling attempts to smuggle weapons into protest areas, adding that the authorities were also working with protest leaders to boost security measures.
Adul also dismissed reports of a conflict between police and the military officers involved in the anti-government rally, which has continued for over two months.
Since December 26, four people have been killed and more than 260 injured in several attacks by unknown assailants, with grenade attacks on Friday and Sunday.
Metropolitan Police officer Pol Colonel Choosak Techarakpong inspected the Victory Monument protest site – which has been targeted several times – with People's Democratic Reform Committee (PDRC) guards to help set up checkpoints. Choosak said uniformed police officers would be sent to maintain security at the protest site and that four checkpoints would be set up around the venue.
He added that up to 40 police would man each checkpoint and as many as 20 would patrol the rally site during the day.
Medical chief warns of more clashes
The Nation / Phuket Gazette
PHUKET: Four people have died and 267 injured from politics-related violence in less than a month and the risk of more bloody incidents is rising, the Public Health Ministry said yesterday.
"Earlier, unidentified groups used to attack at around 3am, but not anymore, which suggests that such attacks might happen at any time and anywhere in the protest sites," Dr Narong Apikulvanich said yesterday, in his capacity as head of the medical centre for cases related to political rallies.
He was referring to incidents that have taken place between December 26 and January 19.
Narong said these incidents could be categorised as follows: fights over a certain area between protesters and officials; clashes between people with different ideology; and attacks by unidentified groups.
"Now, the risk is present at all protest sites," Narong said.
The People's Democratic Reform Committee (PDRC) has been staging massive rallies against the Yingluck Shinawatra government.
'Keep victims safe'
Narong said he hoped PDRC guards would prepare safe zones for the transfer of victims in case more violence erupts. As of press time, 29 of the 267 injured were still in hospital.
Medical Services Department (MDS) deputy director general Dr Prapon Tangsrikertikul confirmed that bomb attacks at the Victory Monument rally site on Sunday had injured 28 people, six of whom are still being treated at Rajavithi Hospital, three at Ramathibodi Hospital, and two at Phra Mongkutklao Hospital.
Dr Udom Chaovarindr, director of Rajavithi Hospital, said four of the six victims at his hospital had sustained serious injuries. "These four victims have undergone surgery, with one patient requiring brain surgery," he said.
Meanwhile, Narong said his centre had prepared nine paramedic teams and 30 rescue-worker teams for protest zones.
"While some teams are based at major protest sites, others have been given the task of accompanying protest marches," he said.
He added that hospitals in Bangkok's adjacent provinces had also been instructed to make preparations for emergency.
"In some cases, it may not be possible for the victims to be sent to hospitals in Bangkok," he explained.
Public Health permanent secretary Narong Sahametapat said he had ordered heath offices in 18 provinces, where rallies are continuing, to get medical teams ready for possible medical emergencies.
"There are political rallies and farmers' rallies going on. So, medical teams need to monitor the situation closely," Narong said.
Many state offices shut down by protests in the South
The Nation / Phuket Gazette
PHUKET: Protesters continue to lay siege to provincial halls, plus district offices and health offices in provinces throughout the South. They have called for state officials to stop work after the People's Democratic Reform Committee (PDRC) chief Suthep Thaugsuban ordered that the anti-government campaign be stepped up.
In Nakhon Si Thammarat: No officials were at work at the provincial hall after the PDRC rallied and called for state workers to cease working.
Officials at every state agency threw their support behind the campaign by closing operations. Of 23 district offices,
— Phuket Gazette Editors