Phuket Gazette: Myanmar lifts ban on Suu Kyi; Malaysia willing to help Thailand; Request for Iranian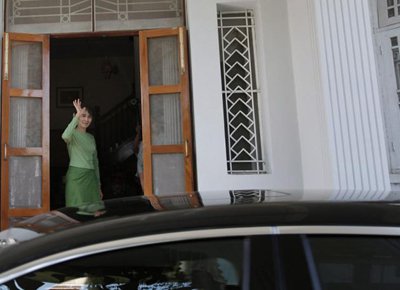 PHUKET MEDIA WATCH
– Thailand news compiled by Gazette editors for Phuket's international community
Myanmar lifts government ban on Suu Kyi rallies
PHUKET (News Wires): Myanmar election authorities have lifted a ban on rallies by opposition leader Aung San Suu Kyi after the National League for Democracy (NLD) complained about the restrictions, a Burmese news organization in exile reported yesterday.
According to Mizzima News, the Union Election Commission (UEC) said a ministerial order from the sports minister which restricted campaign rallies in stadiums had been lifted. The announcement came after the main opposition party, the NLD, complained in a press conference that the campaign process was not free and fair.
The NLD publicly accused sports minister Tint Hsan of hampering its campaign activities as the party had been prevented from using three sports fields for the rallies.
Campaign manager Nyan Win earlier said the government has prevented the NLD from holding election rallies in a village in Kachin State, citing security concerns. "So why do they hold by-elections in a constituency where they cannot ensure security?" Nyan Win asked, as quoted by Mizzima News.
Aung San Suu Kyi is running for one of the 48 parliamentary seats during the April 1 by-election. The famed politician spent 15 of the last 21 years under house arrest until her release in November 2010.
The fairness of the April 1 by-election is being studied carefully by the international community as a test of the newly elected government's promise to hold a free and fair election. Western governments have said Suu Kyi's judgment about the election's fairness would be decisive in whether or not further sanctions are lifted on the military-dominated government.
Myanmar held its first elections in 20 years in November 2010, paving the way for the end of 49 years of military rule. The country has undergone a rapid number of political changes in the past year, including the loosening of press laws, legalizing the right to demonstrate and organize as workers, the release of leading political prisoners, and ethnic cease-fire agreements.
Malaysia willing to help Thailand find solution for South
PHUKET (The Nation): Malaysian Prime Minister Najib Razak, who met with his Thai counterpart Yingluck Shinawatra here on Monday, said Bangkok should focus on creating greater participation for the southern Thai people in matters such as the economy, education and religion.
He said Yingluck had requested Malaysia's cooperation in helping Thailand find a durable peaceful solution for the South.
"We both agreed that this is a domestic matter for Thailand and that the people in the south must not seek a separate state."
"They must reject violence and extremism, be loyal Thai citizens and be loyal to the King of Thailand," Najib said in a joint press conference with Yingluck at Perdana Putra after a one-and-a-half-hour meeting yesterday.
An insurgency erupted in 2004 in Thailand's three southern-most provinces bordering Malaysia, killing an estimated 5,000 people.
Yingluck, who is on her first official trip to Malaysia since assuming the premiership in August last year, voiced her support for Najib's call for a global movement of moderates.
"Thailand firmly believes that moderation is the key to peace and development.
"This will not only promote economic possibilities for the people along the border and surrounding areas but also enhance regional connectivity," she said.
In a joint statement, the two prime ministers also agreed to enhance economic cooperation in seven major industries halal trade, automotive, rubber, food security, energy, tourism and oil and gas.
Thailand was Malaysia's second largest Asean trading partner with trading value worth US$22.95 billion.
Najib said about 400 Malaysian firms had invested in Thailand.
"There is a discussion going on to look at the new cross-border agreements between our countries.
"We also touched on the problems of dual citizenship between our two countries and we agreed that we should compare our database so we can resolve this problem," he said.
Malaysia asked to hand over Iranian
PHUKET (The Nation): A written request has been submitted to Malaysian authorities to hand over an Iranian man suspected of being part of a terror cell involved in the three blasts in Bangkok last week, a senior public prosecutor said yesterday.
The document requesting that Masoud Sedaghatzadeh be handed over to Thai authorities was dispatched through the Foreign Ministry yesterday afternoon.
"We are confident that there is sufficient evidence to support the hand-over, but additional details would be supplied upon request," said Wanchai Rujjanawong, director-general of the Office of Attorney General's Foreign Affairs Department.
Foreign Ministry spokesman Thanee Thongphakdee said the hand-over could be done under a 1911 extradition agreement between Thailand and Malaysia. A Malaysian court must first review the evidence supplied by Thai police and make a judgement on whether to hand over the suspect.
Intensive crime-scene investigation found residues of explosives in a room used by the Iranian suspects at the Nasa Vegas condo building, said police explosive-ordnance disposal (EOD) sources. The room was rented by Leila Rohani, a suspect who is believed to have returned to Iran. The three suspects also rented a house near Soi Pridi Banomyong 31, where the three blasts occurred.
Another suspect, Mohammad Khazaei, was questioned for seven hours yesterday. He reportedly did not answer questions about stickers bearing the word "SEJEAL" that were found posted along a Bangkok street. According to police, the street is regularly used by Israeli diplomats allegedly targeted by the suspects.
Deputy Prime Minister Yuthasak Sasiprapha said Israeli diplomats who met him on Monday praised Thai authorities for conducting a thorough investigation into the explosions and for the swift identification and arrest of the suspects.
"The suspects' preparations were not known by Israeli intelligence services before the explosions occurred, and the incidents indicate that Israeli diplomats are also targets of terror attacks, not just Israeli tourists as widely believed," Yuthasak quoted the diplomats as saying.
The diplomats thanked Thai authorities on behalf of the Israeli government, and urged Thai authorities and intelligence services to stay alert and not underestimate terrorists' potential, or overlook details that could point to potential major incidents, Yuthasak said.
National police chief Pol General Priewpan Damapong has forbidden police investigators from giving interviews or commenting on the ongoing probes, assigning a deputy, Pol General Pansiri Praphawat, as the only spokesman in the case.
Before the gag order took effect, a senior EOD officer, Pol Lt-Colonel Kamthorn Ui-jaroen, said the first explosion at the rented house was accidental, possibly resulting from mistakes made while setting a fuse and five-second timer, sending the suspects running for cover.
Suspect Saeid Moradi, who lost his legs in two attempted grenade attacks following the blast at the house, may have sustained his head wounds in the initial blast, rather than from grenade shrapnel, he said.
He said bombs found in the house would have been very effective because they were to be detonated by hand grenades placed inside, which he said was a better method than using a mobile phone or two-wa
— Phuket Gazette Editors
Keep in contact with The Thaiger by following our Facebook page.
Never miss out on future posts by following The Thaiger.
Public Health Minister gets first Covid-19 vaccine shot in Thailand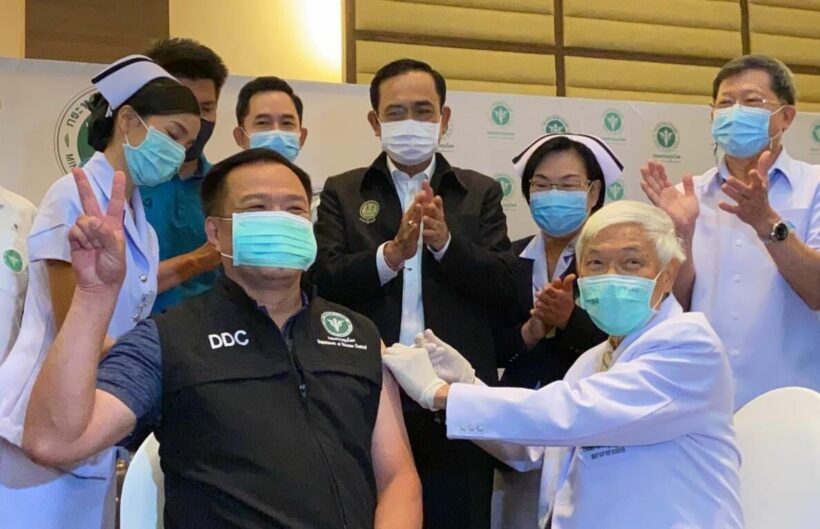 Thailand's Covid-19 vaccine campaign started with Public Health Minister Anutin Charnvirakul who was jabbed with China's Sinovac vaccine. PM Prayut Chan-o-cha was initially planned to be the first to kick off Thailand's immunisation plan with the AstraZeneca vaccine, but due to problems with paperwork, the prime minister's injection was postponed. Doctors advised Prayut to get the AstraZeneca vaccine due to his age. Prayut is 66 and doctors say the Sinovac vaccine has been declared safe for people ages 18 to 59.
Both shipments of the Sinovac and AstraZeneca vaccines arrived last week, the AstraZeneca vaccine still needs to be endorsed by the Medical Science Department. Anutin says the pharmaceutical company has not submitted documents and samples needed for the endorsement.
Along with Anutin, a number of other government officials and health professionals were vaccinated against the coronavirus. Anutin's shot was administered by Thailand's top virologist Yong Poovorawan.
SOURCE: Bangkok Post
Keep in contact with The Thaiger by following our Facebook page.
Never miss out on future posts by following The Thaiger.
Royal Thai Police accused of "ticket" promotion system to buy senior positions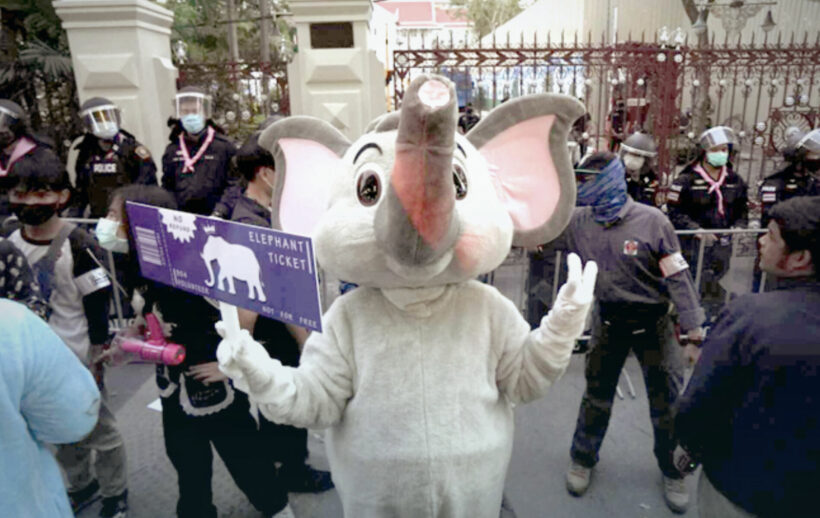 The Royal Thai Police are being accused of using so-called "elephant tickets" to buy their way into promotions and pay their way up the police force's chain of command. The corruption among the police force and the buying of positions without meeting the requirements for a promotion has been a longtime problem, according to the Bangkok Post.
The "elephant ticket" issue was recently brought to light by an opposition MP at a censure debate who said it fast tracked the promotion system and allowed some people who were unqualified and undeserving to raise their rank. Some Thais have protested the "elephant ticket." Many gathered in front of the Royal Thai Police headquarters in Bangkok last week, including one person who dressed up as an elephant.
At the censure debate on February 19, Move Forward Party MP Rangsiman Rome called out PM Prayut Chan-o-cha, who chairs the Police Commission overseeing the Royal Thai Police, and said the prime minister allowed the "elephant ticket" promotions. Prayut later said there were problems within the police force and that he would handle it.
Police who want a promotion need a ticket, which is basically just a reference or a stamp of approval from a senior officer or even a politician or business person. To get an "elephant ticket," some can pay for the ticket. A source told the Post that positions for police superintendents cost between 5 to 10 million baht.
Others can get a ticket by doing favours for their superior or even just serving their superior for a long time, sources told the Bangkok Post. The higher the position a senior officer has, the more tickets they have to give out.
To read the full special report by the Bangkok Post, click HERE.
Keep in contact with The Thaiger by following our Facebook page.
Never miss out on future posts by following The Thaiger.
Woman talks about the life of a Thai "pretty" after model's death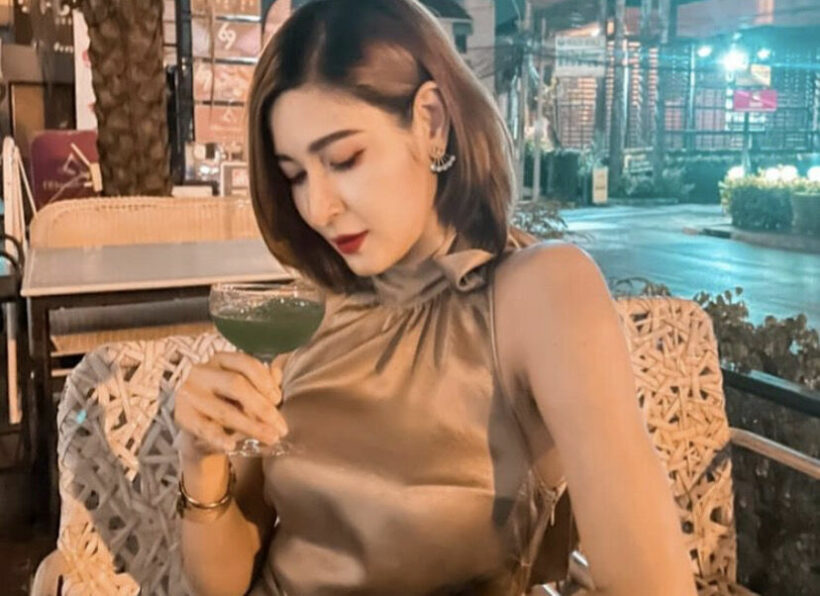 Following the news of a model who died after working as a hostess at a Bangkok party, Thai media spoke with a woman, known in Thailand as a "pretty," about what it's like to work in the lucrative, yet shady Thai model entertainment industry where many work as hostesses at parties and events that often involve alcohol, drugs and sex work.
"Miss Cake" told the Thai news outlet Daily News that pretties are sent to parties by "modelling agencies." The parties are even categorized depending on if drugs or sex are involved. Apparently the parties are either "En-Up," "En-V" or just "En" for entertainment. En-Up means drugs are involved, while En-V means the pretties will offer sexual services. Other pretties work at promotional events like auto shows. Since nightclubs and other entertainment venues in Bangkok have been closed due to the pandemic, many of the parties are now held at private homes.
If a pretty is working at an En-Up party, Miss Cake says that means there will be ecstasy, known as "khanom," the Thai word for a dessert or snack. She says good "khanom" shipped from overseas costs around 900 to 1,000 baht while the poor quality, Thai-made drugs cost 500 baht. Just about every pretty takes drugs, she says. If mixed with ketamine, Miss Cake says it can be dangerous.
Daily News spoke with Miss Cake following the death of a 33 year old Witchayaporn "Wawa" Wisetsombat who worked died in a hospital after working as a hostess at a party in Bangkok's Chatuchak district. She had been hired by a modelling agency to serve drinks at a private party. Her younger sister told the Bangkok Post that Wawa was a product presenter and never sold sex or used narcotics. Doctors told the Post Wawa died from respiratory and blood system failure. They are still waiting for the results for a toxicology test.
The death of another model back in 2019 shed light on the abuse and danger many pretties face in the industry. 25 year old Thitima "Lunlabelle" Noraphanpiphat died from "extreme alcohol intoxication," according to an autopsy report. Her dead body was found in the lobby of a Bangkok condominium. 6 people were found guilty for involvement in Lunlabelle's death.
Abuse is common in the industry and many women working as pretties are often pressured into drinking excessive amounts of alcohol. The work of pretties is looked down upon in Thai society. Due to the stigma, many due not file complaints when they are abused.
SOURCE: Thai Visa
Keep in contact with The Thaiger by following our Facebook page.
Never miss out on future posts by following The Thaiger.