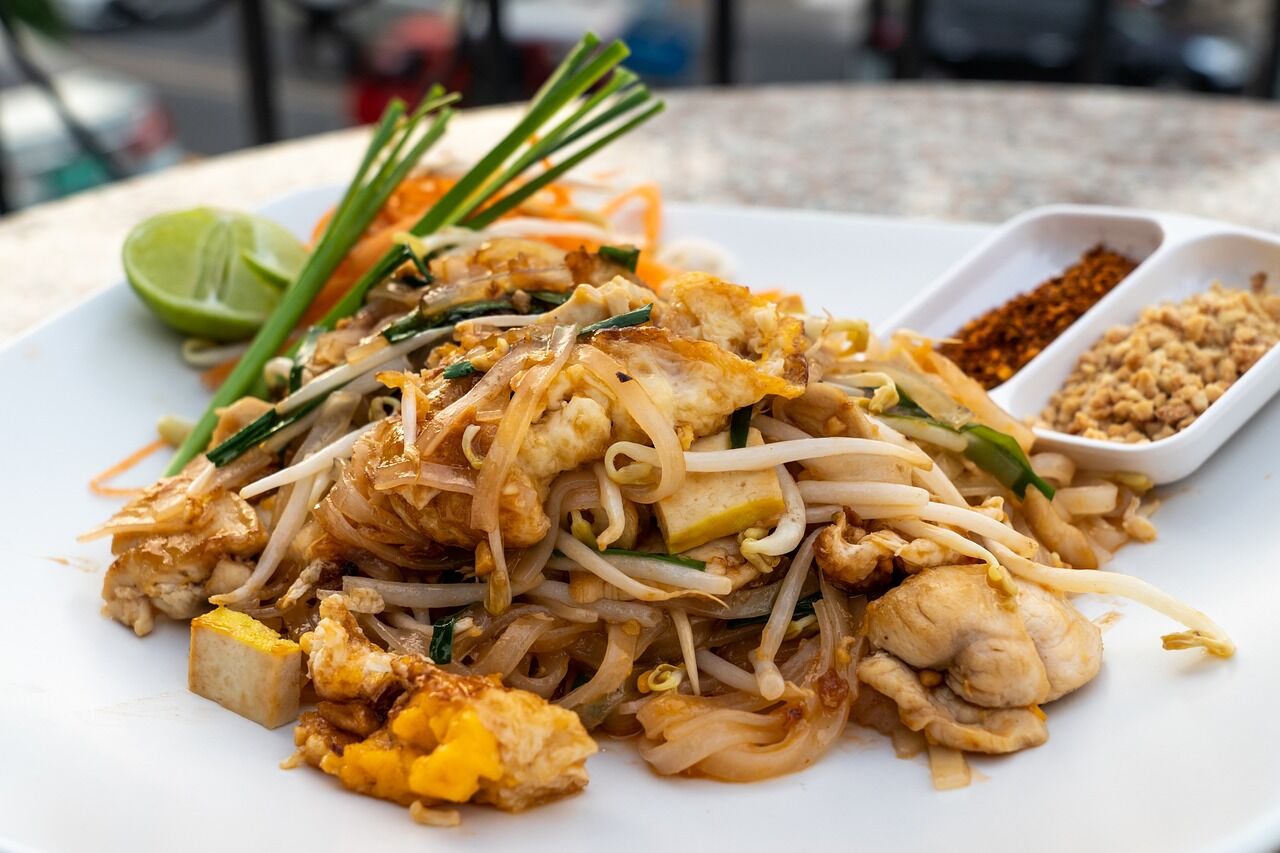 Pad thai is a national dish of Thailand loved so much worldwide that it has made it into the online Oxford Dictionary, gaining the same international status as the words "sushi" and "pizza."
Under the category "Food" the website Oxford Learner's Dictionaries defines pad thai as…
"pad thai: noun
"A dish from Thailand made with a type of noodles made from rice, spices, egg, vegetables and sometimes meat or seafood.
"For dinner, I ordered the chicken pad thai."
The Common European Framework of Reference (CEFR) organises language proficiency in six levels from beginner to proficient…
Beginner (A1)

Pre-intermediate (A2)

Intermediate (B1)

Upper-intermediate (B2)

Advanced (C1)

Proficiency (C2)
The word "pad thai" is listed as a word of the highest proficiency, C2, joining others such as "burrito," "candy floss," "dumpling," "poppadom," and "Turkish delight."
So what is pad thai?
While Oxford's definition sums up the basics, there is a much richer history behind the word "pad thai."
Pad thai is a rice noodle dish typically stir-fried with tofu, chopped radish, bean sprouts, chives and eggs seasoned with vinegar, palm sugar, ground dried chilli, sprinkled with coarsely ground roasted peanuts.
The origin of pad thai can be traced back to the 1930s, a time when Thailand was undergoing a period of rapid modernisation. The creation of "pad thai" was in fact a nation-building tactic.
In 1932, Field Marshal Plaek Phibulsongkran led the 1932 Siamese revolution, turning Thailand from an absolute to a constitutional monarchy.
Phibun became the third Prime Minister of Thailand in 1938 establishing a de facto military dictatorship. Phibun launched a modernisation campaign known as the Thai Cultural Revolution, introducing a series of cultural mandates, including changing the country's name from Siam to Thailand.
At that time, Thailand was under threat of Western colonisation. For Thailand to be taken seriously on the international stage, it needed all the factors of a "modern nation."
To be "modern," the culturally and linguistically diverse populations that fell within the Thai nation's newly drawn-up borders needed to be unified – which can be done by promoting the same language, clothing, music, and food under the guise of "khwam pben thai," or, "Thainess."
The dictator saw these cultural policies as necessary to change Thailand, in the minds of foreigners, from an undeveloped country into a "civilised" and "modern" one.
Secondly, Field Marshal Phibun needed to instill a sense of nationalism into the Thai people. After all, a modern nation needs a strong set of armed forces, and anyone willing to die for their country must feel a sense of national pride.
Thailand was home to many languages, but Phibun promoted the central Thai language to be the standard language used in schools and used in government jobs in every province. He promoted Western-style clothing and urged people to swap their chopsticks for knives and forks.
Field Marshal Phibun promoted pad thai as a "national dish" to galvanise nationalism among the Thai people. He started the motto "Khon Thai Dong Gin Pad Thai," meaning "Thai people have to eat pad thai."
His government promoted rice noodles, and pad thai in particular, as a feature of Thai identity – which was highly successful. So successful in fact, that nearly a century later, the dish is an international superstar loved in all corners of the globe and listed in the Oxford Dictionary. Mission complete, Field Marshal Phibun Songkhram.



Join the conversation and have your say on Thailand news published on The Thaiger.
Thaiger Talk is our new Thaiger Community where you can join the discussion on everything happening in Thailand right now.
Please note that articles are not posted to the forum instantly and can take up to 20 min before being visible. Click for more information and the Thaiger Talk Guidelines.