Neighborhood quarrel suspected in brutal killing of family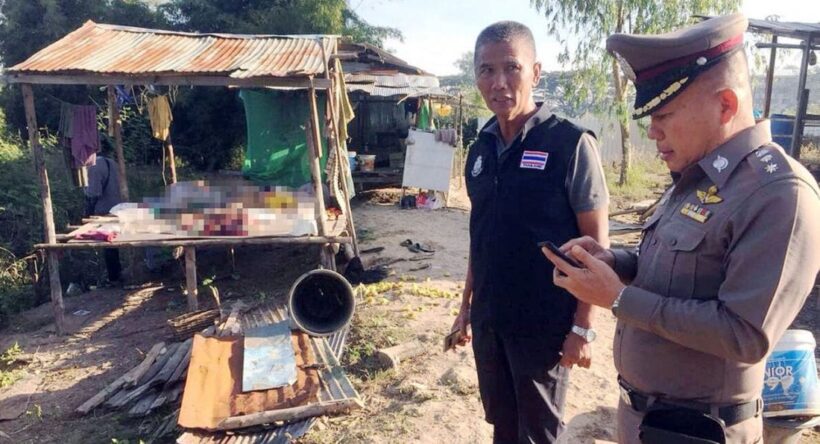 by Somjit Rungjamrassamee
Police are searching for three Burmese suspects in a brutal murder of four people, including a four year old boy and a four month old baby.

The four family members, all from Myanmar, are believed to have been killed while they were sleeping on Saturday night.

The gruesome killing took place in the border province of Tak on the Myanmar border in west Thailand.

Mae Sot Police Station learned of the murders at about 8.30am Sunday and found the bloodied bodies of Ador and Makhinla, both 45 years old, inside their home. In Makhinla's arms was the body of a four month old boy.

The body of the couple's son, four year old Poday, was found floating in a pond nearby. Police suspect that killers might have attacked the boy and thrown his body there.

Police also found weapons at the scene – wooden bars with sharp nails.

The only family member who survived the brutal attack was 19 year old Fah who had spent the night at a relative's place. Fah suspects a neighbour and his friends might have attacked her family after a quarrel erupted over noise.

"Suan and two other men were drinking near my house and they were being noisy. So, my dad asked them to quieten down as he was trying to get the baby to sleep," Fah said.

She added that Suan and his fellow drinkers went silent for a while, but after drinking some more, they went into her house and tried to pick a fight. Though the two sides got into a big quarrel, nothing happened until the family turned in for the night.

"I think they might have broken into my house when my parents and brothers were already asleep," she said.

Police went to Suan's home, but he was nowhere to be found. Police have formed teams to hunt down the three suspects.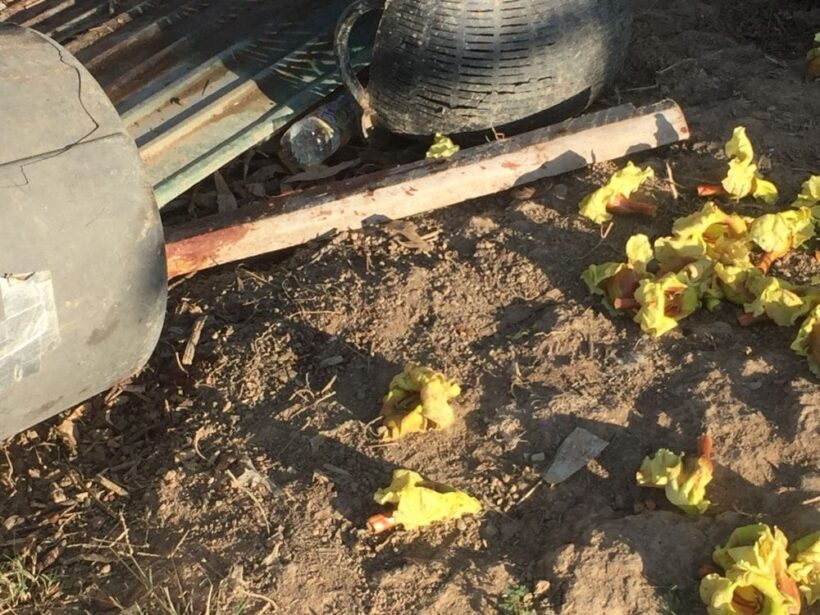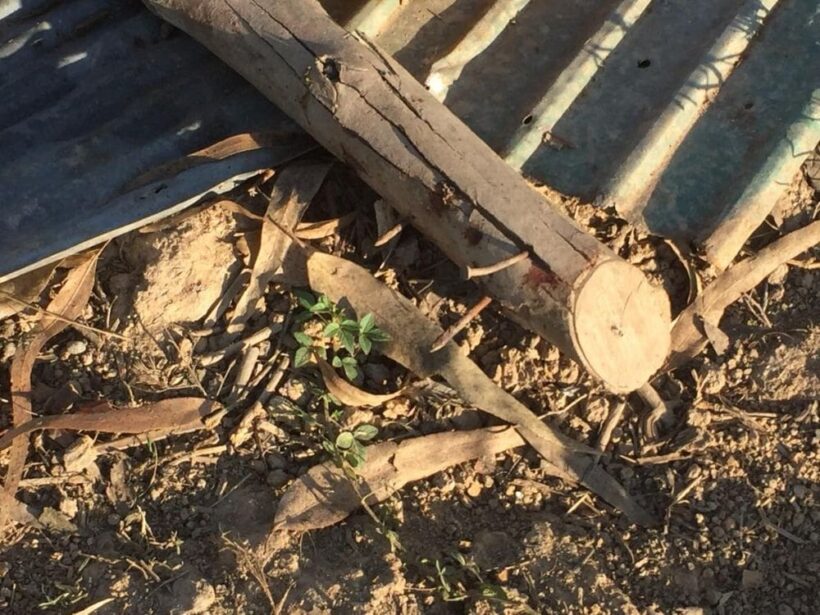 STORY: The Nation
Thai government announces hotel license amnesty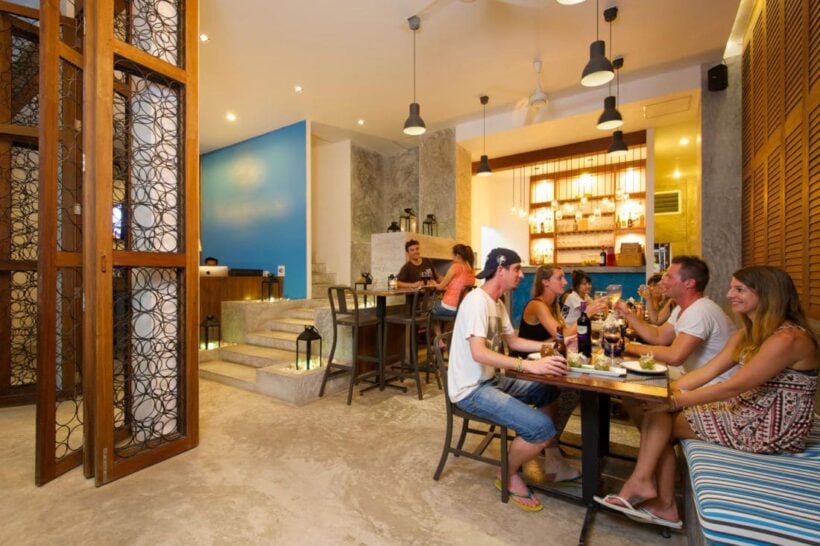 by Bill Barnett, c9hotelworks.com
In a significant move by Thailand's government, a hotel licensing amnesty program has been announced on a nationwide basis. Clearly pressure by hotel owners amidst an large-scale influx of non-licensed accommodation has spurred the action.
Leading international legal advisors Baker McKenzie Thailand have issued an information alert on the program which we are publishing in full, as follows:
"Thailand's National Council for Peace and Order (NCPO) issued Order No. 6/2562 on 12 June 2019, to temporarily suspend the enforcement of town planning and local building control regulations on certain buildings that are used for hotel business operations. The order also grants amnesty to hotel operators who have not been in compliance with these regulations and hotel laws in the past.
Temporary suspension
The suspension is effective from 12 June 2019 to 18 August 2021. It places a hold on the enforcement of town planning regulations and local building control regulations (e.g. those prescribed by municipalities and sub-district administrative organizations) on buildings that were built before 19 August 2016, and are being operated as hotels without meeting/function rooms.
Amnesty
Certain types of hotel operators can be released from criminal liability that would otherwise have resulted from non-compliance with the town planning, building control, and hotel laws. To avail this, building owners who have been operating their property as a hotel prior to 12 June 2019 need to notify the local authority of any of the following non-compliant practices: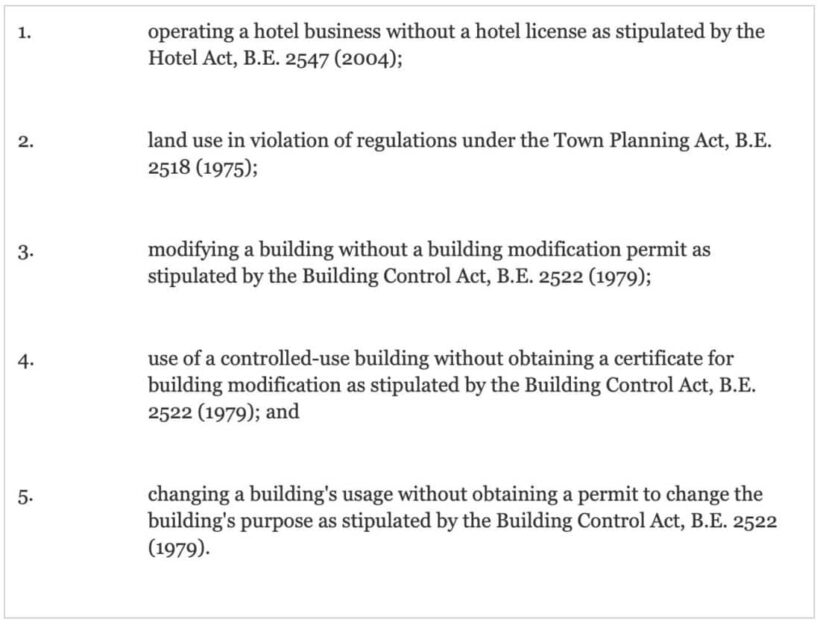 Once the local authority has been notified, owners will be given the opportunity to take the necessary measures to improve the current conditions of the buildings to meet the requirements set by the NCPO order. This includes measures such as improving the building's fire safety system.
The notification and the building improvement of fire safety systems must be completed within 90 days from the date of the NCPO order (i.e. by 9 September 2019). Hotel operators, who notify the local authority of their non-compliant practices and complete their building improvements of their fire safety system within such 90-day period, will be exempted from complying with the town planning regulations and from the criminal liabilities for their past non-compliance.
The Minister of Interior has yet to prescribe detailed criteria, procedures, and conditions on this matter. Hotel operators are urged to closely monitor relevant regulations as it paves way for hotel operators to ensure compliance with the town planning regulations, without being subject to penalties, and enjoy continued business operations. However, as the time for seeking this amnesty is limited to only 90 days, hotel operators should take necessary steps and actions to improve its fire safety measures as soon as possible."
The recent action by the government has been broadly welcomed in Thailand's hospitality sector and deemed so be a much needed initiative.
To read the official Baker McKenzie Alert click HERE. For hotel  developers and owners seeking advice in this manner, we strongly suggest obtaining professional legal advice.
SURVEY – Do the Tourism Authority of Thailand invent their statistics?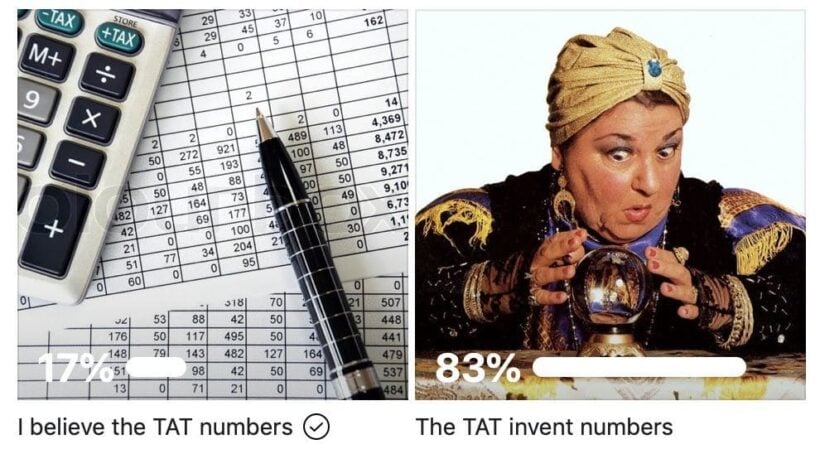 The internet has spoken, well The Thaiger's Facebook page anyway, and there is a strong distrust in the statistics about tourist arrivals issued by the Tourism Authority of Thailand.
83% of people that voted said they didn't believe the numbers quoted by the TAT. 17% believed the numbers were accurate.
The reasons for people's disbelief aren't fully understood as their objections come with plenty of vitriol and oozing subjective opinion. But the mood of the meeting is palatable and there is a large chunk of (mostly) foreigners who distrust the country's tourism ministry.
In the past six months the tourism ministry has posted figures showing declines in certain segments, mostly a huge drop in Chinese tourists – nearly 9% in both April and May with smaller drops earlier in the year. They've also posted figures showing a drop of European visitors although not to the same level as the Chinese traveller exodus.
So, will the 83% now insist the TAT are making up these recent numbers as well?
Here are some of the responses (edited)…
I don't think many people believe ANYTHING a government department announces. It's an insidious regime with NO transparency, riddled with nepotism, widely known for its subjective and targeted application of the law, deep seated corruption right to the very top and an alarming pact between the big 3. Without making a judgement, Thailand's record of democracy is shockingly poor, as is its record of human rights and ingrained xenophobia. Therefore, transparency, accountability, checks & balances, consultative processes and independently collated statistics are virtually non-existent. But it's a worthy conversation because it maintains the heat, even if it is only a minor irritant to those in power. – Chris B
They are sleeping in their holes. Only low budgeted quality tourist everywhere shopping 7/eleven lunch and dinner from Big C, that's it. – Mir A
We would be doing what we are accusing TAT of doing, 'Guessing' as we don't have any info to base our judgement on only a seat of the pants feeling. – Stephen H
It's becoming harder and harder to believe any official report in Thailand. (Police cant find prostitutes in Pattaya, ect.) Denial and fear of presenting lower numbers have caused problems in Thailand before. Don't know about tourism numbers but there is not much data for comparison. Jarkko R
Never believe anything TAT announces. – Pete B
TAT chief blames high baht for drop in tourists to Thailand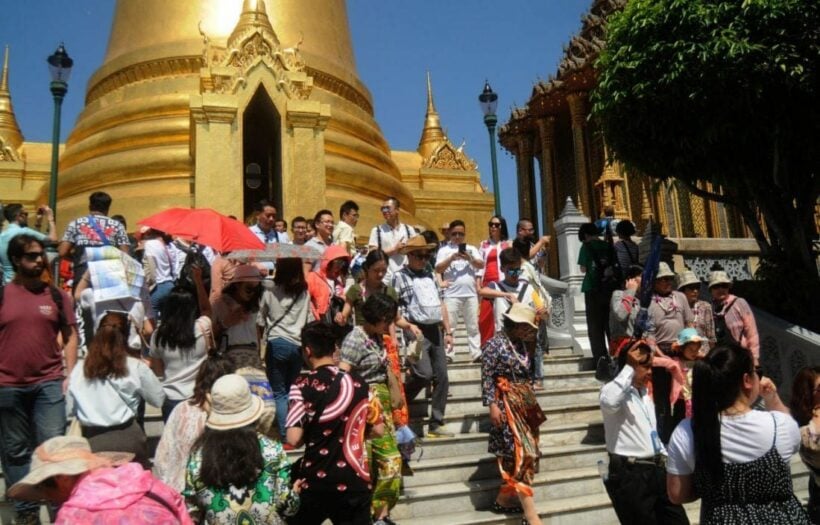 Thailand's tourism numbers have been dropping over the past three months, against projections and when compared to year-on-year figures. And the blame game has started.
TAT (Tourism Authority of Thailand) chief Yuthasak Suphasorn is blaming the high value of the Thai baht for the worse than expected tourist figures. He admits that European visitors are being more careful over their money and that Thai tourism tzars will now have to look to places like India to sustain growth.
It was the first time that anyone at the TAT had mentioned the Thai baht was having such a big effect on the tourism industry and will surely be making a few waves in government circles.
Thailand's media has been lamenting 'Brexit', the 'US-China trade war' and 'looming recession' in the west as contributing factors too.
Yuthasak was speaking to Daily News as figures showed that tourist arrivals in the first half of the year were 20 million, less than expected. On the bright side, spending was 1,000 billion baht by foreign visitors and 560 billion domestically – considered acceptable during the current global economic outlook.
Yuthasak said that European tour companies had been forced to raise their local prices anywhere between 10-20% meaning that many Europeans were looking to travel elsewhere for value. He also admitted that those who are coming to Thailand are being more careful about their spending as they are receiving less baht when they exchange their currency.
Chinese tourist numbers have been shedding since January this year with nearly 9% drops in April and May. This follows drops of 10-20% every month in the second half of last year, mostly attributed to the Patong 'Phoenix' tragedy. The percentages end up as huge slabs of Chinese travellers traveling to destinations other than Thailand.
He put a smile on the general outlook remaining positive saying that he predicts tourism to generate 3,400 billion baht this year with 40-45 million visitors expected in 2019. This would compare favourably to 38.5 million last year.
Statistically, to achieve his stated figures, Thailand, with no immediate remedies apparent, will have to have a booming second half which, on current trends, is unlikely given that the country is in wet-season.
SOURCE: Daily News | ThaiVisa