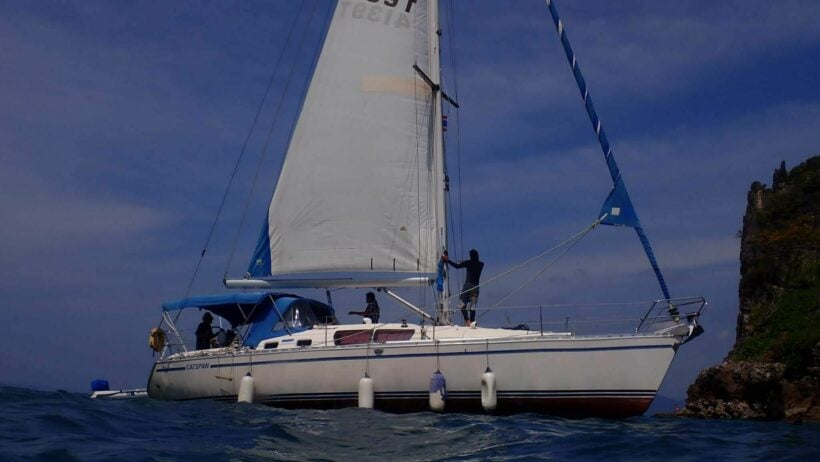 Thai netizens condemned National Park officials for failing to do their job after seeing images of a tourist sailboat destroying a coral reef in the southern province of Krabi.
Yesterday, January 3, the environmental activist Facebook page Monsoon Garbage Thailand posted photos of a white sailboat docking over the coral reef near Yawasam Island. The page explained that the island was under the care of Hat Nappharat Thara-Mu Ko Phi Phi National Park and was prohibited from docking.
The page included pictures taken under the boat showing that the bottom of the sailboat crashed into the reef. The page also tagged the official Facebook pages of the National Park, relevant government officials, and media channels to spread the news.
The post about the accident received a lot of attention from Thai netizens, who shared their thoughts about the cause of the incident. Some suggested that corruption might have played a role and that the travel agency that owned the boat may have paid off officials to turn a blind eye to any wrongdoing. But no one knows whether there is any truth to these claims.
The leader of the Hat Nappharat Thara-Mu Ko Phi Phi National Park, Theekawut Siburin, told Thai media today that the officials did not ignore the wrongdoing or fail to complete their duties at all. Theekawut said there were many tourist boats on the water during the new year holiday but the officials only had ten boats to patrol the sea.
Theekawut explained that National Park rangers investigated the case and found that the sailboat had travelled from Phuket and they were looking for the owner of the sailboat.
Theekawut stated that the investigation into the damage to the coral reef would continue as soon as possible and that authorities would collect the necessary information to file a complaint with the police for a violation of the National Park Act.
Theekawut said that the fine for the boat owner would depend on the extent of the damage and the assessment of coral reef specialists.
He also pointed out that most travel agencies were aware of the importance of coral reefs and marine life and made an effort to protect these natural resources. However, some tour guides may be inexperienced and may not feel comfortable warning tourists about inappropriate behaviour.