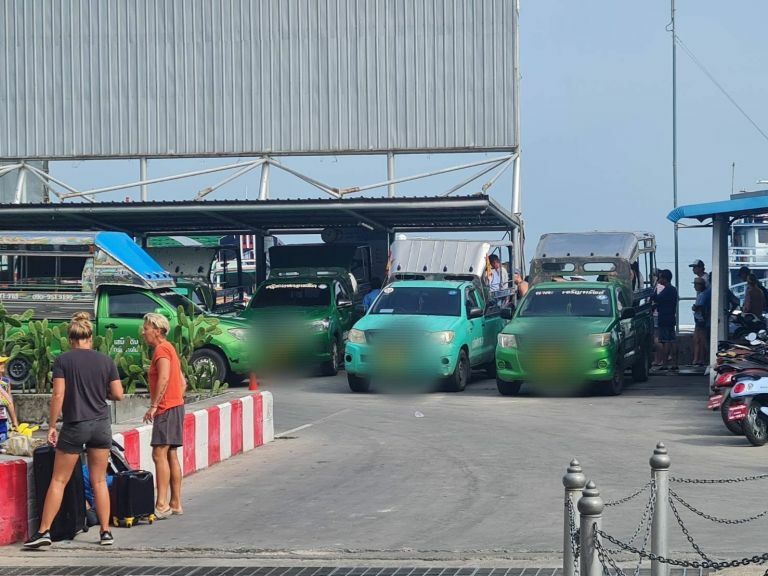 A member of Parliament accused Mu Koh Samet National Park officers of extorting nearly 2 million baht per year from public transport drivers and business owners on Samet Island in the eastern province of Rayong.
Khaosod reported yesterday, that Okas Thai Party MP (or Thai Opportunity Party), Damrong Pichate, recently gave an interview to a news programme about money extortion in Koh Samet.
Damrong said green pickup (songtaew cars) drivers told him that Mu Koh Samet National Park officers asked more than 60 drivers to pay 16,000 baht a year and 330 baht a month to obtain the right to serve tourists on the island.
Officers also collected money from motorcycle rental shops. Shop owners had to pay 1,600 baht per vehicle every year to operate their shops.
After paying the money, they would get stickers to put on the vehicles to ensure that they had a right to service customers.
Travel agencies on the island also told Damrong that the National Park collected extra fees from tourists, especially foreigners. Anyone wishing to visit Koh Kudee, Koh Talu, or Koh Prai Teen must pay an additional 100 baht per person, even if the islands are located within the Koh Samet area.
The agencies said tourists were disappointed that they had to pay the extra fare. They did not agree with the measure and did not know how to explain it to the tourists.
Public transportation drivers and business owners said they did not have enough money to pay the cost. They had to borrow money to pay for it. They wanted the relevant departments to investigate and solve the issue.
The director of the Mu Koh Samet National Park, Chanu Datethanyanon, clarified the issue to the media today. He insisted that the National Park had never collected money from public transport drivers and business owners as the MP claimed.
The president of the Samet Sontaew Car Association and a Songtaew driver also backed Chanu's claim. They said that they had never paid any money to the official.
Chanu said he would draft an official document and urge representatives from each business to sign to confirm that what he said was the truth.
The assistant to the Mo Koh Samet National Park director, Noree Tatha, explained that the extra 100 baht was collected from foreign tourists who desired to go to Koh Kudee and Koh Talu only.
Noree said the extra fare was collected according to the new laws launched at the end of last year. The area had a precious and fragile coral reef, so the additional fares would be spent to protect and improve the spot.