Medical official slams new malpractice bill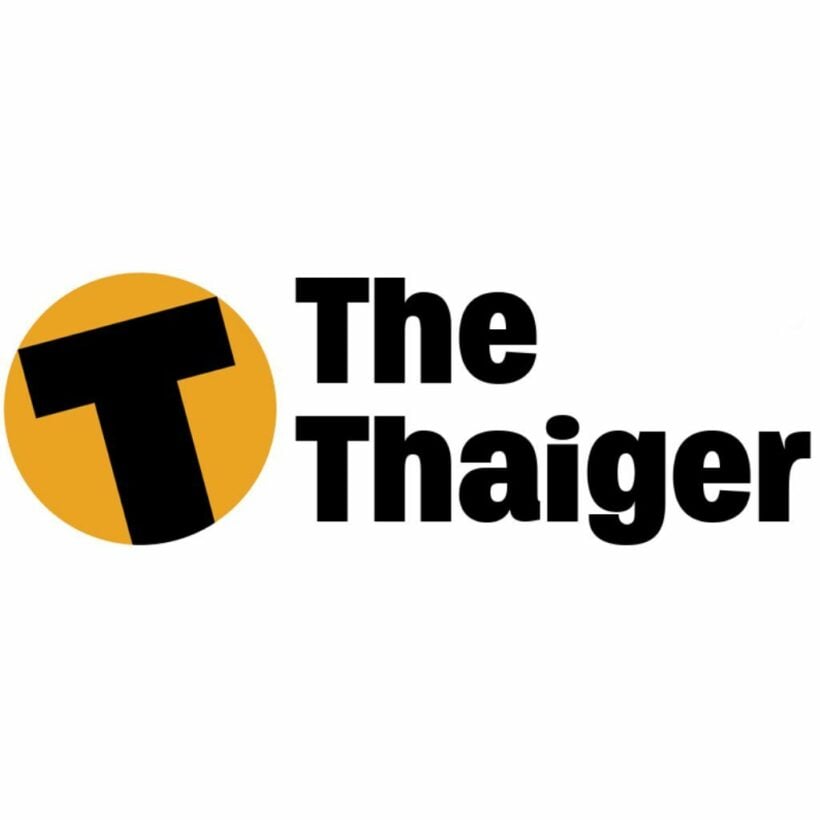 PHUKET MEDIA WATCH
– Thailand news selected by Gazette editors for Phuket's international community
Medical official slams new malpractice bill
The Nation / Phuket Gazette
PHUKET: Doctors are continuing their campaign against the controversial Protection of Victims of Medical Mistreatment Bill, saying the draft law will further complicate issues surrounding malpractice and sow seeds of reluctance among medical workers when it comes to providing treatment.
The bill will certainly widen conflicts between patients and doctors or medical personnel," Dr Methee Wongsirisuwan, a senior member of the Medical Council of Thailand (MCT) said.
Dr Methee, who is an assistant to the council's secretary-general, described the draft law as a "populist policy" – that will please the public because it offers money.
If the bill is passed, he said up to 1.4 billion baht a year will be set aside to provide automatic compensation without the accused being given a shot at defence or medical mistakes being verified. Dr Methee said this would not solve the problem of malpractice or accidental injuries causing disability or death.
"The bill will not solve the problem at the roots, and by paying victims without seeking the truth about mistakes or mistreatment is nothing but utter ignorance," he said.
Dr Methee chose to speak up as a network of malpractice victims continue pushing for the bill through the National Legislative Assembly after failing to do so under previous governments.
The MCT official added that the existing Article 41 of the National Health Security Office Act already granted maximum compensation to medical malpractice victims and it was better because doctors and medical personnel are not deemed culprits who continue hurting or killing patients.
In comparison, the latest bill regards doctors and medical personnel as wrongdoers from the onset, whether or not their mistakes are intentional or accidental, and does not give them a chance to defend themselves or produce proof so they are not liable to lawsuits, the doctor said.
"This automatic accusation will discourage doctors from working as they may fear that complicated treatments will open the door to more mistakes – which will directly affect the patients," he said.
Also, automatic compensation will only encourage victims or their relatives to focus on finding fault with their doctors just so they can get money.
"The bill doesn't put any ceiling on the compensation amount," Dr Methee noted. He said Article 41 offers no more than Bt400,000 in compensation to each victim, and if the patient wants more, they will have to file lawsuits for compensation in court.
In order to better protect and compensate victims of medical malpractice, Dr Methee said a special court, comprising doctors and specific judges, had to be set up instead of getting cases considered under the Protection of Victims of Medical Mistreatment Bill.
Malpractice cases could be tried in a special court by a quorum of special judges alongside doctors or qualified personnel who could provide expert opinions. Also, verdicts would be based on standards that can be used as criteria in judging future cases, Dr Methee said.
So, there was no point in pushing through the bill as the huge budget needed to enforce the law could be better spent on boosting support for state hospitals so they have better equipment and can tackle staff shortages.
"State medical workers should be paid more so they do not leave to take up better paying jobs in private hospitals. Also, state hospitals need a sufficient supply of quality medicines," Dr Methee said.
He lamented that doctors and medical personnel, especially those working at government hospitals, already face several setbacks, ranging from a heavy workload and lack of understanding from patients or their relatives to shortage of manpower and funds, as well as inadequate equipment and facilities.
— Phuket Gazette Editors
Keep in contact with The Thaiger by following our Facebook page.
Never miss out on future posts by following The Thaiger.
Riot police officer in Bangkok tests positive for Covid-19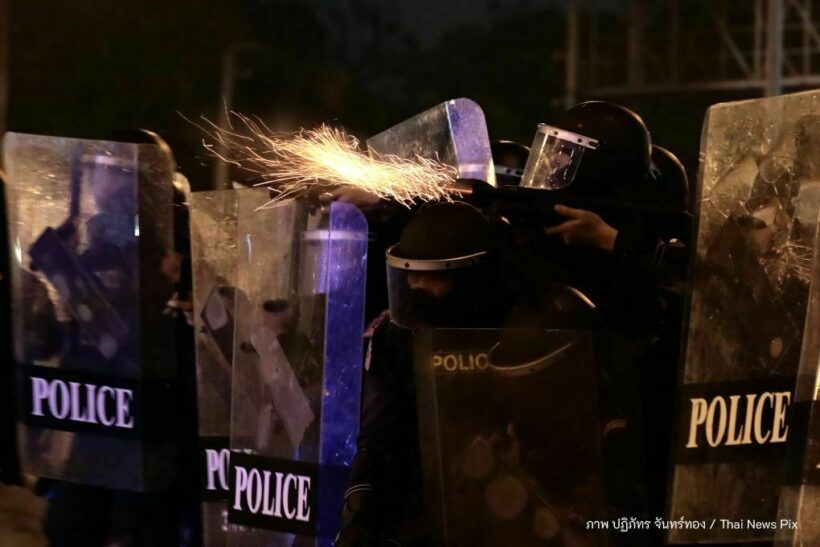 A riot police officer, who was deployed at the recent pro-democracy protests in Bangkok, has tested positive for Covid-19. His supervisor, chief of Wang Thonglang station Ekapop Tanprayoon, says the officer had visited Samut Sakhon, a coronavirus hotspot.
Riot police who worked closely with the infected officer, Somyot Nuamcharoen, are ordered to quarantine. The Wang Thonglang police station and any items the police officer handled are being disinfected, the chief says.
The officer had met up with friends during a visit to Samut Sakhon, just southwest of Bangkok. He travelled to the coastal province on February 18 and returned to Bangkok the next day.
On the 20th, he was deployed to a protest outside of parliament, just after returning from his trip to the "red zone" province. On Sunday, he deployed the protest outside the military barracks in Bangkok. The demonstration turned violent and numerous people were injured.
On Tuesday, his friend from Samut Sakhon tested positive for the virus. The infected officer was tested for Covid-19 that day and his result came back positive yesterday.
SOURCE: Bangkok Post
Keep in contact with The Thaiger by following our Facebook page.
Never miss out on future posts by following The Thaiger.
"Sealed route" set at Bangkok airport for international transfers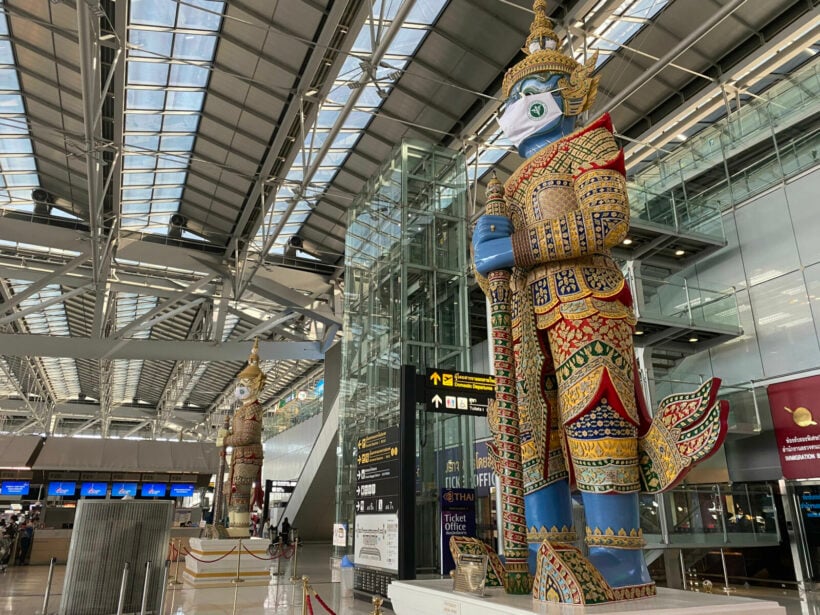 Thailand is now allowing international transits and transfers at Bangkok's Suvarnabhumi Airport by using a so-called "sealed route" arranged at the airport to prevent the spread of Covid-19. The Civil Aviation Authority of Thailand has now set guidelines for passengers who have a layover at the Bangkok airport.
Passengers will not be allowed to leave Concourse E. A "sealed route" for the passengers will be set up at Gate E10 and E9, allowing passengers to enter the airport at Gate E10, go through security screening and then either board the transit aircraft at Gate E9 or go on a designated shuttle bus directly to an aircraft.
Social distancing is required for all passengers in waiting areas and a face mask must be worn at all times. The CAAT says food and beverage services will be available at the airport's "sealed route" waiting area, but there will be "active oversight" on the services. Areas will also be cleaned and disinfected regularly.
Passengers must present the proper documents including…
A fit-to-fly health certificate
Medical certificate declaring a negative Covid-19 result issued no more than 72 hours before departure
Travel health insurance that covers Covid-19 treatment expenses up to $100,000 USD
If demand increases, the airport will add Gates E5, E7 and E8 to the sealed route. If Concourse E is under maintenance, then Concourse F will be used under the same plan.
SOURCE: Nation Thailand
Keep in contact with The Thaiger by following our Facebook page.
Never miss out on future posts by following The Thaiger.
Facebook removes "information-influencing" pages linked to Thai military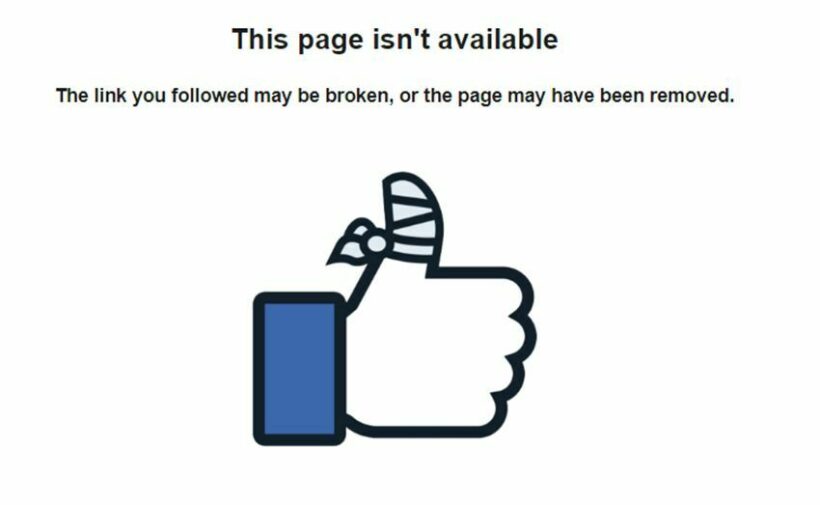 Facebook has confirmed the removal of 185 accounts run by the Thai military and allegedly involved in information-influencing. The social media giant says the accounts were deleted for engaging in what it calls, "coordinated inauthentic behaviour". In total, 77 accounts, 72 pages, and 18 groups have been removed from the platform, in addition to 18 Instagram accounts. It's the first time Facebook has taken such action against accounts linked to the Thai government.
The accounts were associated with the Thai military and were targeting people in the southern provinces, Facebook said its regular report on coordinated inauthentic behavior. The south of the country has been the scene of decades-long conflict, with insurgent groups in the majority-Muslim, Malay-speaking region calling for independence. To date, around 7,000 people have died in the ongoing struggle.
Facebook says the deleted accounts were most active last year and used both fake and real accounts to manage pages and groups, both openly military pages and pages that hid their links to the military. Some of the fake profiles pretended to be people from the southern provinces.
The report mentioned a post by the now-removed account named "comprehending the operation" in Thai. The page posted the logo for Amnesty International Thailand and wrote "The NGO never cares about ordinary citizens because they have no role in society. Normal people are not famous. Any case is not big news. They are not worth the investment of foreigners so they will not do anything to help. This is why we don't see anything from the NGO."
On another now-removed account, named "truth about my home Pattani" in Thai, a post said "Muslim leader declares southern border is a peace zone. The southern separatists started a movement by spreading the idea that Thailand is under control by different believers so that people would come and fight for their religion. This was declared that the action clearly violates Islam faith."
When contacted by Reuters, the military had no comment on the removal of the Facebook accounts, with a spokesman saying the organisation does not comment outside of official press conferences.
The head of Cybersecurity Policy at Facebook, Nathaniel Gleicher, has confirmed the reasons behind the platform's decision.
"This is the first time that we've attributed one of our takedowns to links to the Thai military. We found clear links between this operation and the Internal Security Operations Command. We can see that all of these accounts and groups are tied together as part of this operation."
He adds that the accounts had spent around US$350 on advertising on both Facebook and Instagram. One or more of the pages had about 700,000 followers and at least one of the groups had 100,000 members. Gleicher says the accounts were removed because of their misleading behaviour and not because of the content being posted. The content included support for the military and the monarchy, with allegations of violence and criticism of insurgent groups in the south.
It's not the first time accounts linked to the Thai military have been removed by a social media platform. In October, Twitter removed 926 accounts it says had links to the army and posted pro-military and pro-government content. The Thai army has denied any involvement with the accounts in question. In November, Twitter also suspended an account posting pro-monarchy content that was found to have links to the palace and to thousands of other accounts posting similar content.
To read the February 2021 Coordinated Inauthentic Behavior Report, click HERE.
Keep in contact with The Thaiger by following our Facebook page.
Never miss out on future posts by following The Thaiger.