King Bhumibol Adulyadej – in remembrance of the "Father of Thailand"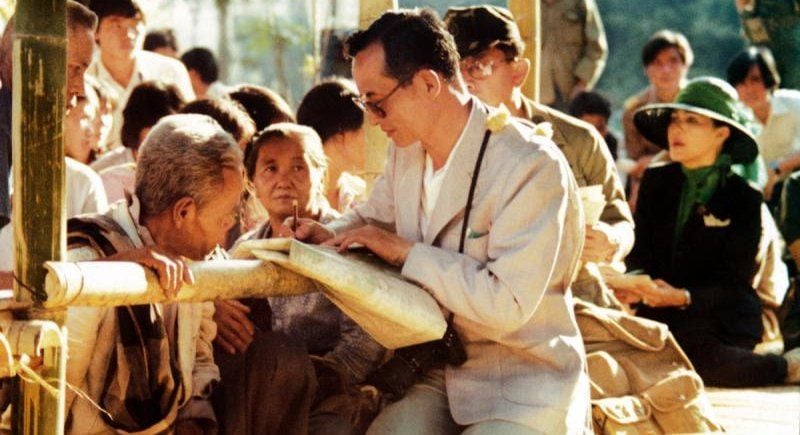 His Majesty King Bhumibol Adulyadej was Thailand's monarch for just over 70 years. At the time of his passing in October 2016, King Bhumibol was the world's longest-serving head of state and the longest-reigning monarch in Thai history. Amongst his many other gifts, he was was revered as a calming and compassionate influence, overseeing Thailand's stormy political history in the second half of the 20th century.
Four years later his enduring legacy casts a wide shadow over the Kingdom of Thailand with his influence shaping, not only Thai culture in the second half of the 20th century, but also Thailand's standing in the region with a deft avoidance of some of the more debilitating conflicts around South East Asia.
His Majesty King Bhumibol, Rama 9, the ninth king of the Chakri Dynasty, was born on December 5, 1927 and passed away on October 13, 2016 at the Siriraj Piyamaharajkarun Hospital in Bangkok. He had been living in and out of the hospital in the years before his passing.
Bhumibol's early days
It's a surprise to some, but Bhumibol Adulyadej was born on December 5, 1927, in Massachusetts, USA, not in Thailand. As the second son born to his parents, and because his birth took place outside of Thailand, young Bhumibol was never expected to ascend Thailand's throne. His reign came about through his older brother's mysterious death.
His father, Prince Mahidol Adulyadej, was studying for a public health certificate at Harvard University. His mother, Princess Srinagarindra, was studying nursing at the same time.
When Bhumibol was a one year old the family returned to Thailand, where his father took up an internship in a hospital in Chiang Mai. Prince Mahidol died of kidney and liver failure in September 1929.
Thailand's democratic revolution
In 1932, a coalition of military officers and civil servants staged a bloodless coup against King Rama VII. The Revolution of 1932 ended the Chakri dynasty's absolute rule and created a Thai constitutional monarchy, with an elected parliament. Princess Srinagarindra took her two young sons and daughter to Switzerland a year later where the children were placed in Swiss schools for their early education.
In March 1935, King Rama VII abdicated leaving his 9 year old nephew, Bhumibol Adulyadej's older brother Ananda Mahidol as Thailand's new monarch. But the child-king and his siblings remained in Switzerland due to his young age and nascent political developments in Thailand. Two regents ruled the kingdom in his name. Ananda returned to Thailand in 1938 but his brother Bhumibol continued his schooling in Switzerland until 1945 .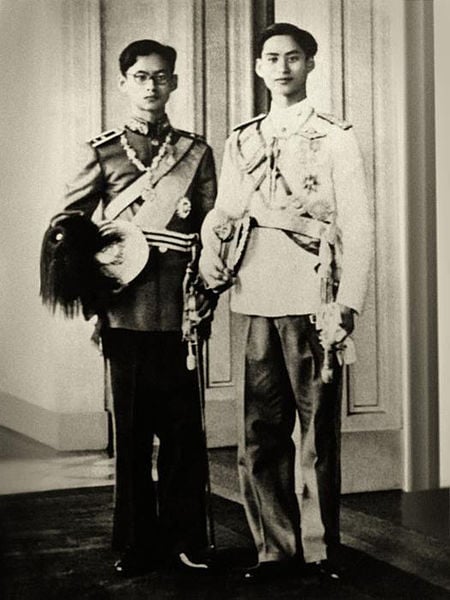 PHOTO: King Mahidol Adulyadej and his younger brother Bhumibol Adulyadej
On June 9, 1946, the young King Mahidol was killed in his palace bedroom from a single gunshot wound to the head. Two royal pages and the king's personal secretary were convicted of assassination and executed, although controversy still swirls around the incident. The young Bhumibol returned to the University of Lausanne in Switzerland to complete his degree and his uncle was appointed Regent, ruling in his place, back in Thailand.
Marriage to Queen Sirikit
The young King Bhumibol met the daughter of the Thai ambassador to France, a student named Mom Rajawongse Sirikit Kiriyakara, during a visit to Paris. Adulyadej and Sirikit began a courtship some time in 1946.
In October 1948, Adulyadej crashed into a truck and was seriously injured, losing his right eye and suffering back injuries. Sirikit spent a lot of time nursing and entertaining the convalescing king. King Bhumibol's mother encouraged Sirikit to transfer to a school in Lausanne so that she could continue her studies and spend more time with the young King.
Adulyadej and Sirikit were married in Bangkok on April 28, 1950. She was 17 and he was 22 years old. Bhumibol was officially crowned a week later to becmme King Bhumibol Adulyadej. Queen Mother Sirikit is still living in Bangkok and is frequently visited by members of the Royal Family.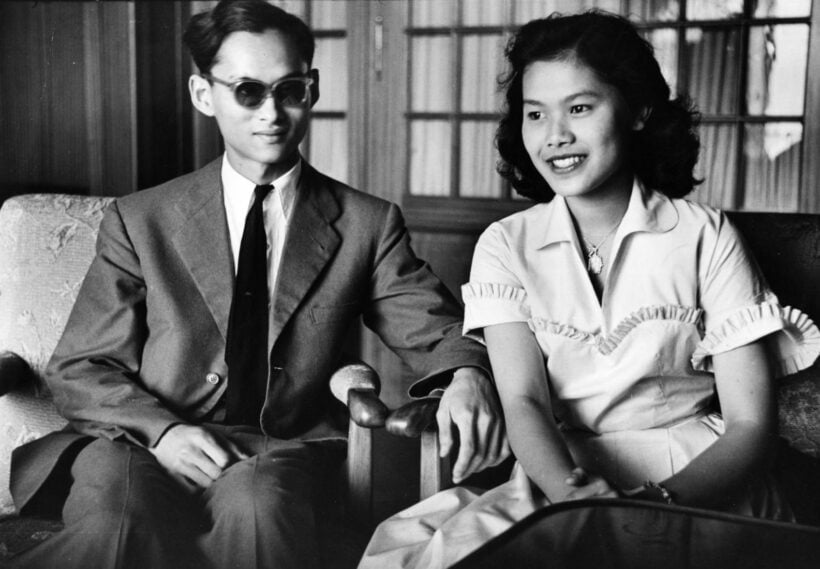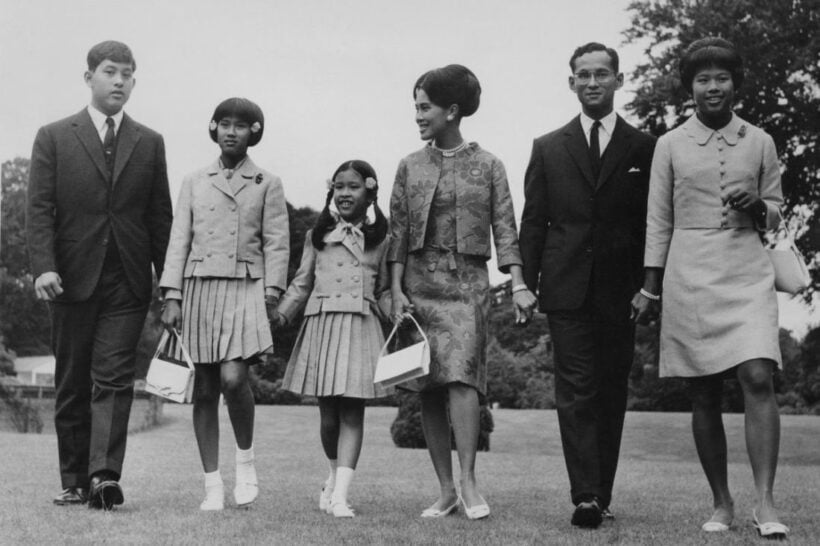 PHOTO: King Bhumibol Adulyadej, Queen Sirikit and his four children (a young Prince Maha Vajiralongkorn on the left)
Half a century of military dictatorships
In the early days of his reign, Thailand was ruled by a military dictator, Plaek Pibulsonggram, until 1957. Then the first of a series of coups, which would dog the Kingdom for the second half of the 20th century, removed him from office. The King declared martial law ending with a new military dictatorship formed under a trusted ally of King Bhumibol, Sarit Dhanarajata.
During the next phase of his rule the young King would revive many abandoned Chakri traditions, including the need for subjects and staff to kowtow – bowing and keeping their head below the monarch. He also started to make public appearances around the Kingdom – an activity which would become a hallmark of his reign, significantly reviving the prestige of the Thai monarchy and standing of the royal family.
Coups took place in 1963, 1977, 1980, 1981, 1985, and 1991 (and more in the 21st century). Although King Bhumibol worked hard to remain above politics, he refused to support the 1981 and 1985 coups, and was seen as a settling influence in the swirling political events, stepping in only when the situation needed to be diplomatically diffused.
Democratic governments
When a military coup leader was selected as PM in May 1992, huge protests broke out around Thailand. Known as 'Black May', the demonstrations turned into riots. Fearing a civil war, Kong Bhumibol called the coup and opposition leaders to a televised audience at the palace.
Adulyadej pressured the coup leader to resign. New elections were called and a civilian government was elected. This intervention was the beginning of civilian-led democracy that has continued, with a few military "interruptions", to this day, most notably the intervention of the military in a coup in 2014 when the National Committee for Peace and Order seized power. A quasi-democratic government, mostly made up of leadership from the 2014 Army coup, was elected in 2019.
King Bhumibol's image as an advocate for the Thai people, reluctantly intervening in the political fray to protect his subjects, became an enduring legacy.
Death
Since 2006, King Bhumibol suffered a number of health issues and was hospitalised frequently. He died at the Siriraj Hospital in Bangkok on October 16, 2016. Crown prince Maha Vajiralongkorn became the 10th King of the Chakri Dynasty, and his official coronation was held between May 4 – 6, 2019 in a grand spectacle watched on by millions of Thais.
Although Bhumibol was never intended to be Thailand's king, he is lovingly remembered as a successful and beloved Thai monarch, who helped calm successive political turbulence over the seven decades of his reign. Indeed, he is fondly referred to as the Father of Thailand, reigning for more than 70 years.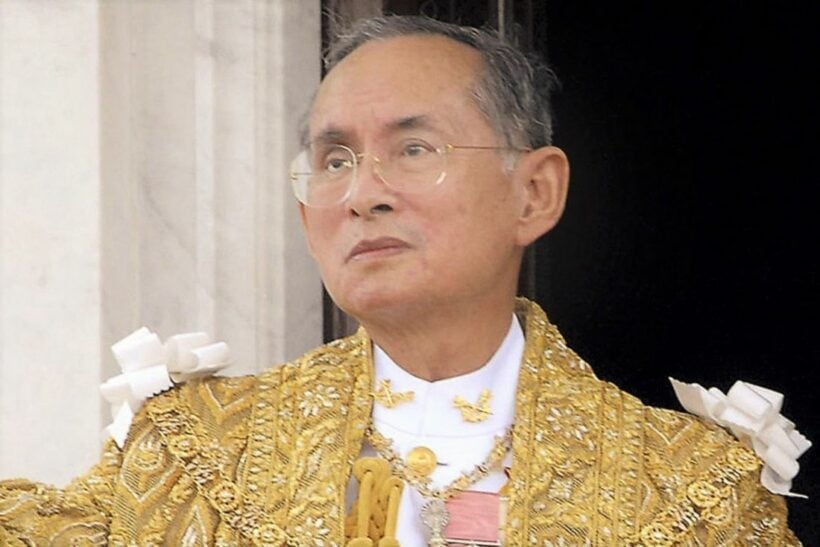 Want more from the Thaiger family?
📱 Download our app on Android or iOS for instant updates on your mobile
📧 Subscribe to our daily email newsletter
👍 Like/Follow us on Facebook
🔔 Subscribe to or Join our YouTube channel for daily video updates


Find more SE Asian News courtesy of Thaiger.

Broke? Find employment in Southeast Asia with JobCute Thailand. Rich? Invest in real estate across Asia with FazWaz Property Group. Even book medical procedures worldwide with MyMediTravel, all powered by DB Ventures.

Read more headlines, reports & breaking news in Thailand. Or catch up on your Thailand news.

Tuesday's full moon will be a SUPER full moon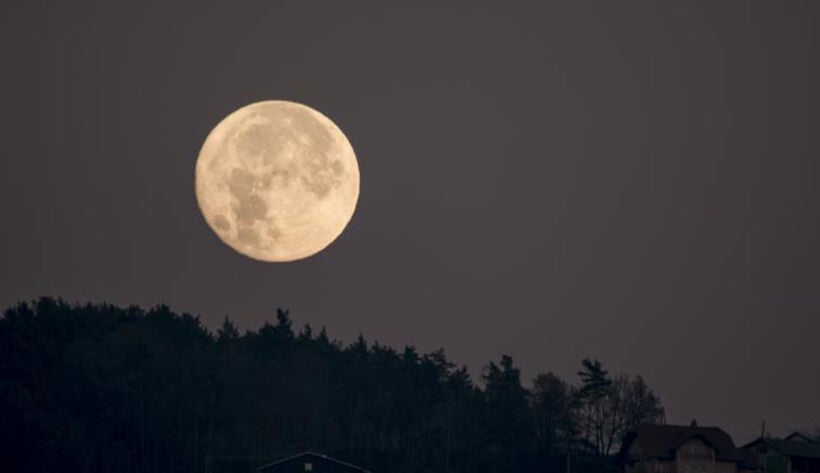 Tonight there will be a full moon. But not just ANY full moon, a SUPER full moon. Whoooaaa!
Whilst Koh Pha Ngan's monthly full moon party has been shelved for the meantime, we can still appreciate this monthly phenomenon (well, not quite monthly). The The National Astronomical Research Institute of Thailand says that the April astronomical phenomenon coincides with the perigee – the point in the orbit of the Moon which is nearest to the earth – so that the full moon will appear larger-than-usual. But we're only talking a few percent bigger and brighter.
This fluctuation in the full moon's distance from Earth is caused by the fact that the moon's orbit around the Earth isn't perfectly circular but very slightly elliptical. If the full moon occurs closer to the perigee (the closest point to Earth on this slightly elliptical orbit), it can appear bigger than if it occurs closer to the apogee (the farthest point).
If you're a flat-earther you'll have to come up with your own explanation.
The NARIT says tonight's the moon will rise in the east from 7pm (of course the Moon always rises in the east). Of course the clouds from the early arrival of the wet season in parts of Thailand will either make the viewing impossible or perhaps more spectacular.
The NARIT has a few tips to get a great photo of tonight's phenomenon… Use telephoto lens with focal length over 300mm and set your camera's ISO at 400 or over.
And if you miss this supermoon, we'll do it all again next month on May 26. This one will be even closer to the Earth and therefore slightly bigger, although the difference will still probably be impossible to spot.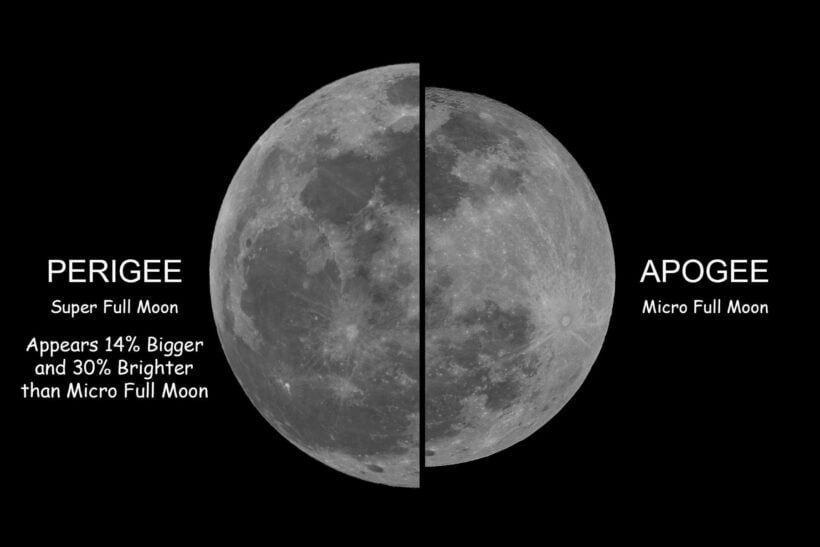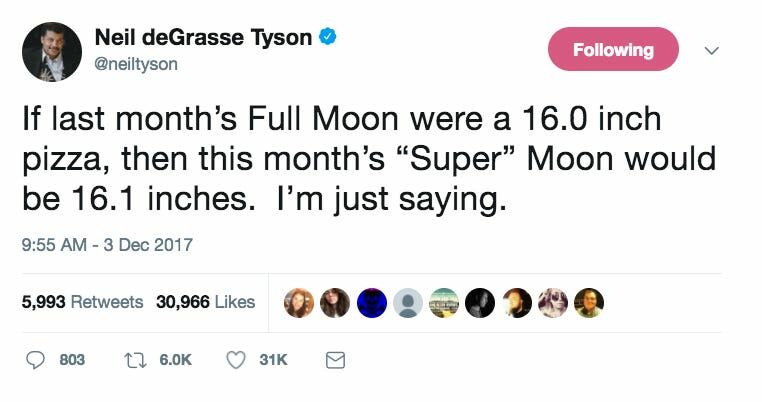 For more information, visit HERE.
Want more from the Thaiger family?
📱 Download our app on Android or iOS for instant updates on your mobile
📧 Subscribe to our daily email newsletter
👍 Like/Follow us on Facebook
🔔 Subscribe to or Join our YouTube channel for daily video updates
Lest we forget – ANZAC Day 2021 for Australians and New Zealanders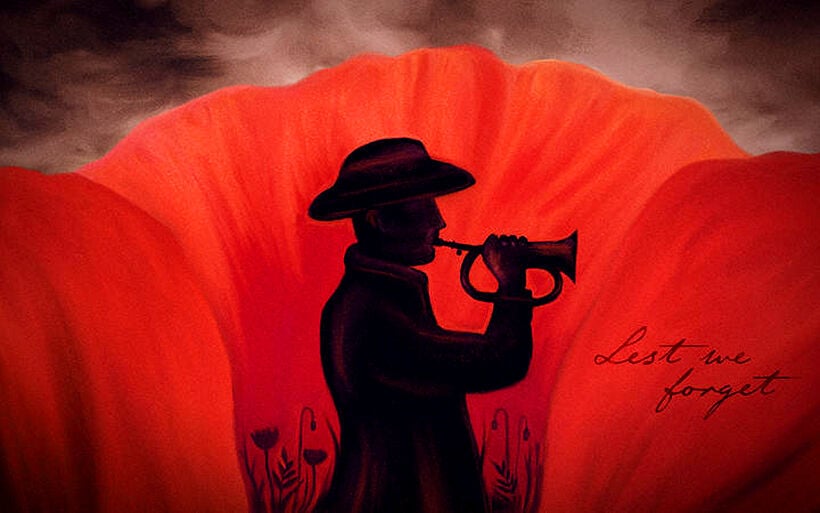 ANZAC Day, April 25, is when Australians and New Zealanders commemorate and remember those who fought for their countries and the Commonwealth with the origins of the event forged in the crucible of war at Gallipoli in Turkey in 1915. It is the most solemn day in the annual calendar of those two countries and usually commemorated with dawn services in both countries, by expats around the world, at at Gallipoli in Turkey.
Again, this year, Aussies and Kiwis are honouring the fallen at a distance, in Thailand and in other countries as well where social distancing is currently the norm. But the spirit of the 'diggers' and other soldiers lives on as we thank them for the service to their nations.
"They shall grow not old, as we that are left grow old
Age shall not weary them, nor the years condemn
At the going down of the sun and in the morning
We will remember them."
Below, Mick Clarke, the manager at Hellfire Pass war cemetery and museum in Kancahaburi, western Thailand near the Burmese border, lays a wreath at dawn this morning.
PHOTOS: Military History Kanchanaburi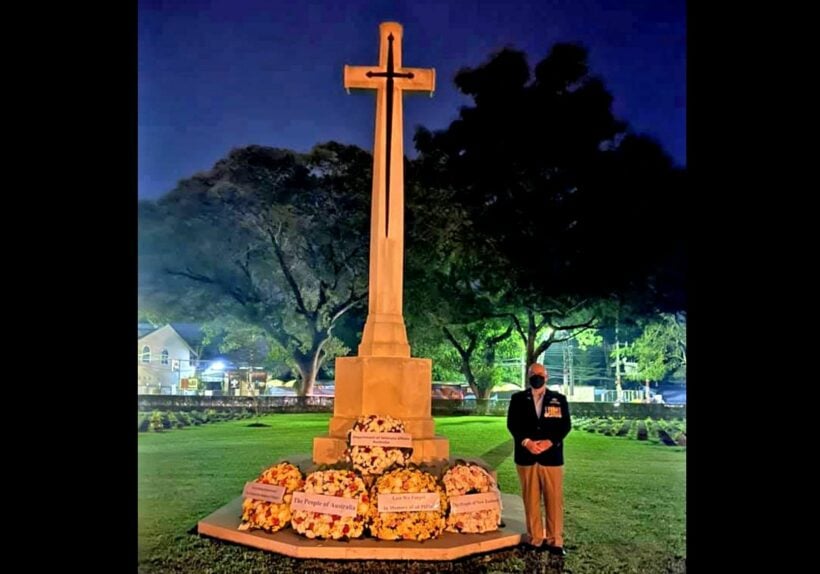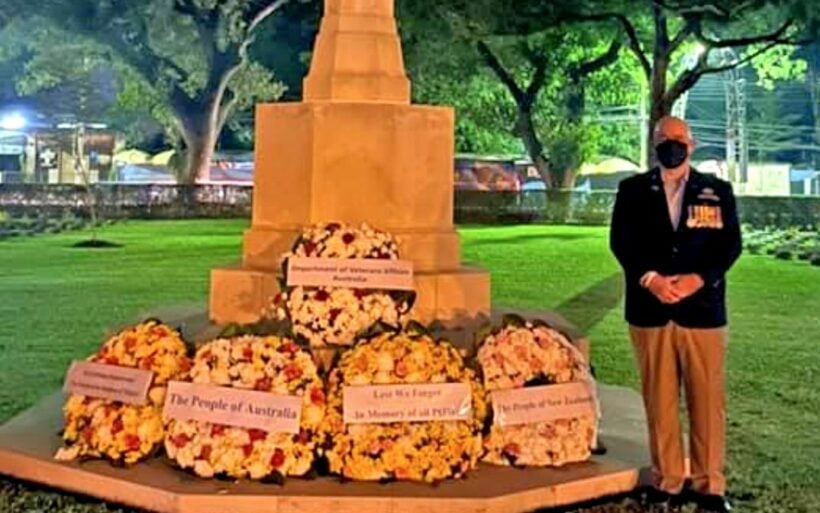 Want more from the Thaiger family?
📱 Download our app on Android or iOS for instant updates on your mobile
📧 Subscribe to our daily email newsletter
👍 Like/Follow us on Facebook
🔔 Subscribe to or Join our YouTube channel for daily video updates
Burmese students to hold Bangkok cultural event to support Civil Disobedience Movement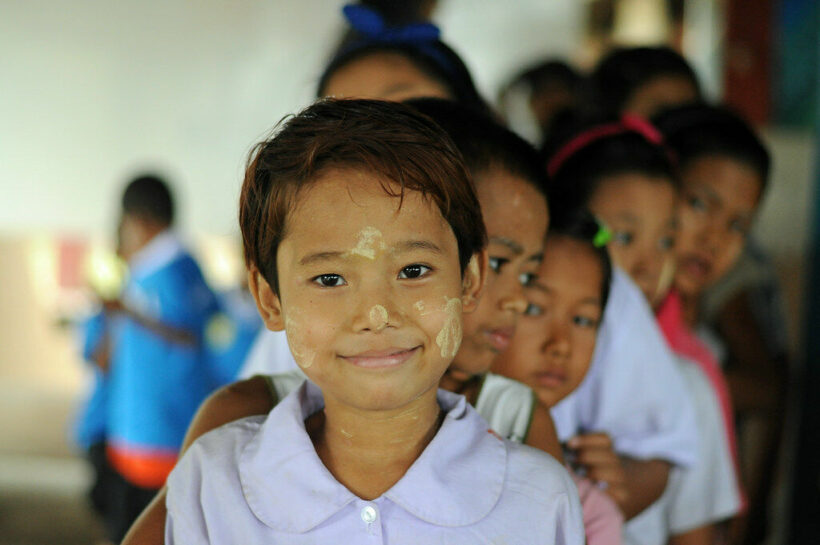 Burmese students in Thailand are holding an art and culture concert to raise awareness and funds for the Civil Disobedience Movement. The concert, called "Myanmar Spring," will be held on April 24 at the Bangkok Art and Culture Centre. The event will help fund the movement, which has staged protests over the February 1 coup in Myanmar by the military. It will honour the families of internally displaced individuals and of those who have lost their lives in the conflicts.
Last Friday, the Myanmar military allegedly killed 82 civilians, according to the Assistance Association for Political Prisoners, an advocacy group. The military then told the families of those killed that they would have to pay US$85 to recover their loved ones' bodies, according to Bago University Students' Union's Facebook page as well as Radio Free Asia's Burmese service.
Eyewitnesses in Bago say the Burmese military used grenades, RPGs, and assault rifles to quell anti-coup protestors, forcing many villagers and activists to flee and go into hiding. Military security forces are going through the neighbourhoods now and have cut off internet access. Since the February 1 coup, the military has been systematically cracking down against peaceful protesters, detaining 3,000 civilians and killing over 700 more.
NGO Human Rights Watch had published a call for the EU to take action and implement strict sanctions on the Burmese military on Thursday. And yesterday the US Embassy in Myanmar joined the call, posting on Twitter, urging peace.
The art and cultural event will also be held virtually on the same day. Anyone wishing to support the event outside of attending can buy t-shirts at the food festival being held on April 13. The orchestral music concert will be performed by a group of student volunteers and others. There will also be a poetry recital and other heartfelt performances, which the artists say will reflect the struggles for democracy in Myanmar.
Information on tickets and performances for "Myanmar Spring" is on their Facebook page HERE.
SOURCE: Thai PBS World
Want more from the Thaiger family?
📱 Download our app on Android or iOS for instant updates on your mobile
📧 Subscribe to our daily email newsletter
👍 Like/Follow us on Facebook
🔔 Subscribe to or Join our YouTube channel for daily video updates