In the wake of Pabuk, a media storm is brewing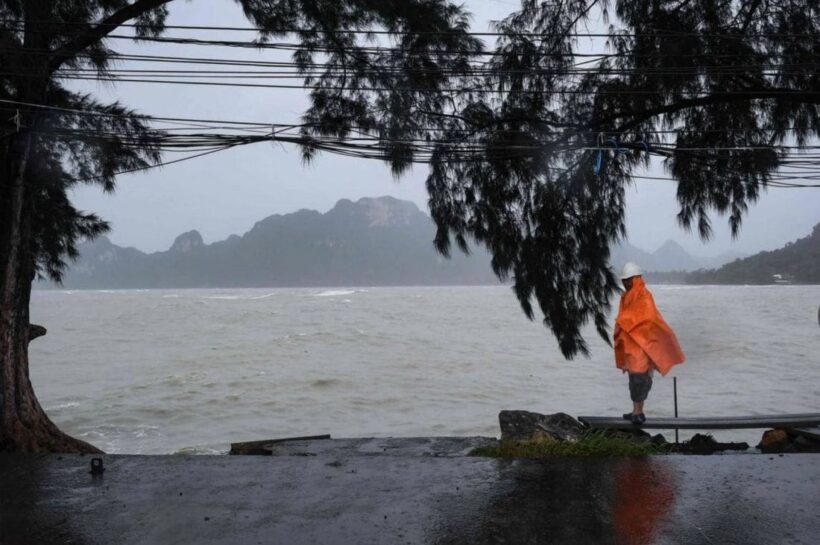 by Tim Newton
Now the actual storm has passed, a media storm is brewing over two key issues – tourists claiming they had little knowledge about the approaching storm and local tour operators, especially in the Andaman region, who say the media coverage was 'hyped' and overblown.
"Stranded British tourists have spoken of their anger after being allowed to travel to parts of Thailand despite warnings over Tropical Storm Pabuk."
The Evening Standard in the UK has come out punching with quotes from disgruntled British tourists venting their dismay about the apparent lack of information about the approaching storm.

"The horrific storm has taken tourists by surprise and a lack of information has left some unsure how to remain safe.  It is bringing five-metre high waves to coastal areas along with powerful downpours, prompting evacuations from many locals and leaving one man dead so far."
The article emerging today appears quite different from reality where the approaching storm was given a lot of media attention, locally and internationally. A few moments on your Facebook newsfeed or chatting to other travellers you would heard about Pabuk.
"Katie Preston, 23, and her partner Liam Bland, 29, are stranded on the island of Koh Phangan. They were allowed to take the last boat there before services were stopped due to fears over the storm."
As a question of timing, if you arrived on an island just before the boats were forced to stay ashore, well, you're stuck until further notice. This is when travel insurance comes into play. Neither the boat operators or the tourists could have been prepared for the order to stay ashore. It may have been 'on the cards' with the approaching storm but the timing was determined by the weather, not the officials.
In the Gulf of Thailand's southern coastal areas the ban on boating activities was a good call with winds up to 80 kph whipping up seas to a reported 4-5 metres.
Along the Andaman coast the closure of Marine National Parks and the ban on boating activity was a precautionary measure with forecasters not sure exactly what the storm would do as it approached land. 'Pabuk' could have veered inland at any time. Different forecasters were publishing slightly different tracks for the storm. No one knew for sure.
On this, The Thaiger was using a US weather model which was mostly correct – a lot more accurate than some of the local weather models. Tropical storms often have a mind of their own and different models can come up with different predictions.
This was even more apparent on Saturday morning when local media were reporting the 'eye' of Pabuk sitting somewhere over Krabi! In fact the storm had scooted north of Krabi and was past the Phang Nga coast and heading west out to sea by Saturday morning. It was also a very weakened storm by the time it arrived on the Andaman Coast.
"The centre of tropical storm Pabuk is forecast to cross Phuket later today (Jan 5), after cross Ao Leuk in Krabi overnight." (Their typo, not ours)
10 seconds on the local live weather radar would have shown that this was nonsense. The local weather radars were the most useful tool to locate the storm whilst it was near and crossing the southern Peninsula. Forget any forecasts, THERE is is, live.
In Phuket, it barely even rained.
With Andaman tourist locations like Krabi, Phi Phi, Phuket and Phang Nga dodging much of the angry weather, local tour operators are now crying foul about the precautionary banning of marine activities saying it's cost them lost revenue with cancellations, and angry travellers stranded on islands waiting for the ban to be lifted.
The Government, together with local marine officials, took the correct action in curtailing the movement of tourists. They were damned if they applied the ban and damned if they didn't.
What if Pabuk randomly started moving westward earlier than it did and bringing its high wind speeds across the Peninsula? With the 'Phoenix' marine disaster fresh in everyone's memories, officials would have been keen to avoid more tragedy if the weather had turned bad in the Andaman region.
The 'language' used in the reporting was another problem with terms 'storm', 'tropical storm', 'tropical depression', 'severe storm', 'typhoon' and 'cyclone' all appearing in different media. As The Thaiger tried to clarify, Pabuk was never more than a Tropical Storm and definitely not a 'typhoon'. But readers of some of these terms may not have been educated about their meanings and the differences of kilometers per hour, knots and miles per hour which were variously used to describe the storm as it crossed the Gulf of Thailand.
When tropical storm 'Harriet' hit the same coast back in 1962 it caused the death of 900 people. Improved infrastructure, emergency preparedness, much improved weather forecasting and some precautionary evacuations and banning of boat movements surely saved Thailand from, what could have been, a much more serious aftermath.
For the families and friends of the three people who lost their lives as a result of Pabuk, we extend our deepest condolences.


Read more headlines, reports & breaking news in Thailand. Or catch up on your Thailand news.
No sign of concrete policies for conflict in the far South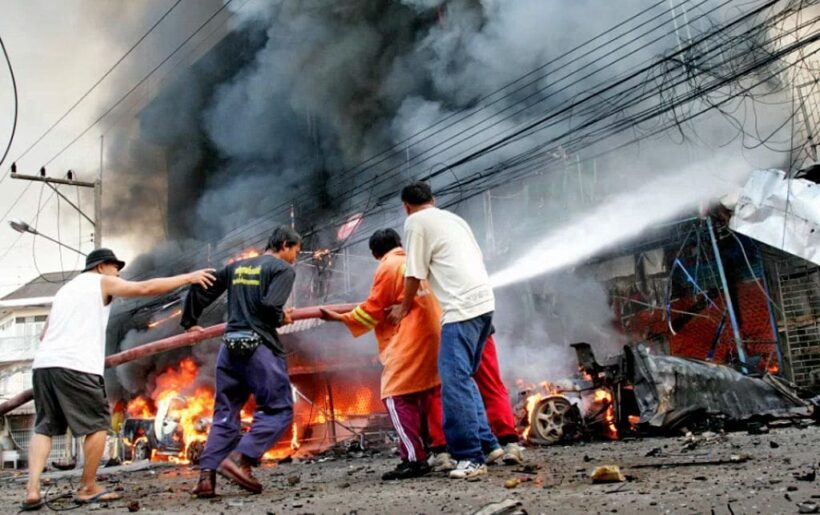 Parties offer few if any answers for a 15 year old deadly insurgency that successive governments have failed to quell.

Peace and conflict have never been significant parts of any political party platform in Thailand. This is because a sustainable solution calls for long-term commitment to a policy that could prove to be politically costly.

Lasting peace requires self-reflection on the part of both the state and society. Policymakers have to rethink the policy of assimilation that has so far been rejected by the Malay Muslim populace of the southern border provinces because it comes at the expense of their cultural and religious identity.

Full-fledged armed insurgency erupted in the far South in the 1960s, some 50 years after the signing of the Anglo-Siam Treaty that defined our current political borders.

There was a brief calm in the 1990s, but the absence of violence did not mean peace. A new generation of militants was being groomed by the Barisan Revolusi Nasional (BRN) and this time the separatists did not look to Arab countries for financial support and training, but developed their own resources at the grassroots level.

BRN fighters surfaced in 2001, only to be dismissed by then-prime minister Thaksin Shinawatra as "sparrow bandits". That characterisation changed on January 4, 2004, when scores of armed insurgents raided an Army battalion in Narathiwat and stole more than 350 military weapons.

Successive governments have been dabbling in peace initiatives, but none succeeded in getting the BRN – which gives all of the armed combatants their orders – to participate in talks.

At a recent public forum in Bangkok organised by Amnesty International, Pauline Ngarmpring, the Mahachon Party's transgender candidate for PM, spoke in terms noticeably absent from the Democrat and Pheu Thai speeches – mutual respect, peaceful coexistence and cultural diversity.

The Future Forward Party's representative blamed the 15 years of discord in the South on government mishandling and mistreatment of citizens. There is some truth to this, but it overlooks the fact that the Malays of Patani – the three border provinces – see themselves as having a unique identity that defies full assimilation.

The parties contesting Sunday's election have generally been careful about the issue as they seek to impress both Muslim and Buddhist voters.

Future Forward has risked campaigning for a reduced military presence in the South and insisted that the diplomacy of give and take be the guide in peace talks.

Canvassing for votes

Political canvassers can earn a lot of money in the far South. From shady warlords and influential figures to Muslim clerics and community leaders, the canvassers have particular attributes or profile in common. All they need to do to succeed is connect with the voters.

Future Forward has scorned the deployment of canvassers, though, dismissing it as part of the patronage system they vow to curtail.

In the 2011 election campaign, all parties but one promised to give the Malay-speaking region "special administrative status". The Democrats made no such pledge and still won 11 of the 12 available seats.

In this campaign, no one is repeating the promise.

The Pheu Thai Party promised special status in 2011 and won the national election, but then reneged on it once in government. It only served to convince the southerners that promises given them can be broken at no political cost to the one making the pledge.

Seeking cultural identity

Despite the obvious religious connotations, the conflict is still largely ethno-nationalistic in nature, though the authorities have often tried to get Muslim clerics to condemn the violence on religious grounds. The clerics who do so then face the wrath of the combatants. (There are, of course, also religious leaders who say the BRN is justified in taking up arms against the state.)

Prachachat, the so-called "Muslim party" led by Wan Muhammed Noor Matha, a wily politician and close ally of |Thaksin, has had both Islam and multiculturalism prominent in its campaigning. So far, though, there has been no elaboration on context or intent.

Nor has any party broached last year's hijab row at Anuban Pattani Elementary School, in which 20 Buddhist teachers walked off the job because Muslim girls came to class wearing headscarves.

About 85 per cent of the region's two million residents identify themselves as Malay Muslim, not Thai. The teachers seemed to wish to remind the Malays of Patani that they're a defeated people and must abandon traditions and assimilate as citizens of Thailand.

Thus espousing the common denominator remains the safest track to electoral victory. Politicians know that most voters respond to patriotic evocations of "Thainess".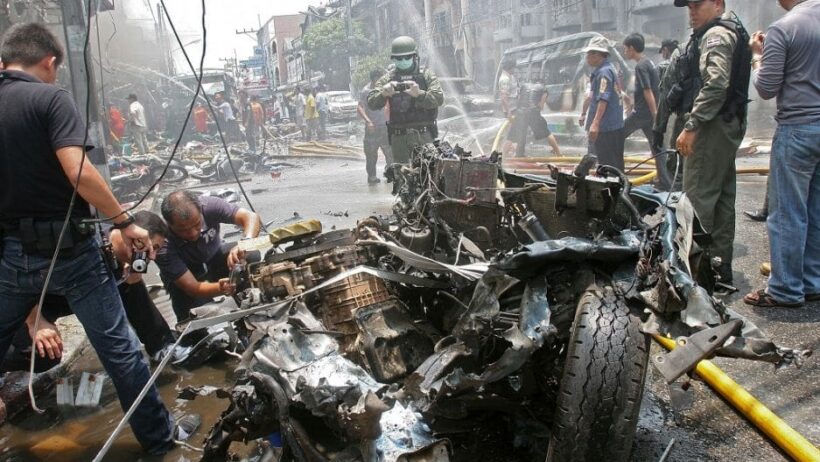 SOURCE: The Nation
Will it be same same but different after this Sunday's vote?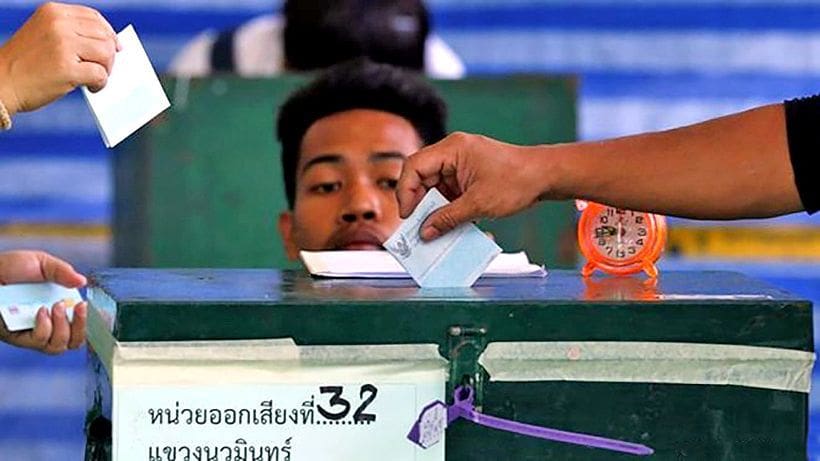 Thailand's military junta, which has ruled the Land of Smiles since snatching control in a coup in 2014, is now trying to bring its leader, Prayut Chan-o-cha, back as an 'elected' PM in next week's election.
The NCPO has cobbled together an ambitious economic plan that's rests on a 1.7 trillion baht (US$54 billion) spending spree to revive competitiveness in an economy that remains hamstrung by depressed business confidence and investment.
High speed rail links, an expanded economic corridor to the east of the capital, spending on airports and new infrastructure in the capital  – these are a few of the Junta's favourite things.
Economic growth is lagging its peers in the region, productivity has weakened and companies are reluctant to invest whilst the elephant remains in the room – political uncertainty and a whiff of military tampering.
The return of democracy this Sunday has its own risks. When the official results are eventually announced, perhaps weeks following the poll, there will be some sort of transition from military rule to civilian rule. If the Palang Pracharath party – pro-military and pro-Prayut – is able to convince voters to keep marching along, then the transition will be relatively simple.
If, however, and more likely, that a coalition of pro-democracy parties is able to form a majority in the country's lower house of Parliament, the transition may become 'messy'.
The new government will crow loudly that they have a mandate to unravel some of the long-term economic plans, and even the constitution, that was put in place by the NCPO during their half decade in power.
But the military-appointed upper house of review, the National Legislative Assembly, will likely quash any changes to the military's 'vision'.
And on we will go – more political uncertainty, more unrest, and potentially, more protests in the future.
Groundhog Day.
Thailand's establishment elites, principally based around Bangkok and parts of the south, have dueled for power with the populist alliances of former premier (and now fugitive) Thaksin Shinawatra for over a decade, a fault line that could bring gridlock to the next parliament.
Thaksin and his proxy parties have prevailed in each election since 2001, only to be unseated by the military or the courts each time, most recently in 2014 when the Yingluck Shinawatra government was kicked out of office.
The ongoing instability weighs heavily on Thailand's competitiveness and investment allure.
Thailand hasplunged 10 places on the World Economic Forum's global competitiveness index in the past 11 years, the biggest drop among South East Asia's top economies – to rank 38 out of 140 countries in 2018.
The index measures everything from the openness of the economy and quality of infrastructure to the strength of institutions and innovation.
But Prayut has cut red tape, making Thailand one of the 10 most improved nations in the World Bank's Doing Business 2018 rankings as it vies with neighbours such as Vietnam for investment.
Now it's the Thai voters who take the next step in this achingly slow politically drama that casts a long shadow over the future of Thailand.
Thailand's future is dissolving right before our eyes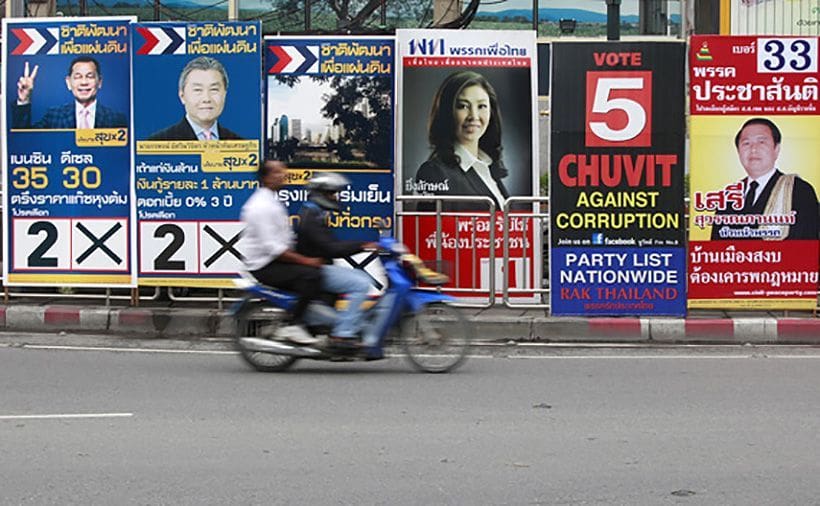 by Edward Kitlertsirivatana
When an animal is cornered, with no other options, its survival instinct kicks in.
It will fight tooth and nail for its life. With the dissolution of Thai Raksa Chart party, attempts to dissolve other rival parties are in the air. You can smell it.
If they were to be dissolved, desperate measures may materialise. And it doesn't bode well for the country. I therefore urge those with their hands on levers of power to consider carefully the consequences of such actions and let cool heads prevail over the instinctive "us vs them" impulse.
With each contest of power, the ice-cream cake of economic opportunities is melting away, while our neighbours' cake is expanding as reflected by their GDP growth. For a Buddhist country like ours that preaches compassion, tolerance and understanding, we use emotions far more than our cerebral cortex. A tragedy.
The biological reality is that most of the people in power today won't be there in 20 years. But young parties and their representatives, such as Future Forward, will be. Their worldview will likely differ from that of their parents.
Is it time then for a supra-national government comprising all major political parties? For instance, the Democrats may acquire the Finance Ministry, Pheu Thai gets the Ministry of Commerce and Transportation; Future Forward gets the Education Ministry; Pracharath gets Defence, and so forth.
Alternatively, drawing on Malaysia's constitutional monarchy system, where each ruler takes a turn as head of state every five years, each major Thai political party could likewise run the country and all ministries for five years, after which the next party would automatically take over.
Other parties waiting for their turn will serve as opposition. Absurd as these ideas are, they are better than the cycle of "election-and-coup" we have achieved thus far.
The bottom line: Politics is negotiable. Paying bills is non-negotiable. For the sake of the country's future, do not corner the Pheu Thai and Future Forward parties.
Reprinted from The Nation