Gen Prayuth says reconciliation, reform to take about a year – elections to wait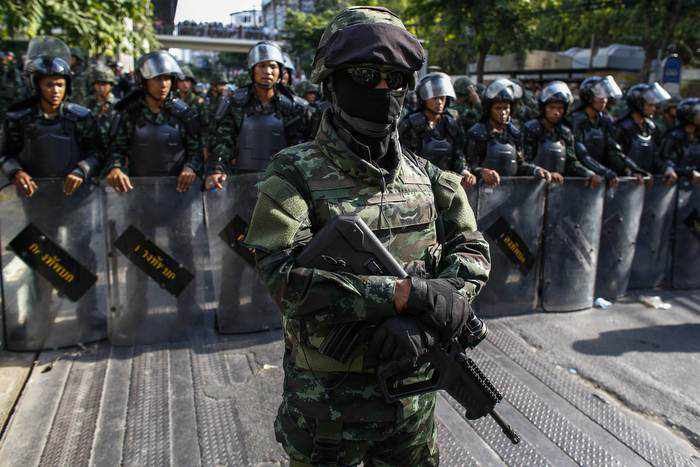 PHUKET MEDIA WATCH
– Thailand news selected by Gazette editors for Phuket's international community
Gen Prayuth says reconciliation, reform to take about a year
Reuters / Phuket Gazette
PHUKET: National Council for Peace and Order (NCPO) leader Gen Prayuth Chan-ocha said yesterday that a process of reconciliation between political factions and reforms would take about one year, and only after that would a general election be held.
Gen Prayuth, who overthrew the government on Thursday last week, said all sides had to cooperate and stop protesting for his plan for the restoration of democracy to succeed.
"Thailand and the Thai people are facing many problems that require immediate attention and solutions," Gen Prayuth said in a televised address.
"Enough time has been wasted on conflict."
Gen Prayuth outlined a three-phase process beginning with reconciliation which he said would take up to three months. A temporary constitution would be drawn up and an interim prime minister and cabinet chosen in a second phase, he said.
"This process will take approximately a year, depending on the situation," he said. "The third phase will be democratic elections."
"All that I have outlined will not succeed if all sides do not cease demonstrating politically," he said.
Thailand, Southeast Asia's second-biggest economy, has been battered by political turmoil since late last year, when People's Democratic Reform Committee (PDRC) protesters launched a bid to oust the government of Prime Minister Yingluck Shinawatra.
The government clung to power even after a court forced Ms Yingluck out of office for abuse of power on May 7, but the military ousted it in a coup on May 22, saying a takeover was necessary to restore order and prevent further violence.
"We cannot keep fighting each other just because we think differently," said Gen Prayuth.
"Every side must find a way to cooperate."
Thailand has become polarised between supporters of Yingluck and her influential brother, deposed premier Thaksin Shinawatra, and the PDRC.
Mr Thaksin's popularity among poorer voters, especially in the populous, rural northeast and north, has ensured that he or his allies have won every election since 2001.
Gen Prayuth's coup followed six months of increasingly violent protests against Ms Yingluck's government.
'GIVE US TIME'
A stumbling economy is the priority for the military and Gen Prayuth promised that the 2015 budget would be in order and public spending would be transparent.
Figures out earlier on Friday showed private investment and consumption were stagnant in the run-up to the coup.
Gross domestic product shrank 2.1 per cent in the first quarter of 2014 as the anti-government protests damaged confidence and scared off tourists.
With only caretaker status after dissolving parliament in December for a February election that was later annulled, Ms Yingluck's besieged government had lacked the power to take policy decisions or approve new spending.
A senior central bank official, Mathee Supapongse, said that under the military government, which is paying farmers money owed them under a failed rice-subsidy scheme and eyeing infrastructure spending, "the overall picture looks better, but it's not easy to get to the central bank's economic growth forecast of 2.7 percent".
"It's been half a year now and stimulus measures will not come all at once, but gradually, so the effect will rather be felt next year," said Mathee, head of the bank's macroeconomics department.
He was speaking after the release of central bank data that showed private investment in April, the first month of the second quarter, was 4.7 percent lower than in the same month last year and consumption was down 0.8 percent.
It followed data on Wednesday that showed factory output fell for the 13th straight month in April, imports plunged and exports remained weak, underscoring the difficulty the military government faces in averting recession.
The U.S. and other foreign governments have condemned the coup and called for a rapid return to democracy. The Australian government on Saturday reduced military ties with Thailand and banned coup leaders from travelling to Australia.
Prayuth made a direct appeal for patience from Thailand's international friends in his address.
"All we are asking for is give us time to reform in order to mend our democratic system, to make it right, just and responsible," he said.
Despite martial law and the ban on gatherings, small peaceful protests against the coup have been held on an almost daily basis in Bangkok.
For a second day on Friday, soldiers mounted a big operation at the central Victory Monument, where sometimes rowdy crowds had faced off with soldiers and police earlier in the week, sealing it off and preventing anyone from gathering.
Activists, spreading word through social media, say they will hold a big show of opposition at the weekend.
— Phuket Gazette Editors
Smoking at home in Thailand has been banned from today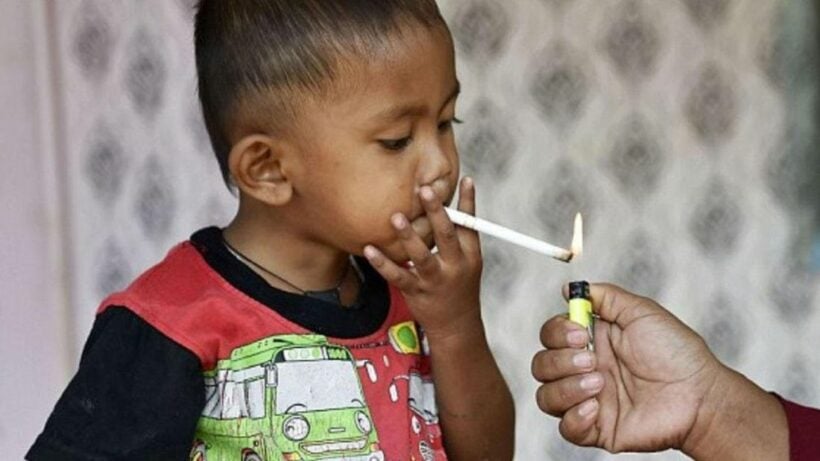 The ban on smoking at home in Thailand comes into effect today. From today people can be prosecuted for "domestic abuse" by lighting up a cigarette inside a home.
People can call Family and Protection centres on 1300 to report a smoker.
According to the new law, women and children are often the recipients of second hand smoke and the new legislation and fines is designed to assist in protecting them from the harmful effects of cigarette smoke.
Speaking to Manager Online, Dr Ronachai Khongsakon from a tobacco research group, says that women were particularly vulnerable with 81% suffering second hand smoke in their homes. He claims that 430,000 people die worldwide annually from second hand smoke, and that two out of three of the victims are women.
The 'Report a Smoker' hotline is 1300. Cases may then be referred to juvenile and other courts. The government says the move is the latest measure to stop people smoking in Thailand in public places, and now in their homes in the presence of other people.
Smoking has already been banned at airports, including the internal 'smoking rooms', now replaced with rooms outside terminals for smokers. Smoking on many Thai beaches was banned back in February 2018.
There is an estimated 10 million smokers in Thailand resulting in 72,000 deaths annually.
SOURCE: Manager Online
Thai Government seeks public opinion on civil same-sex union bill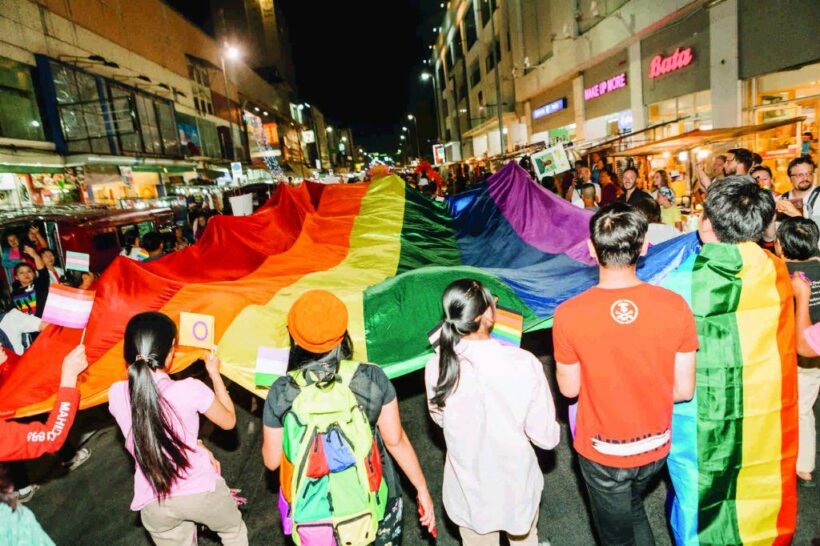 PHOTO: Chiang Rai Times
The Thai justice minister is insisting that draft legislation for civil partnerships of same-sex couples won't be rushed and that the department is waiting for public feedback on the proposal.
Justice Minister Somsak Thepsutin says the process will take time as it requires "careful deliberation to prevent any misunderstanding".
Somsak made the comments yesterday whilst chairing a forum on the Bill. The Bill was agreed in principle on December 25, 2018 and relevant departments are now working on a final draft. The Bill will need to be passed by the new Lower House but there is no timeline on the legislation reaching the House at this stage.
The Justice Ministry is holding public forums to evaluate public opinion on some of the legislation's contentious issues.
• The Bill stipulates conditions for terminating registration of civil partnerships.
• The Bill fails to include the right for same-sex couples to adopt children or the right to receive state welfare benefits, even though same-sex couples have the right to adopt children under the existing Child Adoption Act.
• Those who register for civil partnership must be a minimum of 17 years old and obtain their parental consent. 
• Feedback on the Bill must be sent back to the Council of State by next month for a final draft to be prepared for Cabinet.
Speaking in the third person, Somsak said "The Justice Ministry will neither rush nor put the brakes on the Bill."
The Civil Partnership Bill doesn't allow same-sex couples to marry but it would grant partners the legal right to jointly own and manage assets, and to give or receive inheritances.
Activists, on both side of the argument, are critical of the Bill. On one side same-sex GLBT proponents say it doesn't provide same-sex couples the same rights as heterosexual couples. On the other, critics say the Bill would reduce the 'value' and 'values' of marriage in Thailand.
But supporter say the Bill is a first step towards equality in Thailand.
SOURCE: Bangkok Post
Thai Department proceeds with crackdown on shameless price gouging on medications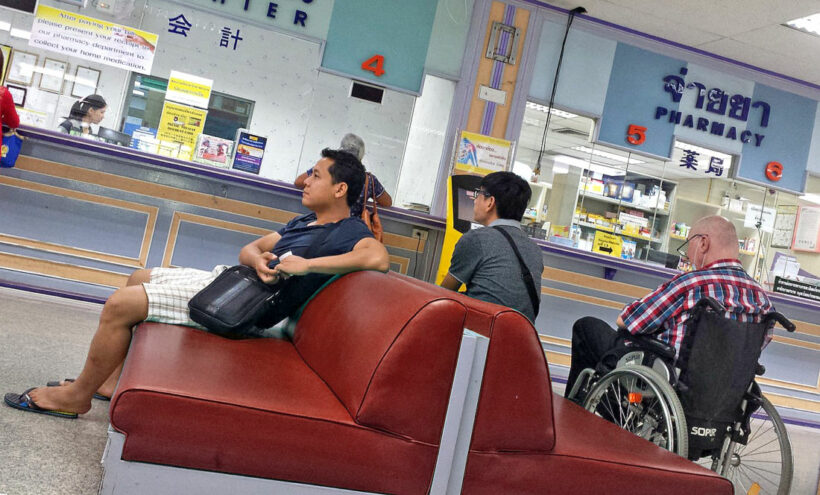 Despite a lot of resistance from the local Thai private hospital networks, The Department of Internal Trade says they will proceed with its crackdown to control prices of medicines now that it has received their price lists.
Once legislation is enacted, hospitals selling medicines above the median price set by the department will face fines and/or imprisonment. Since August 16, every hospital has been required to print out QR codes so patients can compare prices.
Many Thai private hospitals have been price gouging patients for medications sold through their in-house dispensaries for years, sometimes inflating prices for prescription medications up to 3,000% the price of a local pharmacy.
Prayoth Benyasut, the department's deputy director-general, says private hospitals, manufacturers, importers and dealers provided the department with their price lists on July 31, and DIT has used this data to set a price for each item, which will be made accessible to customers.
"If hospitals are not able to explain why a medicine is overpriced, they will be fined 140,000 baht or be imprisoned for seven years, or face both a jail term and fine."
The DIT says it will summon 20 private hospitals to testify after they failed to meet the July 31 deadline to provide their price lists.
"If they don't show up, they will face three months in jail and/or fined 5,000 baht. Those who have failed to provide complete data will be fined 2,000 baht, while those that have failed to respond to the deadline will be fined 20,000 baht and/or imprisoned for a year."
The DIT will release a list of pharmacies on its official website, www.dit.go.th, so people can have their prescriptions filled there, though this option is still being considered by the Pharmacy Council of Thailand.
The department has also sent its agents to check if private hospitals are displaying the QR codes. People can also check the price of drugs on the www.hospitals.dit.go.th website, according to The Nation.
Private hospitals will also be required to follow the Joint Standing Committee on Commerce, Industry and Banking's notification on regulations on drugs, medical supplies and medical services, which insists that patients be provided with estimated costs before they are admitted to hospital. Hospitals are also required to provide patients with prescriptions that have clear information and instruction.
SOURCE: The Nation