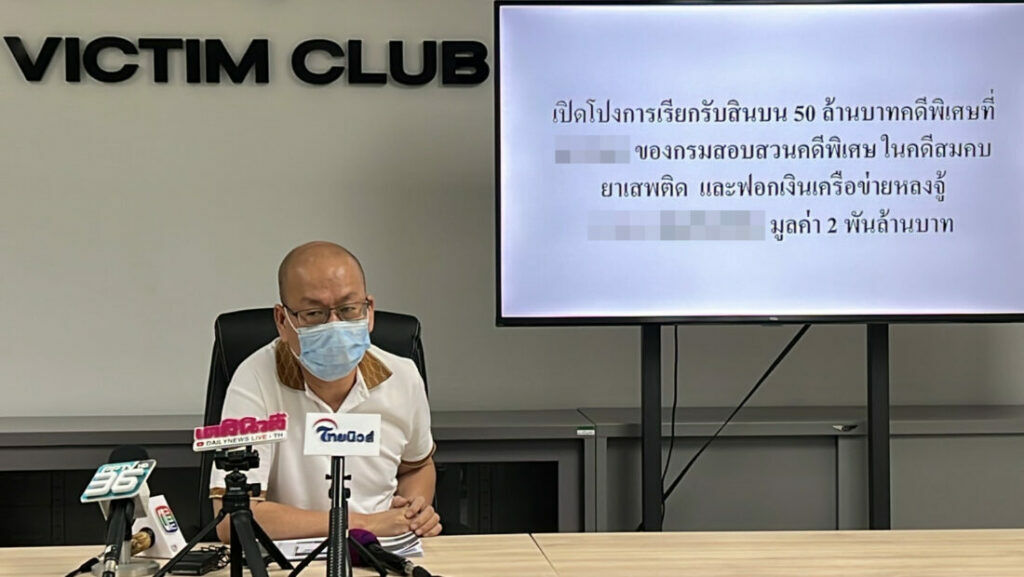 Help Crime Victim Club President Autchariya Ruengrattanapong accused the Department of Special Investigation (DSI) of soliciting bribes of 50 million baht from a gambling kingpin named Somchai Jutikitdaecha.
Somchai, also known as Long Joo, is a well-known personality in the eastern provinces of Thailand, especially in Rayong.
He is well-liked in the community and perceived as kind because he helps children get scholarships and raises money for underprivileged families in Rayong. But, Long Joo has been accused of being behind a number of gambling operations in Rayong and other eastern provinces.
A big Covid-19 cluster at one of his gambling joints in Rayong in 2021 led to his arrest. Investigation officers accused several government officials of supporting Long Joo's businesses but he remained tight-lipped under questioning.
Autchariya yesterday accused the DSI of corruption in a press conference at the Help Crime Victim Club office. He said that several officers from the organisation took bribes from drug suspects, cash from money laundry suspects, and people involved in Long Joo's gambling businesses.
Autchariya said about 25 DSI officers were involved in soliciting bribes. He alleges that two officers are still working at the DSI. One is a senior general officer and the other is a deputy commissioner of the Border Patrol Police Department. The deputy commander received over 800,000 baht at that time.
Autchariya also questioned how a police captain could change his name and return to work for the Royal Thai Police despite being found guilty of being involved with the Long Joo gang.
Autchariya made it public that the police captain was arrested and questioned by the DSI. He alleges that some DSI officers demanded 50 million baht from the police. He alleges that the demand was dropped to 10 million baht after a police big shot managed to negotiate a discount.
Autchariya reported to the media that he had evidence and would hand it over to the National Anti-Corruption Commission and Anti-Money Laundering Office.
It appears the National Anti-Corruption Commission and Anti-Money Laundering Office have a lot on their plate to consider.