China gives Thai Princess Medal of Friendship in lavish Beijing ceremony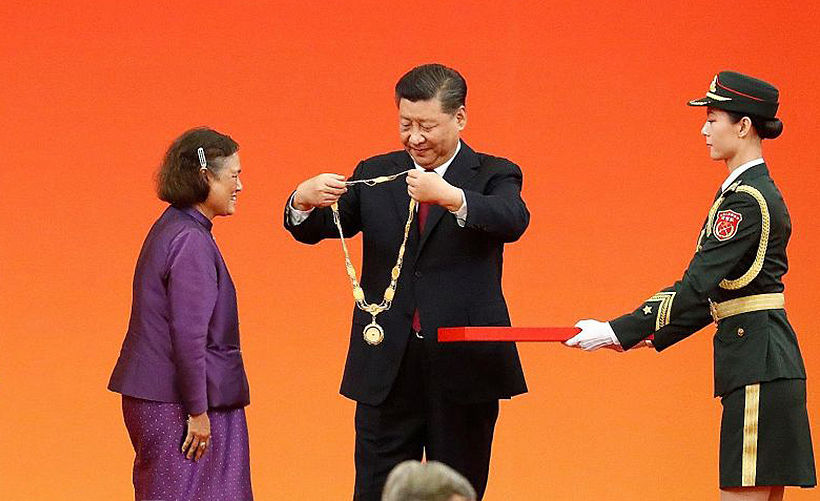 Thailand's HRH Princess Maha Chakri Sirindhorn has been awarded the Medal of Friendship from The People's Republic of China, the highest medal offered to foreigners by China.
The presentation ceremony happened yesterday in Beijing in a lavish ceremony held in the Great Hall of the People in Beijing, before officials and other recipients of the award.
The award was given as part of China's 70th anniversary celebrations which officially start tomorrow. Six foreigners, including the Thai princess, were awarded the Medal of Friendship, a gold and blue series of linked medallions, and represents the long-standing friendship between the people of China and the rest of the world.
Speaking in Chinese, the Princess said….
"All six of us are indeed friends of China and would like to give our service to the course of friendship and cooperation between our countries and the People's Republic of China."
"Our mutual aim is peace, happiness and success, not only for China and our countries but for the entire globalised world and humanity."
จีนทูลเกล้าฯถวายเหรียญอิสริยาภรณ์แด่ กรมสมเด็จพระเทพรัตนราชสุดาฯ

วินาทีที่คนไทยปลื้มปิติ…จีนทูลเกล้าฯ ถวายเหรียญอิสริยาภรณ์แด่ กรมสมเด็จพระเทพรัตนราชสุดา ฯวันอาทิตย์ที่ ๒๙ กันยายน ๒๕๖๒เวลา ๐๙.๐๐ น.สี จิ้นผิง ประธานาธิบดีแห่งสาธารณรัฐประชาชนจีน ถวายการต้อนรับ สมเด็จพระกนิษฐาธิราชเจ้า กรมสมเด็จพระเทพรัตนราชสุดา ฯ สยามบรมราชกุมารี ณ มหาศาลาประชาชน กรุงปักกิ่ง ในพิธีมอบเหรียญรางวัลเกียรติยศ เพื่อทูลเกล้าทูลกระหม่อม ถวายเหรียญอิสริยาภรณ์แห่งรัฐ เหรียญมิตรภาพ ในโอกาสสถาปนาสาธารณรัฐประชาชนจีนครบ ๗๐ ปี.เหรียญอิสริยาภรณ์เหรียญมิตรภาพ เป็นรางวัลเกียรติยศสูงสุดสำหรับชาวต่างชาติที่รัฐบาลจีนมอบให้ อันหมายถึงว่า บุคคลที่ได้รับเหรียญนี้ได้กระทำคุณความดีอย่างสูงในด้านการทูตกับประเทศจีน.นอกจากนี้ ยังมีมิตรต่างชาติอีก ๕ ท่านที่ได้รับเหรียญรางวัลเกียรติยศนี้พร้อมกับสมเด็จพระกนิษฐาธิราชเจ้า กรมสมเด็จพระเทพรัตนราชสุดา ฯ สยามบรมราชกุมารี.ทั้งนี้ นายสี จิ้นผิง ประธานาธิบดีแห่งสาธารณรัฐประชาชนจีน ลงนามเมื่อวันที่ ๑๗ กันยายนที่ผ่านมา อนุมัติการมอบรางวัลเหรียญเกียรติยศและตำแหน่งกิตติมศักดิ์ระดับชาติจีนแด่ ๔๒ บุคคล มีทั้งชาวจีนและชาวต่างชาติผู้กระทำคุณงามความดีอย่างสูง.ขอบคุณวีดิทัศน์.Web_China TV

Posted by เรารัก กรมสมเด็จพระเทพรัตน ฯ : Our Beloved Princess Maha Chakri Sirindhorn on Saturday, 28 September 2019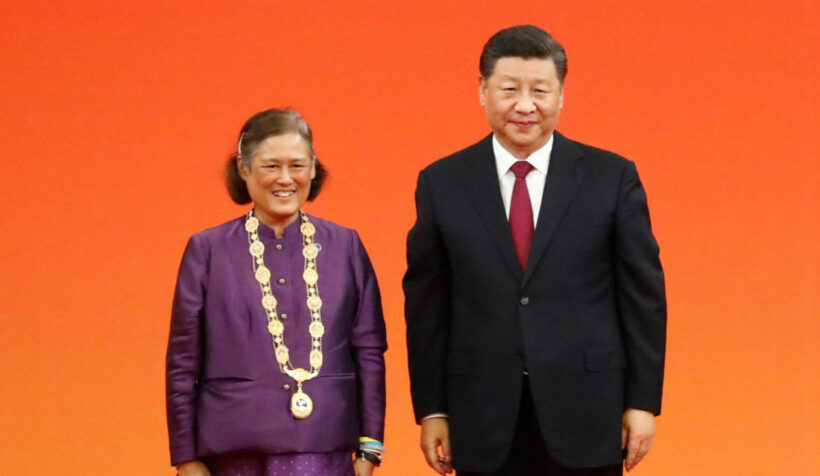 Keep in contact with The Thaiger by following our
Facebook page
.
Coronavirus UPDATE – 5,578 confirmed cases, 131 dead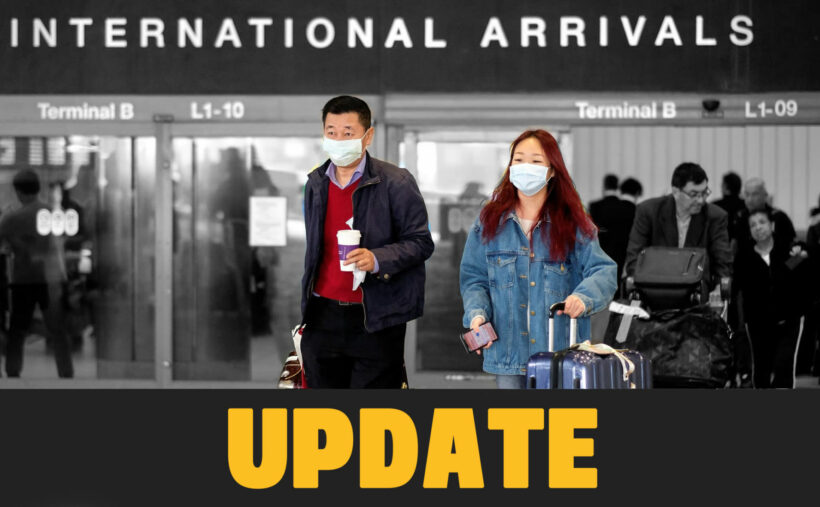 We awake to the latest news today on the spread of the Coronavirus where 5,578 people are now confirmed as infected and undergoing treatment, and the death toll reaching 131. 125 of those deaths are isolated to Hubei Province in central China (graph below). The largest city of Hubei is Wuhan, the epicentre of the current outbreak which first came to light in mid-December last year.
Thailand's health ministry has now confirmed 14 cases of coronavirus, the second-most of any country behind China. Dr. Suhum Kanchanapimai, the Public health permanent secretary, confirmed that five of the six confirmed cases were members of the same Chinese family who had travelled from Hubei province together. The sixth, also a Chinese tourist, came from Chongqing, south west of Hubei in central China.
Thailand's health minister Anutin Charnvirakul yesterday stated that the Thai government is "not able to stop the spread" of coronavirus in the country, according to Sky News. The Thai government now estimates that around 22,000 tourists from Wuhan entered Thailand so far this month, possibly exposing vast numbers of people to the virus. But most of the detected patients are recovering from the virus and many have already gone home. There has been no reported deaths from the virus outside China.
Bangkok businesses are now attempting to combat the spread of the disease around the capital by placing thermal scanners at the entrances to shopping malls and assigning workers to give out disinfectant to visitors. Many Bangkokians are now resorting to wearing a face mask as they move around the city. But at this stage all but one of the cases have been Chinese visitors from Wuhan. The one Thai who has contracted the virus, and has since recovered, visited Wuhan at the start of January.
The coronavirus has now spread to over a dozen countries, including the US where the Centres for Disease Control has confirmed five cases and monitoring more than 100 others.
Meanwhile, China's decision to control the spread of the coronavirus by quarantining entire cities in Hubei Province is raising logistical, ethical and medical issues. Some public health experts now contend that the massive quarantine operation, the first of its kind in modern medical history, could actually worsen the crisis.
In other recent epidemics, infected individuals would have been quarantined in their homes or in specialist hospital wards.
But pandemic experts make the case that the undertaking in China may be too massive, affecting the lives of more than 50 million people, mostly in 15 cities around Hubei Province. An estimated 5 million people had already left the Province by the time the travel bans were put into place last week. Sociologists also say the people who are left inside the contained cities would be likely frightened and undoubtedly desperate to protect themselves and their families. Health officials, international medical staff and police now – along with some 50 million people – are living inside a huge medical experiment.
Over in the US, health officials are working to prevent a further outbreak while developing treatments and preventative countermeasures. No vaccine exists at this stage as a prevention for the novel coronavirus.
Fifteen additional US airports are now screening for travellers who may might be infected. Officials say the purpose of expanding screenings from 5 up to 20 airports is to identify passengers returning from China that may be infected, and to educate travellers about symptoms of the coronavirus so that individuals can seek medical attention if they suspect they may be infected

Keep in contact with The Thaiger by following our
Facebook page
.
Coronavirus – six new cases confirmed in Thailand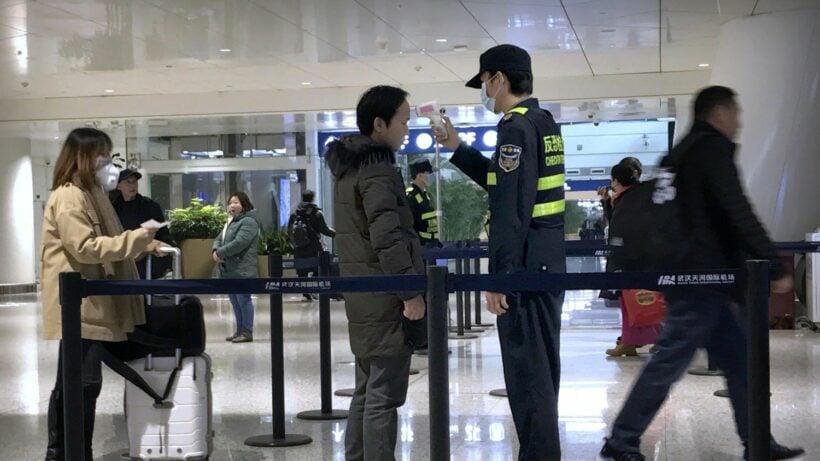 Six new cases of of the novel coronavirus are now confirmed for Thailand by the Ministry of Public Health. That brings the total number of cases detected to 14. The six new cases have all been hospitalised.
Dr. Suhum Kanchanapimai, the Public health permanent secretary, confirmed that five of the six confirmed cases were members of the same Chinese family who had travelled from Hubei province together. The sixth, also a Chinese tourist, came from Chongqing, south west of Hubei (where Wuhan is the capital).
The five family members range in age from 6 to 60. They were detected when they arrived in Thailand and isolated for two blood tests. The tests came up positive. The five family, plus the sixth patient, are currently in Bamrasnaradura Infectious Diseases Institute, in Nonthabiri, Bangkok for treatment.
Of the eight cases confirmed in Thailand, five have already been discharged and returned home to China. Three are still hospitalised in isolation but they are reported to be "out of danger" and recovering well.
Read the latest on new cases and deaths from the Coronavirus HERE.
136 Chinese tourists have been examined at airports or hospitals after being suspected of being infected. But most were found to be infected with common flu – 55 of them have already returned home.
A new automatic thermo-scanning, at Suvarnabhumi and Don Mueang international airports, has been activated today, with all passengers arriving from China on all flights being subjected to the upgraded screening process.
"The Public Health Ministry will not cover up any information related to the novel coronavirus."
Up until now, only passengers from Wuhan, Guangzhou and northeastern Changchun were screened across five airports – Suvarnabhumi, Chiang Mai, Don Mueang, Phuket and Krabi.
SOURCE: Thai PBS World
Keep in contact with The Thaiger by following our
Facebook page
.
Immigration checkpoints enhance hygiene measures nationwide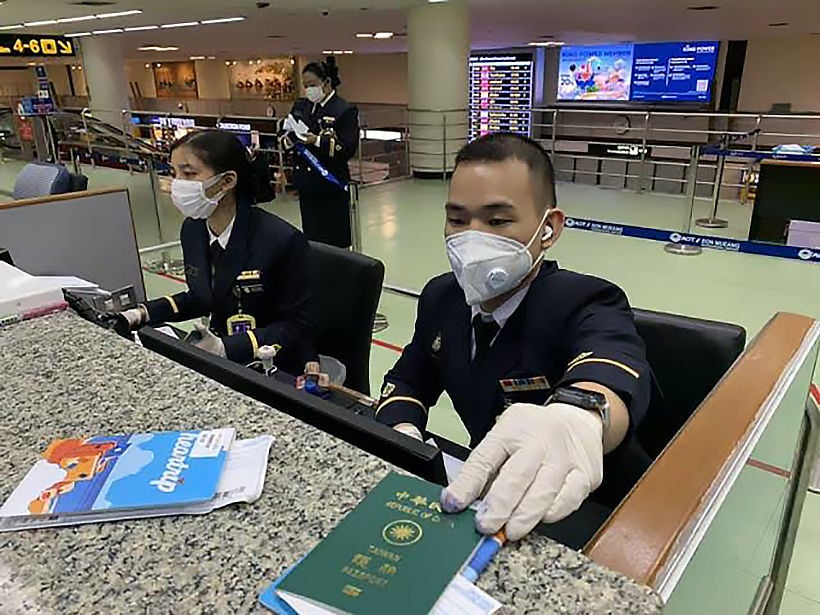 Health screening measures are being boosted today at immigration checkpoints nationwide to prevent the spread of the Wuhan Coronavirus into Thailand. Since cases were confirmed in Malaysia and Singapore, officials at the Betong border crossing in the southernmost province Yala are using handheld thermometers to screen suspected contaminanees.
Meanwhile enhanced hygiene measures are being implemented at immigration checkpoints at all airports across the Kingdom. The improved measures will help protect officials at international airports, who are in contact with tens of thousands of passengers daily, with special screening protocols at Guangzhou, where health experts be assigned specific gates. All flights from Wuhan have been cancelled as the Chinese city which is at the epicentre of the outbreak is in effective lockdown.
The Immigration Bureau said yesterday that the enhanced hygiene measures will bolster passengers' confidence. Immigration checkpoints will be cleaned hourly with disinfectant and alcohol spray, especially in areas where officers and passengers interact. Immigration officials at all airports will wear masks and gloves, as they must handle many passports and frequently converse with passengers.
Hand sanitiser bottles for passengers will be placed on immigration counters for passengers to use, and officials will increase their surveillance of coughing and sneezing passengers, who will be referred to the airport's health control team. Officials' will also be monitored, and those showing symptoms will be sent to doctors immediately.
There are currently no confirmed cases of Wuhan Coronavirus infection in Yala or southern Thailand, but Betong district is considered to be at high risk as it welcomes many Malaysian-Chinese and Singaporean-Chinese tourists.
In Samut Songkhram, southwest of Bangkok, the district chief has delivered sanitary masks to vendors at Amphawa floating market, in an attempt to reduce the chances of infection. Amphawa has ordered hotels and homestays to monitor the health of their guests, and notify authorities should any guest show symptoms.
Amphawa floating market is a tourist attraction popular among Chinese, with about half of all visitors coming from China.
SOURCE: National News Bureau of Thailand
Keep in contact with The Thaiger by following our
Facebook page
.