Central Thailand prepares for return of thousands of Burmese workers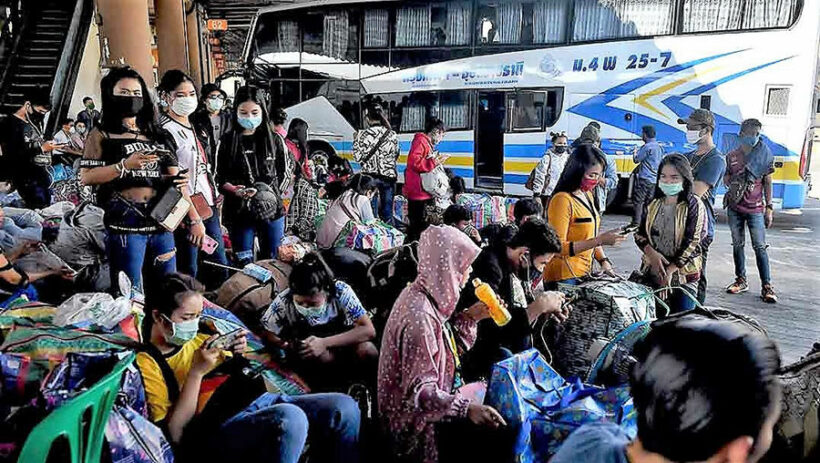 The central province of Samut Sakhon is preparing for the return of over 5,000 migrant labourers from Myanmar over the next month. The workers had returned to their home country to obtain the required paperwork and officials now say their employers must take responsibility for their quarantine.
Employers are being asked to arrange accommodation to house the workers for the 14 day mandatory quarantine period, with Samut Sakhon governor Veerasak Vijitsaengsri expressing his confidence that the actions of employers and officials will mean there will be no further spreading of the Covid-19 virus among the migrant community.
Officials will no doubt be looking at the recent experience in Singapore, where the virus was thought to be under control until an outbreak in more than 20,000 of its migrant workers caused an unexpected "second wave", with the city state regularly reporting over 1,000 new cases a day at one point. The country now has over 32,000 cases after having a total of exactly 1,000 cases on April 1.
Nation Thailand reports that around 600 companies based in Samut Sakhon will re-hire 5,400 workers from Myanmar after both the Thai and Myanmar governments signed a memorandum of understanding. These companies are now responsible for ensuring their employees fulfill the mandatory quarantine requirements.
Officials state that each worker should be provided with a room and private bathroom if possible, but where two workers must share a room, there must be at least one metre distance between the beds. Regular temperature checks are mandatory, as is the provision of hand sanitiser and face masks for all workers.
SOURCE: Nation Thailand
Keep in contact with The Thaiger by following our
Facebook page
.
113 bodies recovered in Myanmar jade mine mudslide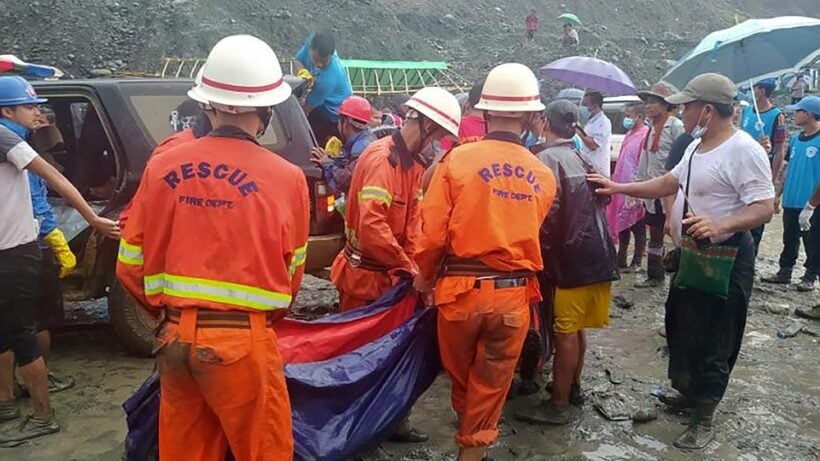 At least 113 are dead after a landslide at a jade mine in northern Myanmar. The Myanmar Fire Services Department says that the incident took place early today in the jade-rich Hpakant district of the northern Kachin state after a heavy rainfall. Photos in the post showed a search and rescue team wading through a valley apparently flooded by the mudslide.
"The jade miners were smothered by a wave of mud. A total of 113 bodies have been found so far."
"Now we recovered more than 100 bodies," a local official with the information ministry told Reuters by phone, "Other bodies are in the mud. The numbers are going to rise."
Fatal landslides are common in the poorly regulated mines of Hpakant, the victims often from impoverished communities who risk their lives hunting the translucent green gemstone.
A 38 year old miner who witnessed the incident says he spotted a tall pile of waste that appeared to be on the verge of collapse and was about to take a picture when people began shouting "Run, run!"
"Within a minute, all the people at the bottom of the hill just disappeared. I feel empty in my heart. I still have goose bumps… There were people stuck in the mud shouting for help but no one could help them."
Aung San Suu Kyi's government promised to clean up the industry when it took power in 2016, but activists say little has changed.
Official sales of jade in Myanmar were worth $750 million US dollars (23.3 billion baht) in 2016-2017, according to data published by the government. Experts say the true value of the industry, which mainly exports to China, is much larger.
Northern Myanmar's abundant natural resources – including jade, timber, gold and amber – have also helped finance both sides of a decades long civil war between ethnic Kachin and the military. The fight to control the mines and the money they bring frequently traps locals in the middle.
SOURCE: Al Jazeera | Newsvoice
Keep in contact with The Thaiger by following our
Facebook page
.
Billions in illicit drugs burned in Thailand and Myanmar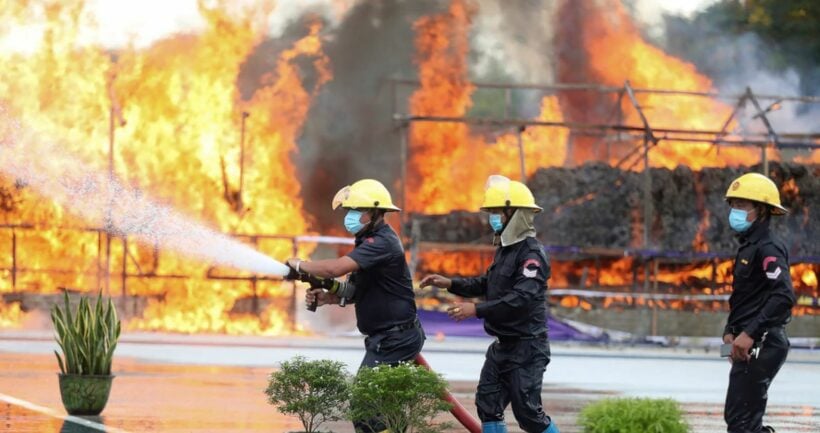 In a joint operation, authorities in Thailand and Myanmar destroyed 25 tonnes of illicit drugs valued at more than 62 billion baht (US$2 billion) in Ayutthaya and Yangon. The move comes as drug cartels in the Golden Triangle boost supplies and seek new channels of distribution. The Golden Triangle, where Laos, northern Myanmar and Thailand meet, has been a hub of illicit drug traffic for decades. Authorities say production there is now taking place on an industrial scale.
In Ayutthaya, about 80 kilometres north of Bangkok, Thai authorities marked International Day Against Drug Abuse and Illicit Trafficking with a mass burning of drugs. Police guarded boxes of drugs unloaded from trucks while bricks of heroin and bags stuffed with methamphetamine pills, known as "yaba," were thrown into dumpsters for incineration. In Yangon, meanwhile, plumes of black smoke filled the sky as sacks full of drugs were set ablaze. Firefighters quickly extinguished the flames.
Thai authorities say Covid-19 travel restrictions and checkpoints helped reduce smuggling, but the United Nations Office on Drugs and Crime said last month that the trade continues to thrive. Thailand's deputy national police chief says drug criminals are getting more creative, and the internet is becoming a growing outlet for the illicit drug trade.
"Our children are making the wrong decision to order narcotic drugs online. And the dealers send the drugs to them."
Rising heroin use among young people is among several worrying trends. Though opium cultivation and heroin refining have dropped, methamphetamine production in Myanmar's northern regions has increased dramatically, with armed ethnic groups collaborating with organised crime elements. Thailand is used mainly as a conduit and distribution point, with some drugs sold domestically, but most smuggled onward.
Jeremy Douglas, the UNODC regional representative, says online drug sales represent a worrying trend, with an oversupply of meth pushing prices down and adding to more drug abuse.
"Above all we are looking now at an increase in drug availability. Very dangerous. Frankly speaking, Myanmar has become the transit place of narcotic drug distribution to Europe and Asia."
SOURCE: Reuters
Keep in contact with The Thaiger by following our
Facebook page
.
Military weapons seized near Burmese border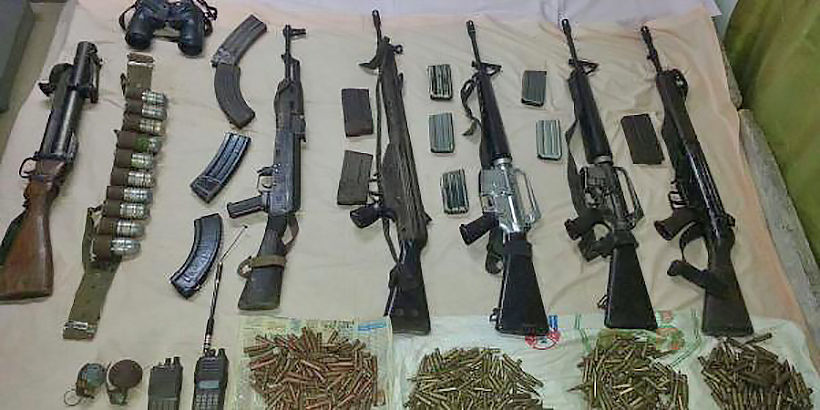 Police in the Mae Sot district of the Tak province, near the Burmese border, have seized a massive cache of military weapons, including 33 M16 and AK47 assault rifles, M79 grenade launchers and PK general purpose machine guns, together with a large quantity of ammunition of different calibers. 2 Thai men were arrested, but no details were available as to where.
Thailand's national police chief says that he suspects the weapons were intended for use by ill-intentioned elements which, according to intelligence reports, have been plotting to stir political unrest in the region. He declined to speculate or identify any specific political groups, saying the matter is under investigation by authorities.
He has ordered police in all areas, particularly in 10 provinces, including Chiang Mai, Phrae, Nakhon Ratchasima, Ayutthaya and Khon Kaen, to keep a close watch on political movements today, the 88th anniversary of the transformation from absolute monarchy to to constitutional monarchy, saying he worries that there will be gatherings as a symbolic gesture.
Past reports of arms seizures in Mae Sot, as well as other districts bordering Myanmar, appear to show that most of the weapons are actually smuggled from Cambodia by traffickers, for sale at huge profits to Burmese rebel groups based along the porous border between Thailand and Myanmar.
SOURCE: Thai PBS World
Keep in contact with The Thaiger by following our
Facebook page
.