Cannabis Walk Thailand 2019 says progress made but challenges ahead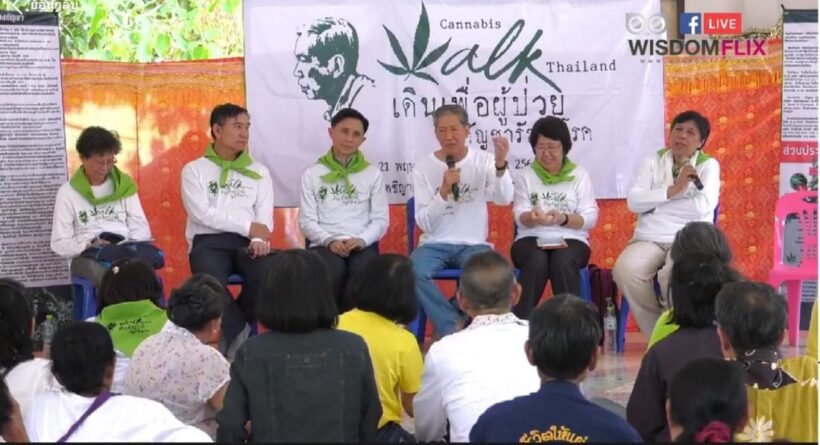 by Piyaporn Wongruang from Nation Weekend
The latest progress on medical cannabis has been shared with participants in a recent seminar organised as part of the 21 day "Cannabis Walk Thailand", which finished this weekend.
The Walk, led by Decha Siriphat, a long-time advocate of sustainable agriculture and traditional medicine – is aimed at raising awareness about cannabis-based treatment and knowledge which has long been absent from people's perception.
Marijuana was banned under the 1979 narcotics law for more than forty years, before the government decided early this year to loosen controls, allowing it to be used legally for medical purposes.
Prof Dr Pattapong Kessomboon of Khon Kaen University's Faculty of Medicine says the international community has been active in the field of medical cannabis studies, with at least 25,000 research papers available. Bsed on his researcher team's years-long review, these research papers could be classified into three main groups according to their reliability.
The first group of papers, Dr Pattong said, offer solid research results and information that can be applied in actual cases, such as easing nerve pain, treating epilepsy and the side effects of chemotherapy.
The second group details positive results like those on cases of Parkinson's and Alzheimer's disease, paranoia, multiple sclerosis, and easing pain in people with fourth-stage cancer.
The third need further studies to be conducted as they mostly claim on the fact that marijuana can "cure" cancer and even kill cancer cells.
In Thailand there have only been two studies conducted to date on the benefits of marijuana, both by Rangsit University's Faculty of Pharmacy.
It was the faculty's first dean, Prof Dr Surang Leelawat, who over 10 years ago studied the effect marijuana had on cholangiocarcinoma, a cancer affecting the bile duct, by using THC extracts on lab rats, said Prof Dr Thanapat Songsak, the present dean.
Professor Surang managed to determine that THC could help stop the disease from spreading. Her researcher team then found another chemical – CBN –to be helpful in containing the growth of cancer cells in the lungs.
Dr Thanapat said the faculty now was conducting tests on cholangiocarcinoma and expects confirming results in the next three months. They could then move on to tests on humans.
Rangsit, he said, remains the only Thai institute permitted to grow marijuana for research. Other universities were in the process of submitting requests.
"Marijuana may be seen by some as an evil, but in the view of our research team, it is valuable for patients' quality of life. So we think we're on the right track and hopefully we will find light at the end of the tunnel."– Prof Dr Thanapat Songsak, Dean Rangsit University's Faculty of Pharmacy
Thais have long used cannabis in traditional medicine. Dr Khwanchai Visithanon, director of the Thai Traditional Medicine Institute, said up to 200 cannabis-infused medicines have been found on record.
Royal and elite medical books listed up to 200 traditional formulae with Thai names, suggesting marijuana's capacity to cure afflictions. Among them are samran nithra (happy sleep) and suksa saiyas (comfortable sleep), the institute director said.
Screened for repetition, 90 distinctive formulae remained for further study. Khwanchai said his team has divided the list into three groups.
In the first are formulae with clear records of ingredients still available, along with directions for preparation.
In the second are more complex formulae or with notes requiring further translation.
In the last are recipes which are beyond modern knowledge to understand or contain hazardous or toxic ingredients or items that have been banned.
You can read the full report from The Nation Weekend HERE.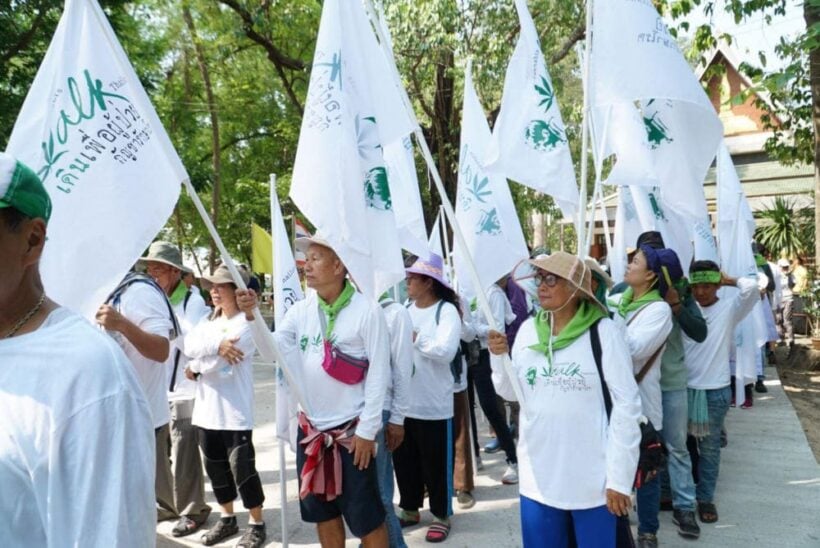 Keep in contact with The Thaiger by following our
Facebook page
.
Never miss out on future posts by
following The Thaiger
.
US cuts Thailand's tariff benefits after long-running pork dispute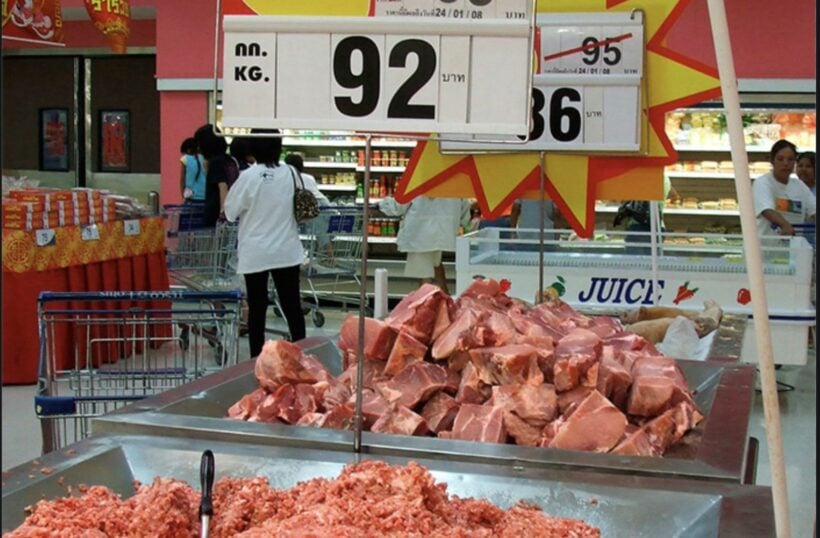 Thailand's duty-free privileges for US$817 million in exports with the US are to be revoked from the end of this year, according to US President Trump in an announcement yesterday. The President blamed a lack of progress in opening the Thai market to US pork products. Trump's letter announcing the action follows more than 2 years of threats and negotiations with Thai officials over issues ranging from access to Thailand's markets for US goods and the documented inadequate labour rights in the south east Asian nation.
Washington will now eliminate some tariff benefits for Thailand, accusing the country of failing to allow imports of pork from US producers.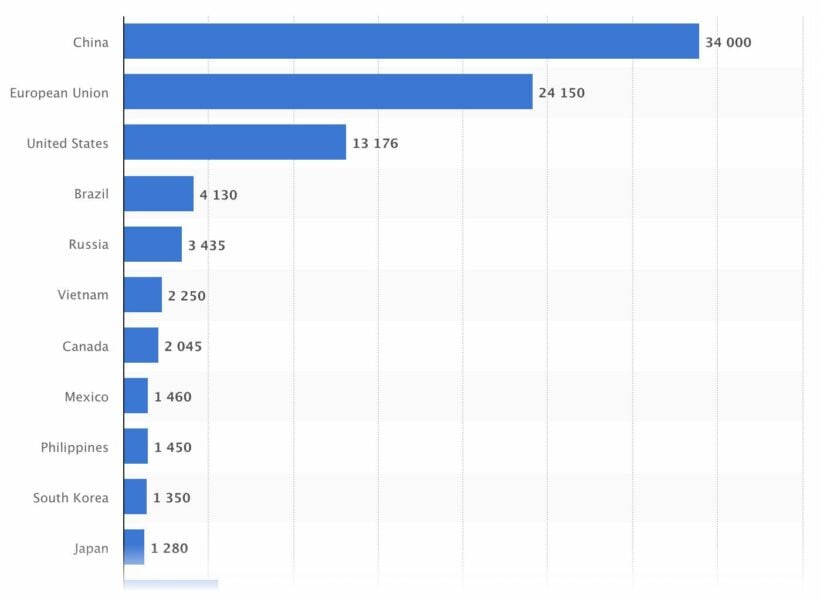 GRAPHIC: Global pork production in 2020, by country (in 1,000 metric tonnes) – statista.com
The suspension of the Generalised System of Preferences access follows a suspension earlier this year on about $1.3 billion worth imports from Thailand, which once had such privileges for about US$4.4 billion in exports to the United States.
The US Trade Representative's office said the list of products includes mango, pineapple, manicure kits, steel pipes and precious stones., auto parts, dried produce, tools, electrical products and aluminium kitchenware.
Writing to the House Speaker Nancy Pelosi, President Trump said… "I have determined that Thailand has not assured the United States that Thailand will provide equitable and reasonable access to its markets."
GSP, Generalised System of Preferences, is a 70s-era program of US trade preferences for developing economies aimed at improving workers' rights and access to broader markets.
"The US Trade Representative's office also announced that it had closed other GSP eligibility reviews with no loss of benefits for Georgia, Indonesia and Uzbekistan. It also said new GSP reviews were opened for Eritrea based on concerns about workers' rights."
SOURCE: Reuters | VOANews | statista.com
Keep in contact with The Thaiger by following our
Facebook page
.
Never miss out on future posts by
following The Thaiger
.
Dow and S&P 500 take a breath after an ugly week, tech stocks lead the way down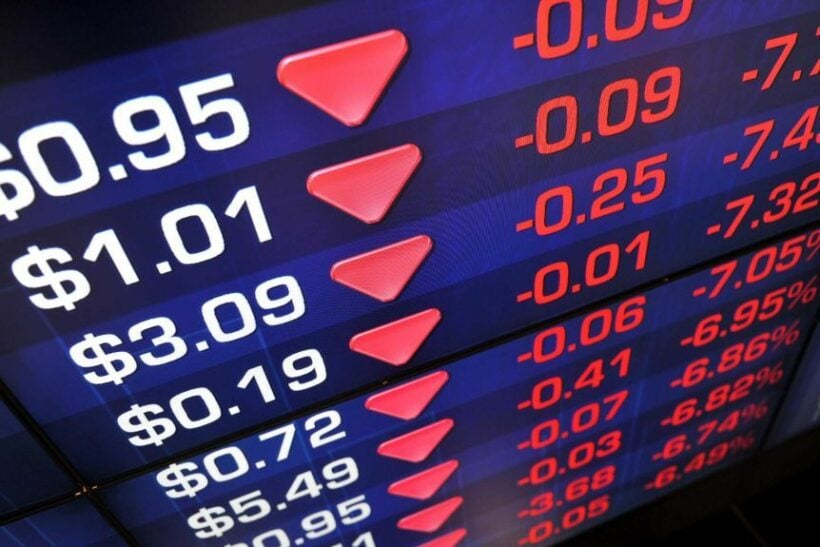 US stocks closed lower yesterday to end an ugly week downbeat with 'uncertainty' remaining the overwhelming sentiment. Tech stocks led the march downwards. The Dow Jones Industrial Average dropped in its biggest monthly collapse since March with investors reacting to rising Covid-19 cases in the US and Europe, peppered by nervousness ahead of next Tuesday's US presidential election. The increased volatility forced all three major indexes seeing their biggest weekly declines since the worst of the coronavirus-inspired selloff 8 months ago.
The Dow fell around 157 points, to end near 26,502, according to preliminary figures, while the S&P 500 lost around 40 points, or 1.2%, to finish near 3,270. The Nasdaq Composite gave up around 274 points, or 2.4%, closing near 10,912. The Dow had a 6.5% weekly fall and a 4.6% monthly drop. Friday's decline saw the Nasdaq negative for the month of October, falling 2.3%. The Nasdaq was down 5.5% for the week.
The Dow dropped more than 500 points at its session low with tech stocks – primarily Apple, Amazon, Alphabet and Facebook – leading the market decline.
A number of stocks were on the move, down, following a slew of earnings, including from the tech giants. Twitter sank more than 20% on slowing growth, while Exxon reported its 3rd straight quarter of losses.
Key moments yesterday…
Dow closed down 0.59% for its 5th negative day out of 6
S&P 500 closed down 1.21% for its 4th negative day in 5
Dow closed down 6.47% this week for its worst week since March 20
S&P closed down 5.64% this week for its worst week since March 20 when the S&P lost 14.98%
S&P closed down 2.77% this month for its second-straight negative month
Nasdaq closed down 5.51% this week for its worst week since March 20 when the Nasdaq lost 12.64%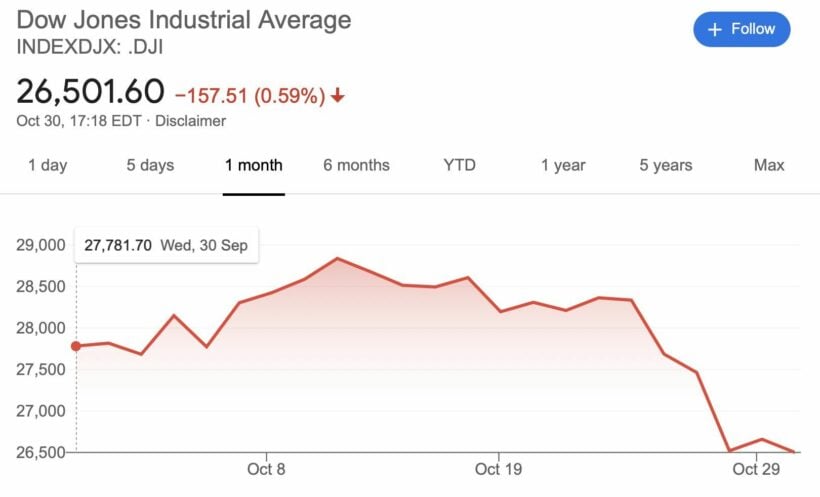 Keep in contact with The Thaiger by following our
Facebook page
.
Never miss out on future posts by
following The Thaiger
.
Free Trade Agreement talks continue between Thailand and EU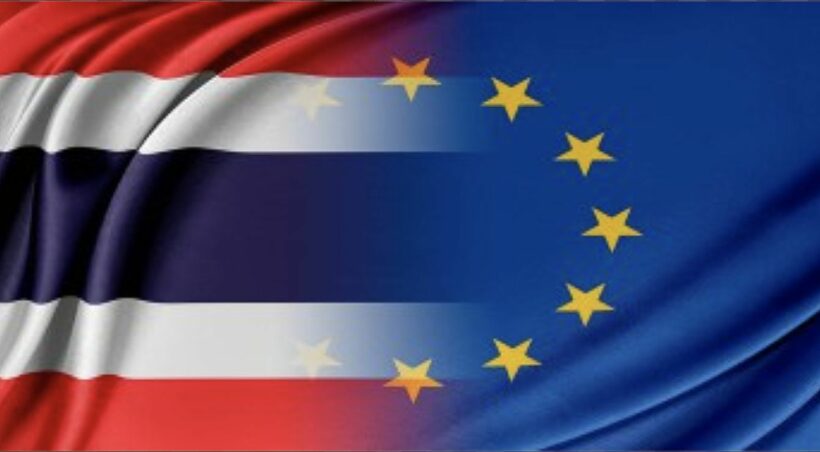 Thailand is resuming trade talks with the European Union on the long-delayed Thai-EU free trade agreement. The 15th Thai-EU Senior Officials' conference was held virtually between leading Thai and European trade officials this week. The push was on to have the Free Trade Agreement signed and sealed by the end of this year.
Discussions were held regarding the ongoing affects of the Covid-19 pandemic, the impact on Euro and Thai economies, the current political unrest in Thailand, the fight against Illegal Unreported and Unregulated fishing, promoting the protection of labourers and a commitment to strengthen ties between the Euro zone and Thailand.
The next step in the establishment of the FTA will be a forthcoming meeting on trade and investment in December.
The virtual meeting was represented by Sasiwat Wongsinsawat, the Director-General of the Department of European Affairs and the European Union's Paola Pampaloni , the Deputy MD for Asia and Pacific Department at the European External Action Service.
Keep in contact with The Thaiger by following our
Facebook page
.
Never miss out on future posts by
following The Thaiger
.