Cannabis Walk Thailand 2019 says progress made but challenges ahead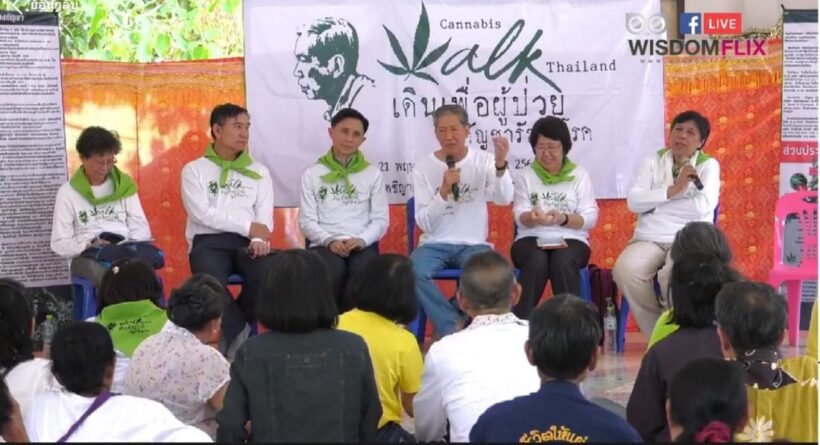 by Piyaporn Wongruang from Nation Weekend
The latest progress on medical cannabis has been shared with participants in a recent seminar organised as part of the 21 day "Cannabis Walk Thailand", which finished this weekend.
The Walk, led by Decha Siriphat, a long-time advocate of sustainable agriculture and traditional medicine – is aimed at raising awareness about cannabis-based treatment and knowledge which has long been absent from people's perception.
Marijuana was banned under the 1979 narcotics law for more than forty years, before the government decided early this year to loosen controls, allowing it to be used legally for medical purposes.
Prof Dr Pattapong Kessomboon of Khon Kaen University's Faculty of Medicine says the international community has been active in the field of medical cannabis studies, with at least 25,000 research papers available. Bsed on his researcher team's years-long review, these research papers could be classified into three main groups according to their reliability.
The first group of papers, Dr Pattong said, offer solid research results and information that can be applied in actual cases, such as easing nerve pain, treating epilepsy and the side effects of chemotherapy.
The second group details positive results like those on cases of Parkinson's and Alzheimer's disease, paranoia, multiple sclerosis, and easing pain in people with fourth-stage cancer.
The third need further studies to be conducted as they mostly claim on the fact that marijuana can "cure" cancer and even kill cancer cells.
In Thailand there have only been two studies conducted to date on the benefits of marijuana, both by Rangsit University's Faculty of Pharmacy.
It was the faculty's first dean, Prof Dr Surang Leelawat, who over 10 years ago studied the effect marijuana had on cholangiocarcinoma, a cancer affecting the bile duct, by using THC extracts on lab rats, said Prof Dr Thanapat Songsak, the present dean.
Professor Surang managed to determine that THC could help stop the disease from spreading. Her researcher team then found another chemical – CBN –to be helpful in containing the growth of cancer cells in the lungs.
Dr Thanapat said the faculty now was conducting tests on cholangiocarcinoma and expects confirming results in the next three months. They could then move on to tests on humans.
Rangsit, he said, remains the only Thai institute permitted to grow marijuana for research. Other universities were in the process of submitting requests.
"Marijuana may be seen by some as an evil, but in the view of our research team, it is valuable for patients' quality of life. So we think we're on the right track and hopefully we will find light at the end of the tunnel." – Prof Dr Thanapat Songsak, Dean Rangsit University's Faculty of Pharmacy
Thais have long used cannabis in traditional medicine. Dr Khwanchai Visithanon, director of the Thai Traditional Medicine Institute, said up to 200 cannabis-infused medicines have been found on record.
Royal and elite medical books listed up to 200 traditional formulae with Thai names, suggesting marijuana's capacity to cure afflictions. Among them are samran nithra (happy sleep) and suksa saiyas (comfortable sleep), the institute director said.
Screened for repetition, 90 distinctive formulae remained for further study. Khwanchai said his team has divided the list into three groups.
In the first are formulae with clear records of ingredients still available, along with directions for preparation.
In the second are more complex formulae or with notes requiring further translation.
In the last are recipes which are beyond modern knowledge to understand or contain hazardous or toxic ingredients or items that have been banned.
You can read the full report from The Nation Weekend HERE.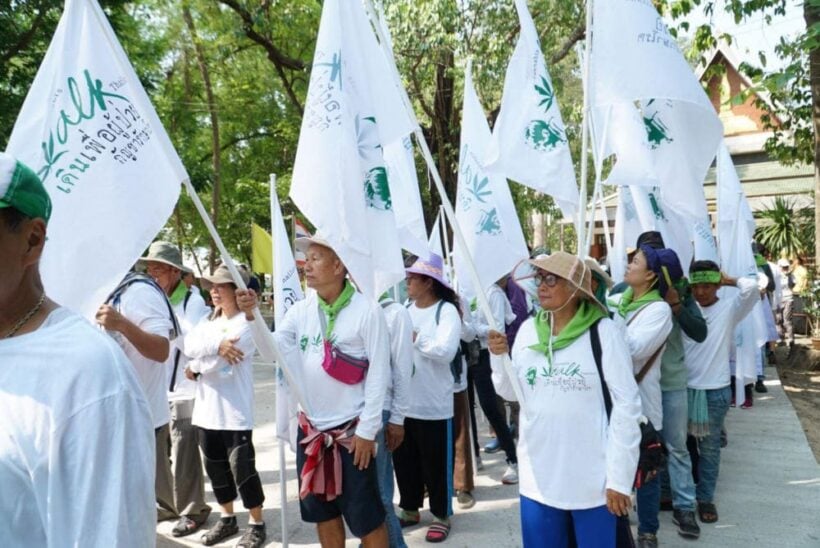 Are you considering a medical procedure abroad? With Thaiger Medical you can research hospitals and doctors, choose a destination in Thailand or abroad, and book an appointment today.

Read more headlines, reports & breaking news in Thailand. Or catch up on your Thailand news.
Russian tourist drowns in red flag swimming zone in Trat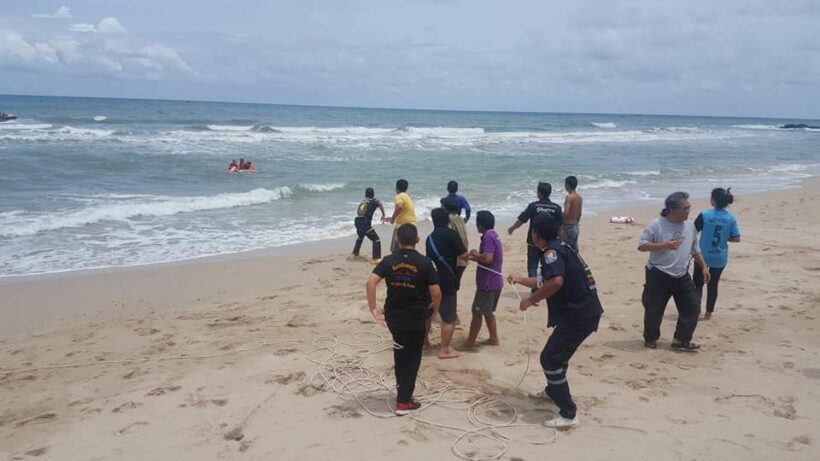 PHOTOS: The Pattaya News | Siam Rath
A Russian tourist has drowned at a beach on Koh Chang in Trat, far east Thailand, in the red-flagged, no swimming zone yesterday.
Navy officers on Koh Chang are warning tourists going to beaches with red flags along the shore to stay out of the water when there are high waves in the monsoon season.
55 year old Vladimir Antonov was found floating face down 300 metres from shore. Local rescue workers and Navy officers patrolling the beach rushed out to bring him back to shore. He was later pronounced dead when he arrived at the local hospital. The Russian Embassy have been informed.
His 45 year old wife said they had been staying at a hotel two kilometres away. She told police that her husband had been hit by a big wave and been swept away.
SOURCE: The Pattaya News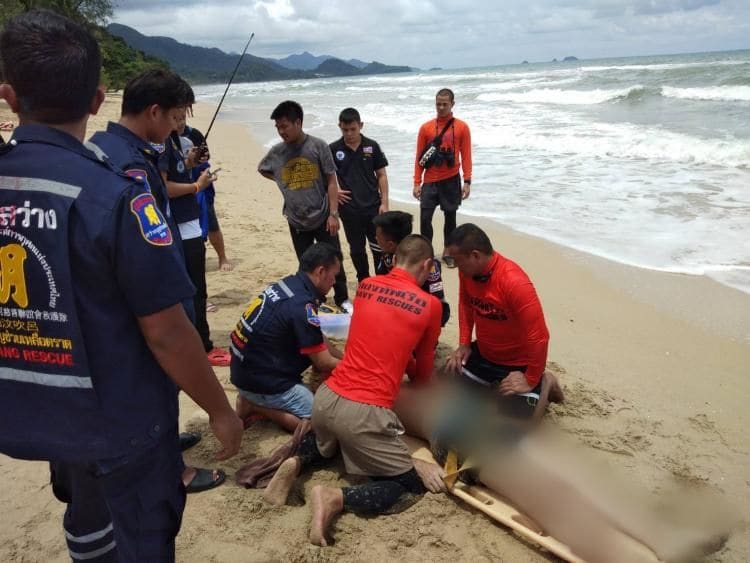 Thailand's dengue fever cases "double the five year average" – epidemic declared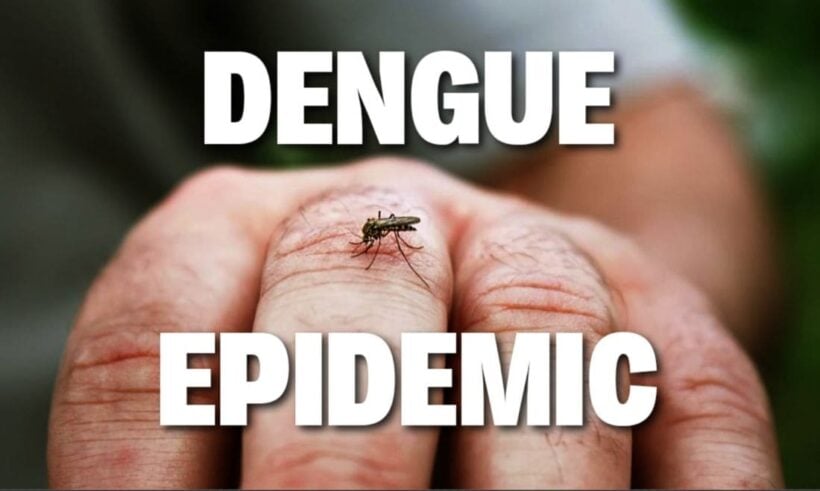 "The situation is also the same in Thailand's neighbour countries."
The Department of Disease Control on Friday has declared a dengue fever epidemic this year. From Jan 1 to June 11 this year there has already been 28,785 reported cases and 43 deaths from the mosquito-borne virus.
The deputy director-general of the department says the number of patients was double the five year average of Dengue cases. He says the situation is also the same in Thailand's neighbour countries and attributes the current epidemic to "a failure to control mosquito larvae".
Yesterday the Public Health Ministry signed an agreement with seven state agencies to control mosquito larvae during the annual wet-season – when cases peak each year. The Defence Ministry, Tourism and Sports Ministry, Ministry of Natural Resources and Environment, Interior Ministry, Culture Ministry, Education Ministry and Bangkok Metropolitan Administration are going to co-ordinate improvements in the control of mosquito larvae.
Meanwhile the Public Health department says they will focus on communities, temples, schools and hospitals which they claim are a major source of mosquito larvae.
YOU play an important role in avoiding Dengue Fever, or Chikungunya. A report about the latest outbreak of Chikungunya cases in southern Thailand HERE.
And some important tips for you to avoid Dengue HERE.

Eighteen Burmese illegal migrants found in a Songkhla camp, Thailand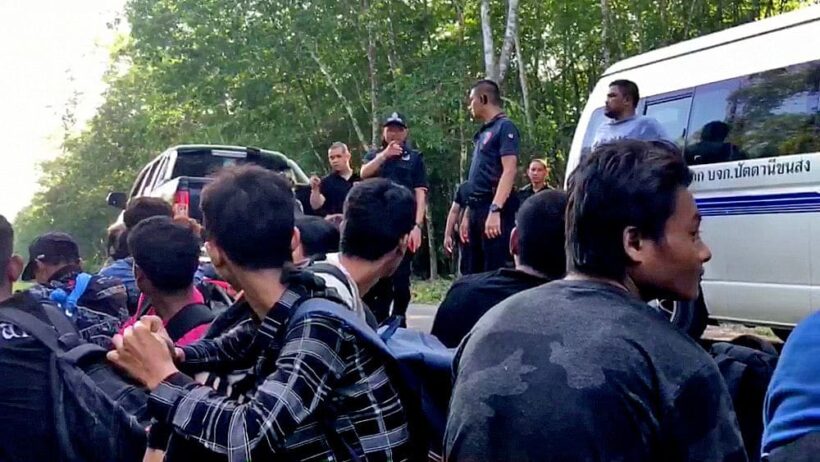 PHOTOS: The Nation
Eighteen Burmese illegal migrants have been found at a makeshift camp in forest near Songkhla's Sadao district waiting waiting to be transported to Malaysia.
The 16 men and two women, kept in the woods for four days and told to live on young banana stalks and creek water, were found in a forest area two kilometres away from the main road.
Police later arrested a Burmese woman Nang Wae who was their 'caretaker' at a rented room in Khlong Ngae. The woman told police she didn't send them food because the Malaysian 'brokers' had not transferred money to her. With no money, she had to leave her countrymen in the forest until a vehicle was sent to transport them to Malaysia.
A team of anti-human trafficking officials, police and soldiers found the migrants in the forest yesterday morning (Friday).