Bangkok terror alert: Deputy PM Chalerm denies threat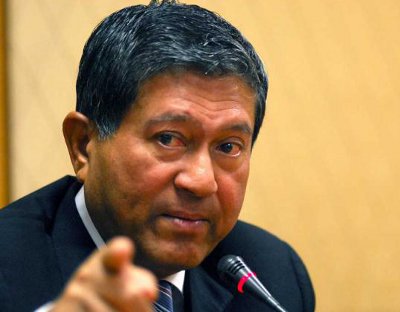 Following US Embassy warning to Americans, Thai authorities confirm arrest of suspect linked to Hezbollah
PHUKET: Senior Thai officials scrambled yesterday to deny that Thailand faced an immediate terrorist threat, following a dramatic warning by the US Embassy to Americans living in Bangkok.
The Thai authorities, led by Deputy Prime Minister Chalerm Yoobamrung, however, confirmed the arrest of a terrorist suspect and admitted that security was being stepped up.
The officials, however, were ambiguous and even confusing in their statements, and the US ambassador to Thailand insisted afterwards that the embassy warning "still holds".
Chalerm said police had detained a Lebanese man with suspected links to the Hezbollah militant group. In other interviews earlier, Chalerm had talked about two arrests.
The Thai Foreign Ministry and the police both said the Bangkok government had been on a constant terrorist alert for some time, but the situation was now "under control" following cooperation with international intelligence authorities and stepped-up local measures.
Unclear, of course, was the status of the person or persons in custody. The latest information indicated that only one person was interrogated and no charge had yet been leveled.
Prime Minister Yingluck Shinawatra also said the situation was under control, and that the alert was nothing unusual.
Surveillance intensified
An intelligence source told The Nation that one foreign man had been detained, but he was one of a few suspected terrorists who have entered the country. The man was still in custody yesterday but he had refused to give any statement, according to the source.
"This suspect has entered Thailand many times," the source said. "Security measures have been on-going. Police in plain clothes have been deployed at Khao San Road and surveillance has also been intensified in Pattaya."
The Thai government's frantic denial of an immediate and serious terrorist threat came hours after the US Embassy posted on its home page the no-nonsense warning, which Ambassador Kristie Kenney would describe later in one of her tweets as "real and Bangkok specific".
"Foreign terrorists may be currently looking to conduct attacks against tourist areas in Bangkok in the near future," the US Embassy in Bangkok said in the emergency message posted on its website.
"US citizens are urged to exercise caution when visiting public areas where large groups of Western tourists gather in Bangkok."
Thai officials said the man in custody had suspected links to the Hezbollah militant group.
A senior Thai intelligence officer, who did not want to be named, told news agency AFP that the Kingdom had been informed before the New Year by Israel of a possible threat. The suspect was detained on Thursday while the other man had already fled the country, he said.
'Nothing to worry about'
Deputy PM Chalerm told AFP by telephone that the detained suspect was being questioned by Thai authorities.
"We already have one suspect in custody for interrogation at a government building in Bangkok. He is a Hezbollah [member] from Lebanon," he said.
"I want to assure people that there is nothing to worry about. The police will take care of the situation and everything will be under control."
Defence Minister Army General (Rtd) Yuthasak Sasiprapha seemed to take the threat more seriously. He said security would be increased yesterday evening if no more information emerged on the hideout of other suspects.
According to Gen Yuthasak, quoted by Thai Rath online, Israelis living in Thailand were feared to be targets, a situation that naturally worried the American Embassy. He said the feared period of attack was between January 13-15.
In response to a Twitter inquiry after the Thai government's denial of immediate threat, the US ambassador said that her embassy's warning to American citizens remained in effect.
Hezbollah, an Iranian- and Syrian-backed Muslim Shi'ite group, is blacklisted as a terrorist organization by Washington and currently dominates the Lebanese government.
"Israel was suspicious that these two men might be terrorists, so they gave information, including their names, to our police before the New Year," the senior intelligence officer told AFP.
"These two men entered Thailand a while ago but did not conduct any terrorist activity. I wonder why Israel was suspicious about them."
After last year's devastating floods, the embassy warning is another blow to Thailand's tourist-friendly image, adding to years of political turmoil that sometimes turned violent and bloody.
In August 2003, alleged mastermind Riduan Isamuddin, an Indonesian known as Hambali, was arrested in Thailand. He was suspected of being al-Qaeda's representative in Southeast Asia and operational chief of the Southeast Asian militant group Jemaah Islamiyah.
— The Nation
Keep in contact with The Thaiger by following our Facebook page.
Never miss out on future posts by following The Thaiger.
Another drug bust near the Mekong River, 500 kilograms of cannabis seized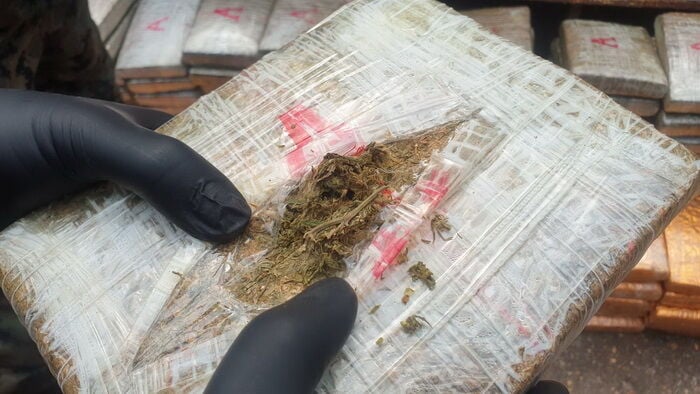 In another drug bust in Northeastern province Nakhon Phanom, police arrested a man and seized 500 kilograms of compressed cannabis. Just yesterday, border patrol police in the province seized 920 kilograms of compressed cannabis from a boat on the Mekong River. In both cases, police suspect the cannabis came from Laos, just across the river.
Police say they searched a black Nissan Navara pickup around 1am in the province's Na Kae district. Police opened the truck's bed cover and found 12 sacks with 500 packages of dried, compacted cannabis. Each package of cannabis weighed 1 kilogram, similar to the previous bust on the river.
28 year old Saravut Butngam was arrested. Saravut previously worked in construction, but has recently been unemployed. He allegedly told police that a man called him with an opportunity to make 50,000 baht. He was told to drive the pickup truck from a petrol station in the Na Kae district to a specified location in the neighbouring province Sakon Nakhon, police say. From there, another driver would take over.
Border police commander Sippanan Sornkhunkaew says he suspects the cannabis seized in the province was trafficked from Laos across the Mekong River. He says he believes the cannabis was planned to be trafficked to Southern Thailand and then smuggled across the border, possibly to Malaysia.
On Sunday morning, police confiscated 920 kilograms of cannabis from a boat on the Mekong River. When police approached the boat, men jumped off onto a smaller boat and fled the scene. The dried, compacted cannabis was wrapped in 1 kilogram packages.
SOURCE: Bangkok Post
Keep in contact with The Thaiger by following our Facebook page.
Never miss out on future posts by following The Thaiger.
How to Wai like a Thai, with Som | VIDEO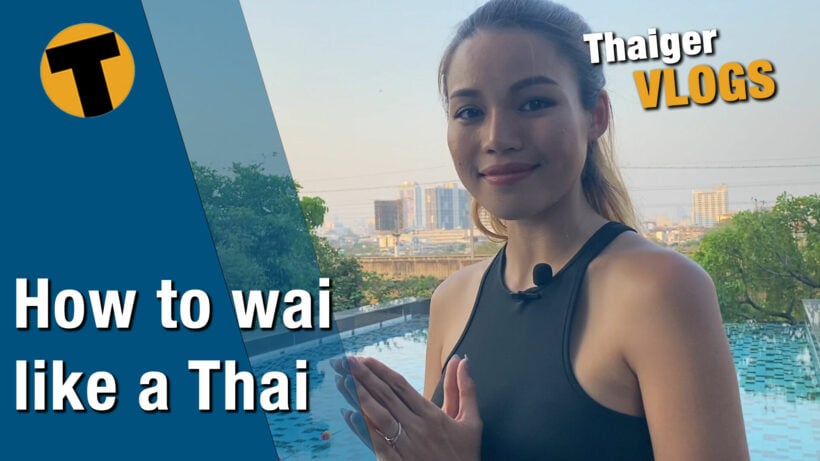 The wai, the polite gesture Thais use for greetings, farewells, prayers and even apologies, dates back to the 12th century, where both hands clasped together in front proved that you weren't holding a weapon. That's the folklore anyway.
Recently, the greeting has increased in general popularity around the world as a anti-Covid 'safe' replacement for the western handshake. So, how, when and with whom should you wai? Here's a few easy tips to learn how to wai. Today Som teaches us some of the basics of the lovely Thai 'wai' (pronounced 'why').
As a foreigner you don't look Thai, dress Thai and you probably can't eat full-strength Thai curry either. So this means you're exempt from Thailand's most nuanced courtesies. There's a lot of subtlety in the Thai wai so, chances are, you're not going to get it right. But your best efforts will be appreciated.
How to wai when you're uncertain? At a minimum, when someone wais to you, return the gesture with a kind smile and an acknowledging nod. In restaurants and shops: You'll often receive a wai from shop and restaurant staff. It's not necessary to wai in return to anyone providing you with a service of this nature. Instead, a nice (grateful) smile is plenty. To children / those younger than you:
Also, there's no need to wai to a child or anyone who's clearly younger than you – so, baby boomers, you're increasingly in the clear! The wai is a mark of respect to elders.
Keep in contact with The Thaiger by following our Facebook page.
Never miss out on future posts by following The Thaiger.
Thailand News Today | Bangkok protest fallout, northern fire bans | March 1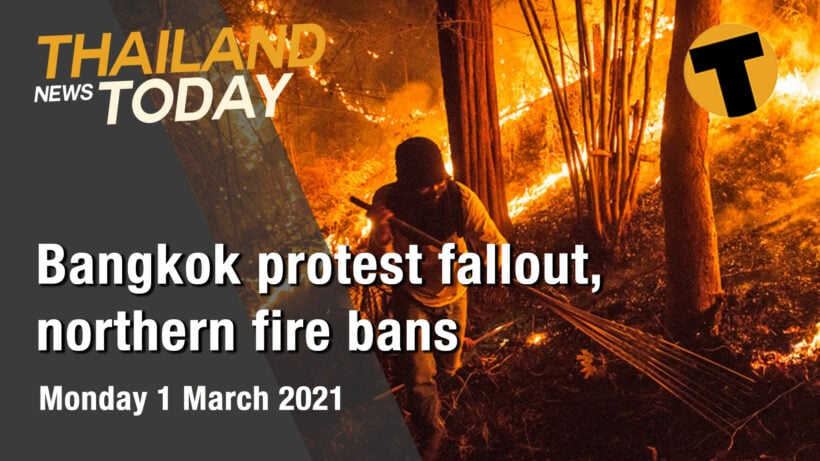 Coming up today… the fallout from yesterday's latest protest violence in Bangkok, the first vaccine in Thailand who got it, and a major drug haul along the Mekong.
But first we'll start up north where Lampang Province is joining other northern provinces todday by putting a total fire ban in place from today, March 1, until the end of April. Chiang Mai also started a ban on all deliberately lit fires from today and Lamphun, just south of Chiang Mai, already has one in place.
The bans are timely after a horrid weekend of air pollution in many of Thailand's provinces over the long weekend, even as far south as the tourist destination of Phuket where visibility was down to about 1 kilometre and the smell of smoke was noticeable.
Whilst up in the north… 4 Thai women were arrested at a security checkpoint in Tak's Mae Sot district after they illegally crossed the border from Myanmar into Thailand.
Illegal casinos and fancy hi-so massage parlours in Myanmar in areas near the border, have attracted wealthy Thais and Burmese. The establishments have also attracted plenty of Thais looking for well-paid work across the border.
In a major bust along the Mekong River, a notorious hotzone for drug trafficking, border patrol police seized 920 kilograms of dried, compacted cannabis from a boat along the Nakhon Pathom riverbank, bordering Laos.
Now to the weekend violence as the protests resume where they left off last year…
At least 22 people were arrested during the major Bangkok protest yesterday. It turned violent as pro-democracy activists marched toward the Thai PM's residence. It's been reported that one officer died during the rally, reportedly due to heart failure.
At least 33 people were injured… that includes 23 police officers. The clashes happened in front of 1st Infantry Regiment barracks on Vibhavadi Rangsit Road and involved around 1,500-2,000 activists fromthe Restart Democracy movement, part of the Free Youth group. The group has been protesting against the government and calling for reform of the country's constitution and monarchy since protests began in July of last year.
And Thailand's Covid-19 vaccine campaign started with Public Health Minister Anutin Charnvirakul who received the first of China's Sinovac vaccine yesterday. PM Prayut Chan-o-cha was initially planned to be the first to kick off Thailand's immunisation plan with the AstraZeneca vaccine, but due to problems with paperwork, the PM's injection was postponed.
Keep in contact with The Thaiger by following our Facebook page.
Never miss out on future posts by following The Thaiger.