4 ways Thais use Twitter. Which one are you?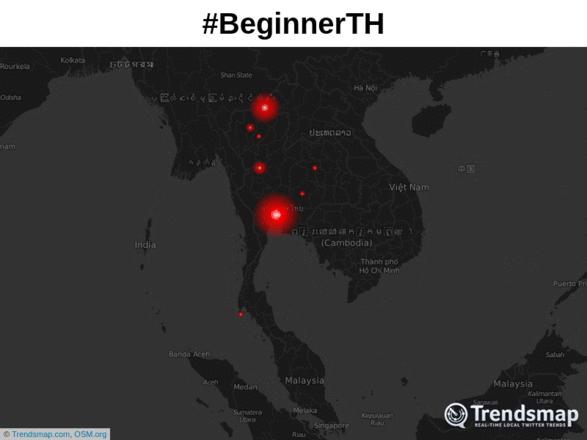 With hundreds of millions of users globally, Twitter is many things to many people. Amongst Thailand's growing Twitter community, it's interesting to see how users are evolving the way they use Twitter. Trending topics change rapidly as Thai users jump from one hot topic to another, while favourite celebrities and musicians remain relatively consistent. 
Below are just four ways Thais are using Twitter, which one are you?
Keep Up-To-Date with the Latest Trends
Top trending hashtags are one in many ways users can see and follow the latest conversations, making it as the platform where conversation starts. Whether TV dramas, entertainment, musicians, superstars or events, #WhatsHappening is happening on Twitter. 
#Room39 is one of the recent trending entertainment topics which spiked following the split of the Thai boy band, with the conversation also focussed on Isara Kitnitchee (@Tom_Isara) who is leaving the band to follow a solo career.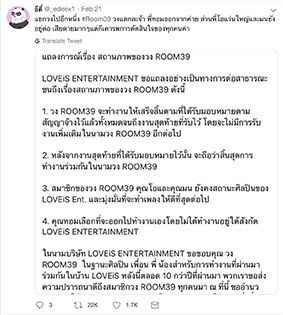 Supergroup BNK48 (@bnk48official) underscored their Thai girl-power announcing the planned release of their sixth single on their official Twitter account which was Retweeted more than 10,000 times and liked over 7,000. #BeginnerTH sent the Thai Twittersphere to new heights going viral in no time at all.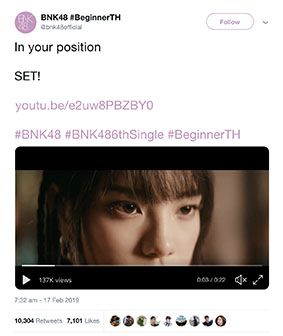 Creating Communities
Being an interest-based platform, Twitter allows us to join public conversation in real-time and to connect with a community of people who share same interests. 
Sometimes you don't need to follow an account. Using hashtag brings users into the conversation, making Twitter stand apart from other social platforms, as does the fact that it's normal on Twitter to follow people you don't know, yet you have similar interests – it's all about community!
While Football is big on Twitter on Thailand, the rapid growth of eSports has spawned many communities, mostly centered around hashtags that relate to a game, for example, #rov. RoV's popularity comes in part from its appearance in the 2018 Asian Games as a demonstration event and expectation it will one of the games selected for the 2020 Asian Games when eSports will be a medal event.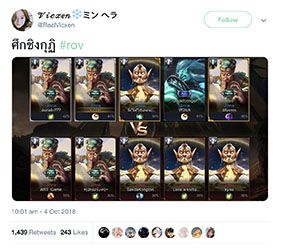 Thai TV generates huge active communities on Twitter with users sharing insights into current and past episodes. Modelling competitions such as The Face Thailand Season 5 (#TheFaceThailand5) have dedicated communities where users rally around their favourite shows and acts, showing their support.
Share and follow #whatshappening
Twitter is a LIVE platform where people share and follow what's happening around them real time. While Bupaesaniwas was the most Tweeted about Thai TV Drama in 2018 using the hashtag #บุพเพสันนิวาส, Twitter has become the go to platform for Thais to comment on TV dramas as they happen and follow the story online real time. This is a noticeable pattern of how Thais use Twitter to complement their TV and live broadcast experience.
Channel 3 TV's latest hit soap opera Doctor Thong Ek from Tha Cha Long, has seen high engagement on Twitter as viewers use #หมอยาท่าโฉลง to join in the conversation LIVE during each episode.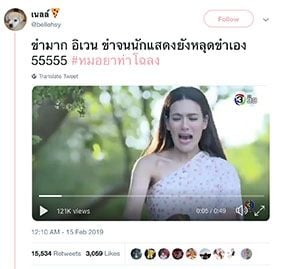 Another area where Twitter brings people together is during live concerts as fans Tweet during their favourite songs and performances. The recent Thai rock band Bodyslam (@bodyslamband) and their #bodyslamfest at Rajamangala Stadium in Bangkok, was the latest Thai concert to take Twitter by storm with fans actively Tweeting throughout.
Follow News
Journalism has changed and the way we consume news today has been revolutionised by social media. Twitter has become the goto platform in Thailand for breaking news. Topics centre around user-generated hashtags which trend on popularity and users like and Retweet those Threads making it easy for others to follow news stories as they develop.
One of the top news stories so far this year has been about the air pollution in Bangkok. #ฝุ่นPM25 has been Tweeted 4.8 million times (between 17 December 2018 and 24 January 2019) as people Tweeted their experiences and shared important information on areas most polluted in the city. Not only was Twitter the platform for the latest news, but also helped users to know safety levels in areas throughout the city.
Twitter has proven to be an invaluable tool during emergencies and natural disasters. Following the recent earthquake in Lampang, Twitter users came together using the #แผ่นดินไหวลำปาง hashtag. Hashtags are the best way for people to find information and conversations online, and they are used by media, government agencies and relief/volunteer organizations. To ensure that the hashtags remain useful, refrain from using hashtags for unrelated topics. 
In today's fast-paced, fast changing world, Twitter can be your constant. Freely available across all devices, take Twitter with you wherever you go and remain connected to the conversations and people that matter.
You can follow The Thaiger's Twitter feed HERE. It's free and sends you all the latest stories.


Read more headlines, reports & breaking news in Thailand. Or catch up on your Thailand news.
Six per cent of Thai university students have attempted suicide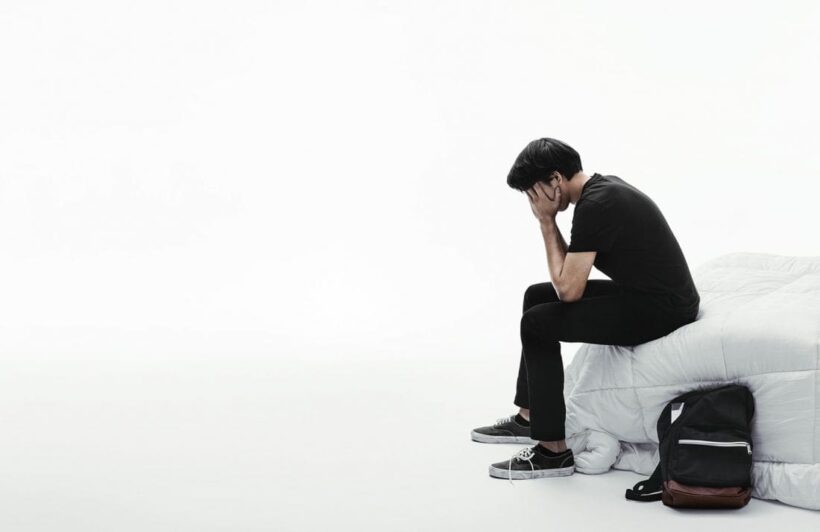 Recent research reveals a disturbing finding that over 6 per cent of university students have attempted suicide.
The study findings have been highlighted after several students killed themselves in recent weeks.
"From research on university students' depression during the past three to four years, it can be concluded that 6.4 per cent of students turned suicidal and tried to take their own life," said Asst Professor Dr Piyawan Visessuvanapoom, lecturer at the Chulalongkorn University's Faculty of Education.
The studies were both in Thailand and overseas, she added.
According to the research, most student suicide attempts were in dormitories or homes.
The common triggers for the actions were quarrels with someone very close, learning problems and relationship issues.
"Health problems, anxiety, stress and poor ties with parents and friends contribute to depression," Piyawan said.
"Given that half of university students' lives were about studies, lecturers could play a role in preventing a descent into depression."
"Lecturers should understand that students are diverse. When a group of students cannot do something, try to understand them and see how you can help."
Asst Professor Dr Nattasuda Taephant, who heads the Centre for Psychological Wellness, explained that everyone becomes sad from time to time.
"But if sadness is prolonged, a person may sink into depression."
Nattasuda said academic results that were below expectations, plus money problems, soured romantic ties or friendships, or the sudden loss of something important could upset students' lives and drive them into depression.
"The depressed tend to view the world and their situation negatively. Their past experiences affect their interpretation of what they are facing," she said.
She said those with depression tended to keep themselves away from others, lose interest in their studies and become suicidal.
"What the depressed want most is someone who agrees to listen and think for them. Lecturers, friends and family members can improve their emotional wellbeing," she said.
She said parents in particular should avoid any suggestion that they do not accept their children's mistakes.
In serious cases, he recommended that the depressed seek counselling from experts.
If you or anyone you know is in emotional distress, please contact the Samaritans of Thailand 24-hour hotline: 02 713 6791 (English), 02 713 6793 (Thai) or the Thai Mental Health Hotline at 1323 (Thai).
SOURCE: The Nation
BTS launch their new album on April 12, appear on Saturday Night Live the next day. Why this matters.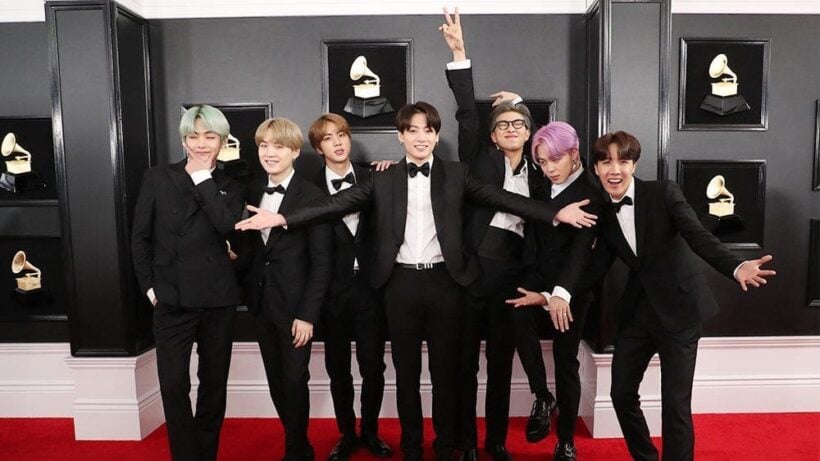 The music business is about to have another one of those seismic shifts in the next month as the power of the music business continues to dribble away from western record company influences to a more democratic, social media-driven, business model.
In the past two years, mainly, a small South Korean production house has re-tooled the massive world music business (and it is, first and foremost a 'business') with one product.
Bangtan Sonyeondan, better know around the world simply as BTS.
The seven members of the K-Pop phenomenon (and the word phenomenon is aptly applied in this case) actually debuted in 2013 after forming originally in 2011, but they're hardly an overnight success with real struggles threatening their success along the way. The BTS that writes, produces and performs in 2019 is a slick, highly professional performance and business unit that has, mostly by design, completely rejigged the fatally-wounded 'old' music business model. From a try-hard hip hop band to world-class music artists is a fascinating journey in the annals of the modern music business.
Also consider they've done this singing, mostly, in Korean.
Whilst the record companies continue to roll out the 'oldies' with another Greatest Hits compilation, or interpret their 70s and 80s heroes on the big screen (another guarantee to boost flagging music sales and downloads), there is some light at the end of the music tunnel which gives us hope of some great tunes ahead.
From first impressions the septet of BTS are just another fresh-faced boyband with catchy hooks, hair tosses and screaming fans – we've seen it all before, right? Except that they're South Korean in a white-washed music world.
But behind the facade is some raw talent, a highly skilled back-room and the use of social media as a jack-hammer, not just a tool. After charting two of their albums at #1 in the Billboard Hot 200 last year, a first for a Korean band, appearances on the American Music Awards, the Grammies, Ellen, all the popular Tonight Shows, the front cover of TIME and a series of sell-out concerts around the US, the seven young men are about to take the next big step, and it will be big.
Days after BTS announcing their forthcoming Map of the Soul: Persona album coming April 12, they also announced they are appearing on SNL, Saturday Night Live, (NOT Donald Trump's favorite TV show) the day after.
Saturday Night Live announced that BTS will make their musical debut with Emma Stone, a self-declared K-pop fan, on the April 13 episode.
SNL is a highly coveted stage for any performer and has the ability to bring an artist to new heights of their career. A pre-fame Adele performing in a 2008 episode went on to the highest-rated episode in 14 years and sent her 19 album to new highs on the charts.
BTS, although still in their early to mid-20s, are already seasoned live and television performers. There would be more BTS live YouTube clips on the net than any other performer, period. They know the performance craft and how to play an audience. The sales of their music speaks for itself, their YouTube click numbers are astonishing. Type 'BTS' into Google and you get 490,000,000 results!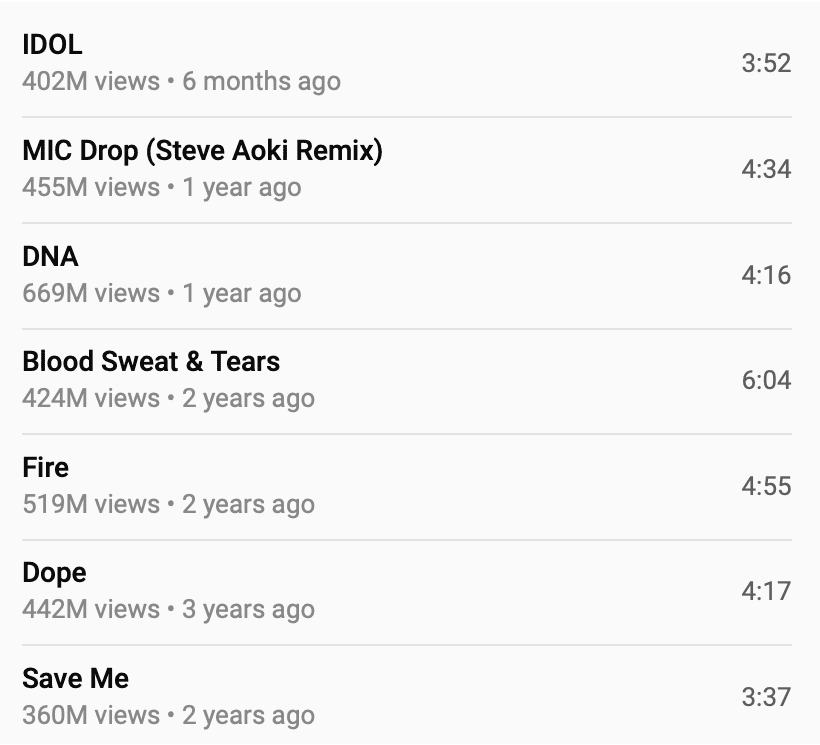 And that's part of the magic formula that separates them from just about every previous band. Whilst using social media is nothing new, BTS has amassed an enormous world-wide audience of music downloaders, ticket and merchandise buyers and sheer screaming hordes beyond anything previously attainable. And there's a lot more to come as the fan base spreads out of Asia into the rest of the world.
Of course it's easy to say the band came along at the right time, given the rise and rise in social media's impact on our lives. But they've been first band to really harness the power in ways most other bands never even thought about.
Their fanbase is called 'Army', an appropriate name given the onslaught on music fandom around the globe. That the enormous fanbase started in Asia and is spreading westward is something we've not seen before.
BTS also deliver a different message aimed squarely at their peers and not with the same gloss and sheen of most other K-Pop. It's sometimes raw, always relevant, reflecting their own battles and scars as young people growing up in a complex world. They cry, they share their fears, they argue on their videos, they're humble – it's very different.
The BTS-on-SNL program will be, easily, the biggest audience the show will EVER have, not by a little, by a LOT. That's quite an easy prediction given BTS's chart history, their YouTube viewer numbers, their growing appeal and the sell-out concerts, around the world.
For a crash course in BTS, check out this video (below). There are also thousands, yes thousands, of other videos apart from their award-winning music videos as well. Such is the power of Army, the power of social media, the power of good music well performed, and the hope that cream always, eventually, rises to the top.
The Saturday Night Live episode airs in the US on April 13.
A new visa paperwork problem for some expats?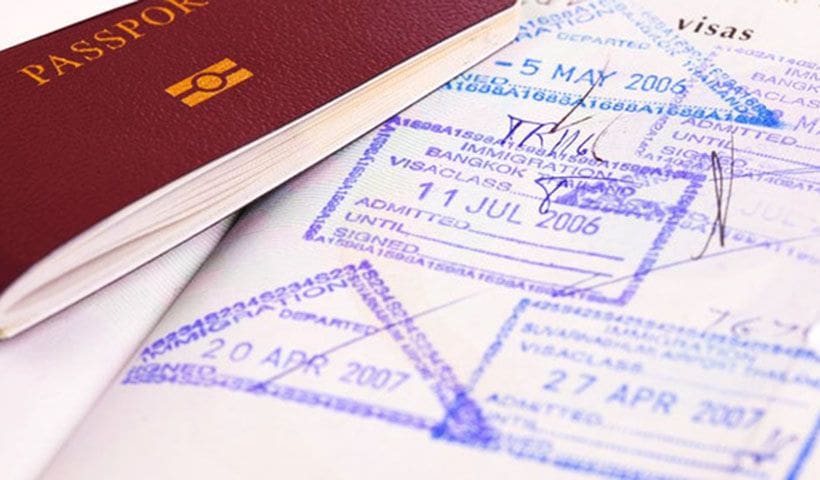 We get occasional emails from expats relating their various problems with Immigration as they apply for new visas or renewals. The common thread is that applying for, and renewing visas, is becoming unnecessarily complicated.
This one seems complex. Names have been withheld for privacy.
"I am a British citizen and my baby's visas were renewed without an issue, but the Thai immigration has caused problems for my wife and wants me to prove that I am married to my Chinese wife so that I can renew her dependent visa for a third year.
The man's wife and baby are on Dependent visas tied to his 'Retirement' visa.
Our marriage certificate is in Chinese so in order to get Immigration to acknowledge our marriage, she now has to go back to China to have our marriage certificate notarised and translated, first in her local home area, then sent to China's foreign affairs office in Beijing for their stamp, THEN to the Thai embassy in Shanghai for their stamp, THEN to Bangkok for the Chinese embassy's stamp.
This takes many weeks/months and it's simply a joke and is 'mission impossible' to do.
My wife flew out to China today and I am at home here in Phuket with our 1 year old baby who was born here at the Siriroj Hospital.
The new guy in charge at the local Immigration office has apparently decided that the certified translation from an authorised translator here in Phuket, which was ok in previous years is now NOT recognised or accepted.
We have brought all our money here and own two properties.  We have money in the bank, private medical insurance, spend all our money here, our baby was born here, but they have split up the family.?
"I just wondered if anyone else is aware of these changes?"
"It's crazy to penalise the good, law abiding people and break up a family.  I thought once I was on a retirement visa and met all the requirements that all would be ok?! But no."
"We have been to the Chinese consulate here in Phuket, they cannot help. My wife's visa runs out in 2 days so she has had to leave….. !?!?
And get this… from last year onwards all Thai embassies in China (Shanghai Beijing Guangzhou, etc) are all saying they need at least one month to process any non-immigrant visas (dependent, business or education visas). Why is it all becoming so complicated?
Not to mention that the months and huge expense wasted every year to do this is staggeringly stupid.  We have been hear for years, retired for the last two years and now this paperwork road-block!?!"
PS. I worked and lived in China for over 6 years, and later retired here in Thailand, I have been married for 7 years and my wife and I have been together over 11 years now.