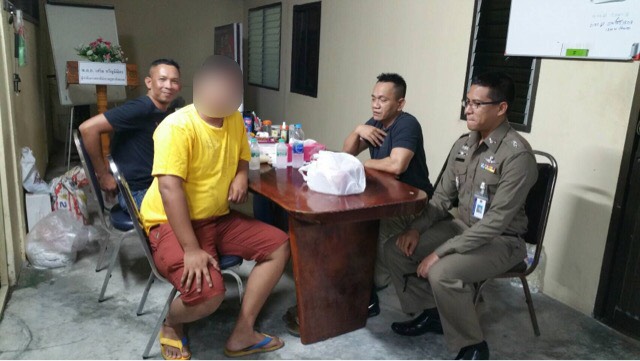 On Saturday (May 26) at 9.50pm, 25 year old Watchara 'Wat' Plipon surrendered himself at the Phuket City Police Station. He also brought a knife along with him.
On the same day at 5pm, Phuket City Police were notified that a man had been stabbed at a house in Rassada, east of Phuket Town. Police arrived at the scene to find 30 year old Nattapon 'Max' Wanit with a stab wound on his belly. He was taken to Mission Hospital where he was later pronounced dead.
The owner of the house explained to police that Watchara was renting her house. She told police that Watchara was unhappy that she had complained about his water and electric usage. She says she told Watchara that she wanted to charge him more for water and electric fees.
Watchara made a post on Facebook about the issue. Mr Nattapon, a relative of the house owner was angry about the publicity. They started arguing when Watchara reportadely drew a knife to stab Nattapon before speeding away on his motorbike. Police immediately started a search for him.
Watchara told police, "I was at a tea shop nearby. My girlfriend called me saying that that Nattapon asked me to go back to talk about the water and electric usage. I went back to the house and saw a piece of paper which was stuck on a wall. The message was a statement about my water and electric usage."
"I took the notice off the wall and handed it to the owner of the house. Nattapon, who was drunk, struck out at my face many times. He followed me and I could see he was going to get some sort of weapon. I used a knife to stab Nattapon just one time.
Watchara has been charged with murder.