New Greater Phuket Airport to create tourism Golden Triangle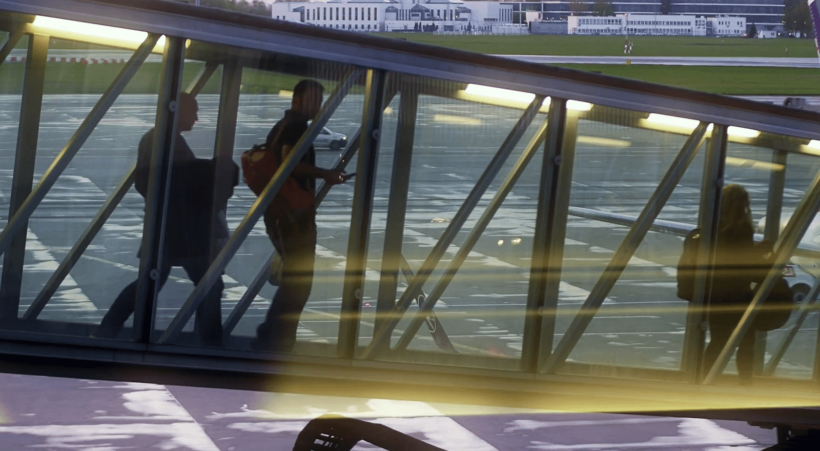 By Bill Barnett of c9hotelworks.com
An announcement by the Airports of Thailand (AoT) about approval of a plan for a new second Greater Phuket airport has created quite a stir in the tourism sector in one of Southeast Asia's leading resort markets.
Located just over the Sarasin Bridge in Phang Nga's Khok Kloi area, work is reportedly set to start next year and complete by 2025.
The move is a highly logical one, given last year Phuket International Airport hosted 8.4 million passenger arrivals and we are forecasting a sharp rise this year to 9.7 million.
A broader trend of developing more regional airports versus mega projects is a global trend and one only has to look at the trio of Bangkok gateways – Suvarnabhumi, Don Mueang and U-Tapao which continue to post massive gains in airlift.
Looking at the big picture, a trio of Greater Phuket Airports – Phuket, Phang Nga and Krabi – will be able to accommodate tourism's growing Andaman footprint and be able to move the Khao Lak market into the mainstream as airport access would drop to under an hour, door to door.
Krabi, which has quietly surpassed the over 2 million passenger arrival mark and in 2017 hosted 4.3 million total passengers, has a 6.6 billion baht budget that includes a third terminal, upgrading of the existing two terminal and an additional car park. While Phuket falls under the AoT, Krabi is administered by Thailand's Department of Airports (formerly DCA).
As to our prediction on what will be the biggest beneficiaries from the new airport, they'd include…
Mai Khao, which sits strategically between the current Phuket International Airport and Kho Kloi and will likely start to become a newly urbanised area given its large tracts of private and government controlled land banks.
Zoning on Phang Nga's expansive west coast beach area from Natai to Thai Muang is expected to see changes soon with larger hotel development provisions. Expect the hotels to follow, given Phuket's shrinking coastline opportunities.
Thirdly is the increased access of Phang Nga Bay, which is witnessing a renaissance in luxury hotel offerings. Expect the area which is shared by Phuket, Phang Nga and Krabi province to be a strong part of the tourism Golden Triangle of Greater Phuket in the future.
Keep in contact with The Thaiger by following our
Facebook page
.
Never miss out on future posts by
following The Thaiger
.
Koh Phi Phi marine park dive site closed off for the next 2 years after karst island collapse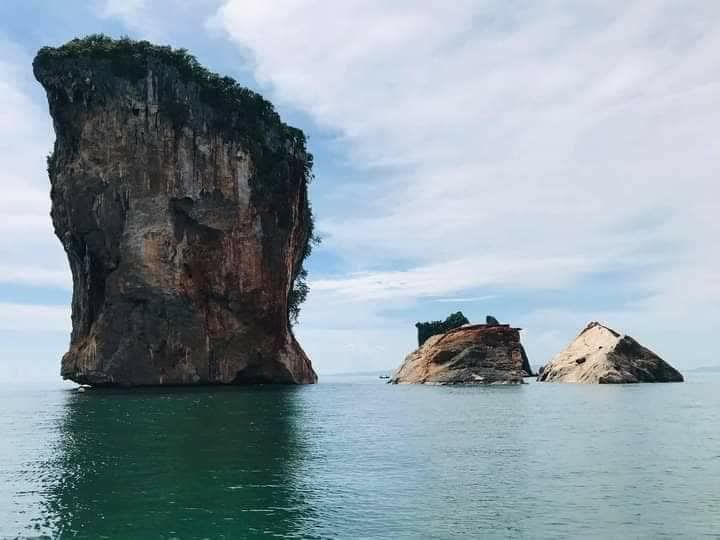 A popular dive site in the Koh Phi Phi National Park will be closed off for the next 2 years after 30,000 tonnes of rock broke off of a karst island, falling into sea and onto a coral reef.
Koh Mae Urai is a karst formation between Koh Phi Phi and the Krabi mainland. A large chunk of the rock formation collapsed last week and broke into 2 pieces, damaging the coral reef at a popular dive site known for its 2 underwater tunnels lined with soft and hard corals.
Chief of the national park, Prayoon Phongphan, says 300 square metres of the reef is damaged. A project is in the works to help recover the reef.
"These include staghorn coral, big star corals, ring corals, floral corals and brain corals, among others."
The area was recently inspected by divers and national park officers as well as geologists from the Ministry of Natural Resources and Environment. Prayoon says they'll close off the area for the next 2 years.
"The area where the island collapsed will be sealed off for 2 years for the safety of local fishermen and tourists. It is possible that more of the island will break off… Officials have already installed buoys and red flags to make sure no one enters the area. Park officers will also regularly patrol the area."
SOURCE: Phuket News
Keep in contact with The Thaiger by following our
Facebook page
.
Never miss out on future posts by
following The Thaiger
.
Thailand News Today | Big Bike licenses, Parliament latest, Zombie saleswoman | October 28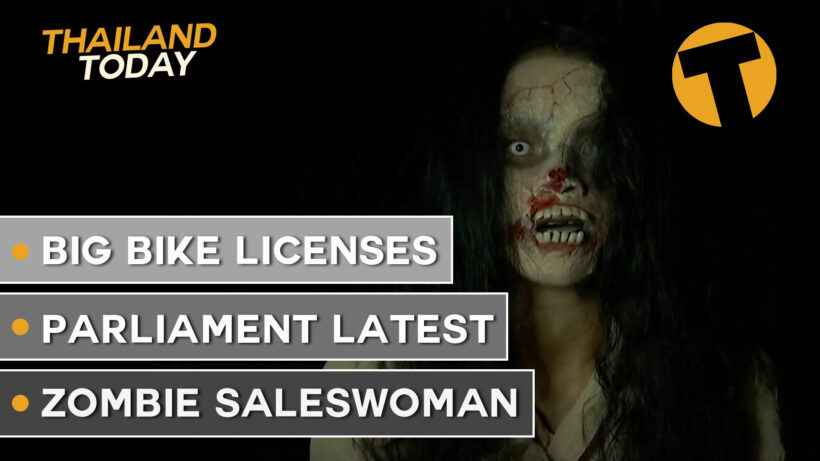 Daily TV news from The Thaiger, the most watched English-language news service in the Land of Smiles, and hosted by Tim Newton.
Thailand to introduce separate test for big bike riders from next year
From next February, motorbike riders in Thailand will be required to pass a separate driving test and training session if they wish to receive a licence for a "big bike".
The regulation has been formalised in a bid to cut road traffic accidents which are predominantly motorbikes (about 75%) and predominantly male. From February 19, anyone with a bike over 400cc will need to attend additional training sessions and take a test in order to comply with the law.
What has not been made clear at this stage is whether foreign riders in possession of a big bike licence from their home country will also be required to take the test.
PM refuses to resign, citing concerns over political divide, the economy, Covid-19
The latest word on Thai politics and the protests and the Thai PM has made it clear he will not resign, saying he has no intention of "abandoning the country during a crisis".
Addressing Parliament, Prayut Chan-o-cha pointed to the current problems facing Thailand, including the political divide in society, the crisis brought on by the slowdown of the economy, and the dangers of a Covid-19 resurgence. He said…
"You should think back to the political rallies in 2006 and 2014, when the ones in power also did not resign. I refuse to comply with the proposals that do not represent the needs of the majority of the people and will not run away from problems or abandon the country during a crisis.
He went on to say…
"The political rallies could undermine the confidence in our economy, but what worries me is that it could cause a rift in Thai society.
Meanwhile an opposition party MP has slashed his arm in front of officials in Parliament, in protest at the treatment of the country's political activists. Visan Techatirawat, a party member of the opposition Pheu Thai Party, says the gesture was his own personal protest to oppose the government's action against peaceful protesters at a rally in the capital on October 17.
Visan slashed his left hand and arm 3 times on the second day of the joint parliamentary debate aimed at finding a way out of the current political impasse.
2 foreigners in same hotel as the Koh Samui woman test positive for Covid-19
Officials are reviewing the use of a Samut Prakan hotel, just outside Bangkok, as an ASQ quarantine facility, after 3 foreign nationals staying there tested positive for Covid-19. The first was a 57 year old woman who developed symptoms of the virus after she had completed 14 days' quarantine and had returned to her home on the island of Koh Samui.
Yesterday, 2 more foreigners staying at the same hotel also tested positive. All 3 are now receiving hospital treatment, but officials are still not sure how they became infected or if their cases are even linked. He added that the hotel, the Siam Mandarina, may not meet the required standard of an alternative state quarantine facility.
Don't forget to extend your visa! Thai Immigration warns about fines for late applicants
Still need to extend your visa? You have until Halloween, October 31. With the visa amnesty deadline approaching, Thai Immigration Bureau is reminding foreigners to get their visa in order by the end of this month.
Late applicants will be fined.
No matter when your visa is extended, as long as it's before the deadline of October 31, it will go into effect on November 1 and allow a 60 day stay.
Since the recent amnesty period was put in place a few days after the initial September 26 deadline, those who paid 1,900 baht for 30 day visa extensions last month are now allowed to stay until November 30, but they need to go to immigration to get a stamp with the new expiration date.
If you're not sure about your visa status, you should go to your local immigration office or speak to a qualified visa agent.
13 new Covid-19 cases in quarantine
Just briefly, 13 new Covid-19 cases have been detected in Thai quarantine over the past 24 hours, including 4 Thai students, according to the Centre for Covid-19 Situation Administration.
The total number of confirmed Covid-19 cases in Thailand is at 3,759 with 3,561 recoveries and 59 deaths. 139 people are currently receiving medical treatment for the coronavirus.
Thai woman dressed as a zombie sells dead people's clothes
And it might not work in many countries but it's sure working well for this enterprising Thai woman. The zombie saleswoman is selling dead people's clothes online.
32 year old Kanittha sells the clothes of deceased people on a Facebook live stream while dressed as "the living dead". She gives a story behind every pieces of clothing, explaining how each person died. Perhaps it would be a real business kill in most countries, but not in Thailand where the spirit world and superstition are just as real to some Thais as the world of the living.
Traditionally in Thailand, clothes of the deceased are burned.
She gets the clothes from a local temple. She says a monk does a blessing for the deceased before the clothes are given to her. The prices range from 10 to 100 baht. Some brand names and designer clothes are also sold at vastly reduced prices. She's donated some money from the sales back to the temple. In addition to the dead's clothes, Kanittha sells handmade zombie dolls.
Kanittha live streams each week from her home in the Northern province of Phetchabun. It takes her up to 3 hours to apply her zombie makeup, but she says the costume helps draw in viewers.
Storm warnings as typhoon enters Vietnam
Flooding is being reported in at least 6 provinces, with warnings of heavy rains and flash-flooding up to Friday. Typhoon Molave has reached the Vietnamese coast, just south of Da Nang, and is slowly moving westwards towards Laos and then north eastern Thailand as it weakens.
It is the fourth tropical storm to batter the southeast Asian country since 11 October and the ninth since the start of the year.
Keep in contact with The Thaiger by following our
Facebook page
.
Never miss out on future posts by
following The Thaiger
.
Woman faces charges after allegedly slapping a student for not standing during national anthem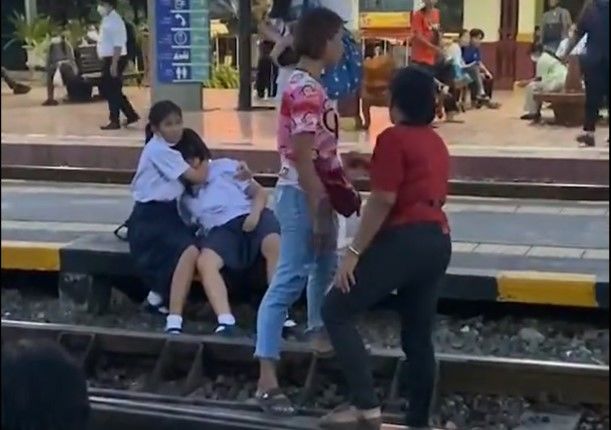 A woman is facing assault charges after she allegedly slapped a 15 year old student who didn't stand up for the national anthem at a train station in Ayutthaya.
The woman, a food vendor at the train station, allegedly approached the student when the anthem ended. In a video shared by thousands on Twitter, the woman said "Stand up. Come here …What a waste. You're a student wearing the student uniform."
The student says she told the woman that she didn't stand up because she was in pain from menstrual cramps. The student's family later filed a complaint with police.
Thailand's national anthem plays at schools and public places everyday at 8am and 6pm. People stop what they are doing and stand in silence until the song is over to show respect for the Thai Monarchy and the country.
With the recent pro-democracy movement, some have shown defiance against the government and monarchy by holding their hands up in the movement's 3-finger salute, borrowed from the Hunger Games films, during the national anthem. Royalists have rallied and called on the protesters to stop "insulting" the Thai institution.
There are also cases of people not standing up before cinema films during the playing of the Royal Anthem.
SOURCES: Nation Thailand | Coconuts Bangkok
Keep in contact with The Thaiger by following our
Facebook page
.
Never miss out on future posts by
following The Thaiger
.