Three motorbike passengers survive after being hit by sedan in Krabi – VIDEO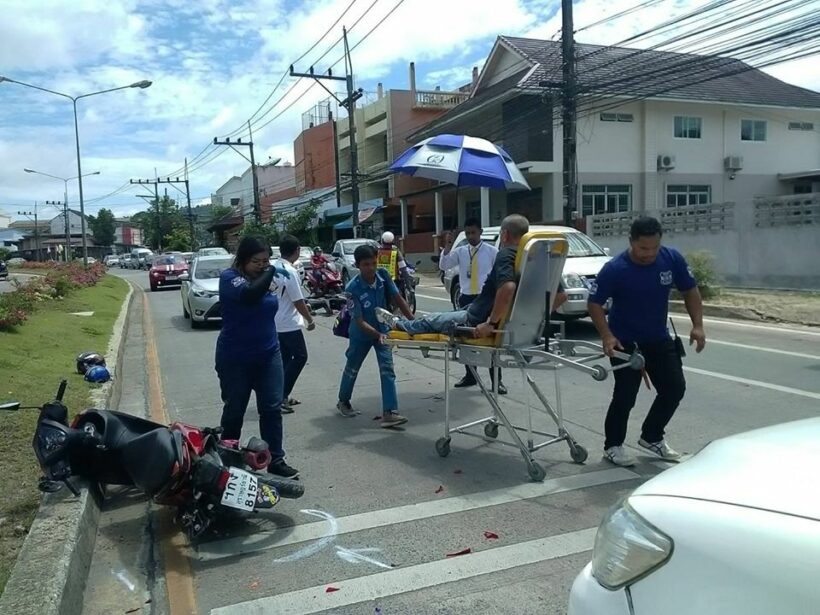 PHOTOS: Krabi Pitakpracha Rescue Foundation | VIDEO: Rueang Den Yen Nee CH 3
Three motorbike passengers have survived after being hit by a sedan in Krabi.
Police were notified of the accident on Uttrakit Road opposite a temple in Mueang Krabi District yesterday. Emergency responders arrived and found three people injured – two men and a six year old girl.
Nearby police found a sedan with front-end damage and two damaged motorbikes. The sedan driver was waiting for police at the scene.
CCTV footage shows that a motorbike was in the right lane. The sedan which was coming from behind hit the motorbike. The sedan then also hit another motorbike.
Police are continuing their investigation.
วงจรปิดจับภาพนาทีเก๋งพุ่งชนรถจยย.

วงจรปิดจับภาพนาทีเก๋งพุ่งชนรถจยย.รถอีกคันที่ขี่ตามหลังเบี่ยงหลบเสียหลักล้มหวิดถูกเหยียบซ้ำ<<< ภาพจากกล้องวงจรปิด >>> เจ้าหน้าที่ตำรวจ สภ.เมืองกระบี่ เข้าตรวจสอบเหตุรถชนกันมีผู้บาดเจ็บ 3 ราย เหตุเกิดขึ้นบริเวณถนนอุตรกิจ ขาเข้าเมืองกระบี่ ตรงข้ามวัดโภคาจูฑามาศ จนท.ได้นำผู้บาดเจ็บ 2 รายส่งรพ. เป็นชายอายุ 50 ปี และเด็กหญิงอายุประมาณ 6-7 ขวบ มีบาดแผลตามร่างกายหลายแห่ง ส่วนอีกคนทราบชื่อคือ นายสำราญศักดิ์ หาญชนะ อายุ 28 ปี ได้รับบาดเจ็บแต่ไม่ประสงค์ไปรพ. โดยในที่เกิดเหตุพบรถเก๋ง วีออส ทะเบียน กต 4745 กระบี่ สภาพด้านหน้าพังเสียหาย ประตูด้านซ้ายยุบ ใกล้กันพบรถจยย.2 คัน ซึ่ง คนขับรถเก๋ง คือ นายพิทยา วิจิตรโสภา อายุ 40 ปี ยืนรอให้การกับเจ้าหน้าที่ตำรวจ และจากการตรวจสอบกล้องวงจรปิดของร้านค้า บริเวณที่เกิดเหตุพบว่า ขณะที่รถจยย.ซึ่งมีผู้บาดเจ็บเป็นชายและเด็กขี่มาในเลนขวาสุด จากนั้นรถเก๋งก็ได้ขับมาพุ่งชนท้ายอย่างจัง และจังหวะเดียวกันกับที่มีรถจยย.อีกคันที่มี นายสำราญศักดิ์ หาญชนะ ขี่ตามหลังมาได้เบี่ยงหลบออกทางด้านซ้าย แต่ก็ไปชนกับประตูรถเก๋งจนล้มลง ขณะที่ีรถกระบะอีกคันซึ่งขับตามมาก็ต้องเบี่ยงหลบหวิดทับ นายสำราญศักดิ์ ไปเพียงเล็กน้อยเท่านั้น

Posted by เรื่องเด่นเย็นนี้ ช่อง3 on Wednesday, May 1, 2019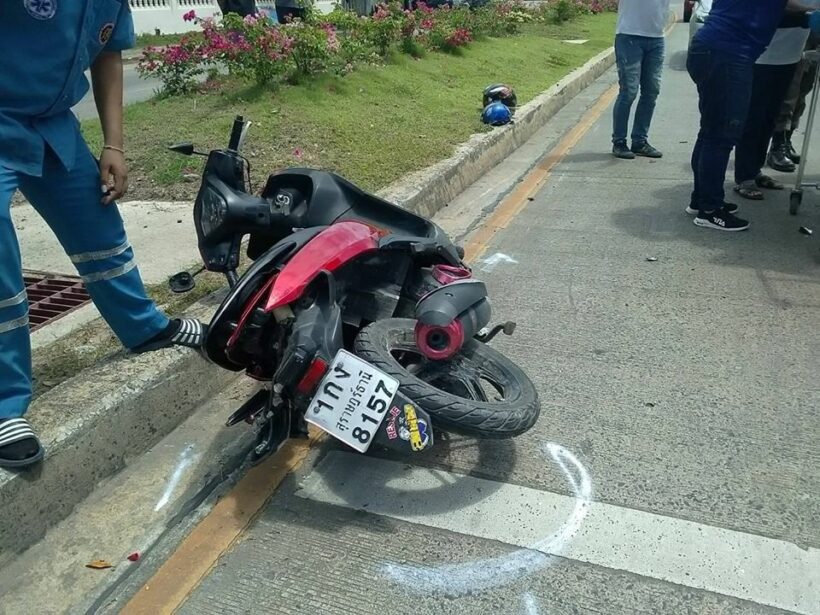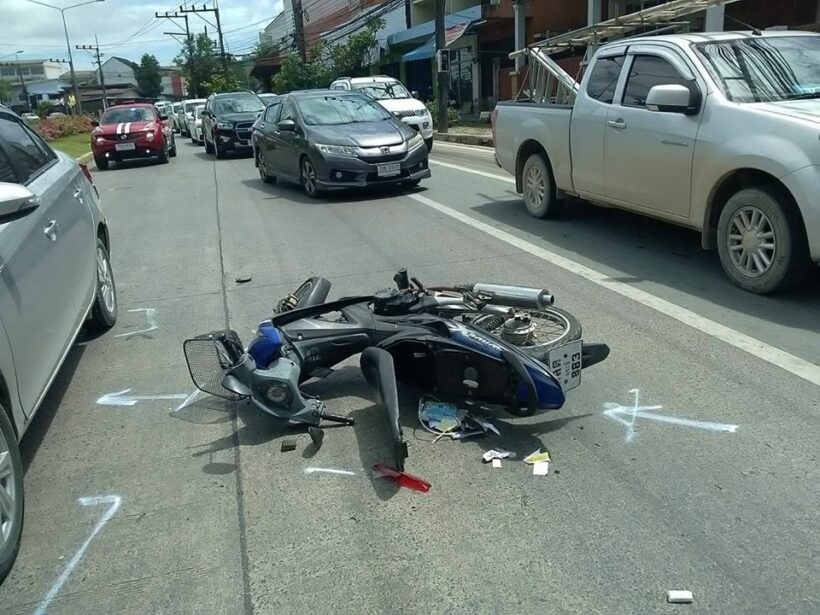 Keep in contact with The Thaiger by following our Facebook page.
Never miss out on future posts by following The Thaiger.
Covid-19 cluster confirmed following Koh Lanta "big bike" event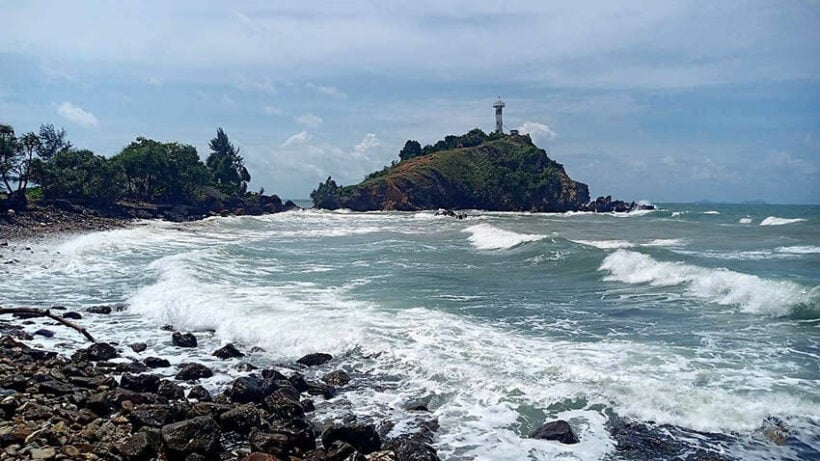 A "big bike" party on Koh Lanta, in the southern province of Krabi, has resulted in a cluster of Covid-19 infections, according to officials from the Department of Disease Control. The DDC says there are currently around 10 confirmed cases and 129 people considered "at risk".
The outbreak is linked to a patient who travelled to Koh Lanta from the Covid-19 hotspot of Samut Sakhon on December 9. He made the journey, accompanied by 2 friends, to attend the "Multistrada Thailand Meeting of Ducati Bikers" on the island on December 11. While there, he came into contact with 133 people, of whom 129 are considered "high risk" and 4 are believed to be "low risk". Officials have already tracked all of those affected, due to the hotel having registered the details of each person attending the event.
Including the original patient, 10 cases of the virus have now been confirmed. 4 are in Krabi, 1 of whom was at the big bike event and subsequently passed the virus to his wife, daughter, and another family member. Another person infected at the event has transmitted the infection to his 2 sons in Phuket. A further 2 people have been confirmed infected in the southern province of Songkhla, due to another infected biker passing the virus to his sister.
Meanwhile, DDC officials are urging local authorities in each province to check for residents who may have attended the Koh Lanta event and inadvertently spread the virus.
SOURCE: Nation Thailand
Keep in contact with The Thaiger by following our Facebook page.
Never miss out on future posts by following The Thaiger.
Krabi man arrested for animal abuse after allegedly killing pet dogs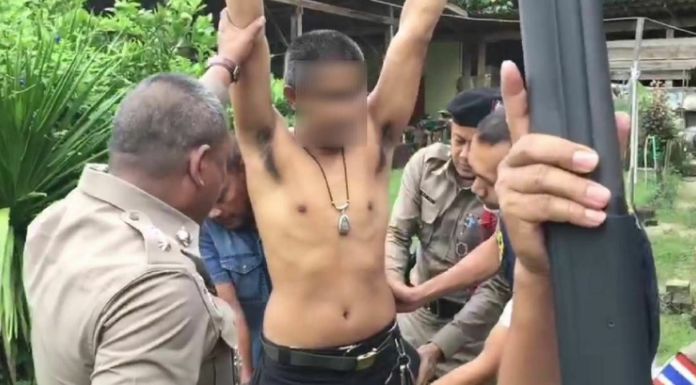 A Krabi man was arrested on animal abuse charges after he allegedly shot and killed his pet dogs. The non-profit Watchdog Thailand filed a police complaint yesterday with a statement from a witness.
Police arrested 39 year old Surasak Kongduang at his home in Krabi's Muang district. Surasak allegedly admitted to police that he shot both his pet dogs in the head and buried them in the backyard. Officers searched his home and found 3 guns and a bow. All weapons are legal and registered, police say.
Surasak allegedly told police that his wife fled and left the dogs behind after an argument a few days prior. He allegedly told officers that his mother is old and he felt bad about leaving her to care for the dogs, adding that one dog is lame while the other is sick.
Surasak was charged with animal abuse and for unlawful discharge of a firearm.
SOURCE: Nation Thailand
Keep in contact with The Thaiger by following our Facebook page.
Never miss out on future posts by following The Thaiger.
Academics call on government to hurry up and help the tourism industry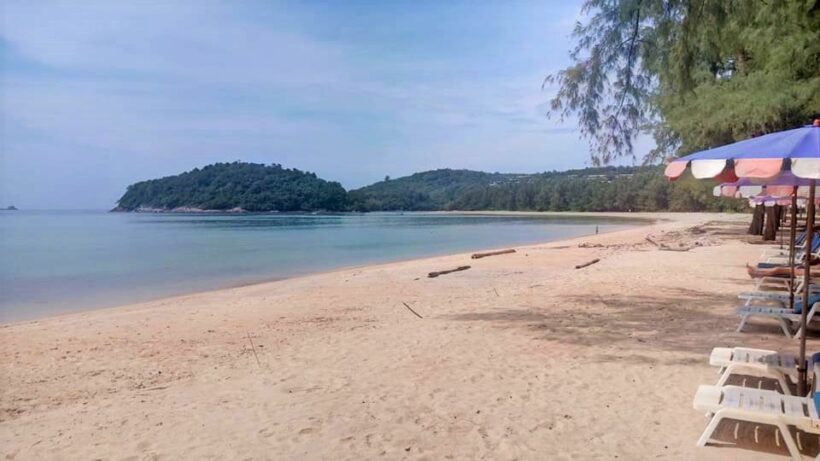 Leading Thai academics are calling on the government to get a move on and help the tourism industry before it's too late. Addressing a gathering arranged by the Foundation for Labour and Employment Promotion, Kiriya Kulkolkran from Thammasat University's Faculty of Economics, pointed to the 80% drop in international tourism as a result of the Covid-19 fallout. His estimate includes the first few months of the year when there was actually a functional tourism industry in Thailand.
According to a report in the Bangkok Post, Kiriya says just 4% of businesses in the tourism sector say they've made the same amount or more than they did before Covid-19. She adds that a survey shows employees in the industry are concerned about debt accumulation and "extremely worried about the future".
Bovorn Subsing, from Chulalongkorn University's Social Research Institute, has backed up the comments, saying tourism workers have seen their wages drop by 60%, while still facing the same, or higher, cost of living. The result is that most are now in debt.
Kiriya predicts the devastation could continue for over 3 years, affecting not just tourism operators but the entire supply chain, as well as new graduates and those seeking their first job. She says that until the sector recovers, the government needs to provide tailored help for businesses, singling out Phuket hotels, who are struggling to survive without foreign guests.
The islands of Phuket and Samui, plus the other 'tourist' islands around Thailand, are facing a particular problem as they're mostly geared for the international tourist market. Domestic tourism, rebooted last July when the local airlines were permitted to fly again, has mostly shunned the popular tourist islands.
One worker at a Phuket hotel, 52 year old Anchisa Sirinanthasak, addressed the forum in support of a possible co-payment scheme for hotel workers. It's understood most hotel operators are paying employees 62-75% of their normal salary, which works out at around 8,000-9,000 baht per person and is not enough to cover their costs.
Meanwhile, Manop Kaewphaka from Homenet Thailand, a non-profit that protects home-based workers, has called on the government to allow foreign tourists back into the Kingdom and to provide more support for informal workers, in the form of wage guarantees and co-payment.
SOURCE: Bangkok Post
Keep in contact with The Thaiger by following our Facebook page.
Never miss out on future posts by following The Thaiger.