Indian man assaulted and killed in Krabi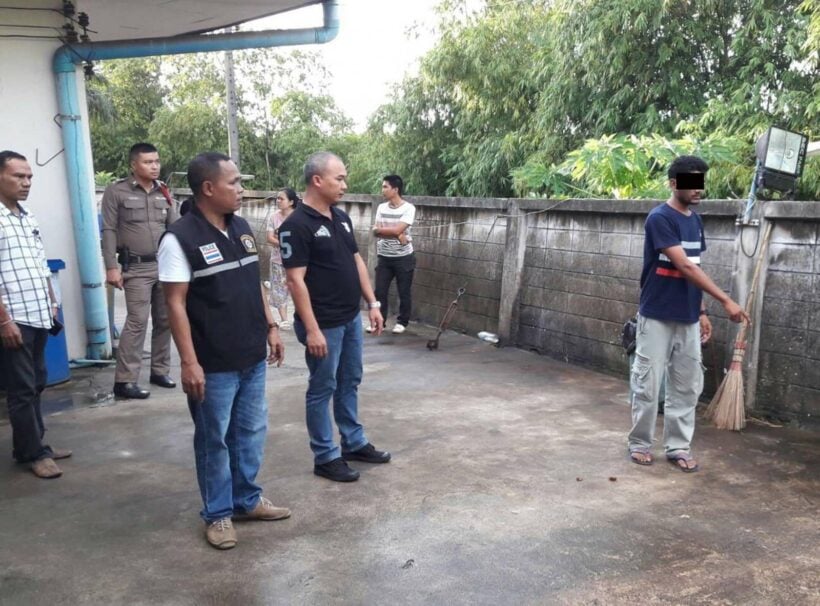 An Indian man was killed by another Indian citizen after he was assaulted by his co-worker's wife while she was taking a bath yesterday (Aug 2) in Krabi.
The reenactment held this morning was led by Khao Panom Police Chief Col Kajit Kongprab. The attacker was 25 year old Indian, Prakart Natarang, who is a staff member of a biomass power plant in Khao Panom, Krabi.
36 year old Indian, Nagarajan Munaiyanti, an engineer at the plant was killed by Prakart. They had been working together at the same place.
Police were notified that the two men had been arguing and fighting at a worker's house inside the power plant yesterday morning.
Police and rescue workers arrived at the scene to find Mr Munaiyanti had sustained serious head injuries and was still lying on the ground. He was taken to the Khao Panom Hospital but was pronounced dead on arrival. Nearby where the body was found, an iron stick, about a metre long, was also found.
Col Kajit says, "By the time we arrived at the scene, Prakart had already contacted us to surrender himself. He admitted that he started to hit Mr Munaiyanti. He claims he was angry that Mr Munaiyanti has assaulted his wife while she was taking a bath after they were drinking  after work. Prakart admitted to using the iron stick to hit Mr Munaiyanti. "
Prakart has been charged with murder.



Read more headlines, reports & breaking news in Krabi. Or catch up on your Thailand news.
Maya Bay's extended closure "vital to conserve the ecology"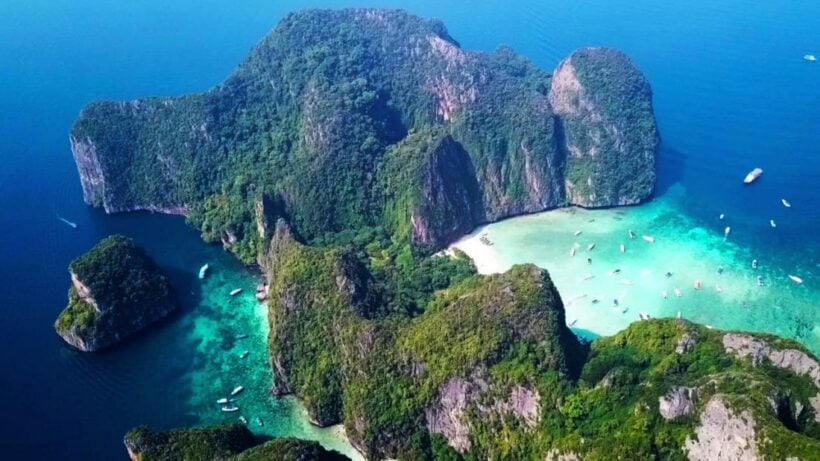 Maya Bay's extended closure keeps the wraps on one of southern Thailand's most popular tourist attractions.
Worapot Lomlim, chief of the Hat Nopparat Thara Phi Phi Islands national park confirmed this week that he might keep Maya Bay closed for up to five years to allow the current recovery to continue.
The Department of National Park, Wildlife and Plant Conservation has agreed to extend the closure of Ao Maya, or Maya Bay, located on one of the Phi Phi islands between Krabi and Phuket, for another six month period after an initial 10 month closure to allow nature to regenerate the ecosystem.
The Chief reports that the local ecological systems of Maya Bay, degraded by years of accelerating tourist traffic, has steadily improved during the current closure. Up to 5,000 tourists a day were visiting Maya Bay at its peak before authorities weighed up the pressures of the conservationists and tour operators and decided it was best to close the popular tourist attraction for an extended period
He cited the frequent sightings of blacktip reef sharks near the beach and the gradual growth of some 23,000 corals farmed at a coral centre in Trang province, which were planted in the Bay with the help of volunteer divers.
After the next six-month extended closure, Khon Worapot indicated that the department will consider extending the closure for an even longer period, up to 4-5 years, to allow full rehabilitation of the environment and the ecological system.
Maya Bay was closed to all tourist access on June 1, 2018.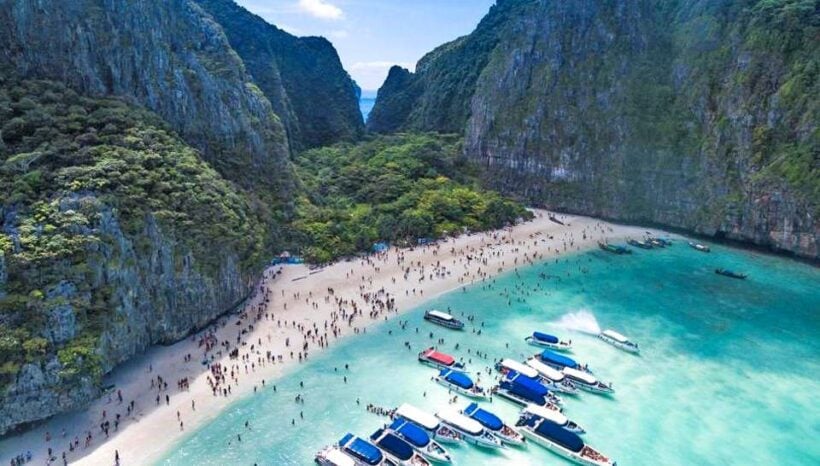 Up to 5,000 tourists a day were visiting the Bay at its peak
Man found with drugs at Krabi checkpoint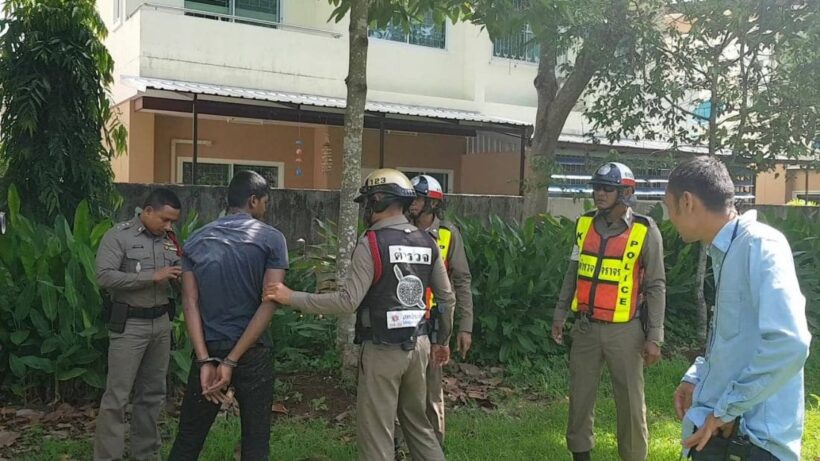 A man has been arrested with methamphetamine pills at a checkpoint in Krabi today. He was stopped at the checkpoint because his girlfriend wasn't wearing a bike helmet.
The Krabi City Police arrested 22 year old Atsadawut Nuisuchon who was driving his motorbike past a checkpoint in Krabi city centre today. He was found with 20 methamphetamine pills.
Police stopped him as his girlfriend wasn't wearing a safety helmet. Atsadawut fled the scene but left his motorbike and girlfriend behind.
Police followed him and arrested him within half an hour. He and his girlfriend were taken to Krabi City Police Station for further legal action.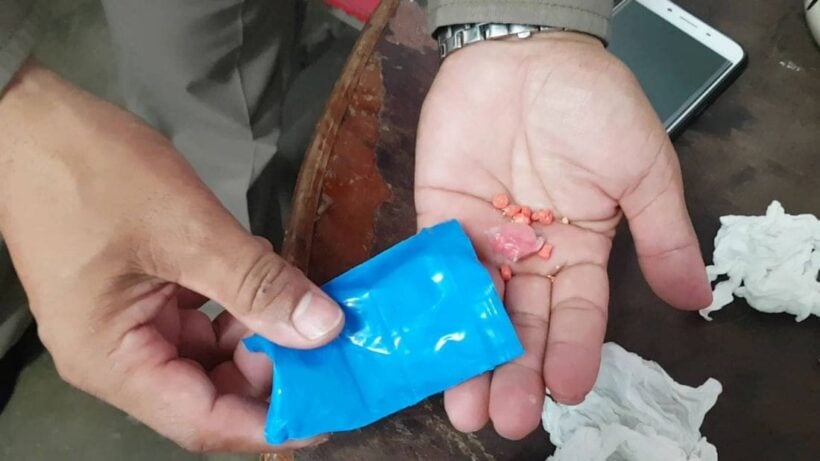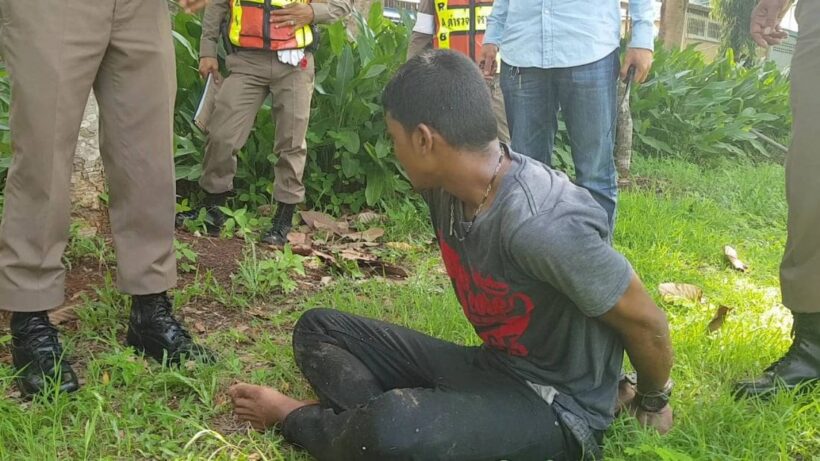 Fake 500 baht banknote found in Krabi store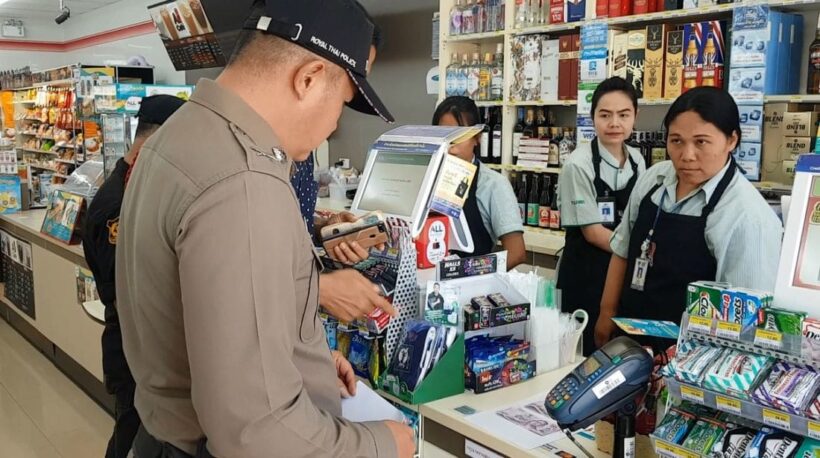 A fake 500 baht banknote has been discovered at a convenience store in Krabi.
Police headed to the store in Mueang Krabi District after they were notified of the dodgy 500 baht note.
43 year old Maimunoh Somsa, the store manager, was waiting for police with the item in question – a very good copy of a 500 baht Thai banknote.
The manager told police that at about noon on Wednesday there was a woman buying cigarettes and a lighter for 72 baht. She handed over the 500 baht banknote. The staffer didn't realise at that time that it was a fake. It was later discovered long after the woman had made her purchase.
Police are continuing their investigations to find the suspect and track down the source of the fake note.