Husband almost beheads wife in Krabi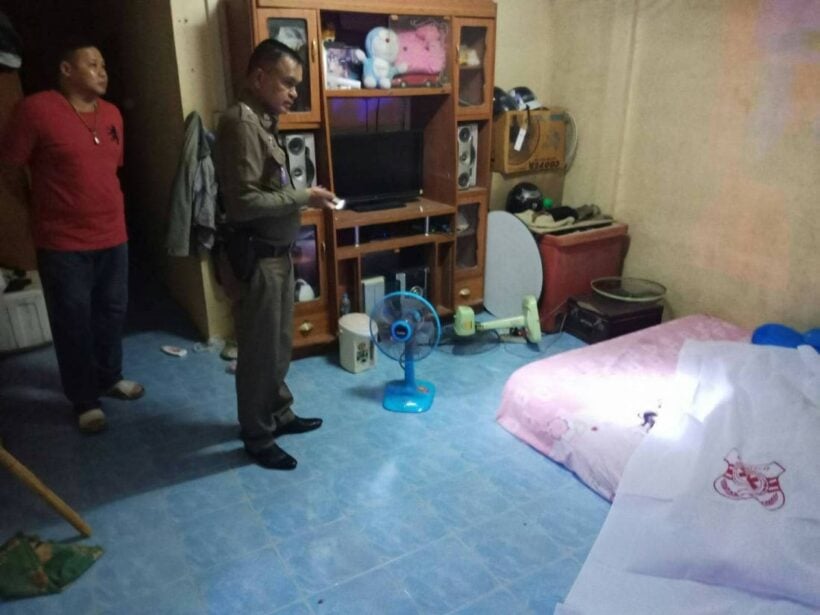 A man, who slashed his wife's neck, killing her in Krabi this morning (September 11), has been arrested.
Police and rescue workers arrived at the scene just after midnight to find the body of a woman who was later identified as 49 year old Noorin Rueangrat, lying on a bed in the house in Krabi City. Slash wounds were fund on her neck which was almost completely severed from the body.
Items inside the house were scattered around and a long knife covered with blood was found near the body.
A neighbour told police that the suspect, who is Ms Noorin's husband, is 51 year old Eakkachai Boonguea from Nakhon Si Thammarat. He had been drinking beer before arguing with his wife last night. Neighbours say they believe he was kicking his wife before the murder. Police say he used the long knife to slash her neck before fleeing the scene on a motorbike.
Police tracked down and found Eakkachai in Lam Thap in Krabi this morning. He has admitted his crime to police.


Two arrested with 10 kilograms of crystal meth in Krabi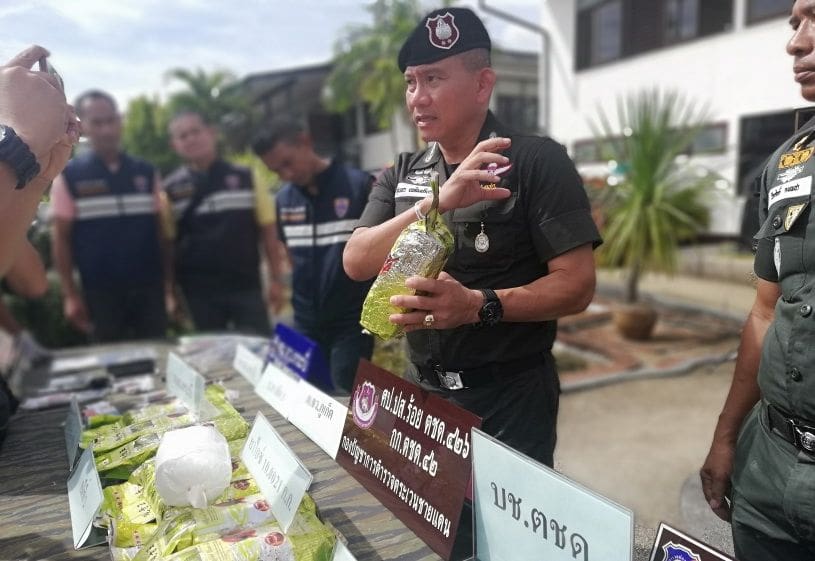 Border Patrol Police have arrested two drug suspects with a colossal 10 kilograms of crystal methamphetamine (usually measured in grams), and 121 methamphetamine pills this week.
Details were revealed at a media scrum at the Krabi Border Patrol Police Station in Krabi yesterday.
34 year old male Prasert Promprung and 19 year old female Suthasinee Srisuwan were arrested over the seizure. Police seized 10 kilograms of crystal methamphetamine, 121 methamphetamine pills, a handgun, a mobile phone, a pickup truck, a car and a motorbike.
The pair were arrested at a hotel in Krabi City.
The arrest came after police discovered that Prasert is a big drug dealer in Krabi. They have been charged with illegal possession of Category One drugs with intent to sell, and illegal possession of firearm and ammunition.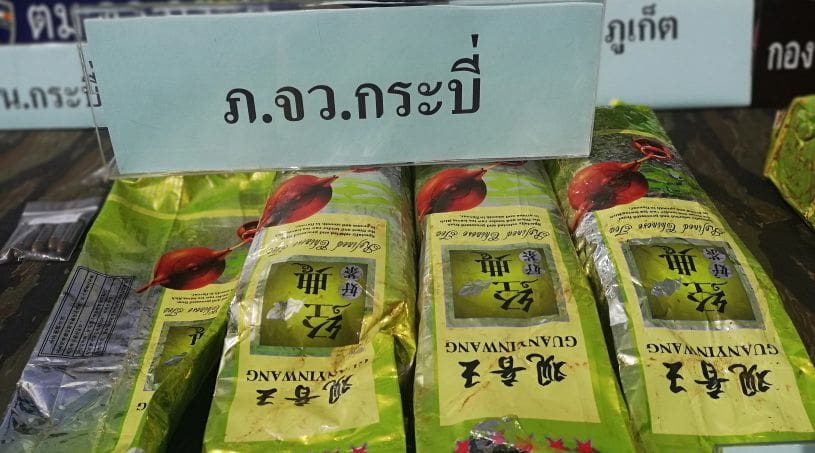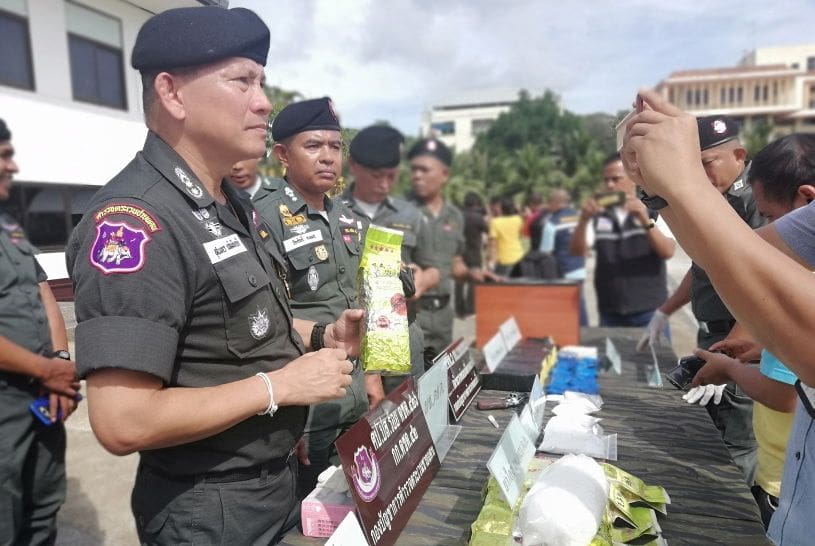 Village leaders try to track down rubbish dumpers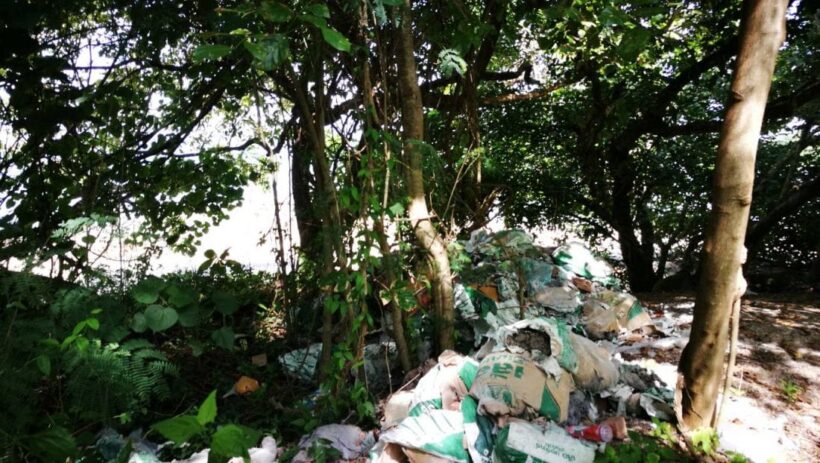 Tourists in Krabi have found construction rubbish being dumped 4 metres from Hat Baan Laem Pong in Krabi District.
Two big piles of rubbish had been dumped close to the Hat Baan Laem Pong. The village headman has trying to identify the rubbish dumpers.
Cement bags and blocks were found in amongst the piles. The Headman is worried as many tourists are travelling around the area as there are five stars hotels and the rubbish is unsightly.
Villager headman Somsak Tepbut inspected the area with media in tow. He says that local volunteers are always collecting rubbish along the two kilometre stretch of the beach.
"Rubbish dumpers usually visit during the night. We are checking the rubbish and searching for them to face legal action."



French couple get lost in the Krabi mountains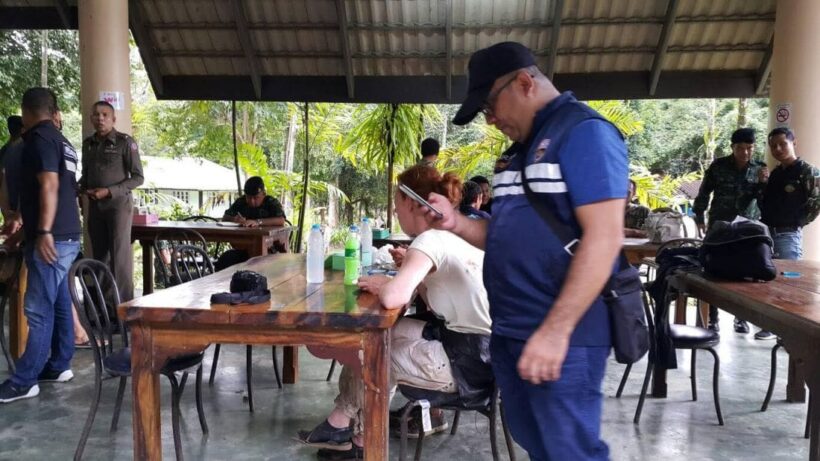 More than 20 officers were searching more than four hour for two French tourists who got lost in the Panom Benja Mountains in Krabi yesterday.
They were both eventually found, hungry and thirsty, but safe.
Krabi City Police, the Krabi Tourist Police, soldiers and Krabi forestry officers were searching for the French tourist couple, 44 year male Desmarest Cristophe Paul Henri and 34 year old female Schmor Muriel.
They both went for a nature hike at Huai Toe Waterfall in Panom Benja National Park in Mueang Krabi and became lost. Officers took more than four hour to find both tourists.
They were weak and thirsty. Officers gave them food and drink before taking them back to their accommodation.
Lt Col Attapon Sansukja of the Krabi City Police says, "The couple were staying in Krabi City since Saturday. They rented a motorbike and drove to Huai Toe Waterfall. They headed off on a walk for about five kilometres from the National Park office. After that they became lost.
They sent a message to their friends for help on their phones. Luckily they still had a mobile signal whilst on their walk."