Former tattoo shop owner killed in Krabi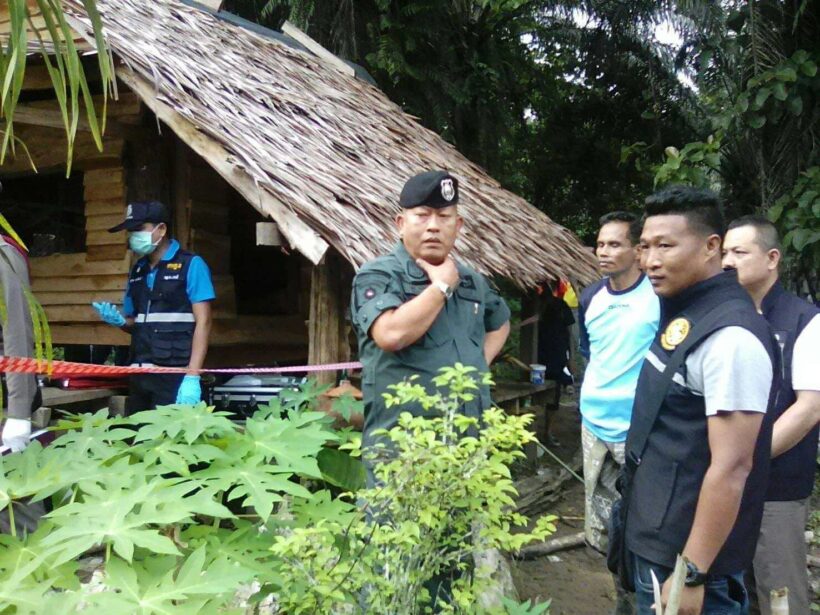 A former famous Phi Phi tattoo shop owner has been shot dead.
Ao Nang Police were notified of an incident at 4am this morning (Thursday) at a hut in Khao Kram in Krabi.
Krabi Police and rescue workers arrived at the scene to find the body of a man who was later identified as 42 year old Preecha 'Bangtos' Boatmen, a former famous tattoo shop owner on Koh Phi Phi. A bullet wound was found on his right temple. A spent cartridge was found on the floor.
Friends of Mr Preecha told police that last night while they were drinking coffee, a suspect who has been hiding nearby, used a gun to shoot Mr Preecha from behind, and then sped away in the dark. No one saw the suspect's face.
Mr Preecha used to have a tattoo shop on Koh Phi Phi but the shop was damaged by fire when there was a big blaze on Koh Phi Phi last year. Mr Preecha built the hut on public land and had had arguments with the locals before.
Police are continuing their investigation to find the suspect. At this stage police believe that Mr Preecha might have had some personal conflicts, perhaps including illegal businesses.

Fern helps her mum sell food in Krabi. She also speaks four languages fluently.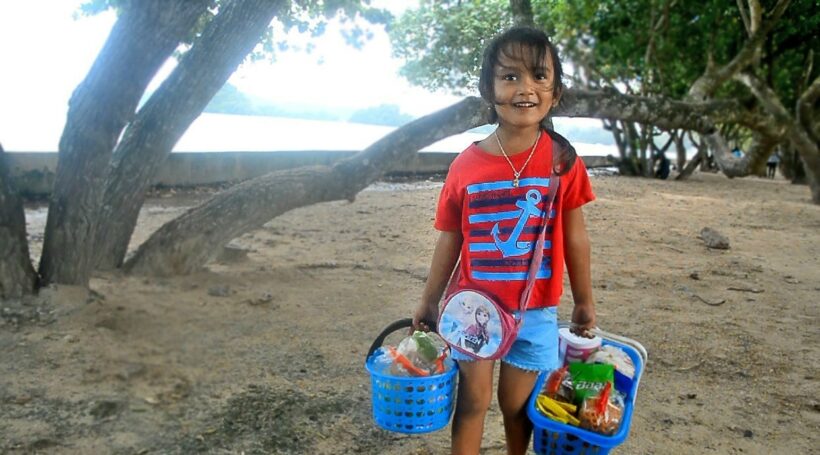 PHOTO: A five year old Thai girl, who can speak three foreign languages, helps her mother to sell food along the beach in Krabi.
A young beach vendor who sells food along Klong Heng Beach in Krabi, is carrying two baskets with fruits and snacks. She can speak Thai but also Chinese, English and Bahasa Malay languages. She is seen daily communicating fluently with tourists and providing the correct change when tourists buy food from her.
The girl's name is Warassaya 'Fern' Patin. She's the daughter of 45 year old Sunee Patimin.
Khun Sunee say, "I have a fruit juice shop nearby here. My daughter carries the baskets along the beach. She greets tourists before she informs them what she has in her baskets. Many tourists like her and buy her food."
"She studies in a kindergarten at Kitiwaitayanusorn School in Krabi. At her school they are also teaching three foreign languages – English, Chinese and Bahasa Malay. She is a talkative girl. She always followed me to sell food since she was very young. She loves listening when I talk with customers and is a very quick learner."
"She asks to help me sell food even if I think she is still very young. She should be playing with her friends like other children do but she enjoys doing this. She has never told me that she is tired. She helps me sell food after school and during weekend. She also makes sure she always does her homework."
Fern says, "I tell tourists that my food is delicious. If they don't like it I promise to refund their money, but most of them buy food from me. I earn about 500-700 baht per day. I enjoy walking and speaking to tourists."
If you see Fern or her mum selling their food along Klong Heng Beach in Krabi make sure you try their food.

68 illegal migrant workers arrested at Krabi hotel construction site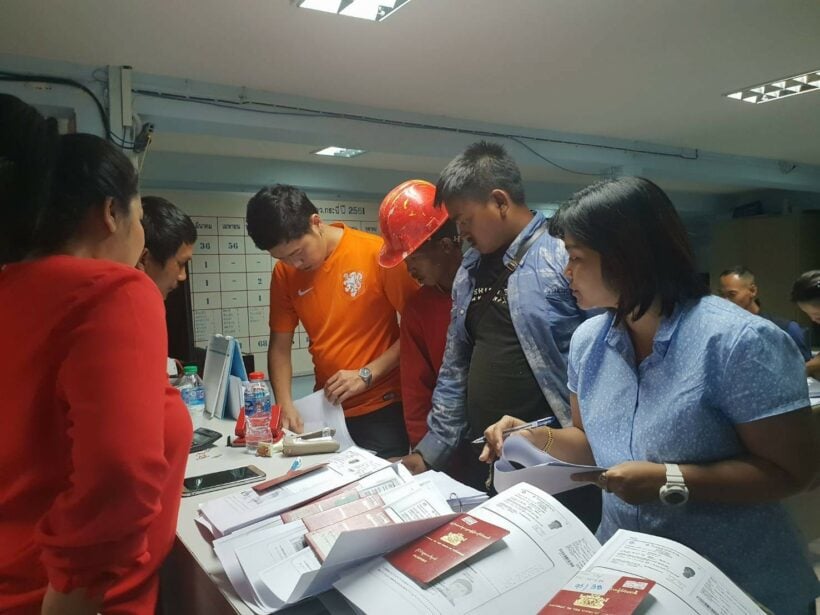 Officers have arrested 68 illegal migrant workers at a five star hotel construction site near a beach in the main centre of Krabi yesterday (August 17).
Officers checked the hotel construction site on Tab Kheak Beach. Officers found 89 workers including 21 Thai and 68 Burmese.
All 68 Burmese workers were registered with a previous construction company not the current construction company. Registrations with new companies must be done within 15 days.
They have been arrested for being migrant workers, permitted to work but not registered with their current employer. The construction company has been charged for not registering its migrant workers.

Coconut trees provide evidence for land ownership case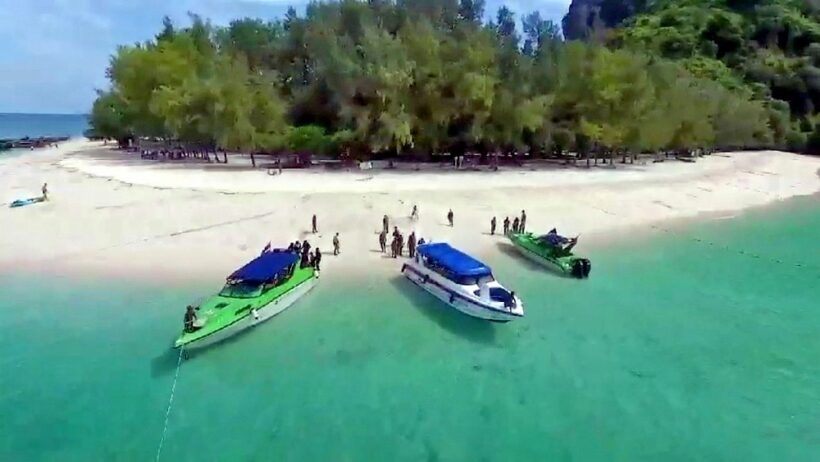 Coconut trees have saved a 71 rai (11 hectare) patch of park forestland on beautiful Poda Island (8km from Ao Nang) from falling into the hands of the private sector. Evidence was solid enough for the Appeal Court to overturn a ruling that awarded the land ownership to a man.
If the plot became privately owned it could possibly fetch billions of baht given its location. Private investors would be keen to buy the plot from Chuan Pukaoluan, who has long fought with the Department of National Parks, Wildlife and Plant Conservation (DNP) over the plot.
The Court of Primary Instance initially ruled in favour of Chuan, who produced land-rights documents and pictures to back a claim that he owned and used the plot before it was declared a part of Hat Noppharat Thara Mu Ko Phi Phi National Park in 1967.
The DNP appealed and enlisted the help of experts in verifying the age of coconut trees on the plot.
Experts from the Chumphon Horticultural Research Centre randomly examined 12 coconut trees on the site, and analyses showed the oldest was just 45 years old. Chuan's claim that coconut trees were planted there before the national park was established was no longer convincing.
"Through special techniques, we can accurately identity the age of a tree, said the centre's representative, Supatra Lertwannakiat. 
The Department of Special Investigation (DSI) has helped the DNP in finding new techniques for the court battle."
On Thursday, the Appeal Court found the DNP evidence carried more weight and ruled in their favour.
"

I feel relieved now that we won the case", said Hat Noppharat Thara Mu Ko Phi Phi National Park chief Worapoj Lomlim.
He said he could not sleep at all on Wednesday night because of anxiety.
DNP director-general Thanya Netithammakun said the Poda ruling marked the first time his agency had won in the Appeal Court. He said even though Chuan could still petition to the Supreme Court, it would be difficult for Chuan to find anything to rebut the DNP evidence.

STORY: The Nation