Former tattoo shop owner killed in Krabi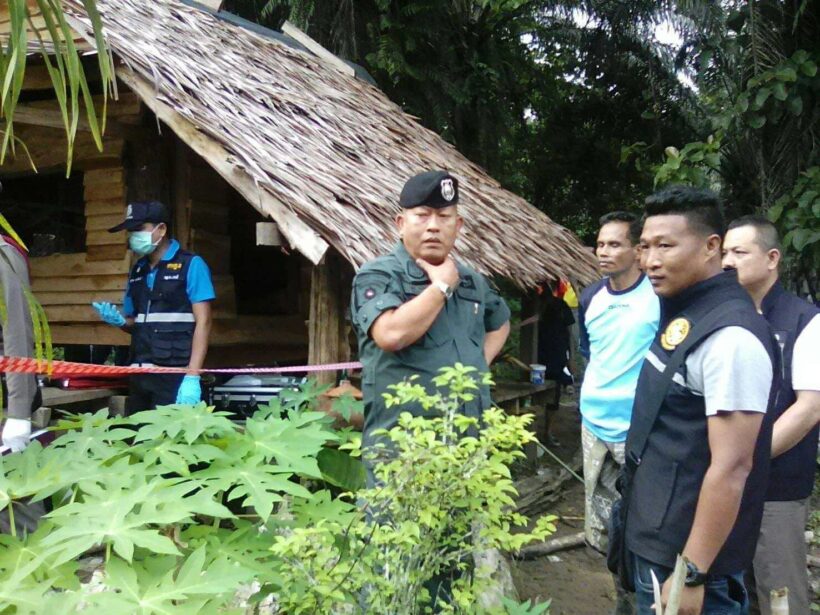 A former famous Phi Phi tattoo shop owner has been shot dead.
Ao Nang Police were notified of an incident at 4am this morning (Thursday) at a hut in Khao Kram in Krabi.
Krabi Police and rescue workers arrived at the scene to find the body of a man who was later identified as 42 year old Preecha 'Bangtos' Boatmen, a former famous tattoo shop owner on Koh Phi Phi. A bullet wound was found on his right temple. A spent cartridge was found on the floor.
Friends of Mr Preecha told police that last night while they were drinking coffee, a suspect who has been hiding nearby, used a gun to shoot Mr Preecha from behind, and then sped away in the dark. No one saw the suspect's face.
Mr Preecha used to have a tattoo shop on Koh Phi Phi but the shop was damaged by fire when there was a big blaze on Koh Phi Phi last year. Mr Preecha built the hut on public land and had had arguments with the locals before.
Police are continuing their investigation to find the suspect. At this stage police believe that Mr Preecha might have had some personal conflicts, perhaps including illegal businesses.

Krabi governor orders the best care for an injured rock-climber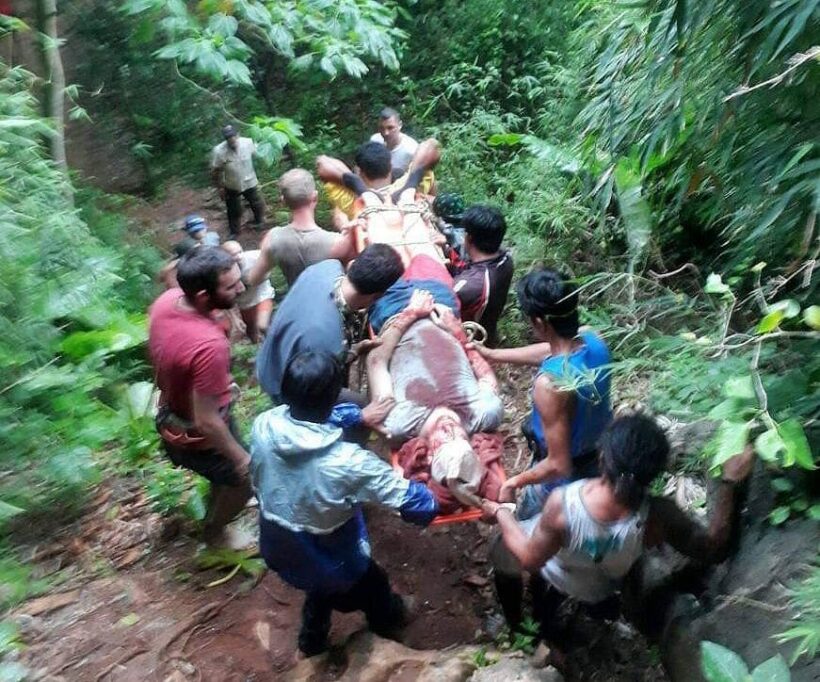 The Krabi Governor has has instructed care-givers and hospital staff to provide good care for an injured tourist who fell off a cliff at Railey Bay in Krabi.
On Tuesday 34 year old Mr Scmal Bach Priel, who is touring with his American wife, was taken to Krabi Hospital. He was injured after falling during rock-climbing at a cliff in Railey Bay. He was climbing solo at the time.
Krabi Governor Lt Col ML Kittibodee Prawit, along with local officials, paid a visit to the injured am whilst recovering at the hospital and ordered hospital staff members and officials to give the best care possible.
Krabi Governor Lt Col ML Kittibodee says, "Krabi is a popular destination for foreign adventure tourists with many activities."


Maya Bay recovering says marine biologist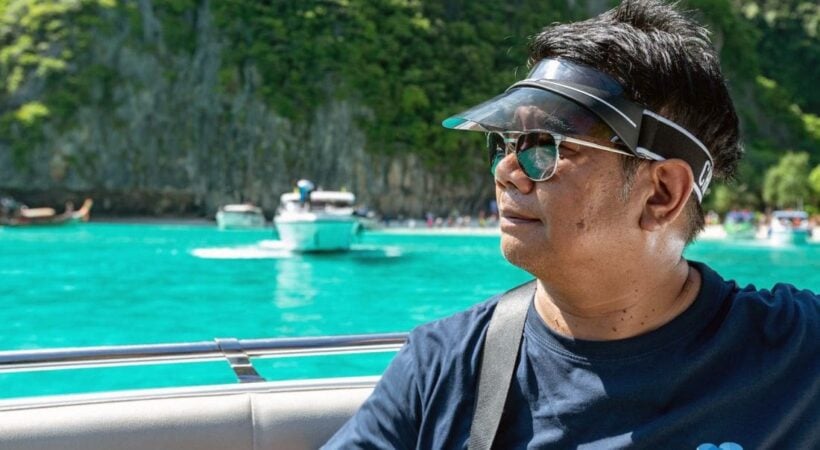 Marine biologist Dr Thon Thamrongnawasawat says Maya Bay is starting to recover after many Blacktip reef sharks were found swimming around yesterday.
Dr Thon has commented on a video showing the Blacktip reef sharks found swimming near the shores of Maya Bay yesterday, "I have seen them about 2-3 times in the past week that I have been there. This time almost 20 of them have been sighted. It is means that the recovery plan is working."
"Blacktip reef sharks are important to the biological system. They are predators which help control the numbers and kinds of fishes near coral reefs. Weak fish are being eliminated by the Blacktip reef sharks."
"During this period of climate change the world environment is quickly changing. A good biological system is very important to handle natural disasters such as Coral Bleaching."
"Blacktip reef sharks are important, not only for Maya Bay or Koh Phi Phi, but also important for the health of coral reefs nearby."
Watch the video HERE.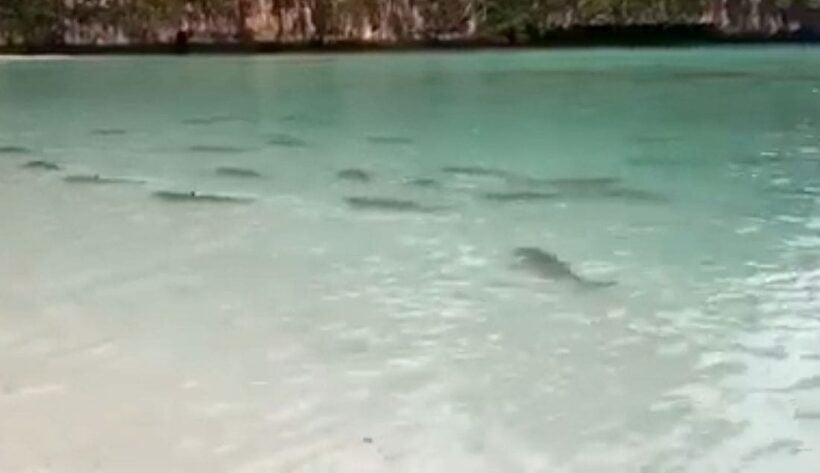 Leatherback turtles face extinction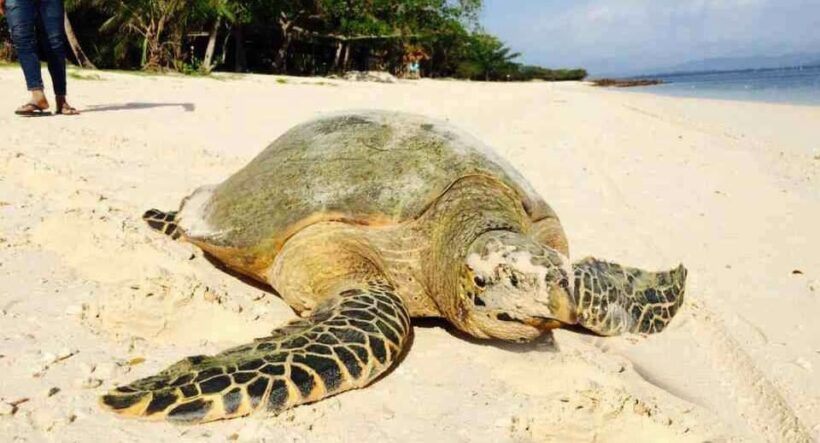 by Pratch Rujivanarom
It may be too late to save leatherback turtles from extinction in Thailand's seas, as a legal deadlock prevents a conservation status upgrade to protect this critically endangered turtle species and three other rare marine animals.
Wildlife conservationists are warning that the slow pace of stepping up the conservation of the leatherback turtle, whale shark, Bryde's whale and Omura's whale to preserved status would eventually cause the inevitable extinction of leatherback turtles in Thailand. They were speaking at a public seminar by the Sarakadee Magazine and Seub Nakhasathien Foundation yesterday.
The director of the Phuket Marine Biological Centre, Kongkiat Kittiwattanawong, said of the four endangered species, the fate of the leatherback turtles was now of most concern, as there had been no reports of finding new nests of the rare sea turtle species in Thailand since 2013 and its extinction in the wild was predicted to occur within the next few years.
Kongkiat said that the leatherback turtle was a protected wildlife species under the Wild Animal Reservation and Protection Act, which protected it from poaching and being in private possession, unless legally registered with the appropriate permission from the responsible agencies.
However, he said protected status was not enough to raise public awareness about preserving this critically endangered species of sea turtle and to prevent them becoming extinct from Thailand.
"Despite there not being much difference in conservation measures between protected wildlife and preserved wildlife, the public perception between these two categories is totally different, as people tend to give more concern to animals in the preserved wildlife list, because that is the status for nearly extinct animals," he said.
He called for the conservation status of this turtle species to be stepped up urgently, bearing in mind its current precarious status in the wild, the fact there had been no new leatherback turtles' nest found for more than four years and the increasing threat to their survival from dangers such as marine plastic waste.
"The categorising of Thailand's wildlife conservation status of protected animals and preserved animals complies with the IUCN (International Union for Conservation of Nature) Red List, as species listed as vulnerable are eligible to be listed as protected animals, while the animals with the IUCN status of endangered or higher can be included in preserved wildlife list," Kongkiat added.
"The leatherback turtle is now listed as critically endangered by the IUCN and in Thailand its population is now less than one per cent of what it was six decades ago, while its nesting report ratio has also dropped from three nests per year 20 years ago to only 1.5 nests per year this decade."
Earlier this month the nomination of four endangered marine animals to be included in the preserved wildlife list was turned down after the Council of State highlighted a legal deadlock in the Wild Animal Reservation and Protection Act.
This might result in rights violations of the private owners of leatherback turtle carcasses, if these four rare marine animals are successfully registered as preserved animals.
This is because every case of private possession of living preserved animals or their carcasses is illegal, while according to Fisheries Department, there were at least 12 registered private collectors of leatherback turtle carcasses.

STORY: The Nation