Black-tip reef sharks frequenting Koh Phi-Phi beaches

A school of black-tip reef sharks has been sighted swimming in knee-deep water around the beaches of Phi-Phi islands, causing more excitement among conservationists,
Thai PBS says that even Dr Thorn Thamrongnavasawat, a well-known marine scientist attached to the fishery faculty of Kasetsart University, admitted he was astonished by the sightings of the sharks.
"Believe it or not this is Thai sea and the Phi-Phi island. Four years ago, there was no hope. Look, today at Phi-Phi, there are sharks swimming in knee-deep water along the coral reefs around the national park, not just at Maya Bay," wrote Dr Thorn in his post on the social media together with a clip showing the sharks swimming.
The clip has attracted a stream of praises from netizens for the tireless effort of park officials to restore the environment of Phi-Phi islands and the nearby Maya Bay where black-tip reef sharks were also sighted.
(The article then goes on to say that ALL Phi Phi island beaches are currently closed, which is incorrect. Maya Bay and its beach has ongoing restricted access, but all other Phi Phi beaches and bays remain open for tourists.)
SOURCE: Thai PBS
MAYA BAYBlacktip reef sharks were spotted at the recovering Maya Bay on Koh Phi Phi Ley today. This morning official at the Hat Noppharat Thara-Mu Ko Phi Phi National Park reported that many Blacktip reef sharks were discovered swimming just off the beach in Maya Bay. They said it was a good sign of the improving biological system.VIDEO: DNP/Newshawk Phuket

Posted by The Thaiger on Tuesday, October 16, 2018


Read more headlines, reports & breaking news in Krabi. Or catch up on your Thailand news.

Krabi rescue workers stop a python and cobra fight – VIDEO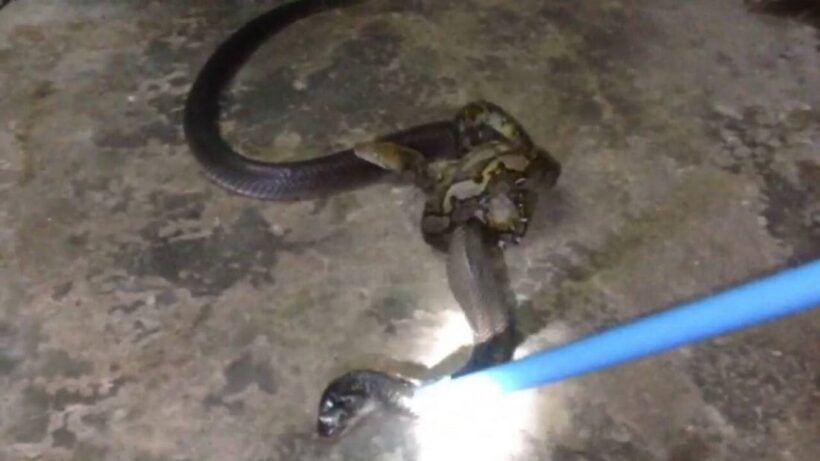 Rescue workers have stopped a fight between two snakes.
Rescue workers in Nuea Klong, Krabi were trying to stop a fight between a two metre python and a one and a half metre cobra while they were fighting inside a local house.
Rescue worker used a snake snare to move the python and the cobra out of the house. It took about 10 minutes to stop the fighting. Neither were injured in their short battle.
38 year old Kanokkorn Maidam, the owner of the house says, "When I returned home last night I found that these two snakes were fighting. I think that they were searching for a rat and just happened to be find the same rat at the same time. I think they were fighting over who would claim the rat."
KRABIRescue workers in Nuea Klong, Krabi were trying to stop a fight between a two metre python and a one and a half metre cobra while they were fighting inside a local house.

Posted by The Thaiger on Tuesday, December 11, 2018

Man arrested for possessing exotic wild cats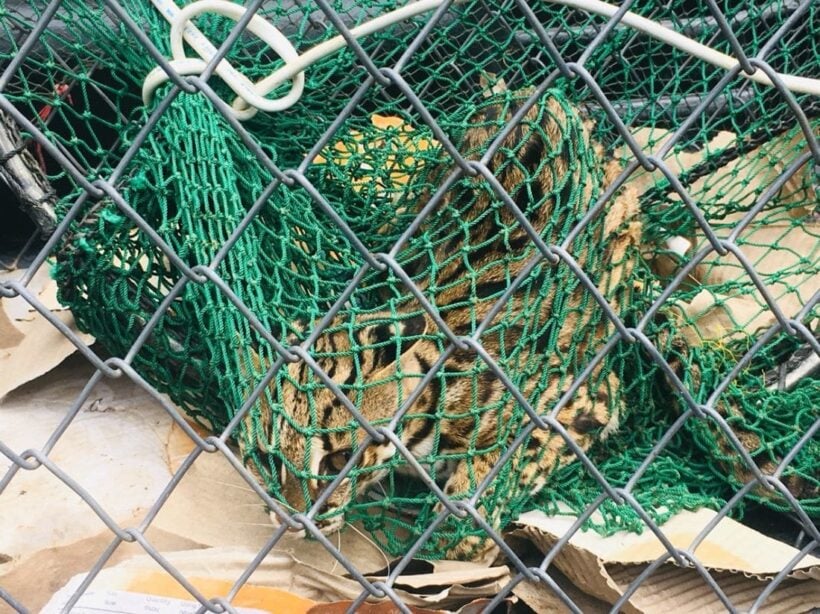 A man has been arrested after being found in possession of mixed protected wild cats which, authorities claim, are very 'fierce'.
Officers went to a house in Koh Lanta, Krabi after they were notified that a man was keeping protected Leopard Cats.
A male three year old Leopard Cat weighing two kilograms were found inside a big cage at the house. 33 year old Supakdee Sangkhao said he was the the owner of the cat.
Officers also found a female Bengal Cat and 17 kittens walking around the house. Officers believe the kittens are a mixture of Leopard Cat and Bengal Cat.
Officers have now sterilised all kittens as the cats are potentially very fierce. Supakdee has also been charged with illegal possession of protected animals.
Supakdee says, "Local people gave me this Leopard Cat since it was very young. A European tourist gave me the Bangal Cat. I didn't know that keeping them was illegal."
The mixture of these two wild cat cat breeds are very popular amongst people who like cats. They are quite large and have fur like tiger. They cost from ten thousands to hundred thousand baht. Police suspect that Supakdee was breeding the cats commercially and are conducting further investigations.


Krabi Police tracking down durian thief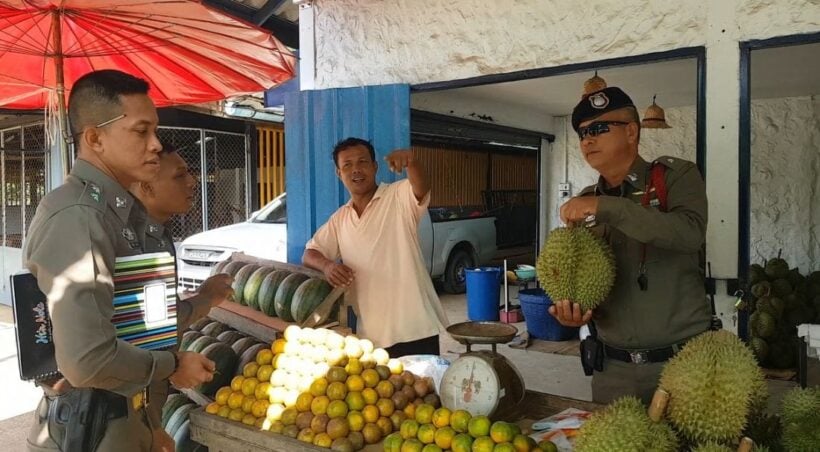 A hungry thief in Krabi has stolen 10 durians from a shop yesterday with a value of more than 5,000 Baht.
The Krabi City Police were notified about the incident at the fruit shop in Mueang Krabi District.
Police arrived at the scene to find 38 year old Nittaya Kampueak, the owner of the shop.
Khun Nittaya told police that yesterday morning, after opening the shop she later discovered that 10 of the durian had disappeared. Each durian weigh about 5 kilograms, a total cost of more than 5,000 baht.
She told police that the incident happened while she and her family were in the house, behind the shop.
Krabi Police are continuing their investigation to find Krabi's durian thief .