Kids from around Asia head to Pattaya for Thai Optimist National Championships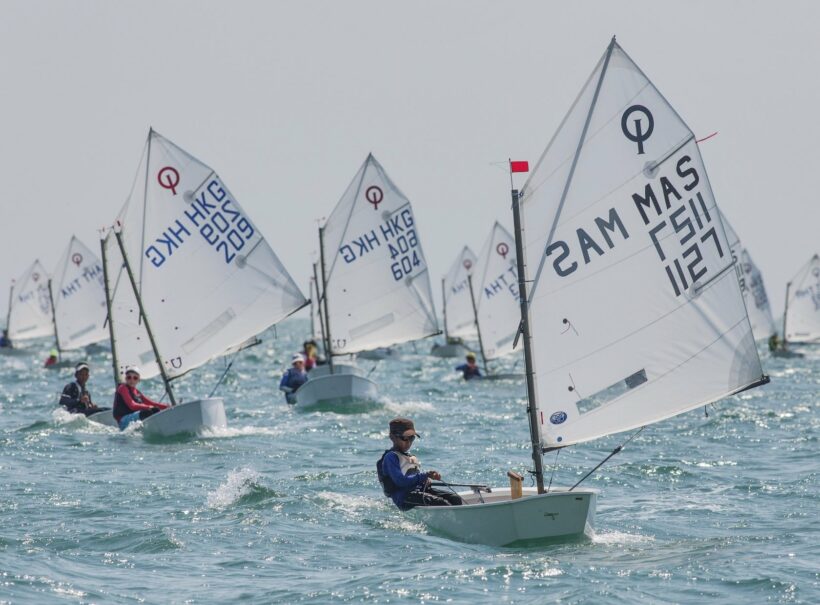 PHOTO: Thailand Optimist National Championships – Guy Nowell
By Duncan Worthington
Thailand's premier youth sailing event is just around the corner. The Thailand Optimist National Championships, held as part of the Top of the Gulf Regatta, will see more than 100 youngsters from around Thailand and Asia compete over three days (April 29 to May 1, 2018) in Pattaya.
First sailed in 1976 and annually since, the 'Optimist Nationals' as they have become known, is sailed in the single-handed Optimist boat and eligible for youths upto the age of 15 years old. Originally launched as the Optimist Thailand Championship Cup, the event has grown to become the pinnacle of youth sailing competition in Thailand and is organised by the Junior Sailing Squadron of Thailand under the auspices of Yacht Racing Association of Thailand.
Last year's Thailand Optimist National Champion, 12-year old Panwa Boonnak, is back to defend his title in Pattaya. Following his win at the 2017 Nationals, Panwa went into the Optimist World Championship 2017 Thailand, held July 11-21, 2017 at Pattaya's Royal Varuna Yacht Club, with high expectations. Aiming to be the second Thai to win the Worlds after Noppakao Poonpat won in 2010, Panwa struggled in the heavy breeze of the opening days and after six days of tough competition amongst 280 sailors from 62 countries, Panwa finished a credible 10th place overall.
Having competed at a number of overseas events since, the most recent being in Singapore and Myanmar, Panwa will have to be at the top of his game to beat a strong line up of fellow Thai National Team Sailors, and impressive talent from overseas.
Leading the international charge will be Hong Kong's Duncan Gregor. Having competed in Thailand a number of times, his best position at the Optimist Nationals to date is second overall in 2016. After winning Hong Kong Race Week earlier this year, his second successive win, he'll be looking to go one place better at the Optimist National and is one to definitely watch.
Gregor is joined by many others from the Hong Kong Team as well as top sailors from Singapore, Malaysia, Indonesia, India and many more countries, and the standard of competition is expected to be high.
The Optimist Nationals, however, is about more than just competition. For many young sailors, this is their first major race and organisers split the fleet into A and B, with the B fleet racers made up of the newer, less experienced sailors, ensuring they have fun while learning more about what sailing in an international competition is all about.
For more about the Thailand Optimist National Championships, visit www.topofthegulfregatta.com where the results will be posted daily during the regatta.
Duncan Worthington works with Infinity Communications (www.infinity-comms.com) and consults to leading sports brands and rights holders in Thailand. He can be contacted at sport@infinity-comms.com.
Keep in contact with The Thaiger by following our
Facebook page
.
Never miss out on future posts by
following The Thaiger
.
Monk found hanged at Chon Buri temple in apparent suicide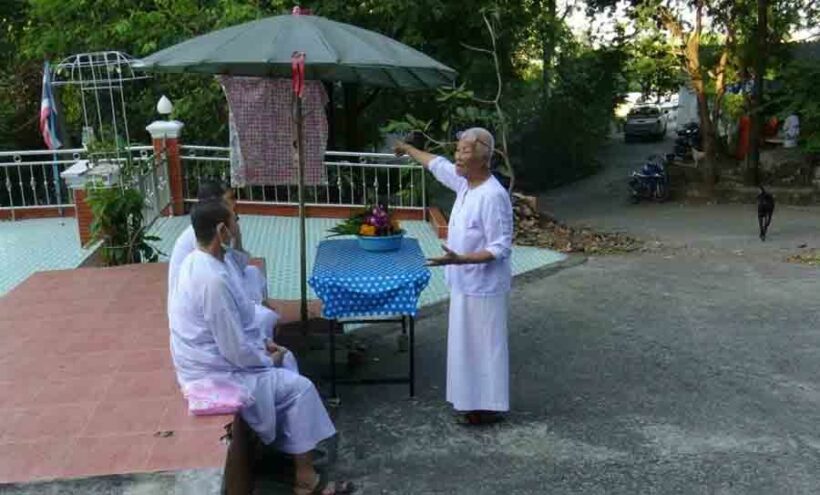 A 68 year old monk has been found hanged at a temple in the eastern province of Chon Buri, in an apparent suicide. The Pattaya News reports that police and rescue workers were called to a temple in the sub-district of Baan Suan at around 7.30am yesterday. The body of the dead man was found hanging near the monk's housing quarters.
It's understood there were no signs of a struggle and, in a letter allegedly written by the monk, he said he wanted to die. Other monks and nuns at the temple say they don't know why he might have killed himself, adding that he had no problems or health concerns that they were aware of.
His death comes just days after a monk in the north-east of the country died after jumping in front of a speeding train.
If you or anyone you know is in emotional distress, please contact the Samaritans of Thailand 24-hour hotline: 02 713 6791 (English), 02 713 6793 (Thai) or the Thai Mental Health Hotline at 1323 (Thai).
SOURCE: The Pattaya News
Keep in contact with The Thaiger by following our
Facebook page
.
Never miss out on future posts by
following The Thaiger
.
Shooter from Bangkok SCB protest surrenders to police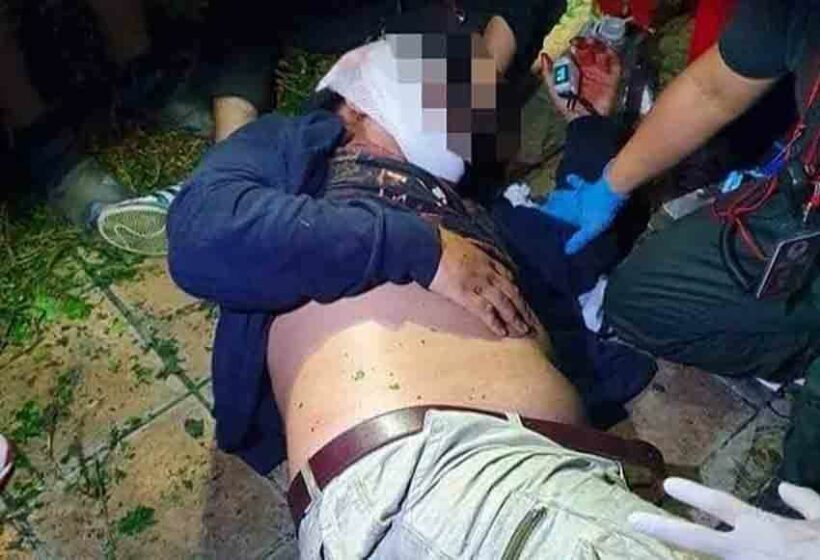 A man accused of shooting at anti-government protesters at a rally in Bangkok on Wednesday has admitted the charge and surrendered to police. Peerawut Kunamonkan delivered his 25 year old son, Passapong, to police at Phaholyothin station in the capital yesterday. He faces charges of attempted murder, shooting in public, and illegally carrying a gun and ammunition.
According to a Nation Thailand report, Passapong is accused of shooting 20 year old Prachakorn Saksritao, a former student of Pathumthani Technical College, but claims he did it for personal, not political, reasons. It's understood Prachakorn was at the rally as a member of the protesters' security team. The shooting took place as activists were dispersing at the end of a rally at the headquarters of the Siam Commercial Bank.
The accused, a former student at Min Buri Polytechnic Technology College in Bangkok, says he was reacting to sarcastic social media posts from Prachakorn. The posts were made after Passapong and the group he was with voiced their disapproval of activists insulting the Monarchy. Passapong is taking full responsibility for the shooting, saying nobody paid him to do it and that he will pay for the victim's medical treatment.
Following speculation on social media that the shooting was carried out by a yellow-shirt royalist, Thanadech Srisongkram, from the Minburi vocational student guards, has denied the claims. He says the shooting had nothing to do with the protests or the Monarchy, adding that his group is not affiliated with any particular political group. He says he has apologised to the security detail from Pathumthani Technical College, promising that such an incident will not happen again.
SOURCE: Nation Thailand
Keep in contact with The Thaiger by following our
Facebook page
.
Never miss out on future posts by
following The Thaiger
.
"Bad Students" protest group urges pupils to ditch their uniforms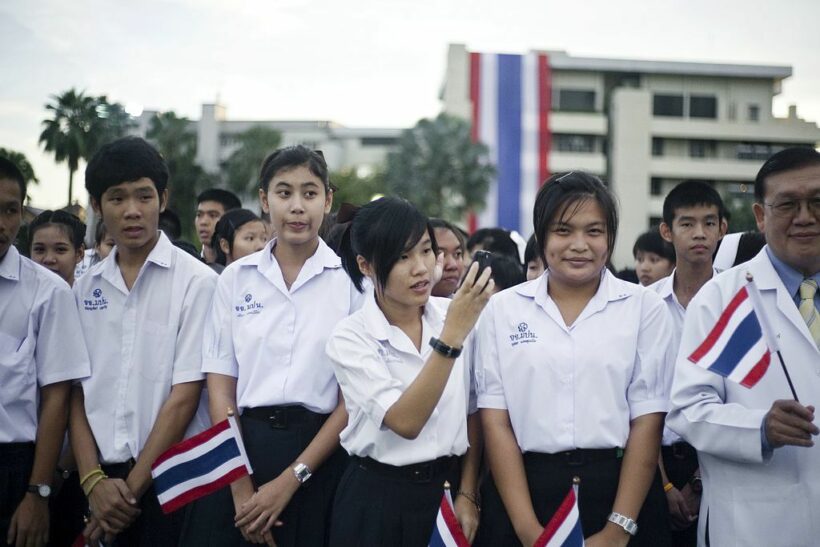 School students are being urged to ditch their uniforms and wear their own clothes from the start of the new term next week. The "Bad Students" protest group has posted an appeal on Twitter, calling on students to wear what they want.
"Finally, we can discard the obsolete uniforms and have the freedom to wear personal clothes. To all students, throw away those uniforms on December 1, and dress the way you prefer to go to school – #saygoodbyetouniforms."
According to a Bangkok Post report, the call has also been taken up by fellow activists in the north-eastern province of Khon Kaen. The Pakee Students KKC group took to Facebook to urge students to ditch their uniforms.
"We would like to invite all students to wear your preferred outfits to school. This is meant to question whether school uniforms are that important. Will teachers not allow us to attend class just because we don't wear uniforms? Why go to school if the principals and teachers are more interested in uniforms than schooling? If students cannot afford to buy uniforms, does this mean having no rights to attend class? Let's try and see if wearing outfits of our choice can reduce inequality. If there are 10 students wearing their preferred clothes, they may be punished. But if all students at a school do so, just imagine the changes this will bring."
Since anti-government protests began in mid-July, students have been railing against the Education Ministry, as well as the wider administration of PM Prayut Chan-o-cha. Amid claims of bullying, sexual harassment, and physical abuse in schools around the country, students have slammed Education Minister, Nataphol Teepsuwan, for his refusal to reform the system.
Meanwhile, Amporn Pinasa from the Office of Basic Education Commission says students refusing to wear their uniforms are in breach of school regulations. She adds that rules are there for a reason and that not everyone in society gets what they want. She points out that, rather than creating disparity, uniforms are more likely to foster a sense of equality among students.
"Wearing school uniforms will not have any direct impact on learning but it has its merits. Actually, wearing uniforms does help reduce inequality. If students wear their preferred personal clothes, it will lead to some students wanting to get the same expensive clothes as their more affluent friends, even though their parents are not as well off."
SOURCE: Bangkok Post
Keep in contact with The Thaiger by following our
Facebook page
.
Never miss out on future posts by
following The Thaiger
.