Four arrested for cable theft in Krabi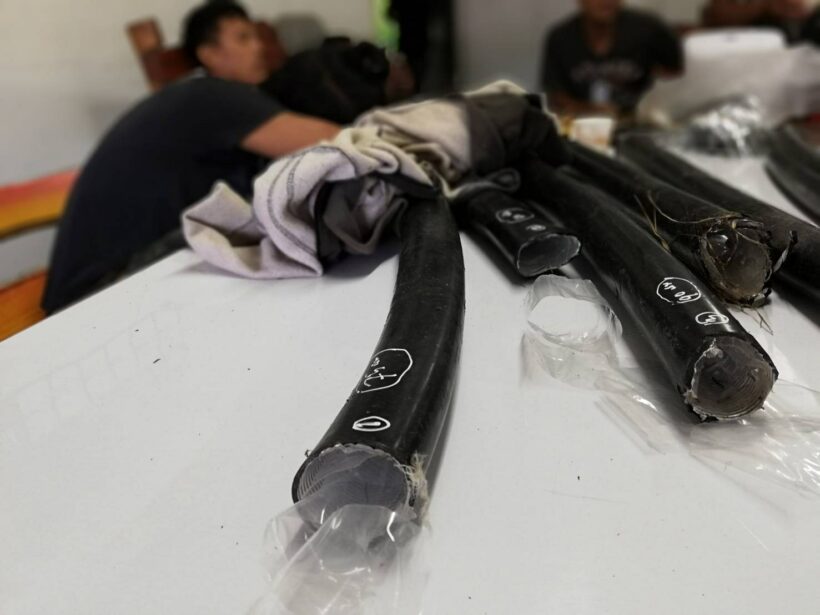 Krabi police yesterday (June 28) have arrested two men and two women for stealing communication cabling. They say that they are having to steal cabling as the rubber price is too low. The two men work as rubber tappers from the south.
Krabi City Police arrested the four thieves – 38 year old Chartchai Sittidamrong, 27 year old Boonpitak Coonrueang, both are from Nakhon Sri Thammarat, 34 year old Wanida Choosang from Trang and 29 year old Pennapa Chaiyapon from Krabi.
Police seized 40 metres of cable which had already been cut.
Noppong Bedsed, a technician of TOT says, "Thieves have stolen communication cable belonging to the TOT company. Cables in six districts of Krabi have been stolen valued at around a million baht."
Krabi Police Capt Payongsak Krueajan says, "We were notified by locals that two men were cutting cable behind the Krabi Bus Terminal in Krabi City."
"We arrived at the scene to find a man climbing up a power pole while another man was waiting on the ground. They admitted that there were two women waiting n a pickup truck 50 metre away to help transport the stolen cabling."
"Pennapan, waiting in the pick-up, told us that she would receive 2,000 baht for using her new pick-up truck to carry this cable. She says she did not realise that they were stealing the cabling. She needed money to take her child for holidays. She said it was her first time."
"Chartchat told us that he is a rubber tapper. The rubber price has decreased causing hardship for his family. He doesn't have enough money for his living. He was going to take the copper inside the cabling to sell for 140 baht per kilogram. This time, if he wasn't caught, he would have got at least 5,000 baht for selling the copper. "
They were all taken to Krabi City Police Station where they have been charged with theft.
Keep in contact with The Thaiger by following our Facebook page.
Never miss out on future posts by following The Thaiger.
Krabi mayor hopeful tourism crisis will be over soon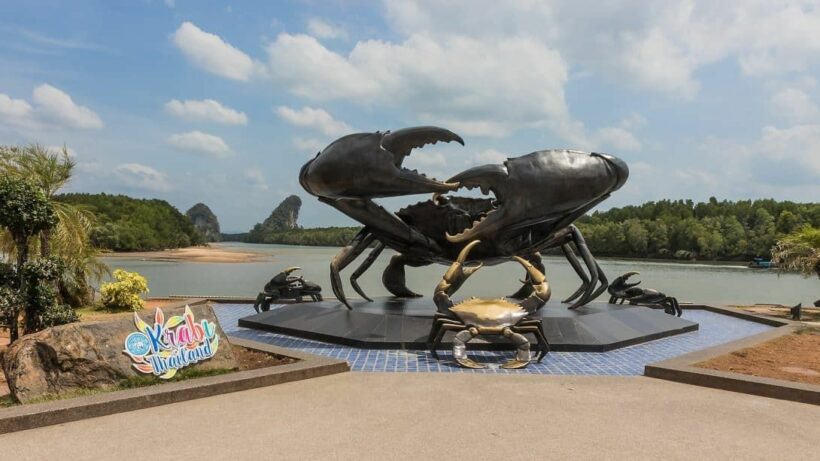 As is the case in many popular tourist spots in Thailand, the economy in the southern province of Krabi has been decimated due to Covid-19. Nation Thailand reports that tourist numbers in Krabi have fallen sharply, from a yearly average of 6 million to just 1.5 million last year. Revenue from tourism has plummeted from around 120 billion baht to 29 billion.
Krabi local, Amarit Siripornjutagun, who runs the Ruen Mai restaurant in Krabi town, says that just as he was thinking the worst was behind him, the second Covid-19 outbreak hit the country. The resurgence of the virus means he now has 80% fewer customers.
"There was hope when we saw some tourists return to Krabi after the first outbreak of Covid-19 in Thailand. But my businesses have suffered again from this second outbreak."
Amarit has managed to retain all his staff, despite the financial pressures he is facing, but says he will have to reduce their hours if things don't improve this month. He is calling on the government to provide soft loans during the Covid-19 resurgence, in addition to social security assistance.
Meanwhile, Krabi mayor, Keeratisak Phukaoluan, believes there is light at the end of the tunnel and that eventually, the province will double its tourist numbers. He says the development of Krabi airport, and the provision of parking bays for 30 jet airliners, will increase the province's status as a tourism hub, in line with the neighbouring provinces of Phuket and Phang Nga.
SOURCE: Nation Thailand
Keep in contact with The Thaiger by following our Facebook page.
Never miss out on future posts by following The Thaiger.
Covid-19 cluster confirmed following Koh Lanta "big bike" event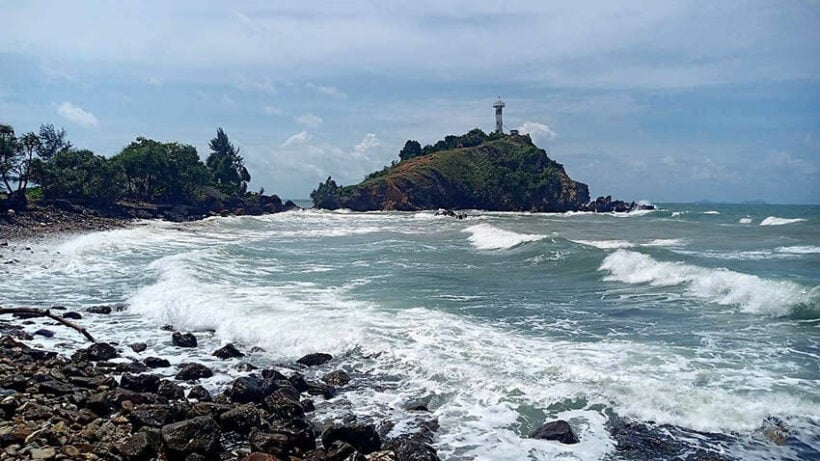 A "big bike" party on Koh Lanta, in the southern province of Krabi, has resulted in a cluster of Covid-19 infections, according to officials from the Department of Disease Control. The DDC says there are currently around 10 confirmed cases and 129 people considered "at risk".
The outbreak is linked to a patient who travelled to Koh Lanta from the Covid-19 hotspot of Samut Sakhon on December 9. He made the journey, accompanied by 2 friends, to attend the "Multistrada Thailand Meeting of Ducati Bikers" on the island on December 11. While there, he came into contact with 133 people, of whom 129 are considered "high risk" and 4 are believed to be "low risk". Officials have already tracked all of those affected, due to the hotel having registered the details of each person attending the event.
Including the original patient, 10 cases of the virus have now been confirmed. 4 are in Krabi, 1 of whom was at the big bike event and subsequently passed the virus to his wife, daughter, and another family member. Another person infected at the event has transmitted the infection to his 2 sons in Phuket. A further 2 people have been confirmed infected in the southern province of Songkhla, due to another infected biker passing the virus to his sister.
Meanwhile, DDC officials are urging local authorities in each province to check for residents who may have attended the Koh Lanta event and inadvertently spread the virus.
SOURCE: Nation Thailand
Keep in contact with The Thaiger by following our Facebook page.
Never miss out on future posts by following The Thaiger.
Krabi man arrested for animal abuse after allegedly killing pet dogs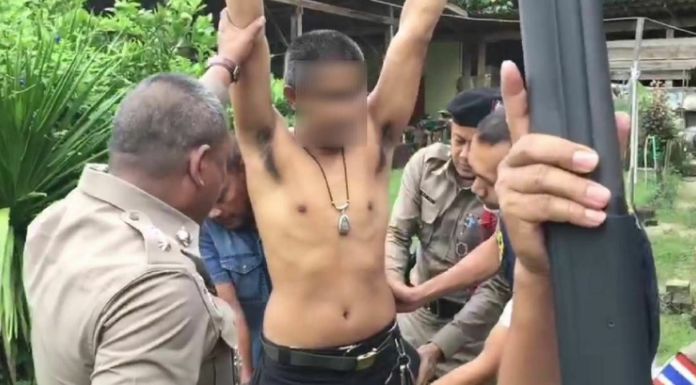 A Krabi man was arrested on animal abuse charges after he allegedly shot and killed his pet dogs. The non-profit Watchdog Thailand filed a police complaint yesterday with a statement from a witness.
Police arrested 39 year old Surasak Kongduang at his home in Krabi's Muang district. Surasak allegedly admitted to police that he shot both his pet dogs in the head and buried them in the backyard. Officers searched his home and found 3 guns and a bow. All weapons are legal and registered, police say.
Surasak allegedly told police that his wife fled and left the dogs behind after an argument a few days prior. He allegedly told officers that his mother is old and he felt bad about leaving her to care for the dogs, adding that one dog is lame while the other is sick.
Surasak was charged with animal abuse and for unlawful discharge of a firearm.
SOURCE: Nation Thailand
Keep in contact with The Thaiger by following our Facebook page.
Never miss out on future posts by following The Thaiger.