EU maintains yellow card over Thai fishing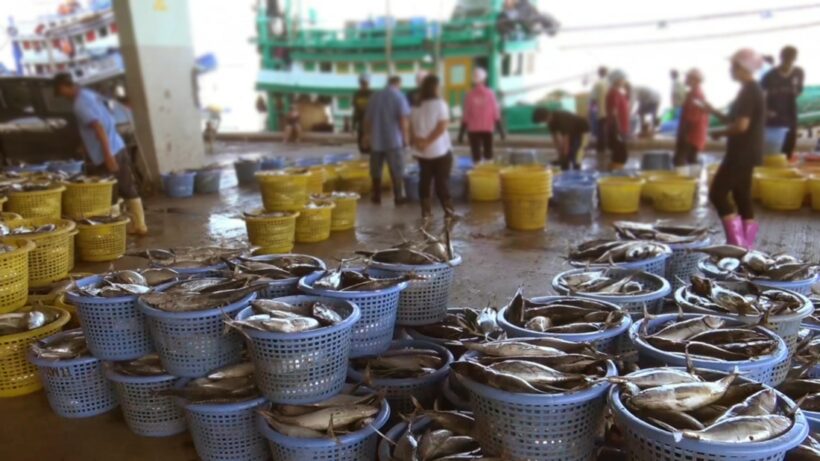 Continuing systemic flaws in the protection of the rights of workers and sustainable fishing policies has kept Thailand on the European Union's "yellow flag" watch list for illegal, unreported and unregulated (IUU) fishing.
A source at the Agriculture and Cooperatives Ministry revealed that the EU has decided to maintain Thaialnd's yellow flag for on IUU fishing.
Activists from the Civil Society's Coalition for Ethical and Sustainable Seafood (CSO Coalition) said that lack of proper measures to protect the rights of workers in the fisheries sector and ensure sustainable fishing to protect species were the major reasons hindering government efforts to improve Thailand's rank on IUU fishing – and protect its key seafood market.
The CSO Coalition also discussed the findings of two recent research studies on the situation of migrant workers in the fisheries industry and the impacts of unsustainable fishing on marine natural resources at a press conference in Bangkok yesterday. The studies found solid evidence of unsolved problems in Thailand's fisheries sector, said CSO.
The government received kudos from Thai Sea Watch Association president Banjong Nasae for its determination to solve IUU fishing problems. They had introduced many strict measures to regulate and control Thai fishing fleets, said Banjong. However, the measures to tackle IUU fishing also contained many flaws and resulted in unsuccessful efforts to improve Thailand's fisheries to meet EU standards, he said. "The weak point of the government's previous IUU fishing mitigation measures was that they only prioritise the regulations for fishing vessels and ignore the policies for promoting sustainable fishing, which are also a very important matter for tackling IUU fishing," he said.

He emphasised that Thailand's fisheries could not be sustainable unless the government prohibits the use of destructive fishing equipment such as otter trawling and lit purse seines and issues quotas for catches.
"How can we solve IUU fishing when destructive fisheries are still openly operating?" Banjong asked.
"The government must ban environmentally harmful fishing equipment and come out with sustainable fishing policies based on a sustainable yield from our seas, in order to prevent overfishing and preserve the bounty of the marine ecosystem.
"A CSO Coalition study on the impacts of destructive fishing equipment found that the use of otter trawling and LED lights have cost an estimated 145 million baht in damages to Thailand, as these fishing methods also catch juveniles of many species, including 74 economically important fish, before they get a chance to reproduce.
Prominent migrant workers' rights defender Suthasinee Kaewleklai said that inadequate rights protection for migrant workers in the fisheries sector had also contributed to the unsatisfactory performance in the mission to end IUU fishing.
"The results of a survey of 300 migrant workers in the fisheries industry from six provinces showed that many migrant workers still have to work in hostile condition for too long hours without proper welfare and protection of their rights," Suthasinee said.
"We have found that many workers were being illegally taken advantage of by their employers. One in three participants in our survey said they have less than six hours rest per day, and one in five revealed that they have to work for more than 14 hours, which is a clear violation of worker protection laws."
The government must efficiently enforce worker protection laws, she insisted, as well as encourage business owners to treat their workers justly.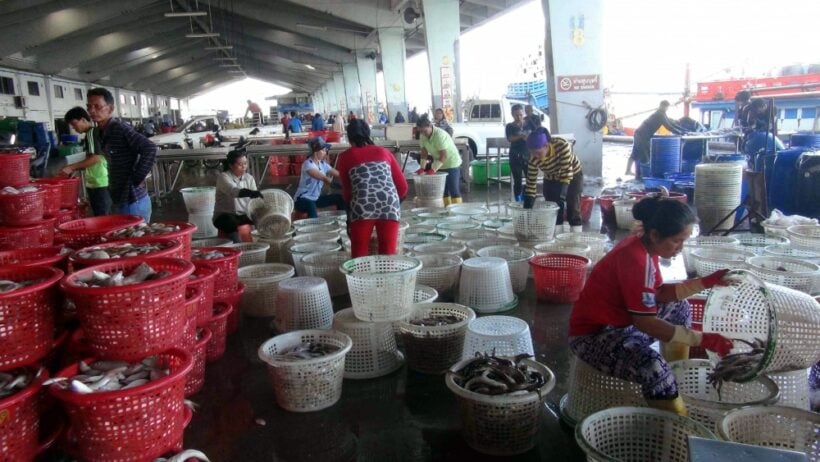 STORY: The Nation
Keep in contact with The Thaiger by following our Facebook page.
Never miss out on future posts by following The Thaiger.
Riot police officer in Bangkok tests positive for Covid-19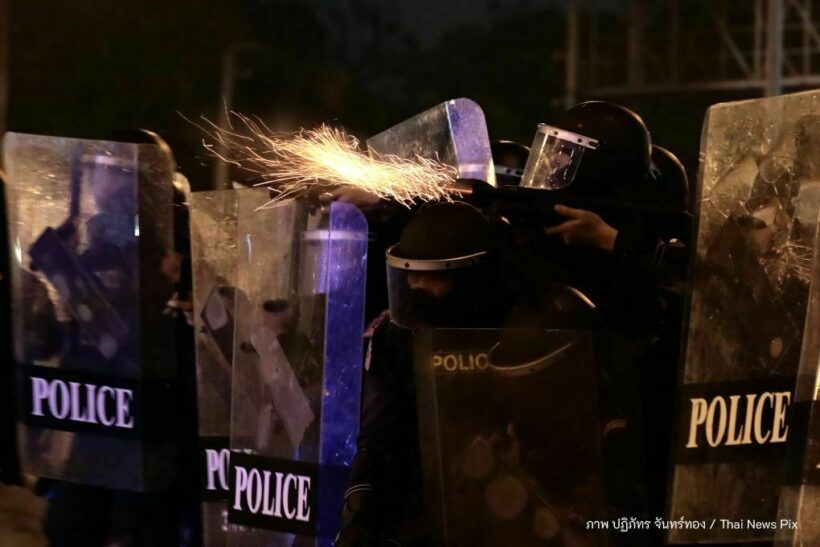 A riot police officer, who was deployed at the recent pro-democracy protests in Bangkok, has tested positive for Covid-19. His supervisor, chief of Wang Thonglang station Ekapop Tanprayoon, says the officer had visited Samut Sakhon, a coronavirus hotspot.
Riot police who worked closely with the infected officer, Somyot Nuamcharoen, are ordered to quarantine. The Wang Thonglang police station and any items the police officer handled are being disinfected, the chief says.
The officer had met up with friends during a visit to Samut Sakhon, just southwest of Bangkok. He travelled to the coastal province on February 18 and returned to Bangkok the next day.
On the 20th, he was deployed to a protest outside of parliament, just after returning from his trip to the "red zone" province. On Sunday, he deployed the protest outside the military barracks in Bangkok. The demonstration turned violent and numerous people were injured.
On Tuesday, his friend from Samut Sakhon tested positive for the virus. The infected officer was tested for Covid-19 that day and his result came back positive yesterday.
SOURCE: Bangkok Post
Keep in contact with The Thaiger by following our Facebook page.
Never miss out on future posts by following The Thaiger.
"Sealed route" set at Bangkok airport for international transfers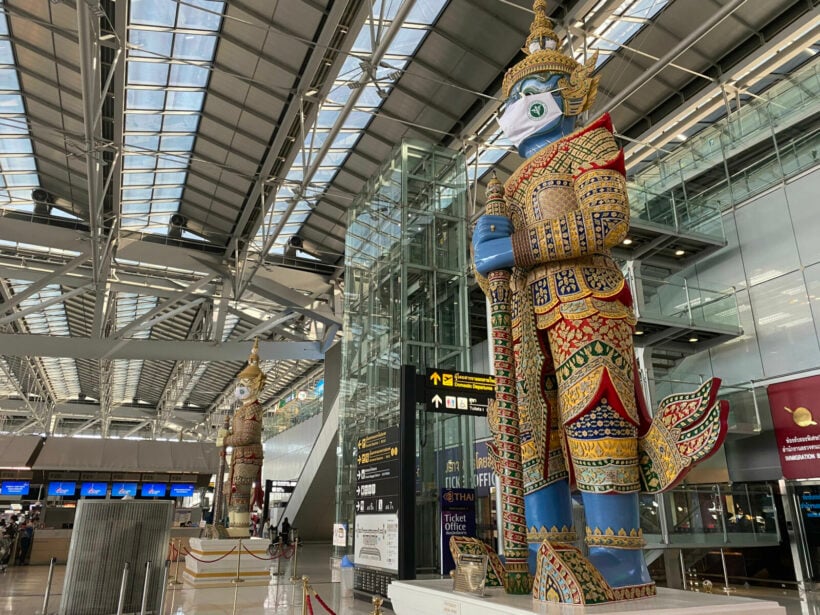 Thailand is now allowing international transits and transfers at Bangkok's Suvarnabhumi Airport by using a so-called "sealed route" arranged at the airport to prevent the spread of Covid-19. The Civil Aviation Authority of Thailand has now set guidelines for passengers who have a layover at the Bangkok airport.
Passengers will not be allowed to leave Concourse E. A "sealed route" for the passengers will be set up at Gate E10 and E9, allowing passengers to enter the airport at Gate E10, go through security screening and then either board the transit aircraft at Gate E9 or go on a designated shuttle bus directly to an aircraft.
Social distancing is required for all passengers in waiting areas and a face mask must be worn at all times. The CAAT says food and beverage services will be available at the airport's "sealed route" waiting area, but there will be "active oversight" on the services. Areas will also be cleaned and disinfected regularly.
Passengers must present required documents…
A fit-to-fly health certificate
Medical certificate declaring a negative Covid-19 result issued no more than 72 hours before departure
Travel health insurance that covers Covid-19 treatment expenses up to $100,000 USD
If demand increases, the airport will add Gates E5, E7 and E8 to the sealed route. If Concourse E is under maintenance, then Concourse F will be used under the same plan.
SOURCE: Nation Thailand
Keep in contact with The Thaiger by following our Facebook page.
Never miss out on future posts by following The Thaiger.
Facebook removes "information-influencing" pages linked to Thai military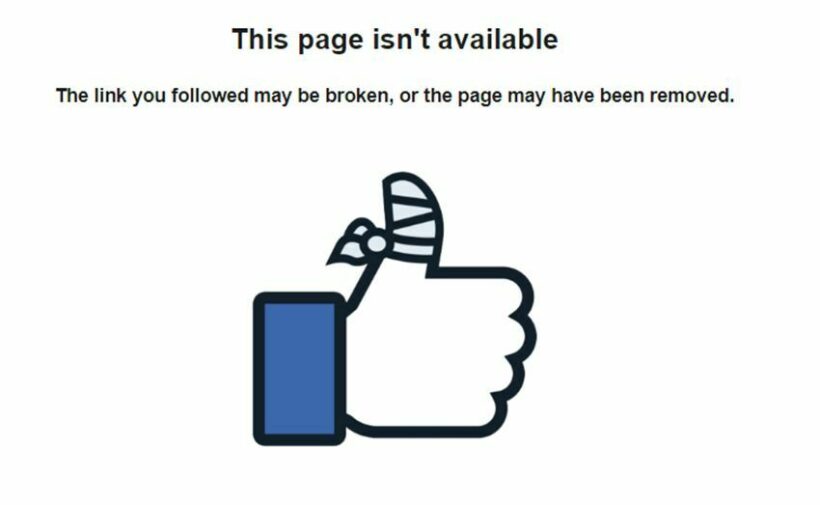 Facebook has confirmed the removal of 185 accounts run by the Thai military and allegedly involved in information-influencing. The social media giant says the accounts were deleted for engaging in what it calls, "coordinated inauthentic behaviour". In total, 77 accounts, 72 pages, and 18 groups have been removed from the platform, in addition to 18 Instagram accounts. It's the first time Facebook has taken such action against accounts linked to the Thai government.
The accounts were associated with the Thai military and were targeting people in the southern provinces, Facebook said its regular report on coordinated inauthentic behavior. The south of the country has been the scene of decades-long conflict, with insurgent groups in the majority-Muslim, Malay-speaking region calling for independence. To date, around 7,000 people have died in the ongoing struggle.
Facebook says the deleted accounts were most active last year and used both fake and real accounts to manage pages and groups, both openly military pages and pages that hid their links to the military. Some of the fake profiles pretended to be people from the southern provinces.
The report mentioned a post by the now-removed account named "comprehending the operation" in Thai. The page posted the logo for Amnesty International Thailand and wrote "The NGO never cares about ordinary citizens because they have no role in society. Normal people are not famous. Any case is not big news. They are not worth the investment of foreigners so they will not do anything to help. This is why we don't see anything from the NGO."
On another now-removed account, named "truth about my home Pattani" in Thai, a post said "Muslim leader declares southern border is a peace zone. The southern separatists started a movement by spreading the idea that Thailand is under control by different believers so that people would come and fight for their religion. This was declared that the action clearly violates Islam faith."
When contacted by Reuters, the military had no comment on the removal of the Facebook accounts, with a spokesman saying the organisation does not comment outside of official press conferences.
The head of Cybersecurity Policy at Facebook, Nathaniel Gleicher, has confirmed the reasons behind the platform's decision.
"This is the first time that we've attributed one of our takedowns to links to the Thai military. We found clear links between this operation and the Internal Security Operations Command. We can see that all of these accounts and groups are tied together as part of this operation."
He adds that the accounts had spent around US$350 on advertising on both Facebook and Instagram. One or more of the pages had about 700,000 followers and at least one of the groups had 100,000 members. Gleicher says the accounts were removed because of their misleading behaviour and not because of the content being posted. The content included support for the military and the monarchy, with allegations of violence and criticism of insurgent groups in the south.
It's not the first time accounts linked to the Thai military have been removed by a social media platform. In October, Twitter removed 926 accounts it says had links to the army and posted pro-military and pro-government content. The Thai army has denied any involvement with the accounts in question. In November, Twitter also suspended an account posting pro-monarchy content that was found to have links to the palace and to thousands of other accounts posting similar content.
To read the February 2021 Coordinated Inauthentic Behavior Report, click HERE.
Keep in contact with The Thaiger by following our Facebook page.
Never miss out on future posts by following The Thaiger.