Dutch Ambassador shares concerns over safety of Phuket tourists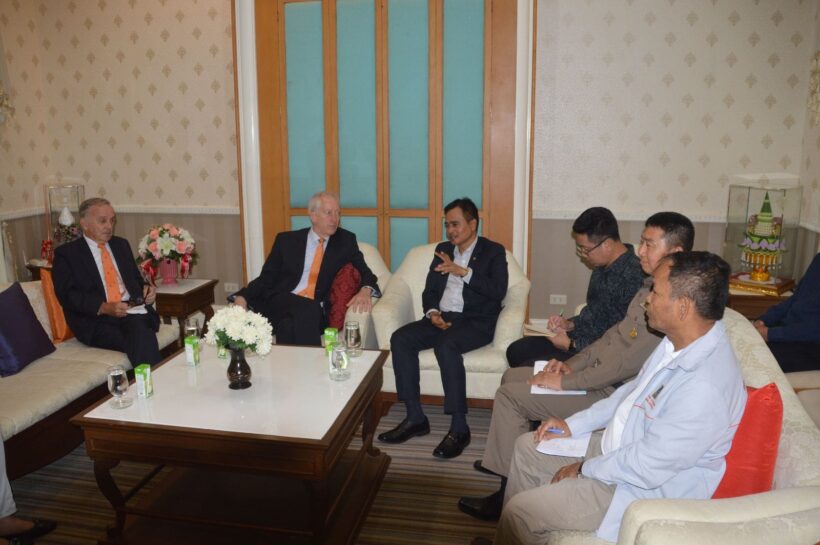 Phuket's Vice Governor Thawornwat Kongkaew welcomed the Ambassador-Designate in Thailand Kees Rade and Dutch Honorary Consul for Phuket, Seven Smulders, over the weekend.
Vice Governor Thawornwat says after the meeting, "We have discussed about tourist safety, things like tourists who rent motorbikes without motorbike license, beach safety and emergency situation management."
"We have surveyed a number of rental motorbike companies on the island. Motorbike rental operators need to check documents before renting anyone a motorbike."
"We have ordered local administrative organisations to provide 'beach guards' with rescue equipment patrolling our west coast beaches. We have provided plans for other emergency situations as well," said the Vice Governor.
"More CCTV camera will be installed to cover most areas in Phuket. We have an incident monitoring centre at the Disaster Prevention and Mitigation Phuket Office which will immediately response to emergency situations.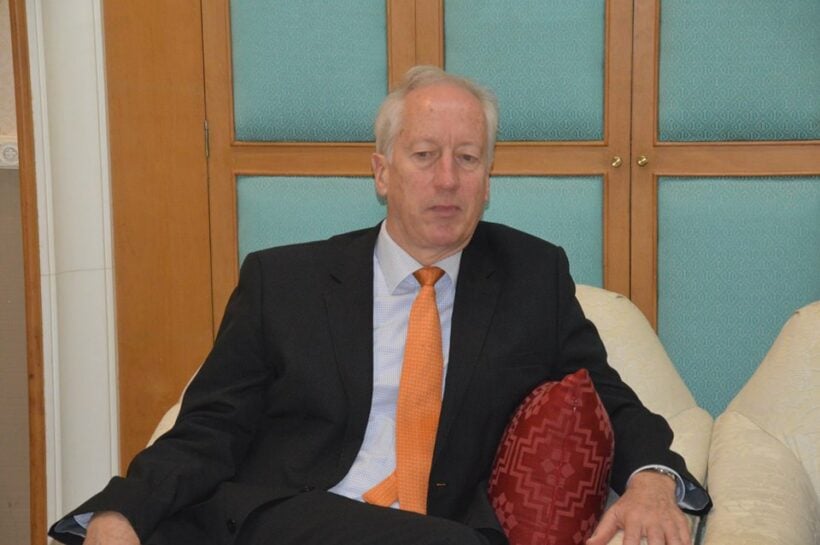 Thief steals from a Pattaya bar's merit money tree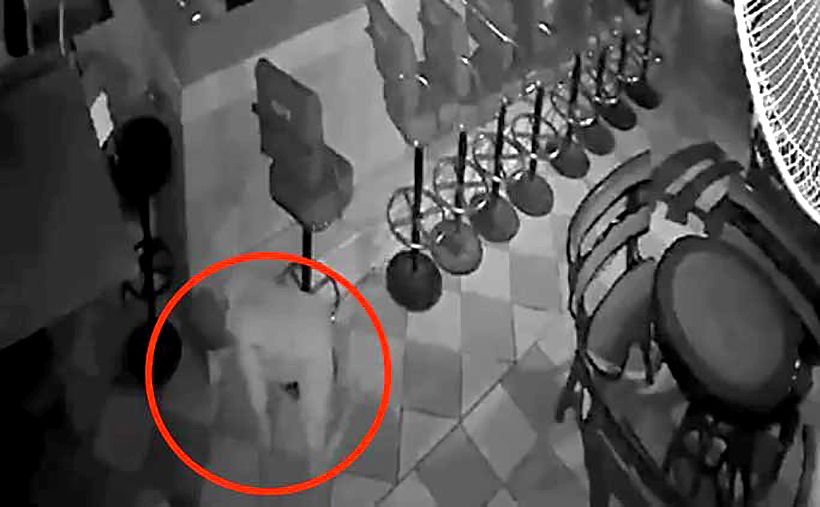 CCTV surveillance footage from the Bart Navy Bar on Pattaya Beach Road reveals a thief crawling in and stealing from the merit making money tree in the bar.
The We Love Pattaya Facebook page describes the thief as a "sinner".
#พัทยาเตือนภัย โจรใจบาป ขโมยเงินทำบุญ เกลิ้ยง !! กล้องวงจรปิดบันทึกภาพ โจรใจบาปแอบคลานเข้ามาในร้านบาร์เบิรด์เนวี่บาร์…

Posted by เรารักพัทยา on Monday, 19 August 2019
The time stamp indicates that the"sinner" was operational around 4.30am yesterday (Monday) morning.
The bar in Soi 7 Pattaya is well situated about 200 metres from the Pattaya police station.
Merit trees are set up in many bars to collect donations for "tham bun" (merit making) which are then donated to local temples and charities.
SOURCE: ThaiVisa
Scrap metal merchant arrested over stolen rail track pins causing train derailment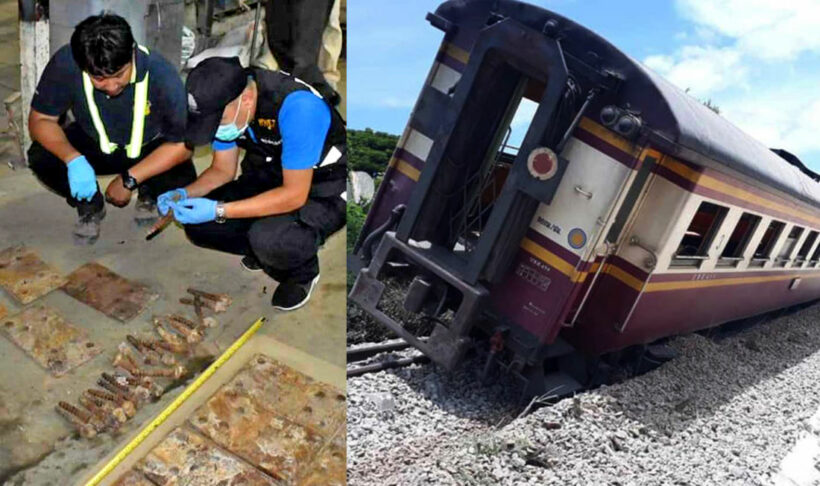 PHOTOS: Twitter@pr.railway 
A scrap metal shop owner has been arrested for stealing rail track 'pins' that were responsible for the derailment of a railway carriages heading south from Bangkok to Chumpon province yesterday. The derailment happened in the Phetchaburi province.
The incident happened yesterday (Monday) just after midday and took the rest of the day and evening to lift the carriage back onto the tracks, and inspect the railways lines and missing pins (that hold the railway tracks onto the timber sleepers).
Read the story HERE.
The State Railway of Thailand reports that train #255 from Thonburi to Lang Suan station in Chumphon province became derailed at 12.04pm after departing the Huay Sai Tai station in Cha-am.
They confirmed that six carriages had jumped off the rails. They believed that the theft of steel nails used to fix the tracks to the sleepers had been stolen. Railway teams and cranes went to the scene to lift the carriages back on the tracks and assess the damage.
The acting State Railway governor says inspectors found 168 rail fastening screws and 40 track base plates were missing, along with 340 wooden sleepers damaged over a distance of 350 metres.
Police and railway officials raided the Rungcharoen scrap metal shop in Cha-am district last night. They found 25 rail base plates and 66 rail track pins on the premises.
The owner, Supachai Padsri, was arrested for theft and receiving stolen items. He is denying the charges claiming that a person had deposited the items at his shop a few days ago.
Smoking at home in Thailand has been banned from today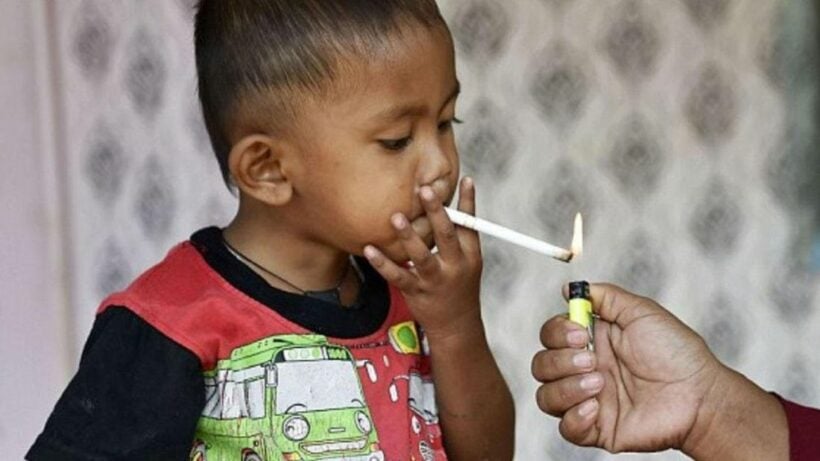 The ban on smoking at home in Thailand comes into effect today. From today people can be prosecuted for "domestic abuse" by lighting up a cigarette inside a home.
People can call Family and Protection centres on 1300 to report a smoker.
According to the new law, women and children are often the recipients of second hand smoke and the new legislation and fines is designed to assist in protecting them from the harmful effects of cigarette smoke.
Speaking to Manager Online, Dr Ronachai Khongsakon from a tobacco research group, says that women were particularly vulnerable with 81% suffering second hand smoke in their homes. He claims that 430,000 people die worldwide annually from second hand smoke, and that two out of three of the victims are women.
The 'Report a Smoker' hotline is 1300. Cases may then be referred to juvenile and other courts. The government says the move is the latest measure to stop people smoking in Thailand in public places, and now in their homes in the presence of other people.
Smoking has already been banned at airports, including the internal 'smoking rooms', now replaced with rooms outside terminals for smokers. Smoking on many Thai beaches was banned back in February 2018.
There is an estimated 10 million smokers in Thailand resulting in 72,000 deaths annually.
SOURCE: Manager Online