Up close and personal – team continues to recover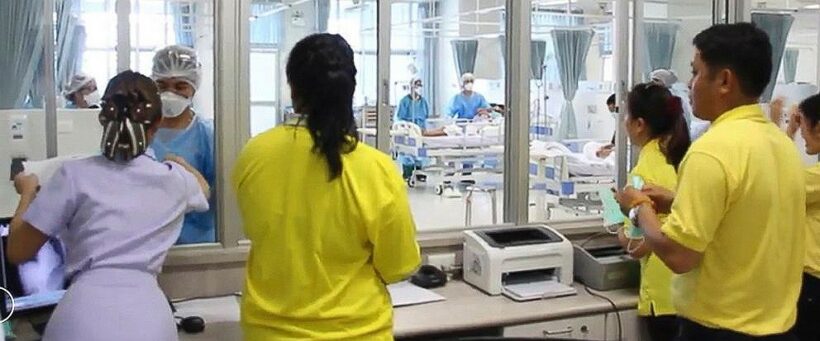 The 13 footballers rescued from a flooded cave in Chiang Rai province continue to recover under the supervision of staff at the Chiangrai Prachanukroh Hospital. Relatives have even been up to visit them and be with them.
The Public Health Ministry inspector-general Dr Thongchai Lertwilairattapong gave the latest report card on the group's recovery this morning (Friday).
He reports that the youths' relatives were allowed to visit them on the condition that they wear a face mask and wash their hands before and after visiting. The boys were divided into three batches in health updates: the first four brought out on July 8, the four rescued on July 9 and the last five brought out on July 10
Thongchai said the first four had no fever, were able to eat normally, had normal eyesight while the two of them who had signs of pneumonia responded well to treatment, had normal lung X-ray results and had no blood infections.
The final five were reporting a lower fever and one, with signs of pneumonia, was recovering and the three with an infection of the middle ear were responding well to treatment.
There were all given a week of antibiotics treatment.
The hospital is also providing counselling and consultations although they all appeared to have no stress or concern over what happened. Counselling would continue after their release from the hospital, he added.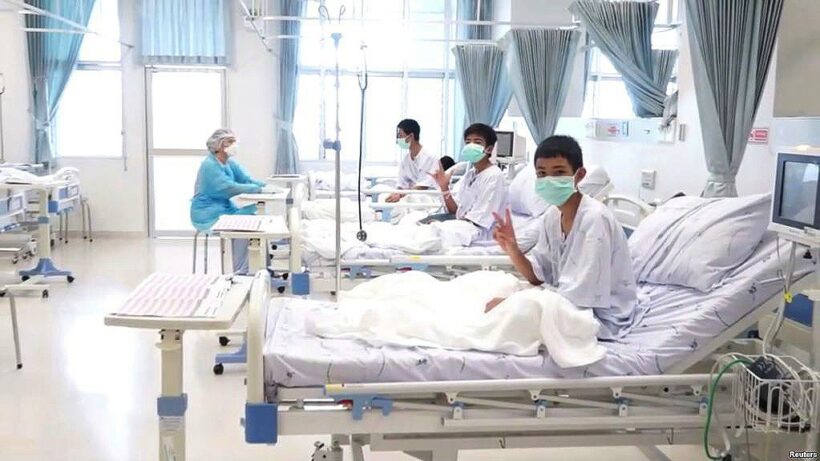 SOURCE: The Nation
Keep in contact with The Thaiger by following our
Facebook page
.
Tourism Council of Thailand cites Thai baht as biggest challenge to tourism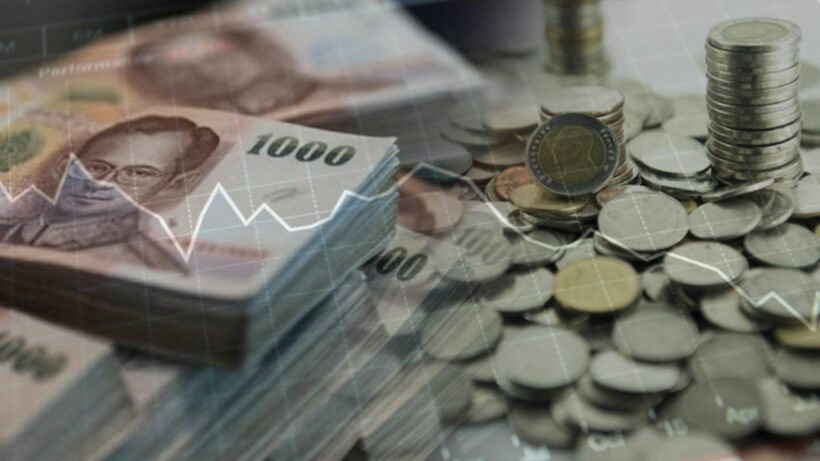 The strong Thai baht is proving to be the biggest obstacle in trying to lure tourists, according to The Tourism Council of Thailand who have had to lower its projection of over 40 million foreign visitors this year down to 39.7 million.
The president of the council says the surging baht is the main reason for the decline.
"It's frightening to see the baht so close to 30 to a dollar. It's the key reason for arrivals and receipts growth being lower than expected."
The country's significant current account surplus is being blamed for the strengthening of the currency and Somchai Amornthum from Krungthai Asset Management (KTAM) says that although the surplus is less than it was last year, it could still strengthen the baht, albeit at a slower rate.
"The baht could break past the 30 per dollar band at some stage next year, but the degree of currency appreciation is not expected to be too strong." KTAM predicts that the baht will be at 31 to the dollar by the end of the year and 30 by the end of next year.
It has outperformed every other Asian currency this year with its strength hurting exporters and the tourism industry. The Bank of Thailand is limited in what measures it can introduce, with the policy interest rate already low, and Somchai says any further policy easing would have limited effect.
SOURCE: chiangraitimes.com
Keep in contact with The Thaiger by following our
Facebook page
.
Italian busted in Australia smuggling heroin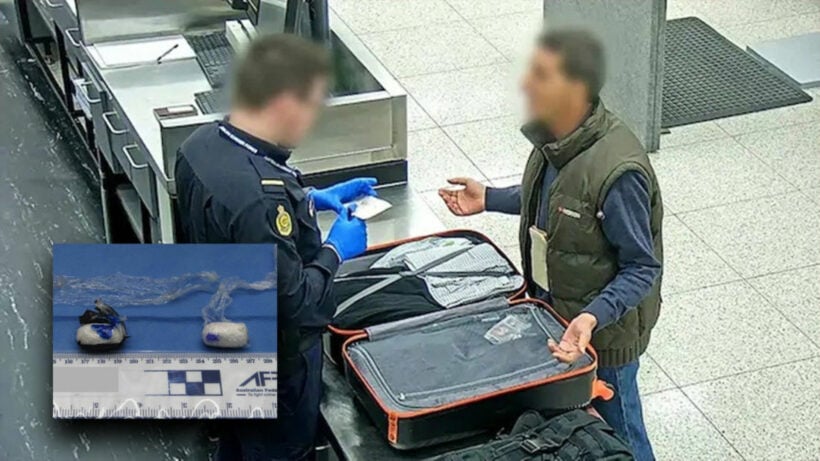 An 49-year-old Italian has been charged with drug smuggling after arriving at Perth Airport from Chiang Mai. He allegedly had about 300 grams of heroin, worth about 135,000 Australian dollars, hidden inside his body.
After trace technology during a baggage examination showed positive for narcotics, Australian Border Force officers referred him to the Australian Federal Police for an internal exam.
The man was taken to hospital where 63 pellets of heroin were allegedly found in his stomach. X-Rays also revealed three more pellets of heroin had been internally inserted into his rectum.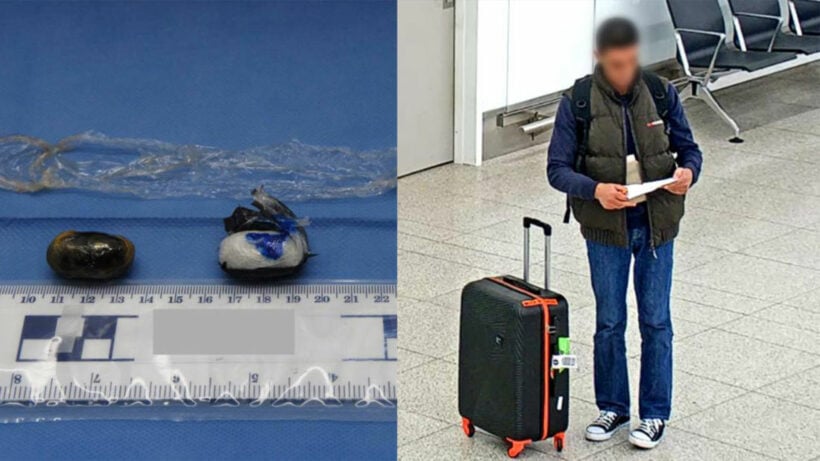 Photo: Australian Border Force
He was charged with importing a controlled drug and faces 25 years in prison.
A spokeman for the Australian Border Forcesaid the ABF is fully aware of the lengths people are willing to go to bring drugs into Australia.
"They not only risk lengthy jail time, but are playing Russian roulette with their own lives and health," he said.
"Smuggling drugs internally is an incredibly stupid endeavour. Furthermore there is a risk that stomach acid will eat through the wrapping of the heroin, consequently risking a fatal drug overdose," according to federal police.
SOURCE: chiangraitimes.com
Keep in contact with The Thaiger by following our
Facebook page
.
Earthquake could hit Chiang Mai and Chiang Rai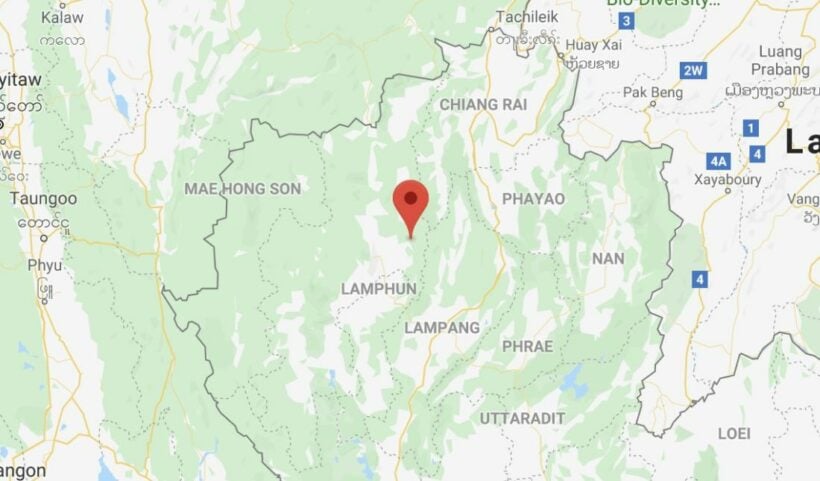 A magnitude 4.1 tremor shook seven districts of Chiang Mai and Chiang Rai on Friday night, prompting the Department of Mineral Resources to warn that the two northern provinces could face a magnitude 5 earthquake within ten years.
The prediction is based on analysis of movements in the Mae Tha fault lines, including the 5.1 ML quake in December 2006, centred under the Mae Rim district of Chiang Mai.
Geological studies in Ban Pong Samakkhi, Chiang Mai, indicate that the area experienced a 5.9 ML quake about 2,000 years ago.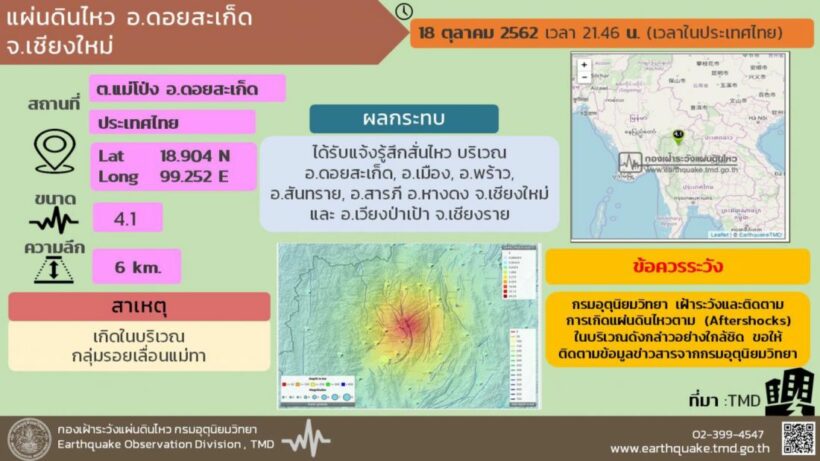 Photo : earthquake.tmd.go.th
Friday's temblor occurred at 9:46 pm, with its epicentre about six kilometres below the surface in Doi Saked district.
The tremor was felt in the Muang, Prao, San Sai, Doi Saket and Hang Dong districts of Chiang Mai and Wiang Papao district of Chiang Rai, though there have been no reports of casualties or property damage.
SOURCE: thaipbsworld.com
Keep in contact with The Thaiger by following our
Facebook page
.