Situation 'perfect' for evacuation – Narongsak Osottanakorn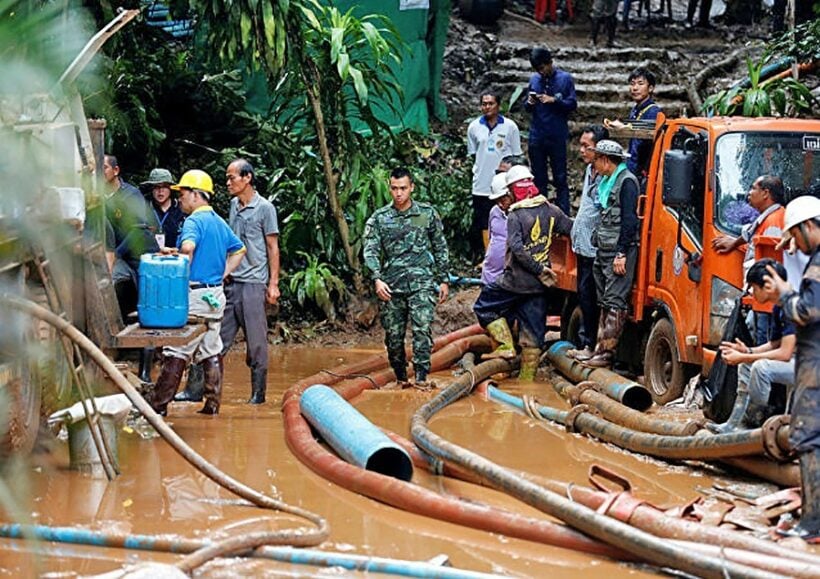 Narongsak Osottanakorn, chief of the rescue operation, is saying that conditions are 'perfect' for an attempted evacuation. He says that the weather should be OK, in the next few days, for an attempted evacuation. Any longer than this and the rains will return along with conditions inside the cave becoming more challenging as well. This is a more upbeat mood than his last media conference last night.
Whilst the immediate problem of fresh oxygen into the cave has now been solved – rescuers have established a series of lines pumping fresh air into the chamber where the team is – the rising levels of carbon di-oxide is now becoming a looming challenge.
The "Wild Boar" football team, and the ongoing drama to get rescued from the caves, is world-wide headlines now. They became trapped in a cramped chamber of the Tham Luang caves two week ago.
Rescuers say the evacuation of the boys is a race against time with monsoonal rains expected to start soon which will undo the last week of good work pumping out water from the exit route.
Narongsak Osottanakorn says that now, and in the next three or four days, the conditions are perfectin terms of the water, the weather and the boys' health.
This represents a change of heart compared to last night's oddly timed media conference at midnight where he said things were 'urgent' but didn't raise the prospect of an evacuation by diving and trekking as a viable alternative, partly due to the tragedy earlier in the day when it was announced that a 38 former Thai Navy SEAL had died whilst making his way out from the boy's current location.
He also spoke about the rise of waters in the spot where the boys are currently sheltering if the floodwaters started rushing into the caves again. Rescuers have estimated that the muddy area might shrink to less than 10 square metres if the waters were to rise again making the situation inside the cave less and less attractive from a long-term basis.
Earlier today Thai Navy SEALS posted touching notes written by the footballers to their families. Birthday parties and food are on their mind.
Sompong Jaiwong (Pong): I love you dad and mum. Don't worry. We are all safe now. Love you all.
Pipat Photi (Nik): I love you, dad and mum. I love my siblings as well. When I come out, please take me to a pork pan (shabu) shop. Love you all.
Mongkol Boonpiam (Mark): Mum, are you doing well at home? I am doing well. Please tell my teacher I love her. Love you, mum.
Phanumart Saengdee (Mik): Don't worry about me. I miss you all, grandpa, aunt, mother, dad and siblings. I am happy inside here. The SEALs take good care of me. Love you all.
Ekkarat Wongsukchan (Bew): Don't worry about me, dad and mum. I'll be away for just two weeks. I'll later help you, mum, sell goods when I have time. I'll rush out of here.
Pornchai Khamluang (Tee): Don't worry about me. I hope you all, dad, mum, and siblings, are happy.
Duangphet Promthep (Tom): I am doing well. But the air is cold. Don't worry. But don't forget my birthday party.
Adul Sam-on (Adul): Don't worry about us now. I miss you all. I would like to go home as soon as possible.
Pirapat Sompiangchai (Knight): I love you, dad and mum. Don't worry about me. I love you all.
Natthawut Thakhamsai (Toel): I miss you dad and mum. I love you all. Don't worry about me. I can take care of myself.
Prachak Sutham (Note): I am safe and doing well. Don't worry. I love you dad and mum.
Risks in any evacuation of the team, by diving out the way they came in, were underlined by the death yesterday of a 38 year old former Thai Navy SEAL diver, who ran out of oxygen while returning from the chamber where the boys are trapped. Saman Kunan had been trying to establish an air line to the chamber when he lost consciousness and died.

SOURCES: AFP/The Nation
Keep in contact with The Thaiger by following our
Facebook page
.
Chiang Rai puts strict conditions on people entering the province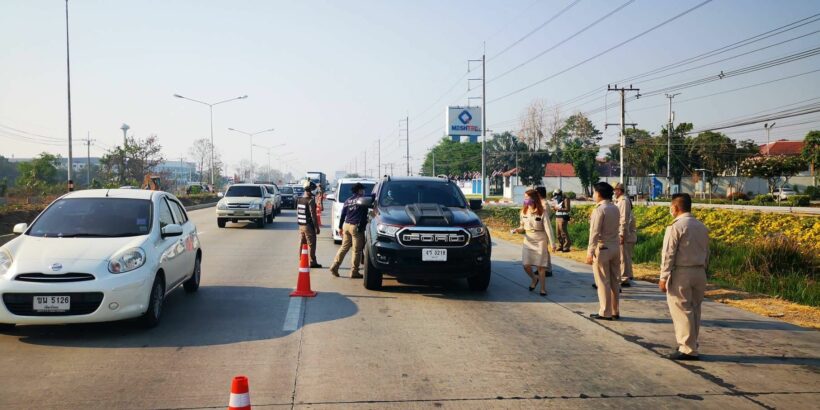 As of yesterday, the Governor of Chiang Rai Prajon Pratyakul issued an order that 'everyone entering Chiang Rai province will have to wear a face mask and undergo screening at checkpoints'.
"This order will apply to all visitors whether, on foot, private vehicles or public transport, those who cannot provide evidence of being a local resident or having a workplace in Chiang Rai will be denied entry, as well as those who do not wear a facemask or refuses to undergo the screening process."
For the people who are allowed entry, they must provide their name, address and telephone number to checkpoint officials and strictly follow the guidelines as suggested by the Ministry of Public Health, including maintaining the distance of at least one metre between anyone and regularly wash their hands.
Vehicles that are carrying supplies and products for selling or manufacturing in the province are allowed to enter the province but they have to undergo the screening procedure as well.
SOURCE: The Nation
Keep in contact with The Thaiger by following our
Facebook page
.
Drug party raided in Chiang Rai for defying public gathering ban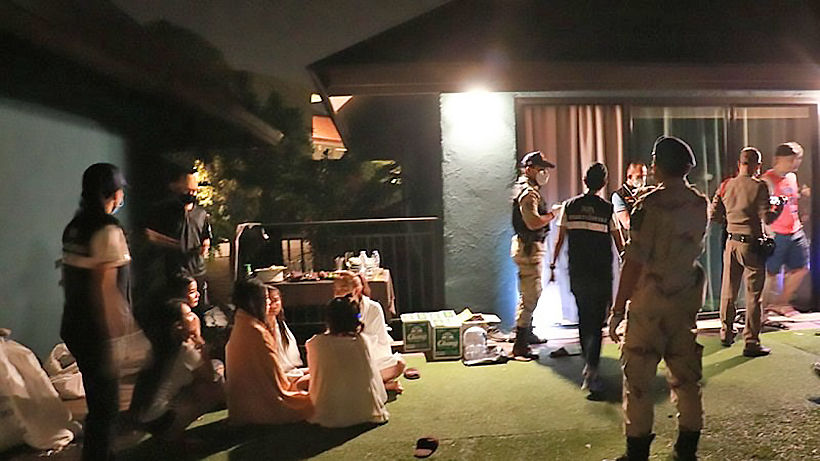 Authorities are cracking down and enforcing the ban on on public gatherings under the the state of emergency declared to fight the Covid-19 coronavirus epidemic last week. 22 people were arrested at a drug party in Chiang Rai yesterday for "gathering in defiance of the Emergency Decree". 10 men and 12 women between the ages of 20 and 30 were nabbed at a hotel in the province's main city district.
(Gamblers also arrested in Phuket, below)
The 22 were attending a pool party where alcohol and drugs such as ecstasy and ketamine were allegedly being sold. Police confiscated 237,000 baht in cash found in a bag, along with illicit drugs for evidence.
An initial investigation showed that a 24 year old man from Trat province in Thailand's east, on the Cambodian border, had been holding parties at the hotel since last Thursday. It's believed he started holding the parties because most public venues are unavailable during the virus scare.
Chiang Rai's governor says police raided the hotel in tambon Tha Sut after a tip-off.
Apart from drug charges, the detainees will also be punished for defying the Emergency Decree, which bans gatherings. The penalty is two years in prison and/or a fine of up to 40,000 baht. Chiang Rai has 5 confirmed coronavirus cases.
In a related development, 6 gamblers were arrested in Phuket near the island's Muang district yesterday.
The detainees were identified as 51 year old Natthawut, 55 year old Suwit, 40 year old Charoon, 48 year old Praiwan, 28 year old Natthapol and 39 year old Natthapong. No surnames were added to the report. Police say that while some were wearing masks to potentially protect themselves from the coronavirus, they were violating the Emergency Decree by sitting around a table to play the games. Gambling is officially illegal in Thailand, apart from the bi-monthly lottery.
SOURCE: Bangkok Post
Keep in contact with The Thaiger by following our
Facebook page
.
Search on for tour bus passengers after three test positive for Covid-19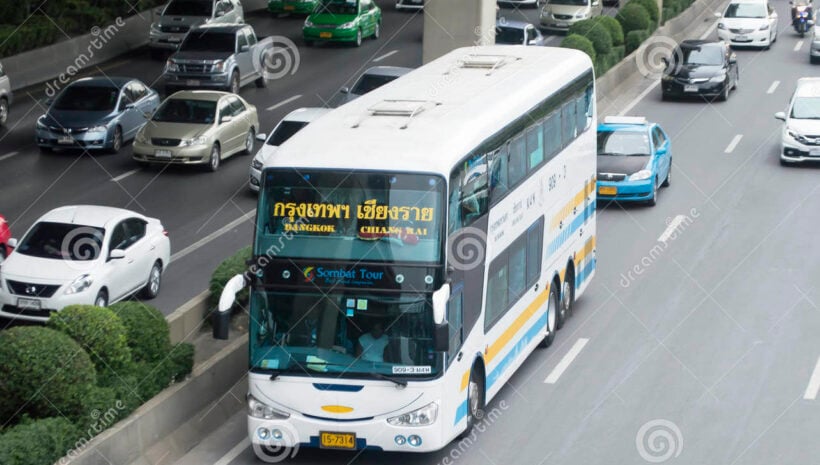 Authorities in Chiang Rai, Northern Thailand, have been tracking down 3 passengers who have tested positive for Covid-19. The passengers were travelling on a VIP tour bus from Bangkok to Chiang Saen, Chiang Rai disrtict.
Chiang Rai deputy governor, Mr. Pasakorn Boonyalak, and Dr. Tossathep Boonthong, the provincial health chief, say…
"…that they are asking passengers on Sombat Tour Company's bus No 16-3473, which left Bangkok for Chiang Saen on March 21 at 7.15pm, to report to provincial health officials for all fellow travellers now need to be screened."
All three confirmed Covid-19 cases from the bus are now being treated at Chiang Rai Prachanukroh Hospital.
Meanwhile, yesterday, Public Health Minister Anutin Charnvirakul and senior health officials accepted the delivery of Chinese medical supplies, at the Public Health Ministry, from Mr. Yang Zen, the Chinese chargé airfares. The medical supplies consists of 100,000 hygienic face masks, 10,000 N95 face masks, 2,000 protective gowns and 332 Covid-19 test kits.
SOURCE: Thai PBS World
Keep in contact with The Thaiger by following our
Facebook page
.