Comment: They're out. Now what? The future for Mu Pa football team members.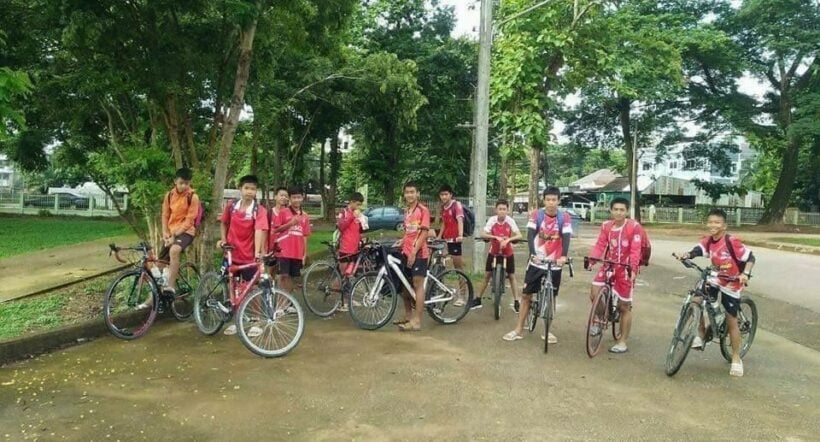 by Tim Newton
They're out. Now what for the 13 young men from Mae Sai?
They entered the Tham Luang caves on June 23 along with their 25 year old coach, Ekkapol on a benign post-practice trip to the nearby caves. The y'd been there before.
Except for their families, guardians and school friends, they were basically unknown to anyone outside the Mae Sai district, up in far Northern Thailand, close to the border with Myanmar.
They were just kids, 11-16 year old teenagers who had nothing much to worry about except their schooling, their love for football and what to eat next (it's emerged that they love sweet basil pork – spicy!).
That situation has now changed drastically and they are unwitting overnight (well, 18 day) media stars although we've barely seen them except for a few fuzzy videos inside the cave and some masked little faces in the Chiang Rai hospital.
If they thought their life had taken an unplanned swerve when they got stuck inside the cave, that's nothing compared to what lies ahead for the 13 young men. Profound changes are about to descend on them.
Their lives, and that of their families, are going to be very different following their forced and extended stay inside the bowels of the Khao Nang Non mountains.
How will this be managed? Who is going to protect the interests of each individual as the world's media try and get their 'exclusives', knock on their doors and 'hunt them down'?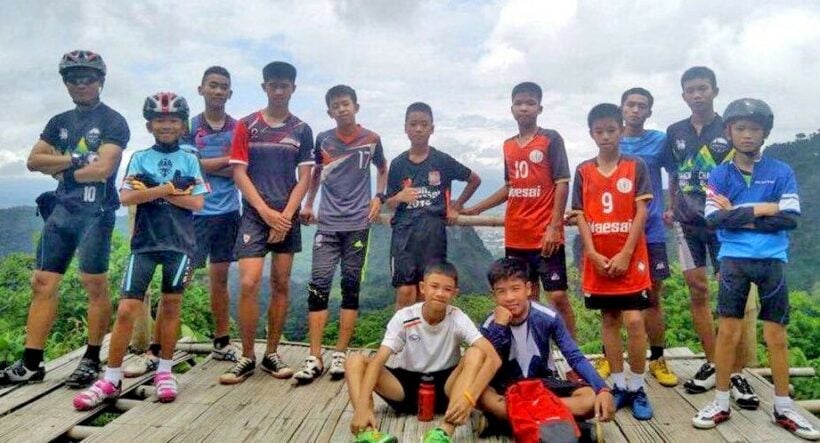 As the authorities have worked diligently to protect the young soccer players from the prying eyes of the media, they've unwittingly made the team even more desirable media fodder. So far, we know very, very little about the team, their journey into the cave and how they managed the situation in the dark, waiting. And waiting.
After a week or so there will certainly be some sort of highly stage-managed media conference with a few or all of the team introduced to the media. If not the team we will have some of the key leaders and a few 'heroes' lining a stage providing information.
If they don't accede to even a basic media conference with some representation of the 13 team members then journalists, local and international, will pursue individuals, despite the best wishes of families to 'respect their privacy'.
The less that is known, the more people will want to know – that's the nature of media.
It's doubtful that any of them will be used to talking to hundreds of people, let alone a generally polite but persistent Thai media.
In the meantime the thirteen individuals have to get their lives back on track. Their school counsellors, families, medical staff and mental health experts will surely be keeping an eye on them. And there will be no shortage of support. We can imagine fund-raisers, Go Fund Me campaigns and any number of ways their local community, as well as the wider Thai and international community, will rally to provide whatever resources the young men need.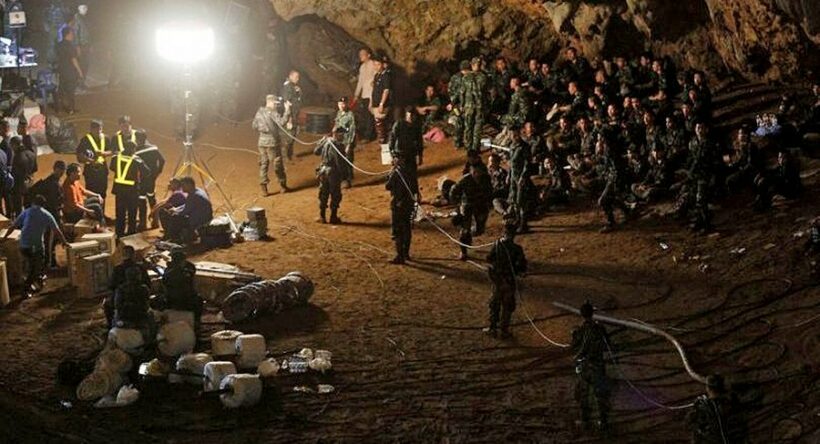 But how to protect them from their new-found fame?
It's going to be difficult and some of them will cope better than others. Some will surely want to get back to their lives as anonymous members of their community. Some will better cope with the attention and even take advantage of the many offers that are sure to come their way.
There will be the formal round of official 'welcome homes', thank you dinners for the rescue workers, medals awarded, meetings with the Thai PM and perhaps even some members of a 'special' Thai family may want to meet them.
Surely there's the feature articles, the books, the TV appearances, interviews and, eventually, the movies that are bound to follow in the wake of such intense world-wide media interest. Hollywood producers are already in Chiang Rai scoping out the area and picking up background shots. It won't be one movie, there will be several. And countless TV and web documentaries and analysis.
Then there's the singular case of 25 year old assistant coach, Ekkapol Chanthawong who, by all accounts, is a responsible community member who loved his work with the football team, his Aunt and his ailing grandmother. Ekkapol, or 'Ake', will forever carry the burden of having guided his team into the caves on June 23 for, what was meant to be, a benign excursion following their scheduled Saturday football training. There will be a different type of media attention on him, partly because he's older and partly because he is the lead character in the story. (There have been stories circulating in some Thai media that Ake actually went in to find the boys and was caught in there, along with the other 12, during his search. The stories are unverified at this stage.)
Of course we mustn't forget the many rescue workers, from around the globe, and from within the ranks of Thailand's elite Navy Seal. The international rescue effort has been extraordinary – a bringing together of some of the most competent and skilled cave-diving specialists, a first.
38 year old Saman Kunan, a former Thai Navy Seal, gave his life during the rescue effort – dying a hero trying to save others. His loss of life, during valiant efforts to save the group, was the only casualty and an honest reminder of how dangerous the mission was.
The effort to find and retrieve these 13 footballers has been immense – the effort, scale and magnitude of the rescue has probably only been matched following the 2004 tsunami. The sheer complexity, volume of equipment and skills involved to get these youngsters out alive has provided valuable experience for everyone from government officials down to the nurses and staff at the hospitals, local village volunteers and Thailand's media.
For the 12 members of the Mu Pa football Academy and their loyal mentor, Ekkapol, their lives will now be different in profound ways they can't even imagine.

- Tim Newton
Foreign media slammed for intruding on the Mu Pa 13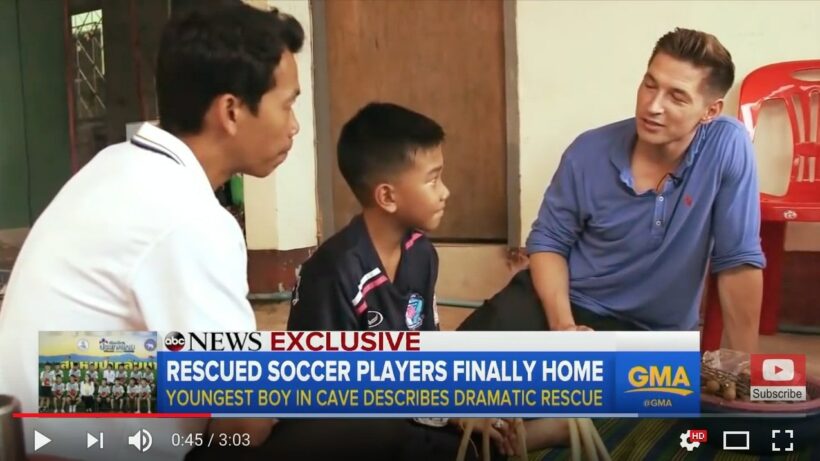 The Mu Pa 13 spoke to the Thai and world media on Wednesday night in a one-time-only media conference. Authorities said that it was now time to leave the team alone and let them re-unite with their families and friends, and get back to their studies and football.
The media have mostly respected the wishes and left the team alone – a threat from the Thai Government to prosecute them under Child Protection Laws helped. But there was always going to be the temptation to get the 'story'. America's ABC News were the first to transgress on the Government's and medical authority's wishes. But there have been other foreign journalists trying to contact members of the team too.
The Justice Department's deputy permanent secretary Thawatchai Thaikhieu has expressed disappointment at the conduct of some foreign journalists who are defying advice of psychiatrists and child welfare officials against interviewing the young members of the Wild Boars soccer team after they were discharged from the hospital.
"Some foreign media have acted below the professional standard which is something regrettable and unforgivable," said Mr Thawatchai.  He was apparently responding to an interview that a correspondent of ABC News had with one of the young survivors from Tham Luang cave.
Thai PBS are reporting that the interview has created an uproar on Thai social media after it was aired last night, prompting calls for Thai authorities to take action against the American journalist.
"It is regrettable that foreign media that should be aware of the convention on children's rights and the process to protect children and youths turnde out to have lower standard than we think. It appears as if they lack common sense and sense of responsibility despite the fact that Thailand has put in place a system to protect this group of children," wrote Thawatchai in his post.
Child welfare officials and psychiatrists have urged the media to stay away from the 12 young footballers to avoid pressuring them to answer questions that might force them to revisit their harrowing experience.
Here's the ABC News interview, conducted against the wishes on the Thai Government and officials.
Blessing ceremony dedicated to Saman Kunan. 11 Mu Pa team members poised to enter monkhood.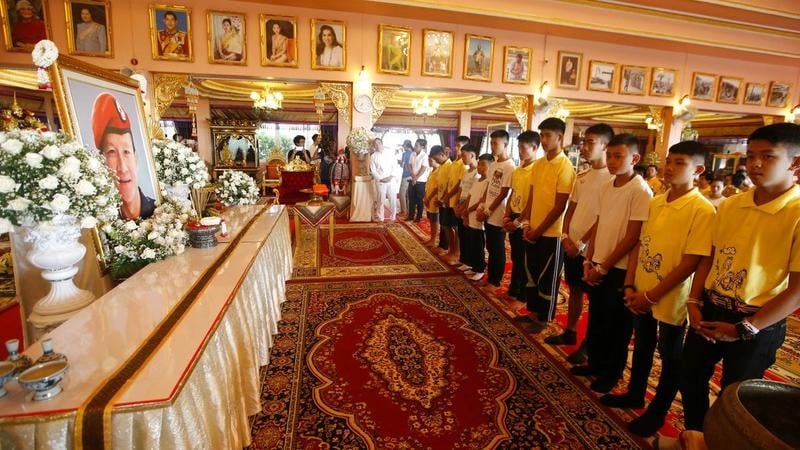 PHOTO: AP/Sakchai Lalit
Thai PBS is reporting that members of the Mu Pa soccer team, along with their coach, attended a traditional blessing ceremony at a local temple in Mae Sai District, Chiang Rai this morning.
Nine soldiers entered the monkhood as a dedication to former SEAL member Saman Gunan who died while taking part in the massive rescue operation to retrieve the young footballers trapped in Tham Luang cave.
The Lanna style ceremony was conducted at Wat Phra That Doiwao by 12 monks who included a prominent monk from neighbouring Myanmar to bless the young survivors of the Tham Luang cave saga with good fortunes and longevity.
The Wild Boars boys, who were discharged from Chiang Rai hospital yesterday, also attended a religious ceremony dedicated to ex-Navy SEAL Samarn. The ceremony was also joined by nine soldiers from the 3rd Infantry Battalion who were earlier ordained at another Buddhist temple as a dedication to Saman.
Meanwhile, 11 of the 13 Wild Boars rescued from Tham Luang plan to enter monkhood as a tribute to Samarn on July 23. The two others will not join the ordination as one of them is a Christian and one a Muslim.
Coach Ekkapol Chanthawong reportedly will be in monkhood for three months, while 10 members of the Moo Pa Academy football team will be ordained as novices for nine days.
SOURCE: Thai PBS
The one hour expedition that lasted three weeks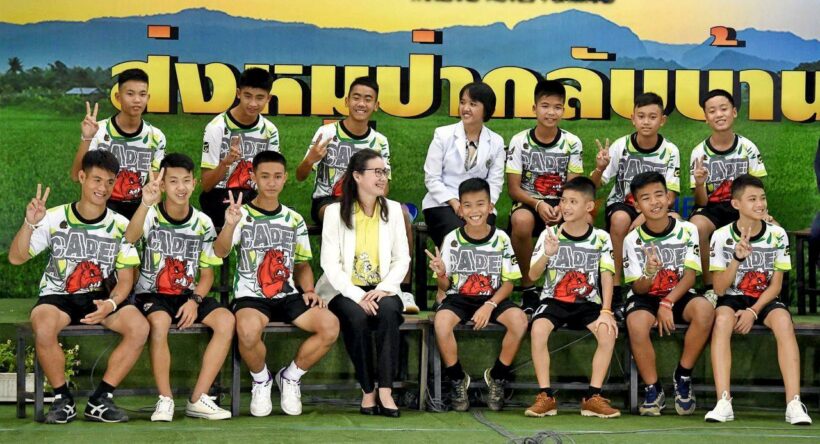 The 12 Mu Pa teenage footballers and their coach planned visit the Tham Luang caves on June 23. They arrived around 4pm and ventured inside with a plan to spend about an hour exploring. They were meant to be out by 5 pm.
18 days later the last of them emerged after a 'miraculous' (their words) rescue involving hundreds of highly skilled divers and specialist cave-divers.
Last night they shared some of their stories in a controlled, but candid, exchange with media. They shared the stage with the Thai doctor who stayed with them from the day they were found until the last footballer had been sent back to the entrance to the cave. There was also three Thai Navy Seals disguised with 'gangster' dark sunglasses, the new Chiang Rai Governor, supervising Doctor from the Chiang Rai hospital and two child psychologists sharing the stage with them.
They started by entering the room kicking around a few soccer balls and meeting up with their other team mates from school and the Mu Pa Football Academy. The team unanimously credited the leadership of their 25 year coach Ekkaphol Chanthawong or 'Aek' with helping them get through the ordeal.
The young survivors gave vivid accounts of their trip to the cave, how they ended up trapped by sudden flooding and the crucial role played by their older coach in maintaining their positive mind-set and hope despite their predicament.
They recounted how they managed without foods for 10 days and how they were drinking water dripping from the cave walls. They ended up waiting on a dry ledge at the spot known as Nern Nomsao before they were discovered by a team of British divers.
Aek, speaking calmly and showing a maturity belying his 25 years, said they didn't take any food into the cave because they only intended to be there for an hour and depart before 5 pm. He said he had to bring Titan to an evening class. Earlier media reporting speculated that the team went inside the cave to celebrate the birthday of one of the other team members was incorrect.
Aek was the one who tried to swim out of the flooded tunnel through which they had entered but had to retreat back inside because the tunnel was already fully flooded.
The team spoke about trying to find alternative routes deeper into the cave in attempts to get out, but finally gave up the idea, fearing that it might lead them to an even more perilous situation. Finally, they decided to shelter at the Nern Nomsao ledge which is about 400 metres from the other raised 'beach' area called Pattaya Beach.

The team related stories how they took turns using stones to dig holes in the cave and Thai Navy Seals confirmed that they'd managed to dig as deep as 4 metres at one spot. The boys said they would fill their stomachs with water before climbing up the ledge to continue smashing the cave wall.
Thai PBS reports that it was the boys and their coach who decided which of them would be extracted first, not the SEALs or the rescue co-ordinators.
"We decided that the ones whose houses are far away from the cave should leave first. They should go home on the bikes as quickly as possible to tell their families what happened and to get help," said Aek. The team obviously had no idea at all about the commotion happening outside the cave.
Just about all of the young survivors said that they would study hard, try to join the Navy SEAL or wanted to become professional soccer players. The English-speaking 14 year old Adul, a leading sportspersons and student at his school (and almost as tall as his 25 year old coach), described the team's surprise when they were discovered. He says some members heard some talking so Coach Aek told them all to be quiet. They went straight down to the water and surprised the divers with their 'Hello'.
What followed is surely to be made into books, documentaries, Hollywood and Thai movies.
The boys say they never gave up hope of seeing the light of the day again but considered their rescue to be nothing short of a miracle.