First ever 'Elephant Travel Mart 2018' to promote ecotourism in Thailand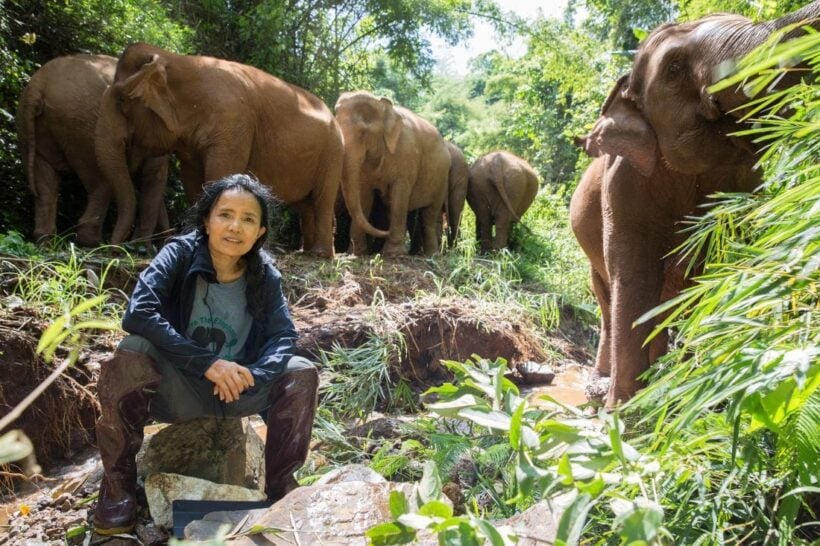 A new ecotourism event, Elephant Travel Mart 2018, jointly hosted by 'Save Elephant Foundation' and 'Asian Elephant Projects', aims to bring together ethical elephant tour operators and tour agencies in Chiang Mai on December 14.
The event, taking place at Khum Kan Toke, Chiang Mai, is conceived by the founder of 'Save Elephant Foundation', Sangduen Chailert (Lek), who works tirelessly for the wellbeing of Thailand's elephants.
Elephant tourism has long been associated with Thailand by travelers from around the globe and helps to attract millions of visitors to the country each year. However, there has been a growing trend away from traditional forms of elephant tourism (such as elephant riding and circus shows) towards ethical elephant tours offering programs that are sustainable and make the well-being of elephants a priority.
Ecotourism values promoting modes of travel with minimal impact on the environment are becoming more widespread, particularly among young people. A growing concern for the environment and for the welfare of animals is changing the landscape of tourism across many tourist destinations throughout the world – a positive change that presents significant opportunities.
A key goal of Elephant Travel Mart 2018 is to provide a venue to bring people together to discuss how the travel industry can continue to adapt to respond to this trend and better meet the shifting demands of travelers.
Lek Chailert suggests that, "If ethical tour operators using environmentally sound practices and tour agencies work together in response to the demand for sustainable ecotourism in Thailand, a mutually beneficial relationship can be achieved that will create widespread benefits for the elephants, the environment, small communities, and the Thai economy."
The event will begin with a thank you address to the audience by Lek, followed by an opening ceremony, including a performance by the Chiang Mai College of Dramatic Arts. Elephant tour operators and travel agencies will then meet to discuss potential opportunities for working together.
At the event, there will be 30 booths representing the 'Saddle Off' projects promoted by Asian Elephant Projects. Each booth will provide details about their project and hand out brochures and souvenirs to visitors. There will also be lucky draw prizes offering free gift vouchers to visit the various 'Saddle Off' projects throughout Chiang Mai province.
In the evening, dinner will be served and entertainment provided by various Thai stars including Rose Sirinthip, Baitoey R-SIAM, King The Star, and Bow Benjasiri. The winners of the lucky prize draw will then be announced. The event will end with a closing address by Prof. Prayat Vorapreecha, Honorary Counselor of Save Elephant Foundation.
It is hoped that this event will provide an important opportunity to exchange and develop ideas as well as build relationships between members of the travel industry in order to take full advantage of the growing popularity of ecotourism.
"The success of this event holds the potential to positively impact the welfare of elephants in Thailand, protect and improve the environment, and provide support to local communities," concludes Ms. Chailert.
For more information visit saveelephant.org, asianelephantprojects.com.
Keep in contact with The Thaiger by following our
Facebook page
.
Chiang Mai vigilantes set up roadblocks and checkpoints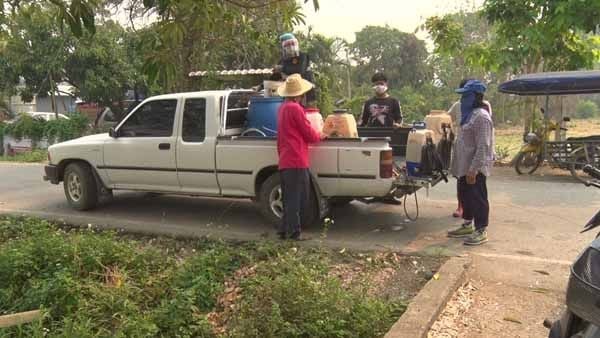 A subdistrict of the northern Chiang Mai province is taking matters into its own hands by locking down residents and setting up checkpoints to screen people entering the area in the fight against the Covid-19 coronavirus.
The village headman in Khilek in Mae Taeng district

Anan Siriphakphokhin
says residents are worried about the worsening outbreak.
"In Khilek subdistrict alone, about 30 returnees from risky areas are reportedly in self-quarantine after being laid off. So community leaders in the Chiang Mai provincial and local administrative organisation, and the hospital in neighbouring Ban Ram Poeng decided to lock down the community and set up screening."

Volunteers at each checkpoint are taking the body temperature and travel histories of people entering, as well as handing out surgical masks, face shields, and hand wash gels.
"Meanwhile, another group of volunteers are spraying disinfectant around homes, temples, markets and other public areas to prevent the spread of Covid-19 virus."
In addition to the stock issued by the authorities, the small community of about 10,000 has established funds to buy materials to make face shields, disinfectants and other emergency medical supplies to help, according to Siriphakphokhin.

SOURCE: The Nation
Keep in contact with The Thaiger by following our
Facebook page
.
Chiang Mai firefighters chased up a tree by wild elephants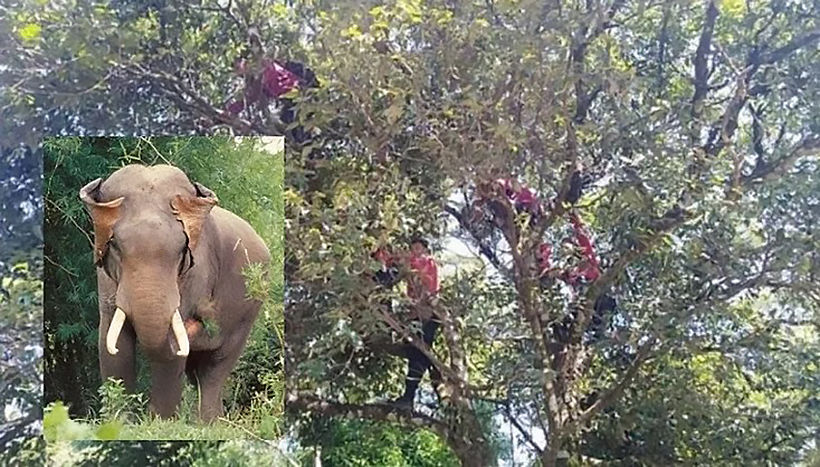 Firefighters in Thailand's North were chased up a tree by a herd of elephants yesterday. The group were on patrol searching for fires in Chiang Mai province's Omkoi district.
The men told reporters they were patrolling for fires when they ran across a small herd of wild elephants. Fearing for their safety, the fled up a nearby tree and stayed there until the elephants went their way.
Located in the south of Chiang Mai Province, Omkoi is the home of the Omkoi Wildlife Sanctuary, which has a number of rare and endangered species including wild Asian elephants. But stumbling across wild elephants in the park is uncommon as it has a small population.
The firefighters were in the area as part of efforts to fight and spot forest fires burning across the province. Many villagers start fires to improve annual mushroom harvests and prepare land for planting new crops.
In another story, two men have been arrested in relation to fires that have caused widespread damage in Chiang Mai's Doi Suthep-Pui National Park. The two are alleged to have started a fire in a forest area in Ban Thung Pong Tai, in Hang Dong District.
The men admitted to starting the fire but claimed "that they were only trying to create a fire protection line", fighting fire with fire and providing protection from other fires in the park, but their fire got out of control. They face criminal charges.
In Chiang Mai's Mae Chaem district, a major source of corn crops, the district chief ordered an investigation after reports of a fire in the Pa Baan Tuan area. Officials arrived to find a man standing in the area with a lighter in his hand (doh!).
The man was taken into custody, and told authorities he was taking a shortcut home when he saw a pile of leaves and branches. He says he decided to get rid of them by lighting a fire which got out of hand.
The was taken into custody where he will have time to reflect on much better excuses in the future.
SOURCE: Chiang Rai Times
Keep in contact with The Thaiger by following our
Facebook page
.
Thai government screws sex workers over 5,000 baht stimulus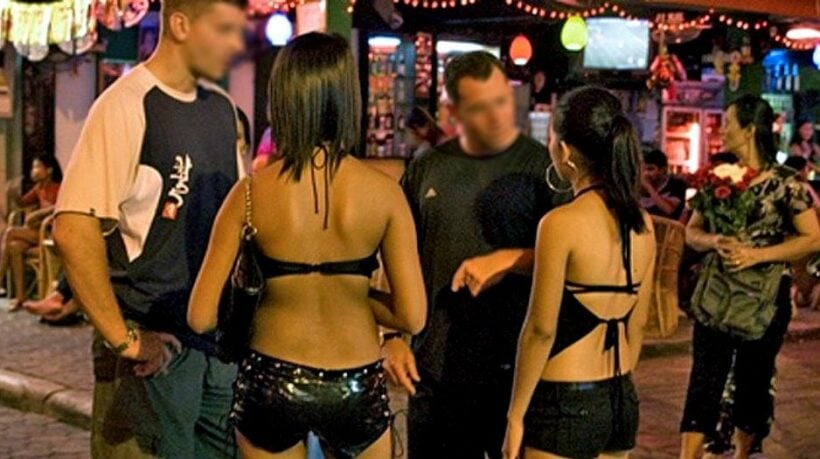 Thousands of Thai sex workers, estimated to be around 300,000, mostly out of work due to the Covid-19 coronavirus crisis, will receive no labour protection from the government. Empower Foundation, an organisation for the rights and opportunities for sex workers across Thailand, has sent a letter to the government pleading for help.
"Many are mothers and main family providers and carers. Due to Covid-19 the government has ordered closures of entertainment places which means that over 100,000 sex worker across Thailand are out of a job. In emergencies women are often the ones who do the work of caring for others. Yet this work is not recognised, nor compensated or supported."
"For example, even though entertainment places are reported to earn around 6.4 billion dollars per year and sex workers create 4-10% of the GDP. Sex workers are criminalized and left out of labour protection and social security. The closure order affects sex workers who now have no income at all. Sex workers are ready to help society, but also still must pay their rent, live and care for their family."
The organisation is yet to receive a response from the government, and it's estimated the number of sex workers without a job across the country has now reached 300,000.
Mai Janta, a community representative of sex workers in Chiang Mai working at Empower Foundation, told reporters that they were the first to be affected when the government declared all entertainment venues closed.
"When the massage parlours, bathing venues, bars and karaoke closed we all agreed with and supported the government's measures. Yet our kind of work means that we have zero chance of any income during this time. Also the government has shown no interest in helping at all. Now we can only follow the situation and check in on the women we know of, which is our 3,091 members across Chiang Mai.
"This government has focused on arresting and enforcing, never supporting. The labour law has never protected these women even though we contribute greatly to the economy. There are some women who are under the social security scheme; those working for larger businesses who have proper working hours such as beer girls, karaoke girls and such. But freelancers and women working in bars are often left out in the cold," according to Chiang Mai City News.
"The government's 5000 baht compensation, which is still not available and may not be for months, only applies to a few women, as most are migrant workers or tribal people with no Thai ID."
"These are the most vulnerable of all. They have nowhere to go and no resources at all. What we want is the nearly 500 million baht the government seized a few years ago from the human trafficking owners of Victoria Secret and Natalie massage parlors."
SOURCES: Chiang Rai Times | Chiang Mai Citynews
Keep in contact with The Thaiger by following our
Facebook page
.