Mystery Phitsanulok prisoner deaths to be investigated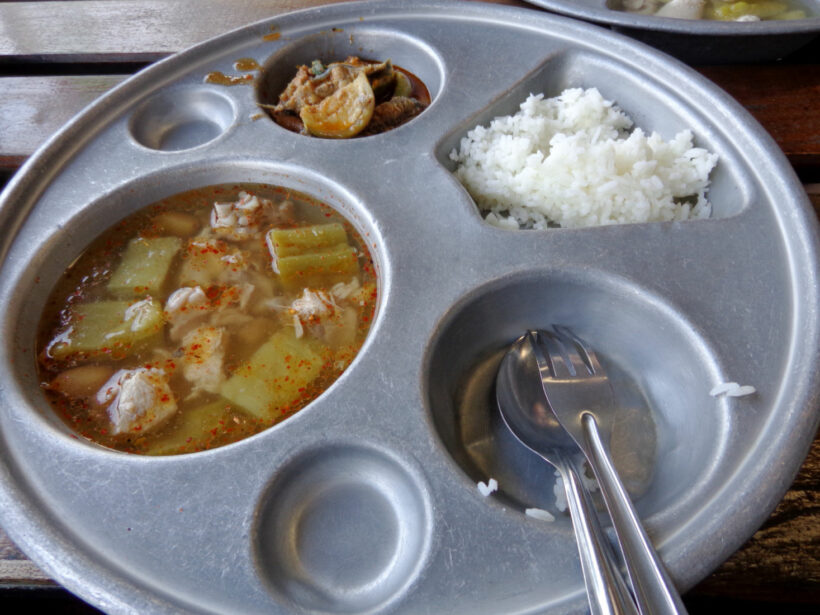 PHOTO: Mishvo in Motion
An investigation has been launched into the deaths of four prisoners in the northern province of Phitsanulok over the New Year holiday break. A spokesman says that The Thai Corrections Department has created a panel to investigate the deaths, which happened in close succession.
Officials say the four prisoners showed symptoms related to food poisoning, such as numbness in the limbs caused by low potassium.
Pol Colonel Naras Savestanan, the department's director-general, says that, following the incident, the department sent the director of the Medical Service Division, with assistance from the director of the Bureau of Epidemiology under the Department of Disease Control, Ministry of Public Health to investigate the cause of the deaths at Wangthong Hospital.
When autopsy reports are available, the panel will examine the results as well as the delivery and handling of food at prisons specifically, and in general. They will then focus on the Phitsanulok jail to determine whether the process was any different, complete, transparent and met established standards.
This from Rattakrit Jaijing, the chief inspector of the department.
A police spokesman, commenting on the matter, says food suppliers to Thai prisons are chosen based on Finance Ministry regulations, and so food quality shouldn't be an issue.
SOURCE: Bangkok Post
Keep in contact with The Thaiger by following our
Facebook page
.
Sugar industry asks the government to subsidise harvesting machinery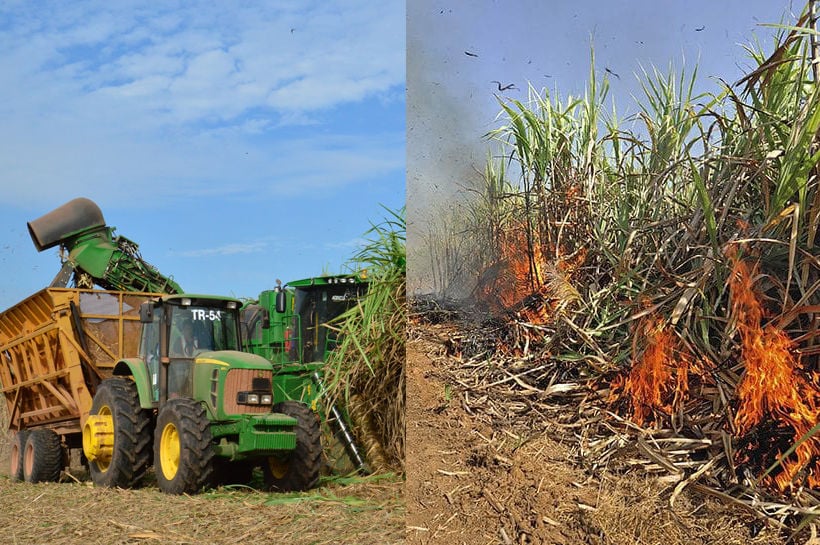 Sugar factories are campaigning to cut and harvest raw sugarcane, instead of boring it first, for processing. The conglomerates are recommending that the government offer funding at low interest rates to farmers to buy harvesters as the prices of the equipment are quite high (6-12 million baht).
They are also urging the government to purchase electricity from biomass power plants as some plants are locked out from selling their power to the Electricity Generating Authority of Thailand.
"No farmer wants to burn their field but the cost of labour is high. Factories must sign contracts with farmers to help with the harvesting."
"Factories can encourage farmers by buying raw sugarcane while some sugarcane can be left for generating power," according to The Nation.
Meanwhile, local sugarcane growers in Nakhon Sawan, central Thailand, are burning their fields at night despite authorities' ban on the practice. It appears little is being done to curb the practice which is one of the main causes, if not the main cause, of the smoke and haze problems in various parts of the country throughout this time of the year.
Despite doing their burins at night, when farmers believe they will avoid the notice of the sleeping authorities, they are providing easy to locate burn-offs. Authorities banned field burning late last year in a bid to control the hazardous fine smoke particles that were drifting into highly populated city areas.
Now the sugar industry is also trying to encourage farmers to stop the practice of burn-offs.
"The problem of fires at sugarcane plantations requires cooperation from all sectors" – Sitiwuth Siempakdee, vice president of Thai Sugar Miller Company.
Sugarcane harvesting started on December 1, 2019, at the same time the smog and smoke problems started in Bangkok and areas around central Thailand.
"The increase in sugarcane output over the previous year was because there were three new factories,. Also, factories increased the efficiency of their machines, improved sugar extraction as a result cane extraction capacity average is 1.0-1.1 million tonnes per day."
"Sugarcane output this year will be lower than 30-40% of the previous year, because of the impact of drought, or only 90 million tonnes. Sugarcane extraction will be less than last year by 3 to 4 million tonnes."
SOURCE: The Nation
Keep in contact with The Thaiger by following our
Facebook page
.
Prasitthichai speaks to the Thai media, "killings were unintentional"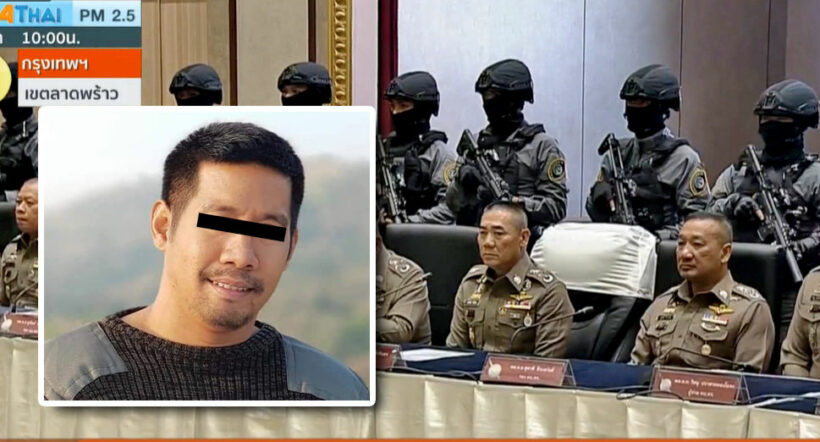 In a bizarre sequence of events, Thai media were able to directly question the suspect, who has allegedly confessed, of the cold-blooded murders of three, whilst injuring four others, on January 9 at a Lop Buri gold shop.
School principal Prasitthichai "Golf" Khaokaew is reported to have told police that he robbed the gold shop because he had financial problems and that the shooting of a female employee and a two year old were unintentional. They both died as a result of their wounds, along with a shopping centre security guard who was shot when the gunman was fleeing the scene of the crime.
Prasitthichai spoke to the media via telephone, at a media presser this morning at the Royal Thai Police headquarters in Bangkok. The media event was hosted by the national police chief, Pol Gen Chakthip Chaijinda. The assembled police chiefs were flanked by members of the special forces Hanuman assault team who arrested the suspect yesterday.
Prasitthichai told the assembled media that had to open fire because he "wanted to cause panic and clear the way as he approached the shop". He says he'd planned the robbery only 3 days earlier.
• He claimed that the shooting of the female employee was accidental claiming his glove got stuck in the pistol trigger when he tried to remove it, and his pistol accidentally discharged two shots.
• He claimed that he didn't see the 2 year old boy when he tried to shoot at a security guard. The wounded guard staggered out of the building and subsequently died on the road.
• He claimed he bought the gun's silencer from a friend on the Internet.
• Prasitthichai offered an apology, especially to the family of the 2 year old boy, "Title".
He told the assembled media that he was going to surrender to police tomorrow (January 24) but ended up being arrested by the Special Forces Hanuman Division whilst driving his car yesterday. Meanwhile police recovered stolen gold ornaments from the man's parents' house last night with the gold stuffed into steel tube rafter inside the roof. Police are also still searching for the silencer.
Thai PBS World have published some excerpts from the bizarre exchange between the reporters and the suspect on speaker-phone.
Q: Why did you have to shoot to kill the victims?
Prasitthichai: I only meant to shoot to frighten people.
Q: Did you plan the robbery in advance?
Prasitthichai: I thought about it for a few days.
Q: Why did you shoot at the gold–shop attendant again?
Prasitthichai: When I was on top of the counter and had my gun trained at the woman by hand-glove got tangled with the trigger. I tried to pull it off and caused the gun to fire twice.
Q: Why did you shoot 2 year old Titan?
Prasitthichai: I did not see him. I shot at the security guard to frighten him. The child could have been hit by the ricochet. I didn't mean to shoot at the child.
Q: Don't you have any sense of remorse? You still lived your normal life after what you had done.
Prasitthichai: I do regret. I saw news about what happened to the child and regret what I have done.
Q: How could you return to your normal life after what happened?
Prasitthichai: I tried to live a normal life and did not think about escaping. But deep down I regret what I did.
Q: If you wanted to frighten people, why didn't you just fire warning shots?
Prasitthichai: I did fire two shots at the gold show-case and didn't expect the bullets to hit the attendant. And then when I saw two customers (who were also shot) I just lost my mind. I want to say I am sorry and ask for pardon.
Q: What do you want to say to the families of the victims?
Prasitthichai: I want to say I am sorry, especially to the family of Titan and those of other victims. I am sorry and I want to ask for their mercy.
Q: Why did you use silencer and where did you get it from?
Prasitthichai: I bought it from someone my junior I know on the internet. I used it because I didn't want to frighten people with loud noises.
Q: Did you think of giving yourself up?
Prasitthichai: I did think about surrendering but didn't consult with anyone. I did everything by myself. My intention was to give myself up after January 24.
Q: Why January 24?
Prasitthichai: I had an assignment with students at my school that I needed to finish first.
Q: Was your first shot intentional or accidental?
Prasitthichai: It was intentional. I wanted to frighten people, to prevent people from getting near. But it ended up hitting Titan
Q: There was rumour that you committed the crime because you wanted to die, a daredevil act.
Prasitthichai: No. I did it because of my personal problems. I have to excuse myself now.
SOURCE: Thai PBS World
Keep in contact with The Thaiger by following our
Facebook page
.
Lone gunman tells police he killed to "spice up his boring life"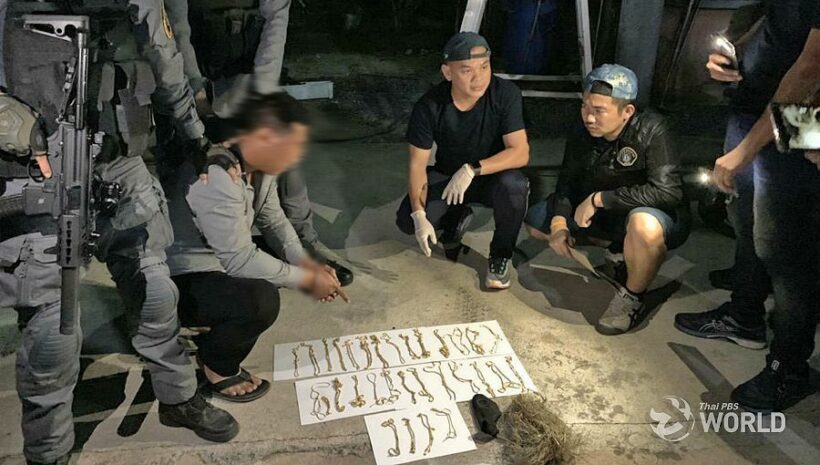 So how did Thai police track down and arrest the suspect, who has allegedly confessed, accused of a brutal and callous robbery and shooting which resulted in the death of three with four other injured? The suspect was arrested following an intensive 14 days of forensic investigation.
38 year old school principal, Prasitthichai Khaokaew, is now in custody, suspected of being the lone gunman in the gold shop murders. He was apprehended by the Crime Suppression Division's Hanuman special unit, following an extensive joint effort by police and forensic specialists who analysed hours of CCTV footage from the crime scene at Robinsons Shopping Mall in Lop Buri, and then tracking him along possible escape routes in the moments after the crime.
The man claimed he killed to "spice up his boring life", according to police sources speaking to Bangkok Post. He lives in Lop Buri and was arrested on his way to school yesterday morning, driving a black BMW Series 5, registered in Bangkok.
Informed police sources, speaking to Thai PBS, say that investigators studied the clothing of the assailant, noting things like the long-sleeved black sweater, grey patches on the shoulders, black sneakers and carry bag, all which provided clues about his unique taste in clothing. They analysed the man's stance and walk and concluded that he had surgery on his right knee.
Then concluded the gun could be a Czech made 9mm CZ SP75-01, fitted with a long silencer. Delving into the records they found it belonged to, and was registered to, a police officer. That police officer had since retired and was Prasitthichai's father.
CCTV footage followed the gunman on his escape after shooting dead a security guard on his way out of the Shopping Centre. He was riding a white and red Yamaha Fino motorcycle.
They tracked him past Wat Dong Noi, turning right in Motel 111 lane toward Ban Mai Khun Nuan and then turning right again through Tambon Tha Sala onto the Pahonyothin highway. According to investigators, he made a U-turn in front of Thai Rath Wittaya 1 School to turn into Chompon Road, turned left into Erawan Road before entering Lop Buri View housing estate. The suspect, Prasitthichai Khaokaew, has a house in that estate.
Prasitthichai Khaokaew is the Director of the Wat Pho Chai School in nearby Muang district of Sing Buri province, adjacent to Lop Buri province.
His arrest was carried out by the Hanuman police unit, set up by the Crime Suppression Division last November to replace its commando unit which has been transferred to His Majesty the King's Ratchawallop royal guard unit.
Police say they doubt the suspect "killed for the thrill" as he claimed, and will continue to question the man.
SOURCE: Thai PBS World | Bangkok Post
Keep in contact with The Thaiger by following our
Facebook page
.